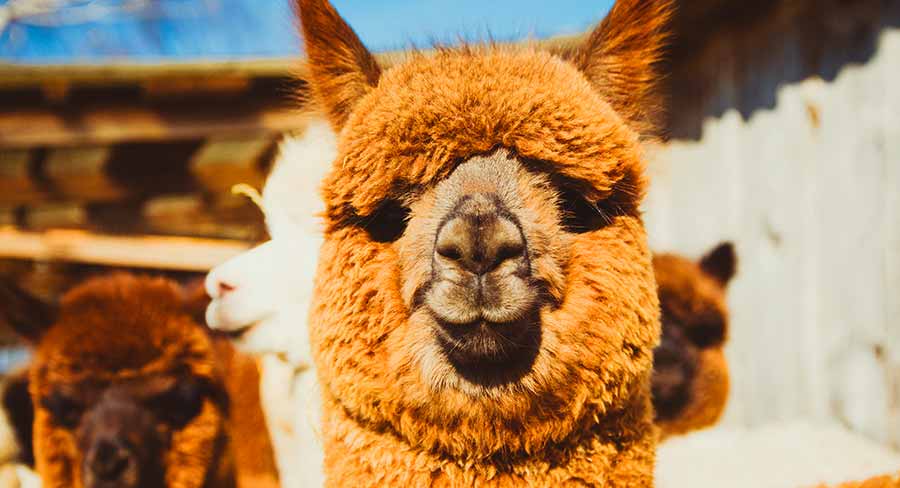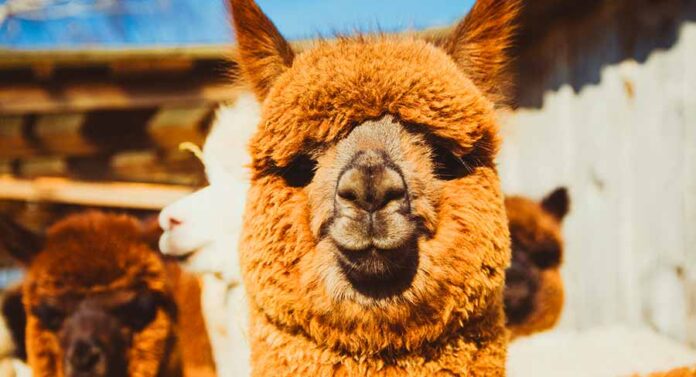 Alpaca names aren't something every pet owner will search for! The fluffy alpaca is not the most popular pet in the world, but their appeal is growing. In fact, it's becoming more and more well-known that alpacas can make wonderful companions to the right owners. Some people might even choose to get an alpaca emotional support animal!
These animals do well indoors, are friendly, trainable, and highly affectionate. So, whether you are considering adding a fun alpaca pet to your family or need some good alpaca names for fur friends that simply look like alpacas, we have you covered with hundreds of ideas.
Alpaca Names Menu:
If you already know the type of name you'd like, you can jump straight to the appropriate section with the links above! Or, keep reading for all of the inspiration.
Female Alpaca Names
Did you know that alpacas are related to llamas? In fact, these two are so closely related that they can safely and successfully breed. The crossbreed offspring of a llama and alpaca is known as a Llapaca. Llapaca itself is certainly a cute name for this type of hybrid, but if you're specifically on the hunt for some female alpaca names, (or names that simply sound feminine for an alpaca, pet or toy), then we're one step ahead of you. Here are our favorites:
Minx
Skye
Penny
Daisy
Abby
Clover
Lulu
Mel
Misty
Bella
Lynn
Shelby
Ellie
Margie
Lola
Stella
Nixie
Betty
Lucy
Millie
Maddie
Pipa
Harper
Rose
Roxy
Macey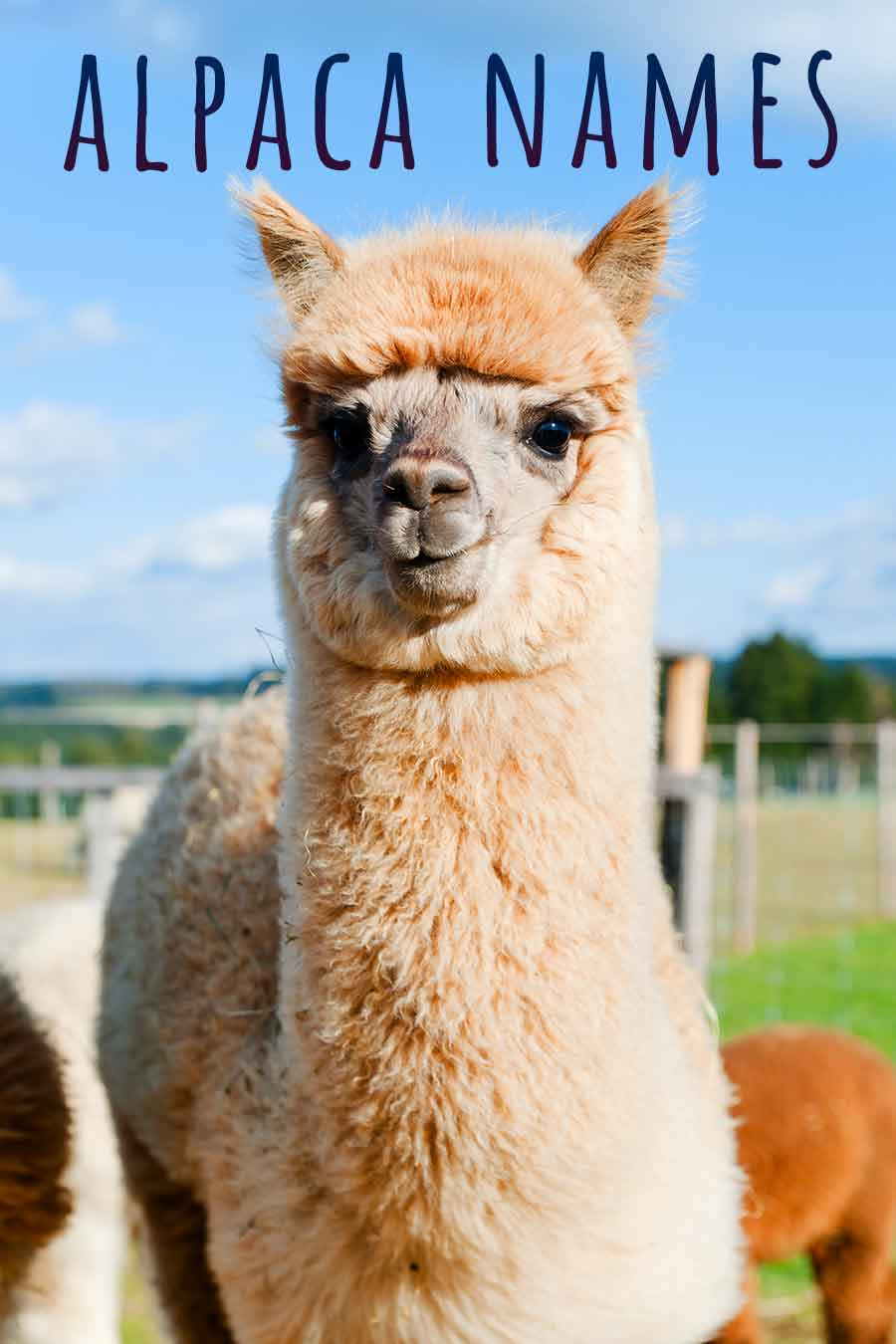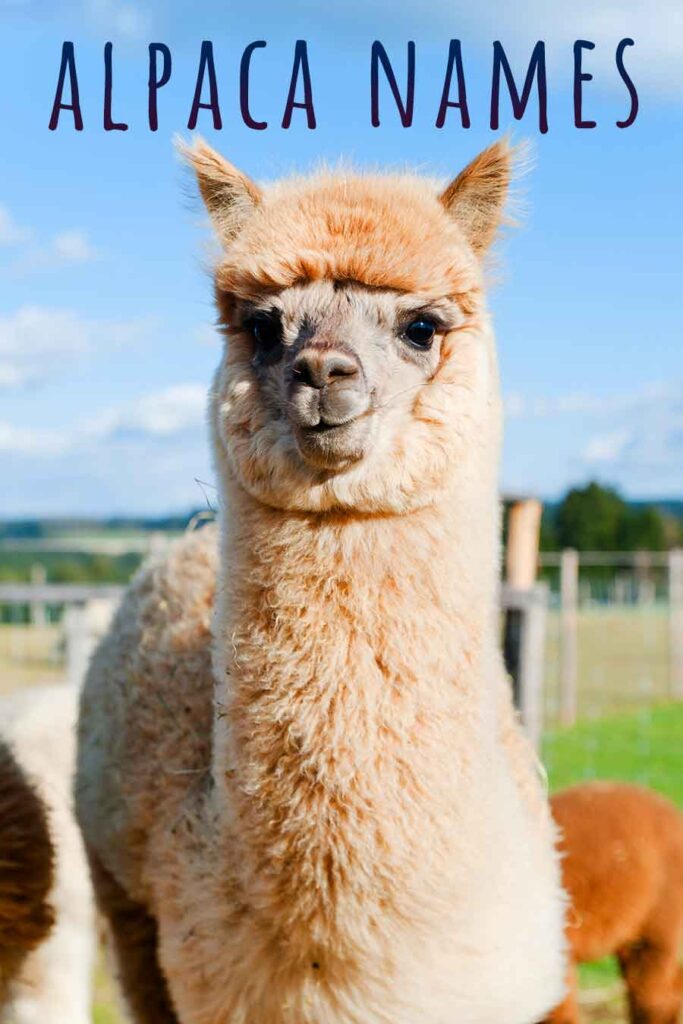 But what about ideas for a male alpaca?
Male Alpaca Names
We are loving the variety of unisex and gender-neutral names these days. So although this list of alpaca names is under the category of "male alpaca names", they really can be used for both male and female alpacas. They could also be used for a Llapaca, or the alpaca's llama cousin. Or you could name your toy alpaca one of these cute names. There are no rules here!
Bruce
Loki
Milo
Niles
Murphy
Chester
Marve
Bert
Beau
Homer
Dutch
Boo
Doc
Frankie
Brian
Cosmo
Favore
Chad
Sonny
Gypsy
Sherwin
Story
Lyle
Holiday
Charles
Effie
Or, maybe you want something to help your alpaca stand out.
Unique Alpaca Names
Let's be honest – if you're considering investing in a real-life alpaca, chances are you're going to stand out in your neighborhood. And if you're not considering investing in an alpaca, you still may just want to stand out with a unique name. This list below is loaded with unique Alpaca names that are not only perfect for alpacas, but for anyone looking to turn some heads.
Jelly Bean
Capri
Comet
Fleecy
Al Paka
Bruno
Ringlet
Rudolph
Silver
Clark
Adele
Mochi
Lester
Einstein
Zuri
Snowball
Muddy
Buddy
Whiskers
Charlie Brown
Anthony
Clover
Avocado
Pepper
Alpa Bella
Pipa
Or, maybe you want a name that will make you smile whenever you see your alpaca!
Funny Alpaca Names
In need of an ice breaker around town? Why not consider an absolutely hilarious alpaca name for your alpaca or pet dog, cat, or hamster? Heck, you could even name a long-haired guinea pig one of these funny Alpaca names and it would totally work. Here are some names inspired by our favorite alpaca puns and alpaca jokes!
Woolie Walker
Hairy
Woolly
Como Se Llama
Charmin
Dolly Llama
Camelnot
Grizzly
Spitfire
Chewpaca
Shaggy
NotaLlama
Spitz
Mops
Alpacamybag
Mr. Spitz
Raggedy Andy
Ms. Spits
Raggedy Anne
Alpacasso
Sheers
Alpacinator
Curly
Alppacapella
Al PacMan
Or, maybe you have a cute alpaca in need of a suitable name.
Cute Alpaca Names
If they are nothing else, alpacas are truly adorable. Just do a quick Google search of Alpaca images and their cuteness will blow your mind. With that noted, it's no surprise we would have a category on our list of alpaca names dedicated solely to CUTE alpaca names. Take a look below and try not to melt from cuteness overload.
Boo
Noodle
Cinnamon
Aly
Pumpkin
Poppy
Alpie
Button
Pretzel
Lulu
Chip
Muppet
Moose
Daphne
Carrot Top
Socks
Daisy
Chip
Fannie
Chunk
Fluffy
Biscuit
Candy
Marshmallow
DeeDee
Some people even like tough ideas for their alpaca's name.
Tough Alpaca Names
Okay, we know that Alpacas are not necessarily known to be tough but naming an alpaca or an alpaca look-alike pet some kind of fun name could bring a grin to someone's face. Besides, these tough sounding alpaca names are just too perfect to ignore. What do you think?
Alpacalypse
Banshee
Bruiser
Al Pacacino
Diablo
Butch
Monster
Boomer
Diesel
Scar
Crusher
Axl
Fang
Shade
Bomber
Madman
Magnum
Venom
Trigger
Thunder
Spike
Midnight
Major
Killer
Tank
Another fun name idea is to choose something smart!
Smart Alpaca Names
One thing we do know about alpacas is that they are surprisingly intelligent. Beneath that mop of wooly fur is a complex brain that is capable of quite a few surprising things. These animals are highly trainable, eager to please, and enjoy being around their people. They are also quite social and prefer to live with at least one other alpaca. So why shouldn't you bless your alpaca (or pet or toy) with a smart sounding alpaca name?
Sheldon
Newton
Bot
Poindexter
Schrödinger
Tycho
Hermione
Rosalind
Astra
Farnsworth
Galileo
Microchip
Urkel
Trigger
Albert
Velma
Felix
Doogie
Nebula
Darwin
Mégabyte
Einstein
Beaker
Laika
Scribe
And even if the names so far haven't been right for you, what about something a little cooler?
Cool Alpaca Names
Is your alpaca the coolest kid in the herd? If so, bless him with one of these ridiculously rad alpaca names so everyone is aware of it.
Zeus
Ghost
Harley
Whiskey
Retro
Saber
Pepper
Chase
Phantom
Zero
Ice
Flint
Haze
Aspen
Blaze
Remi
Ryder
Finn
River
Gray
Phoenix
Stella
Pirate
Casper
Rebel
Color is also a great source of inspiration.
Brown Alpaca Names
Brown is just one beautiful color that your alpaca can come in. So why not choose a brown alpaca wool inspired name! Here are some fun and creative ideas that you might like.
Mocha
Coco
Espresso
Hershey
Whiskey
Terracotta
Tiramisu
Maple
Cadbury
Teddy
Bear
Goomba
Acorn
Pretzel
Caramel
Fudge
Chestnut
Tan
Copper
Russet
Nutmeg
Latte
Cork
Walnut
Conker
Or maybe you want a traditional Peruvian name for your alpaca!
Peruvian Names for Alpacas
Alpacas originate in South America. They can be found in Peru, but also in places like Chile and Bolivia! So, some people like the idea of choosing a traditional Peruvian name for their alpaca. Here are some great ideas for your fluffy alpaca friends:
Luis
Maria
Diego
Andrea
Carlos
Claudia
Rodrigo
Paula
Gabriel
Karina
Pedro
Sofia
Omar
Vanessa
Matias
Camila
Javier
Ariana
Eduardo
Ruth
Mateo
Daniela
Erick
Mayra
Joaquin
Have you managed to find the perfect name in these lists?
Picking the Perfect Alpaca Name
There are no rules when it comes to naming your pet. But we do have tips and tricks that can help you to pick a name you're sure to love. First, what's in a name? Naming your pet or even a toy for that matter is an important part of the bonding process. The process of naming a pet can be especially beautiful when it involves the whole family. And it can be a fun way to build a strong bond between you and your new furry family member.
Naming your pet also says a lot about who you are. So while it's not necessary to think too long and hard about the name you give your pet, it's important to choose a name you are proud of and that you won't mind saying out loud and likely in public. Most importantly, naming your pet provides your pet with an identity. This helps build on the bond the two of you will create for years to come.
A Bit About the Alpaca
Alpacas are unique animals that are of great use to a variety of regions throughout the world. In South America, some indigenous people use alpacas and llamas as a source of food. But in the United States and Europe, alpacas are generally farmed safely and happily for their fur, which can be sheared without harming them. People use it to create several different items like clothing, bedding and even housing insulation.
Recently, alpacas have also become sought after as a domesticated pet. Not only are they goofy in their appearance and temperament, but they are intelligent animals that are able to provide the same type of companionship to their owners as dogs. This is great news if you've just acquired an alpaca to call your own.
Alpaca FAQs
What is a baby alpaca called? A baby alpaca is called a cria. But, of course, the baby alpaca name you choose for your individual pet can be whatever you want!
What is a male alpaca called? If a male alpaca is sexually intact, they are called studs or sires. If they have been castrated, they are called geldings. In Spanish, male alpacas are called machos.
What is a female alpaca called? In Spanish, a female alpaca is called a hembra. But, you may also hear them called dams, or maidens if they have not given birth.
Do male or female alpacas make better pets? If you're keeping alpacas as pets, most experts will recommend that you choose castrated males (geldings).
What is alpaca wool called? On an alpaca, this wool is called their fleece. Their prime fleece is the blanket portion with the best fibre quality.
So, what do you think about our above list of Alpaca names? Did one of them strike a chord with you? Tell us which one is your favorite in the comment section below.
Readers Also Liked
Alpaca Guinea Pig – Complete Guide To The Alpaca Breed
References and Resources