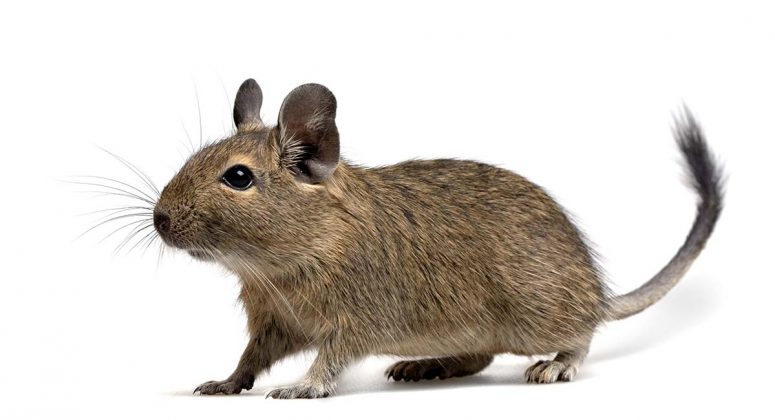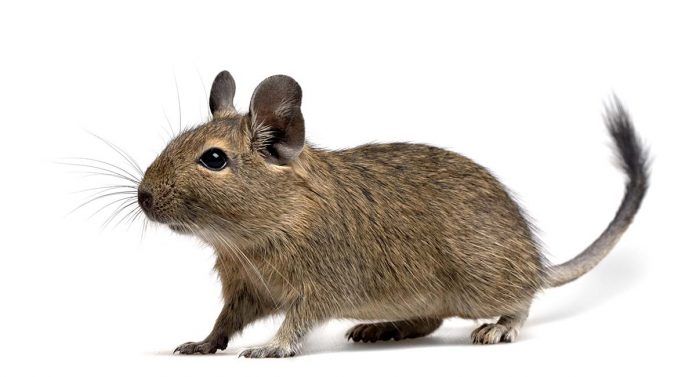 Degu toys are must-have items for these adorable little rodents who love to chew, chew, chew! Native to South America, degus are related to chinchillas and guinea pigs, although not nearly as well-known.
Degus are athletic, energetic little creatures and they have the wherewithal to play all day. For this reason alone they should be kept up to their cute little ears in degu toys.
All of these products were carefully and independently selected by the Squeaks and Nibbles team. If you decide to make a purchase from one of the links marked by an asterisk, we may earn a small commission on that sale. This is at no extra cost to you.
Degu Toys
Like their rodent relatives, degus love to chew anything and everything they can fit their mouths around. Also known as a brush tail rat, degus require a steady rotation of degu chew toys in order to remain healthy and happy.
Before we review the best degu toys and accessories, let's get acquainted with this furry little pocket pet whose popularity is on the upswing.
Degu toys for unique degu teeth
Although a degu may look like a chubby, furry rat, his teeth are one-of-a-kind. Yellow, not white, is the normal color of degu teeth. In fact, if your degu has white teeth, this can be an indication of poor health and you should have her seen by a veterinarian immediately.
Degus have 20 teeth which grow on a continual basis. For this reason they need to have the means to keep their teeth filed down, which is where degu toys come in!
Clever and alert, degus instinctively chew on whatever is put in front of them. So, as long as you provide a steady stream of degu toys for them to chew, gnaw and bite, they will do what nature intended and keep their teeth a manageable length.
Speaking of length, the typical degu grows to roughly five to seven inches long, although their extended tails can be just as long as their bodies. These curious, social little furballs are diurnal, which means they are active in the daylight hours.
Pet degus can be expected to live for around five to seven years. Their fur is a deep sable shade, with a cream stomach and white feet.
Degu toys and accessories
We've reviewed the best degu toys in a range of play categories and across a variety of price ranges.
In general, appropriate degu toys include those that are available for rats, guinea pigs, chinchillas, and similar pets.
Degu Wood toys
Kaytee Perfect Chews for Guinea Pigs*
Wood never tasted this good! Each wooden chunk has a special shape including orange slices. Logs, a ball and a block round out the shapes.
The degu chew toy comes with a metal hook for attaching to the cage. The materials are pet-safe, natural and chewable.
Kaytee Combo Chews Apple Slices, 3-Pack*
If variety is the spice of life your degu is sure to enjoy this combo wood and loofah toy. There are three fun apple-shaped pieces to play with. The shapes provide the perfect texture for filing down teeth.
Kaytee Nut Knot Knibbler Toy For Small Animals*
This safe wood chew toy is half puzzle and half dental aid. Your degu will enjoy hours of fun nibbling away at the colorful wood pieces. Each piece is brightly colored with non-toxic, natural vegetable dye.
Wild Harvest P-84127 Colored Wood Chews for Small Animals*
Your degu will enjoy a variety of tasty fruit flavors when he takes a nibble on this five-pack of colorful wood chews.
The rectangular shapes are perfect for playing with, as well as chomping on.
Kaytee Carousel Chew Toy Carrot, Large*
This fun-filled, carrot-shaped chew toy is sure to provide tons of entertainment for your degu.
The wood shape is filled with loofah pieces that clean and floss teeth.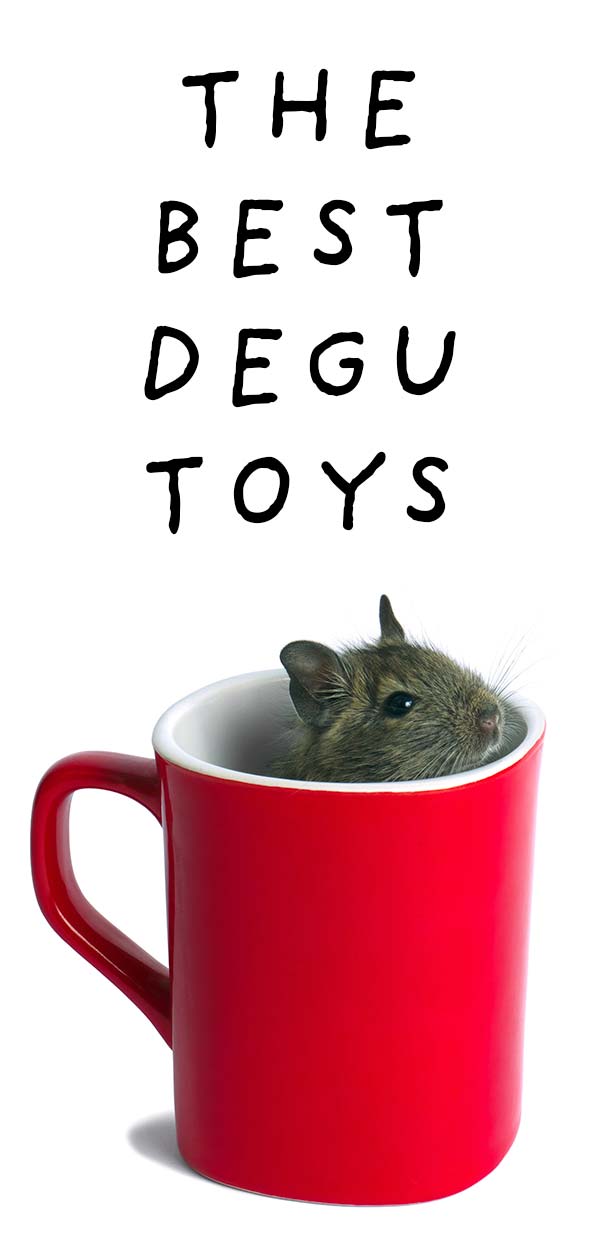 Degu chew toys and sticks
Sharllen Apple Sticks Pet Chew Toys*
A variety pack of shapes and sizes is what you'll get with this option. Each stick is about 300 grams, with varying widths, and approximately 6 inches long.
These 100% pure natural apple sticks are grown without pesticides. The organic, sweet-tasting sticks are the perfect diversion to keep degu teeth trim and neat.
The wholesome sticks are available in packages weighing from 100 to 500 grams.
Niteangel Natural Chew Sticks for Chinchilla, Guinea Pigs, Hamsters, Rabbits, Parrots and Other Small Animals*
You'll receive 60-70 100% natural apple branch sticks in each 8.8 oz package. The sticks are approximately five inches long and grown without pesticides.
The crunchy sticks make great toys as well as gnaw sticks. They are reusable, practical and durable, while also being elastic.
Kaytee Chew Treat Toy Assortment*
Each package of chew toys contains a colorful assortment of five chew toys of varying textures.
The crunchy texture enhances dental health, keeping teeth trim and clean.
Your degu will be treated to an apple slice, as well as natural loofah. As a bonus, this clever design arrives in frustration-free packaging!
Bwogue 100g Pet Snacks Sweet Bamboo Chew*
The bamboo sticks include approximately 10-14 sticks per bag. The sticks are almost four inches long, and come in varying thicknesses.
These 100% natural bamboo sticks have a sweet flavor and are sure to fit small mouths easily.
Nibbling away on these slender, light-colored sticks will be a taste treat while at the same time helping your degu to maintain optimal dental health.
Other degu dental toys and chews
Made of rice and corn, these crunchy treats help stave off boredom while cleaning teeth. They have a crispy, chewy texture that small pets will love.
The size is perfect for hand feeding.
These popcorn sticks are triple-baked for extra crunchy goodness. Natural wood at the center of the stick provides additional chew fun.
The sticks are covered with honey, and are fortified with vitamins and minerals. The package contains a convenient clip holder for attaching to your degu's cage.
Kaytee 3 Count Chew Toy, Carrot Patch Variety*

This adorable 3-toy pack comes in a collection of delightful shapes and textures to keep your little one entertained and in tip-top dental health. A wood carrot (perfect for gnawing), sisal carrot (perfect for cleaning), and loofah carrot (perfect for flossing) are all included.
Willow Branch Ball for Small Animals*
This all-natural willow ball is not only wholesome, it will keep your degu on the move as he chases after this chewable orb.
The toy measures four inches long, four inches wide, and four inches high.
Niteangel Small Animal Activity Toy, Fun Pet Balls*
Each of the three chew toy balls is handmade from 100% natural materials; zero glue, plastic or metal are included.
Your degu can play and keep teeth clean at the same time as she rolls around with her toy globes. The diameter measures approximately 2.6 inches. Included are a rattan ball, a natural seagrass ball, and a water hyacinth ball.
Best Degu Toys Summary
We hope that you enjoyed our review of fun and appropriate degu toys for your little bestie. The best degu toys easily keep your pet stimulated both mentally and physically, keeping boredom at bay while providing a safe chewing outlet.
Does your degu fur baby have a favorite toy? We'd love to hear your ideas and suggestions for the best degu toys in the comment section below!
Affiliate link disclosure: Links in this article marked with an * are affiliate links, and we may receive a small commission if you purchase these products. However, we selected them for inclusion independently, and all of the views expressed in this article are our own.