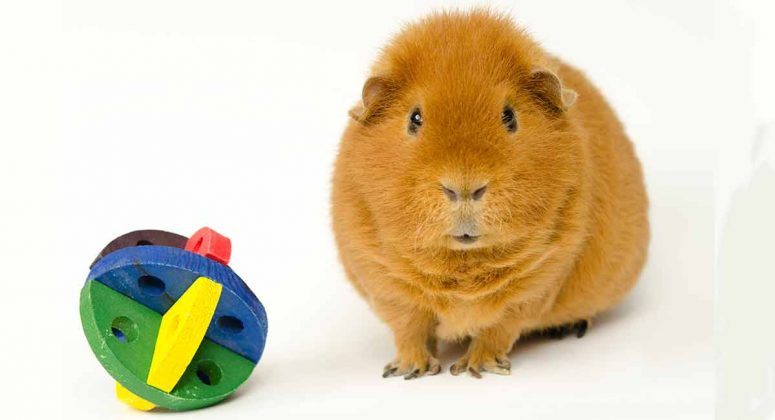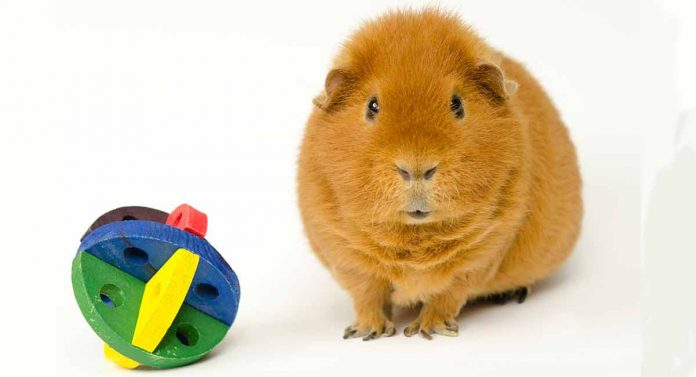 Guinea pigs love toys as much as any other pet, and guinea pig chew toys actually serve an important purpose.
Read on to find out more!
Did you know that guinea pig teeth never stop growing? Strange as it may sound, it's true!
Just like Jack's beanstalk, their pearly whites just keep on growing and growing, with no end in sight!
So, in order to keep their teeth in check, guinea pigs must chew and gnaw almost 24/7 in order to keep their teeth ground down to a manageable level.
Here we're going to review the best guinea pig chew toys, but if you would like more intel on the fascinating guinea pig, a.k.a. the cavy, we have a wealth of information at your fingertips!
Click here to check out our library of informative guinea pig articles.
All of these products were carefully and independently selected by The Squeaks and Nibbles team. If you decide to make a purchase from one of the links marked by an asterisk, we may earn a small commission on that sale. This is at no extra cost to you.
Why are guinea pig chew toys necessary?
Before we address some of the assorted things for guinea pigs to chew on, it bears repeating that cavies absolutely require a supply of both healthy food items and good chew toys for guinea pigs in order to thrive.
Their dental health is of primary importance because they risk illness and starvation if their teeth become too long, making eating an impossibility.
Luckily, this is where guinea pig chews come into the picture!
We're going to review the very best guinea pig chew toys on the market today.
But before we do, let's answer some questions that many owners have regarding the best chew toys for guinea pigs.
What can guinea pigs chew on?
If you're contemplating owning or already have an adorable guinea pig or ten, you've no doubt wondered: can guinea pigs chew on cardboard?
And can guinea pigs chew on wood? Can guinea pigs chew on toilet paper rolls?
After all, these are low cost, DIY alternatives that would nicely round out a collection of store bought toys.
Luckily the answer to all three questions is yes, cavies can chew on the above items, but with some caveats.
Untreated wood sticks or blocks are fine for your guinea pig, with the exception of pine and cedar which have strong odors, making for discomfort and possible lung damage.
Paper towel or toilet paper rolls are also fine, but take off as much of any remaining adhesives prior to use.
The same goes for cardboard.
If you would like to learn more about making some fun cavy toys for your own little critter, be sure to check out this great DIY article.
Also check out this informative and entertaining guinea pig chew toys article.
Guinea pig wood chew toys and guinea pig chew sticks
Now it's time to time check out the plethora of fantastic guinea pig chew toys available, including wooden chew toys for guinea pigs and guinea pig chew sticks.
Wood provides a suitably hard surface to keep teeth trim and clean, while chew sticks are the perfect diameter to fit into tiny piggie mouths.
Guinea pig wood chews
Wood toys don't come any cuter than this 3-pack of assorted Kaytee "veggies."* As an added bonus the "stems" are made of sisal. These rub against the teeth, scraping off debris.
Each veg is made of a different material, including wood, sisal, and soft loofa, so your guinea has plenty of variety to choose from.
This cute little Kaytee wood toy* keeps up the "produce" theme, but it has the added bonus of a handy hook, perfect for attaching to your cavy's cage.
Cavies are sure to get a kick out of the colorful orange slices, wood balls, wood log and block. The chew toy measures 6.5 x 2.1 x 1.2 inches.
Guinea pigs need and enjoy mental stimulation just as much as any other pet, and this Ware Bird puzzle toy* is sure to keep your cavy occupied and challenged.
The wooden toy is shaped like an hourglass, and has a ball inside that can move freely about.
It's hard to imagine a curious guinea pig not being intrigued by this cleverly designed chew toy!
Guinea pig chew sticks
These Bwogue edible bamboo sticks* have a sweet taste that guinea pigs are sure to take to.
Each package contains about 10-14 sticks.
Each bamboo stick is 100% natural, around 4 inches long, of varying thicknesses.
Rice is a healthy taste treat for cavies, and these Ware Manufacturing crispy sticks* are the perfect size and texture to keep your cavie healthy as well as entertained.
Made of wholesome rice and corn, the sticks have the capacity to keep teeth clean while providing hours of fun.
Each stick measures 3/4-inch x 5″H.
These 100% organic Sharllen apple wood sticks* are around 6 inches long, a great value for you and your guinea pig!
These sweet tasting treats contain zero pesticides and come in 100 g, 300 g, and 500 g packages.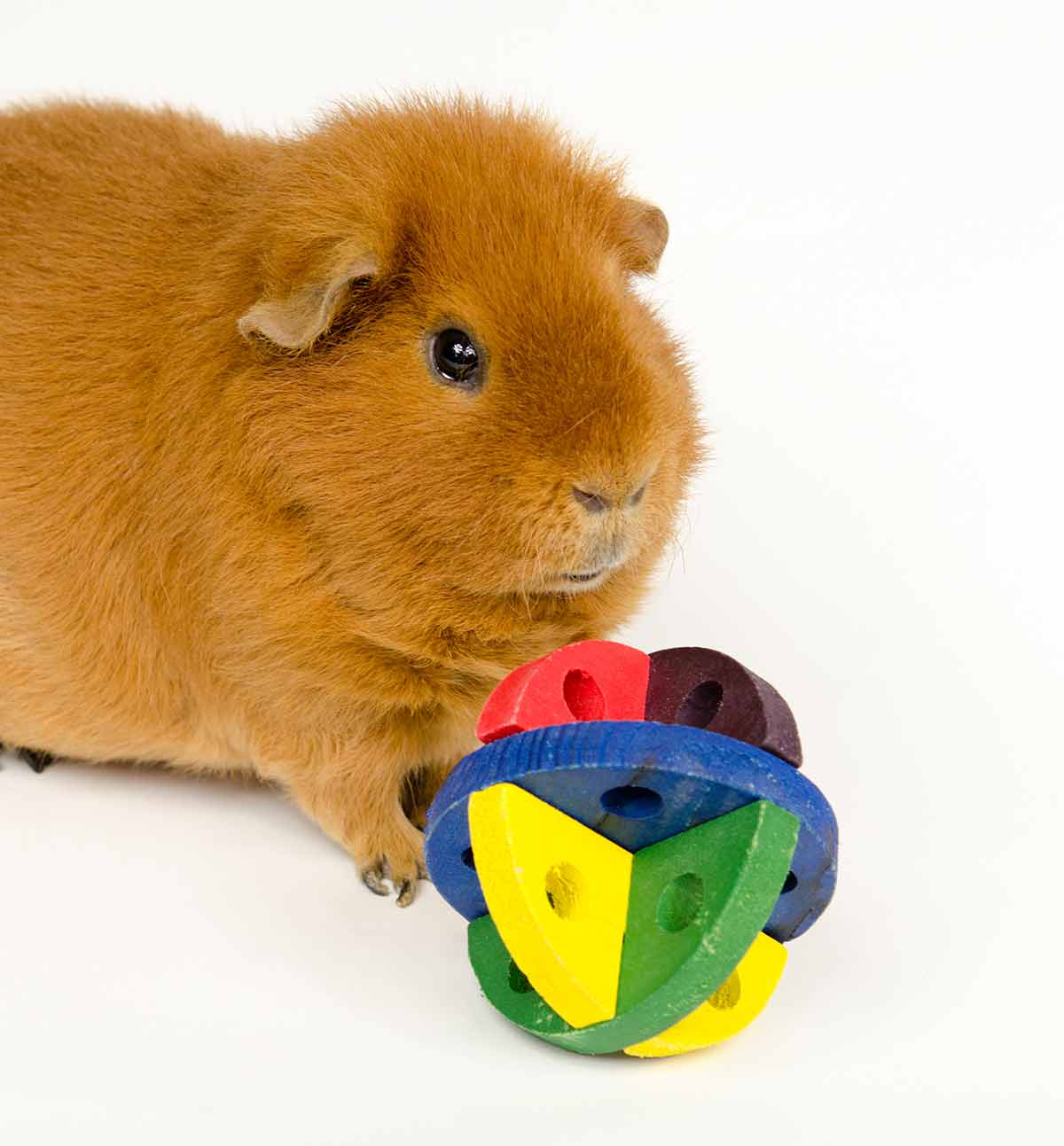 Fun and unique guinea pig chew toys
This Ecotrition chew toy* may look like an actual wooden log, but it's actually made with a delicious blend of fresh alfalfa and golden honey.
But the hollow log pulls double duty as a hideaway!
At over 7 inches tall, this log is one your guinea pig will enjoy crawling into, and perhaps taking a nibble or two from the inside out.
If it wasn't for the wood center, these Vitakraft triple baked sticks* would look good enough for human consumption!
Each package also includes a clip holder for attaching the sticks to the side of your cavie's cage.
Each stick is coated with grains, honey and seeds, plus a bit of fruit for variety. The ingredients are fortified with both vitamins and minerals to ensure a healthy snack experience.)
Within one fun-pack, 5 Kaytee chew toys* are included to keep your little one entertained and her teeth healthy.
The clever and colorful shapes include apple and orange slices, and a loofah slice.
Plus, guinea pig moms and dads are sure to appreciate that this chew toy comes in "Frustration Free Packaging!"
Do guinea pigs need chew toys? Yes!
We hope you enjoyed our look at guinea pig chew toys. If you had any doubts about the question, "Do guinea pigs chew?", now you know the answer is an unqualified yes!
Not only do cavies chew for fun, it's an absolute necessity in order to keep their always-growing teeth in check.
Still have your doubts? Be sure to check out our Squeaks and Nibbles YouTube channel!
Here you will see some of the most adorable guinea pigs (plus rabbits and rats) doing what they do best!
Affiliate link disclosure: Links in this article marked with an * are affiliate links, and we may receive a small commission if you purchase these products. However, we selected them for inclusion independently, and all of the views expressed in this article are our own.
Resources and Further Reading
American Cavy Breeders Association, Homepage.