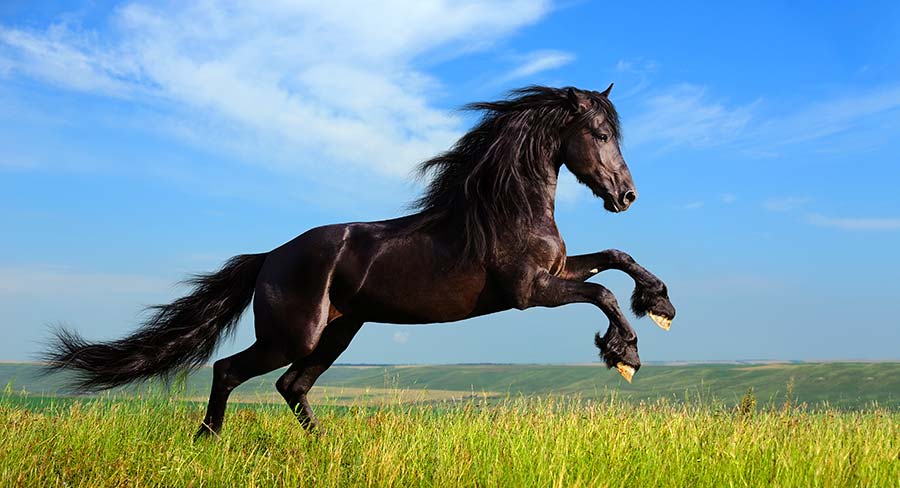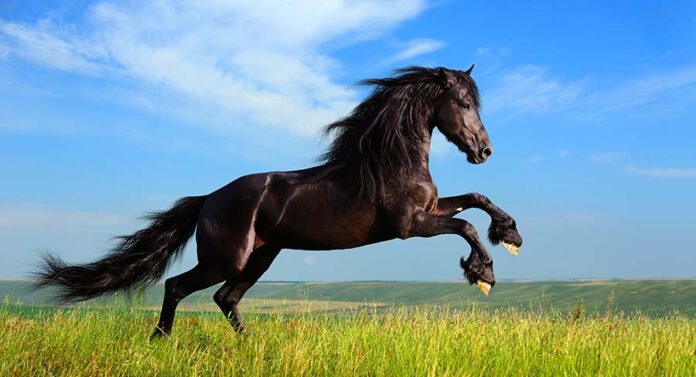 The best black horse names can describe your horse's beautiful dark coat, or they can reflect their deeper personality. Choosing a color-based name is a great way to get creative!
But, there's a lot of options out there. So how can you pick black horse names that stand out from the crowd? Or ones that suit your horse perfectly?
Whether you want something cool, funny, or something completely unique, we have a ton of ideas for you to choose from. And, some tips for picking the best name at the end of this article.
First off, let's get started with some of our favorite options for black horses!
Best Black Horse Names
Anchor
Berry
Cola
Charcoal
Crow
Currant
Espresso
Granite
Inky
Jade
Liquorice
Mickey
Pepper
Pepsi
Raven
Seaweed
Sooty
Storm
Thunder
Wine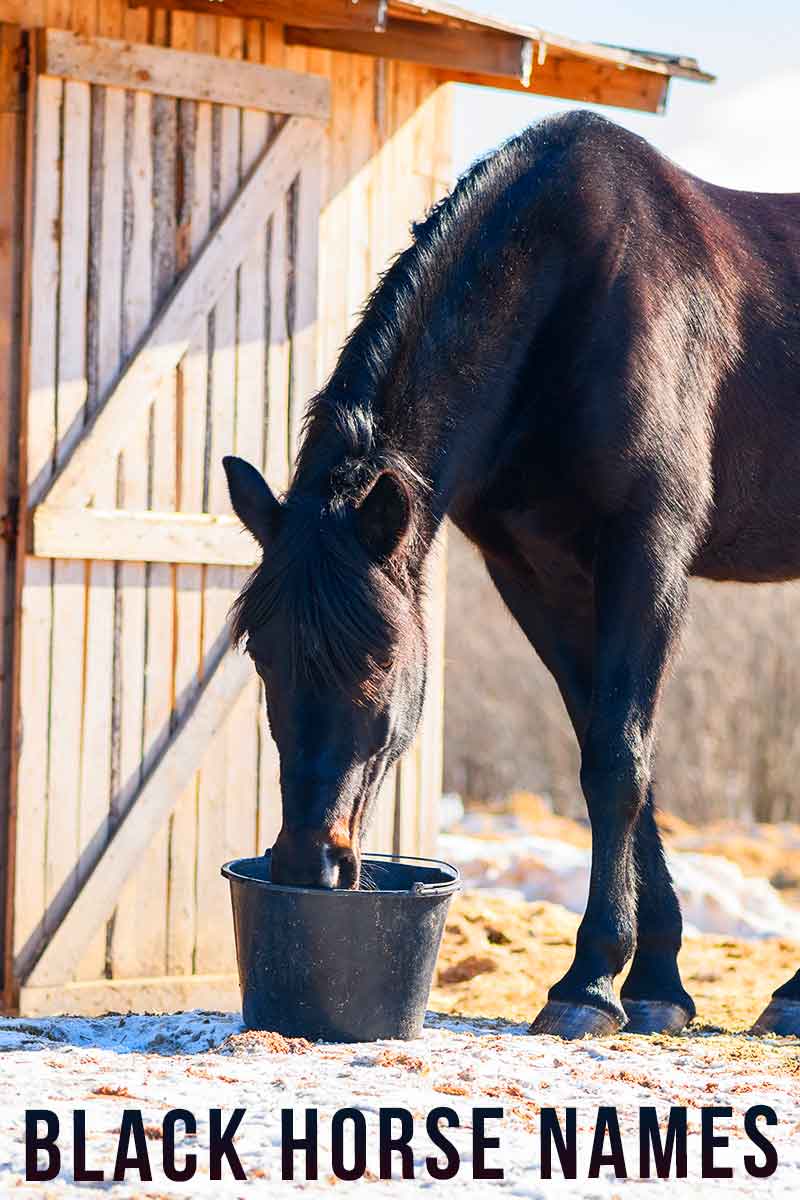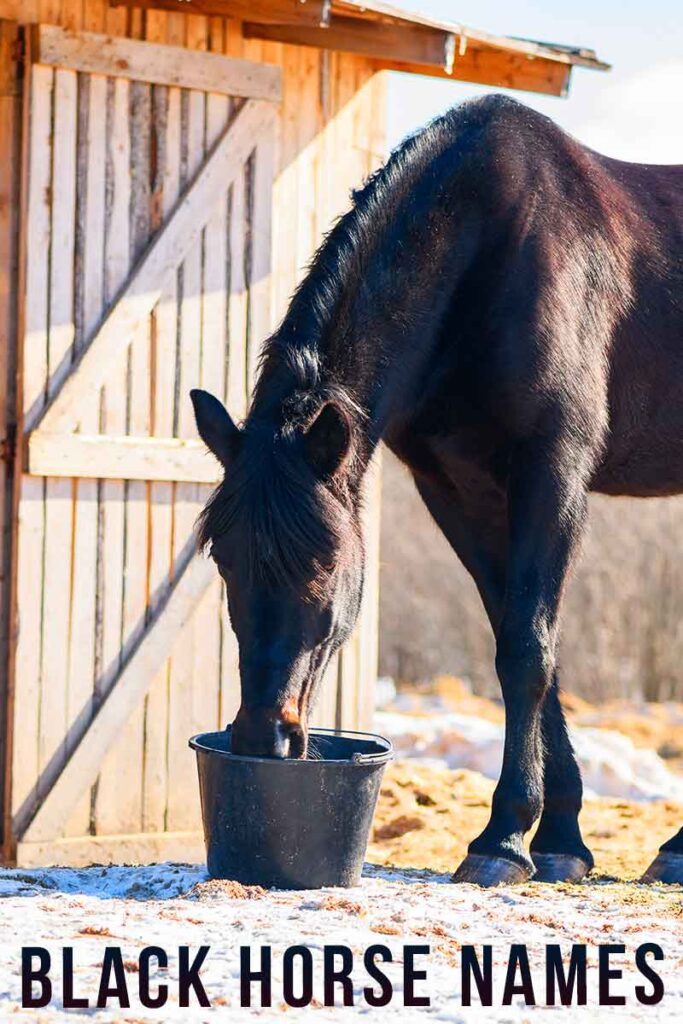 Male Black Horse Names
Black horse names male horses will love can be human-sounding names, or names that literally mean dark. Here are some awesome male names with their meanings in brackets.
Abnus (ebony)
Adelram (dark and noble)
Blake (dark or fair)
Bran (raven)
Burnett (dark haired person)
Cary (dark one)
Corbett (little raven)
Cronan (dark one)
Dargan (dark haired)
Donnagan (dark or brown)
Dougal (dark stranger)
Duncan (dark warrior)
Eban (black)
Erebus (darkness)
Keiran (small dark one)
Maury (dark skinned)
Morris (dark)
Orpheus (darkness)
Perran (little dark one)
Tamesis (one who is dark)
Female Black Horse Names
Of course, female horses can be black too. If you love the idea of choosing black horse names with a relevant meaning, these ideas may be perfect for your mare or filly.
Adrienne (darkness)
Blake (black)
Brangwen (dark and pure)
Charna (dark)
Ciara (little dark girl)
Corvina (dark haired)
Darcie (dark haired)
Delaney (dark challenger)
Duana (coming from darkness)
Duvessa (dark beauty)
Gethwine (dusky one)
Jemisha (queen of darkness)
Keira (little dark girl)
Keyara (little dark one)
Meilani (dark skinned beauty)
Morrisa (dark)
Sauda (dark skinned)
Tamala (dark tree)
Umbra (shadow)
Zelda (dark battle)
Cool Black Horse Names
Human sounding names aren't always the best for our horses. In fact, there are plenty of cool sounding names inspired by a horse's dark coat that you could love. Here are some of our favorites.
Coal
Charcoal
Cinder
Diesel
Ebony
Eclipse
Ember
Guinness
Jett
Midnight
Nocturne
Obsidian
Onyx
Panther
Pitch
Quartz
Rum
Shadow
Slate
Storm
Good Names for Black Horses
How about expanding your linguistic horizons in your search for the best name? Translating the word "black" from different languages can result in a great name for your horse. Here are some examples.
Baki (Hausa)
Dub (Hmong)
Itim (Filipino)
Fekete (Hungarian)
Hitam (Indonesian)
Iswed (Maltese)
Juoda (Lithuanian)
Madow (Somali)
Mangu (Maori)
Melns (Latvian)
Must (Estonian)
Nero (Italian)
Noir/Noire (French)
Oji (Igbo)
Preto/Preta (Portuguese)
Siyah (Turkish)
Sort (Danish)
Svartur (Icelandic)
Swart (Afrikaans)
Zwart (Dutch)
Funny Black Horse Names
Want to choose a name that's a little more lighthearted? If your horse makes you smile every time you see them, a funny name could be the best way to show the world how great your black horse is! Here are some funny black horse names we love:
Bear
Black Eyed Pea
Black Sabbath
Buckaroo
Cole
Don Key
Fifty Shades of Hay
Harry Trotter
Hasselhoof
Hermoineigh
Inspector Horse
Jack Black
Lawnmower
Liam Neighson
Mayo
My Little Pony
Neighmar
Radish
Trojan
Whinny Weasley
Unique Black Horse Names
Some black horse name ideas can be pretty cliche. So if you want your horse to stand out from the crowd, a unique name can be perfect. Here are some less common ideas that will suit horses with black coats.
Ajax
Anchor
Beetle
Boba
Bramble
Brandy
Bruiser
Cosmos
Galaxy
Hecate
Lloyds
Morticia
Olive
Panther
Pearl
Pewter
Raisin
Spider
Squid Ink
Wednesday
Black and White Horse Names
Not all black horses are entirely black. So, if you have a black horse with white markings, you may love one of these name ideas!
Badger
Barcode
Checkers
Dice
Domino
Freckles
Magpie
Marble
Orca
Oreo
Panda
Penguin
Pingu
Skunk
Snoopy
Socks
Speckle
Splot
Tuxedo
Zebra
Tips for Choosing the Right Name
Some people will know the right name as soon as they see it. But, for others, it may take a little more time to narrow things down.
A great way to decide is to take your top three names, and try them out on your horse! Maybe your horse will respond to one of those names more than the others. Or, maybe one will just fit when you say it in front of them.
Another way to decide is to think about your horse's personality. Coat color can provide some great name inspiration. But, you can also pair this with your horse's personality!
If they're very energetic and love to run about and play, an energetic name like Blaze or Thunder could be perfect! Or, a horse with a huge personality could be named after a popular movie character, like Sirius, or Darth!
More Name Ideas
If you didn't find your perfect name in this guide, we have plenty of other name ideas that you might prefer. Check some out in the following articles:
What Name Did You Choose?
Did you pick one of the names on this list? Or do you have some other great ideas for black horses?
Let us know your favorite names in the comments!