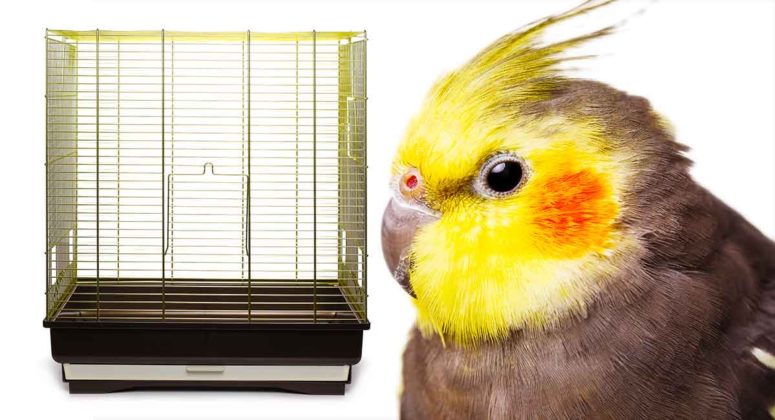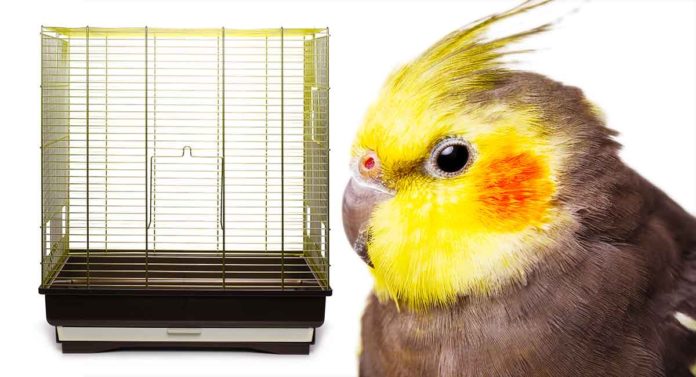 Finding the best cage for cockatiels is crucial to raising a happy bird. We love our cockatiels and want to ensure we can keep an eye on them and make sure they are safe. The best cockatiel cage should include safe cage bar spacing and have an appropriate door size and type. You should also ensure proper cockatiel cage size for one or more than one bird. Of course, you would select these bearing in mind their breeding, nesting, and travel needs. And where necessary, it is wise to choose a cockatiel flight cage.
All of these products were carefully and independently selected by The Squeaks and Nibbles team. If you decide to make a purchase from one of the links marked by an asterisk, we may earn a small commission on that sale. This is at no extra cost to you.
Our Top Three Best Cockatiel Cages
If you're in a big rush and don't want to read too many words before choosing, we've got good news. Meet our three best cockatiel cages.
Now let's dive deeper into these picks to find the best cage for cockatiels.
Contents
1. ZENY Bird Cage Wrought Iron Pet Bird Cage
We love this versatile cockatiel bird cage* for many reasons. But the main reason why it's one best cage for cockatiels is its functionality. You can house multiple cockatiels in this 53-inch cage — full dimensions: 25″(W) X 17″(D) X 53″(H). It's also available in 61 and 68-inch tall options.
We love that it has four feeder doors and extra shelving on a rolling stand for storage, if you please. This space would be perfect for storing seeds and supplies. But if you're not a fan, the stand is entirely removable. The cage bar spacing is ½-inch and the door opens sideways. There's also a sliding tray near the bottom which makes this option easy to clean. And to top it all off, it's of a durable wrought-iron material that will last you for ages.
2. Prevue Pet Products Travel Carrier for Birds
This heavy-duty travel cage* would work well to transport one or two cockatiels.
The dimensions are 18.75 x 14.88 x 18 inches with ½-inch cage bar spacing and a front side-opening door.
This best cage for cockatiel pick is on the heavier side — weighs 14 pounds. As a result, reviewers praise its quality and sturdiness but say it is heavy. Still, we think it's a good price to pay for a cage you're entrusting with transporting your birdies. Besides, other travel cockatiel cages are much heavier.
This one guarantees safety by means of its cup door locks which prevent spills. There's also a safety belt for your precious cargo. Hopefully, by now you can see why we're sold on this pick.
3. Yaheetech Wrought Iron Bird Cage with Large Play Top
This durable and sturdy cockatiel cage* includes a rolling stand and seed guard.
The large door opens sideways and the bar spacing is 0.6 inches wide.
The dimensions of the cage itself (without the seed guard or stand) are 18 x 18 x 35 inches.
The play top offers extra space for out-of-cage time. And we love that it even comes with its own slide-out tray for easy cleaning.
If you prefer it in black, SuperDealUSA* offers the black version.
Who doesn't freebies? And which pet doesn't love a fun toy? This cage actually comes with a free toy included! You'll find a bungee rope with a ring toy and hook. This toy can actually help improve your cockatiel's coordination.
More Best Cockatiel Bird Cage Options
We love our top 3 picks for their functionality, travel compatibility, and thoughtful inclusions — like bungee rope. But we understand and agree with the motto, "different strokes for different folks."
So if these three aren't up your alley, please consider seven other picks we love. You'll find in our recommendations a variety of cockatiel cage sizes. Expect to see a cockatiel travel cage, cockatiel flight cage, and large cockatiel cage options.
Cockatiel Travel Cage
A cockatiel travel cage is the perfect accessory for taking your bird to the vet. This cockatiel cage size is just right for taking your pet anywhere else you want to go together — even if it is just out on the porch.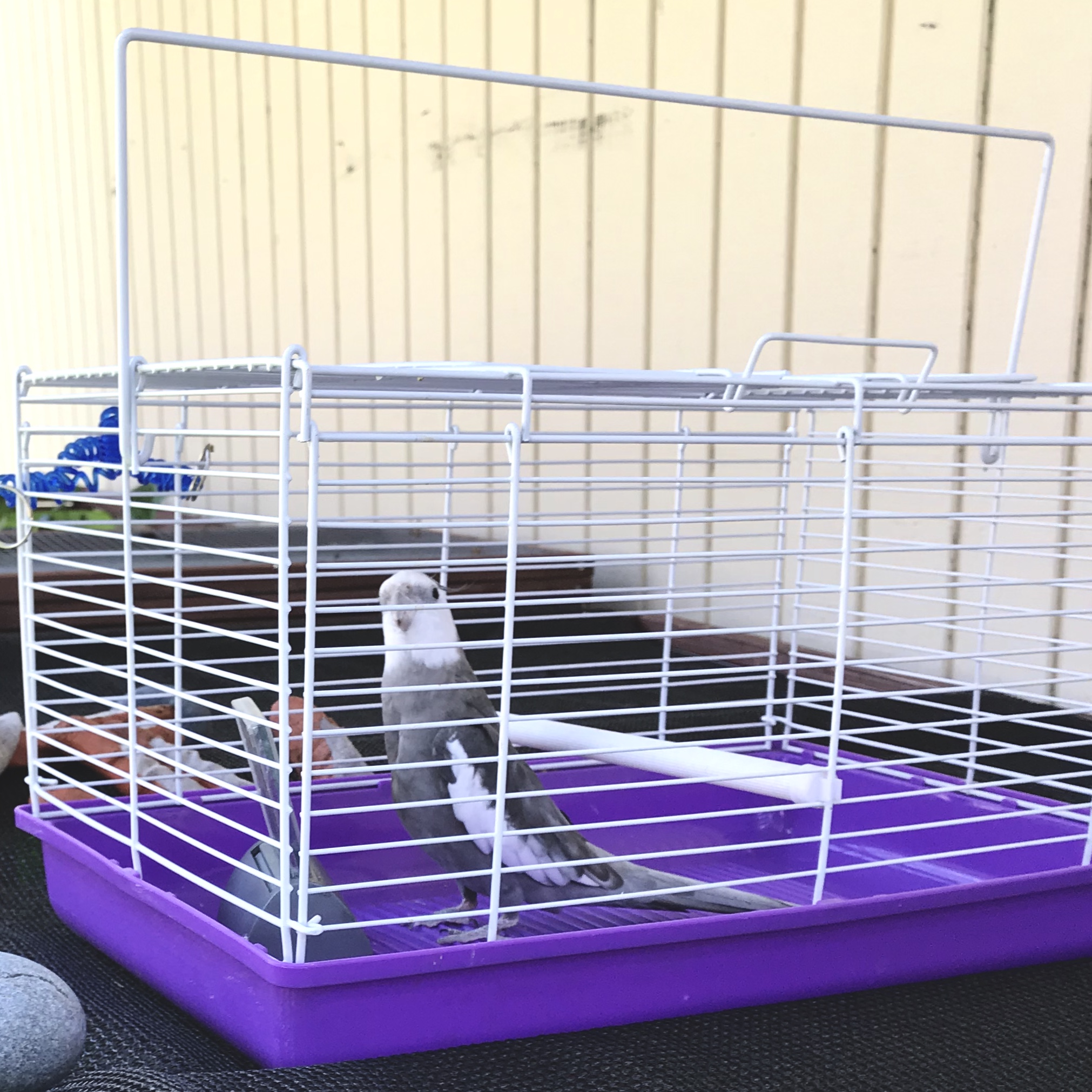 For longer journeys, you actually want something small to keep your bird safely contained. These would work excellently on car rides.
Different cockatiel owners have different preferences for cage type, but a partial or full wire cage will offer the best ventilation. For extra safety, both of these cages can typically be belted into a standard front passenger seat.
Kaytee Me Travel Carrier
This simple and lightweight travel cage* has a top door and a top carry handle.
Originally designed as a rabbit cage, it also comes with a perch and its dimensions are perfect for birds.
The cage dimensions are 10.25 x 16.5 x 10.33 inches and it weighs 2.61 pounds.
Pros:
An effective carry handle.
A plastic base that can easily be washed or cleaned.
It fits under an airplane seat.
Cons:
Would not fit more than two birds comfortably.
Many reviewers mentioned that it's only perfect for short trips — to the vet, for example.
Caitec Perch N Go Polycarbonate Bird Carrier
This high quality, durable travel cage* features solid clear sides with a front stainless steel lockable side-opening wire bar door. There's also a back wire bar panel for ventilation and a top carry handle.
The dimensions are 10 x 12 x 15 inches and it weighs 6.5 pounds.
Pros:
You can see your bird through the clear material.
This cage is quite sturdy.
Cons:
Reviewers mention that the plastic perch is slippery for their birds.
Cockatiel Cage with Stand
While not all cockatiel owners prefer to use a stand with their bird's cage, the stand can offer some perks. These best cage for cockatiels picks feature useful rolling stands.
Prevue Pet Products Wrought Iron Bird Cage with Cagetop Play Area

You can choose from four sizes and several unique cage colors for this high-quality cockatiel cage*.
Cage sizing can accommodate up to four cockatiels. It comes with a rolling stand and seed guard. The cage top play area has its own slide-out cleaning tray as well.
This cockatiel cage comes with a rolling stand on casters, which makes it easy to move your bird's cage as you desire.
Pros:
Heavy-duty door with lock for bird safekeeping.
Non-toxic cage material and powder coating.
Wide enough for birds to spread their wings.
Bar spacing of 0.5 inches.
Cons:
Reviewers complained that assembling instructions were complicated and difficult to understand.
Cockatiel Cages for Two Birds
Housing two cockatiels together can work as long as the two birds get along. It could also be a good idea if you are trying to encourage the breeding of a mated pair.
Here, you just want to select a cockatiel cage that is roomy enough to give each bird enough space. Keep in mind their need to fly, play, eat, nest, and rest.
Hq Flight Cage, Multi-Purpose Aviary with Cart Stand
This multi-purpose cage* comes with its own rolling stand that has a lower storage tray.
The dimensions are 32 x 21 x 60 inches and the double doors open sideways.
The bar spacing isn't listed but owners say it is sufficiently small to be safe for a cockatiel.
Owners say the double doors can double as nest box doors if you are looking for a cockatiel breeding cage.
Pros:
Reviewers say their birds love this cage.
It's large enough for a flight cage.
Many customers mention that it is easy to clean.
Cons:
A few owners say it was hard to assemble.
Petcage Mart Bird Cage
The dimensions on this lovely antique-style cockatiel cage* are 20 x 20 x 65 inches with 5/8-inch bar spacing.
The door is unique. There is a smaller center door that opens down and a larger door around it that swings open to the side.
This cage sits on an antique-style rolling cart stand with a lower level for storage. The curved top opens up to form a play station.
Pros:
Stainless steel cups.
Large swing door that opens to the side.
Non-toxic powder coating
Cons:
Some customers mention that this cage is "top-heavy" and seemed like it might topple over. This is, of course, personal opinion that should be taken with a grain of salt.
Prevue Pet Products Pagoda Cockatiel Cage
This gorgeous pagoda-style cockatiel cage* sits on a low rolling stand and features a seed guard.
There is an upper and a lower door – both open down.
The dimensions are 22 x 28 x 58.5 inches and the cage has 5/8-inch (0.62-inch) bar spacing.
Pros:
Aesthetically pleasing cage.
Reviewers repeatedly mention how durable this cage is.
Cons:
Customer service seemed difficult to reach when a few reviewers found bowls missing.
Cockatiel Flight Cage
As the name implies, a cockatiel flight cage is designed to give flighted cockatiels a roomier safe indoor area for exercising and flying.
A flight cage is a must for flighted birds to keep them strong and healthy. Unsurprisingly, we've added a few as part of this best cage for cockatiels list.
Prevue Hendryx Pet Products Wrought Iron Flight Cage
This wrought-iron cockatiel cage* is simple but efficient. Choose from two sizes: Large (31 x 20.5 x 53 inches), X-Large (37 x 23 x 60 inches).
Both flight cages feature ½-inch cage bar spacing and the double doors open sideways.
You can also choose from two colors: black or white. Either flight cage could accommodate one or two cockatiels for flight time.
Pros:
There are two color options available.
Wrought iron construction is sturdy.
Large enough for two cockatiels.
Cons:
Some reviewers mention that their package was missing essential screws. However, customer service provided the missing items when contacted.
Large Double Flight Cage with Slide Out Divider
This substantial wrought iron double cage* can be used as-is or with the optional divider accessory.
It comes on a rolling dual stand with a lower shelf for storage. The full dimensions are 63 x 19 x 64 inches.
The cage doors open sideways.
Owners say each side will also comfortably accommodate two cockatiels as a daily cage.
Pros:
Satisfactory size.
Adequate 0.5-inch bar spacing.
Optional shelf for storage.
Cons:
Poor assembly instructions.
A few reviewers say some cages arrived with bent bars.
Mcage Large Wrought Iron Flight Cage
The dimensions on this flight cage* are 32 x 19 x 64 inches and the cage bar spacing is ½-inch.
The single large front door opens to the side.
It comes with a rolling stand that has a lower storage shelf.
Two or three cockatiels could fit inside nicely for a regular cage as well. If you open the doors and place two cages side by side, you could hold even more birds.
Pros:
Great for indoor and outdoor use — just don't open the doors while outdoors.
Cons:
A small percentage of reviewers complain about receiving bent bars.
What Best Cockatiel Cages Need
Cockatiel bird cages come in all shapes and sizes depending on what you plan to use them for (breeding, nesting, travel, home, and so on).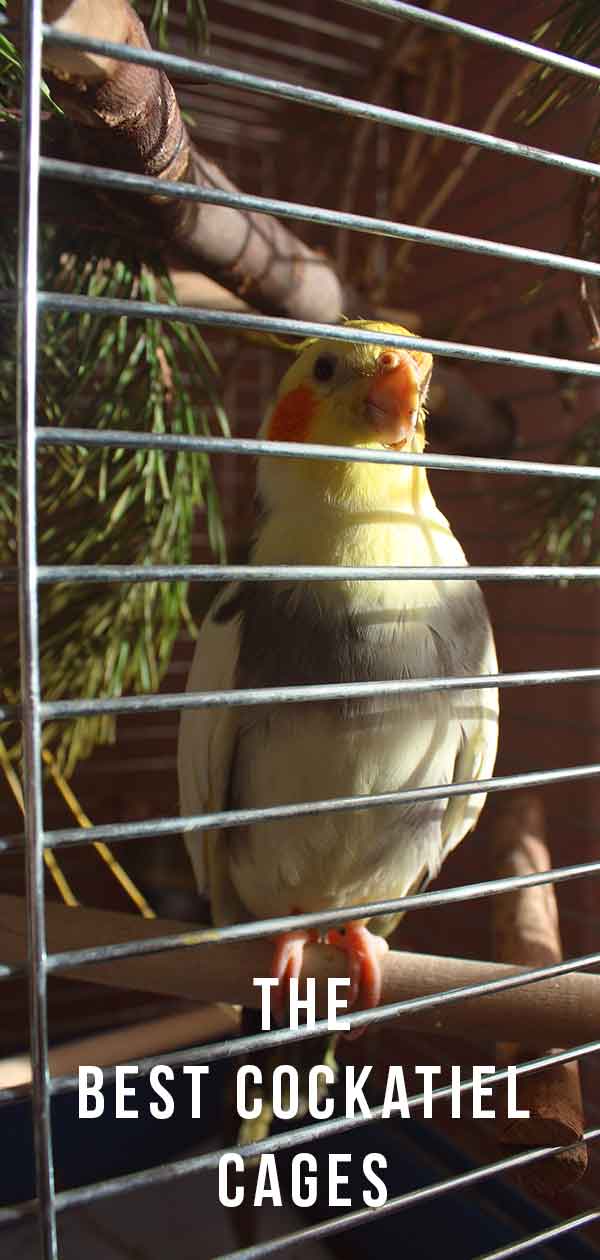 Whatever you'll use your new cockatiel cage for, the following notes are critical for the health and safety of your new pet!
Cage Door
Be sure the cage door isn't the type that can swing down and hurt or kill your bird as they enter or exit the cage. This door type is called a "guillotine door" for a reason.
Rather, choose a cage where the door opens to one side. Or you can choose one that opens out from a bottom hinge (NOT a top hinge).
Also be aware that cockatiels can be escape artists, so choose a door with a "bird-proof" locking mechanism. Also, look out for secure locking for any removable accessories like food and water dishes.
Cage Bar Spacing
Cockatiels are very smart and curious. They can easily get their heads, tails, wings or feet caught in too-tight or too-wide spaces.
The safest cage bar spacing for a cockatiel cage is a one-half inch to 5/8-inch and no larger.
Smaller cage bar spacing is fine if you happen to find it on a suitably roomy cockatiel cage.
Width Versus Height
Cockatiels fly side to side more than up and down, so achieving sufficient cockatiel cage width is more important than adding more height.
Durability and Ease of Cleaning
Many customers seem to prefer wrought-iron cages for unbeatable durability. However, they mention that stain-resistant, easy-to-clean plastic trays make life easier. It is also wise to ensure that your cage is steady on its feet and won't topple over with your birds onboard.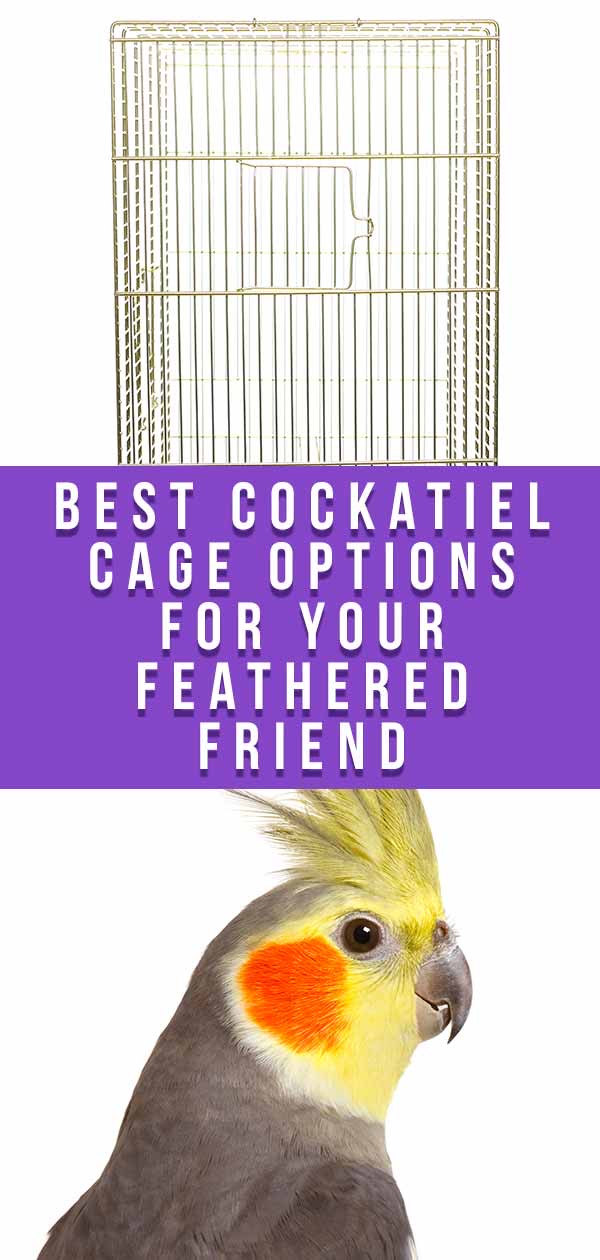 How Big Should a Best Cage Be?
The best bird cage for cockatiel will always be a large cockatiel cage – the larger the better. This is especially so if your cockatiel is flighted (wings are not clipped).
Veterinarians, breeders, and owners all agree that the minimum cage size for a home cockatiel cage (the cage your pet bird will spend the most time in) should be 18 x 18 x 18 inches.
If your pet bird will spend a lot of time outside the cage during the day, the minimum cage size may suffice.
Otherwise, you never want to settle for the minimum cage size if you have the space to offer a larger cockatiel cage.
A roomy cockatiel cage for one or two cockatiels might measure 20 x 24 x 20 or even 20 x 30 x 20 inches. That way your cockatiel is safe and comfortable throughout the day.
Best Cage for Cockatiels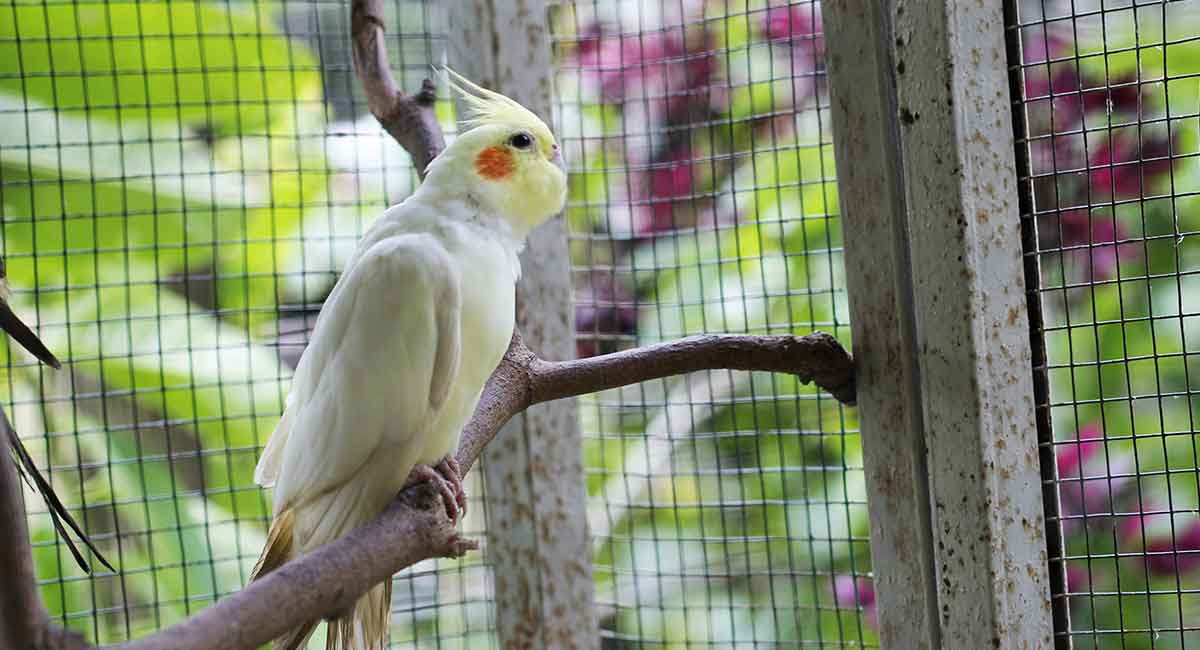 We've highlighted a variety of cage styles, functionalities, and materials. Whether you fancy plastic, wrought-iron, cages for multiple birds, with or without rollers or stands, you're covered.
Even if you're on the hunt for a travel cockatiel cage, we've got you. We hope that you find one that suits your bird and makes you feel relaxed about leaving them in there.
We hope you have enjoyed learning more about all the different types of cockatiel cage options available to you today as a bird owner.
If you want to read more about Cockatiel care, take a look at this article.
Have you found your new pet cockatiel's perfect cage from the lists here?
When you decide, please post a comment to let us know which cockatiel cage you chose – we love to learn from our readers! If you use a cage that's not on the list and are currently loving it, please point us in that direction too!
Make sure to also take a look at our guide to the white Cockatiel!
Affiliate link disclosure: Links in this article marked with an * are affiliate links, and we may receive a small commission if you purchase these products. However, we selected them for inclusion independently, and all of the views expressed in this article are our own.
References and Resources
Stoneman, S., "Recommended Cages," Takoda Aviary, 2006.
Paur, P., et al, "Children and Cockatiels," Mt. Rushmore Birds, 2017.
McElveen, J., "Cockatiel Breeding…Just the Basics," American Cockatiel Society, 2017.
Greeson, L., "Cockatiels – Advice from a Breeder," 2000.
Dietz Kumar, J., VMD, "Cockatiel Care," South Coast Pet Hospital, 2012.