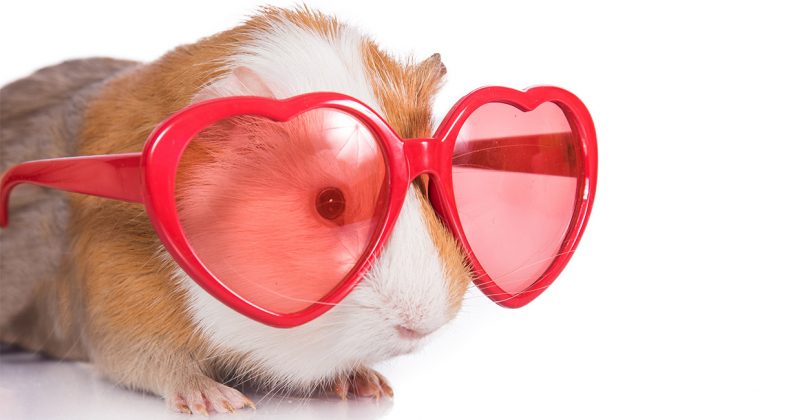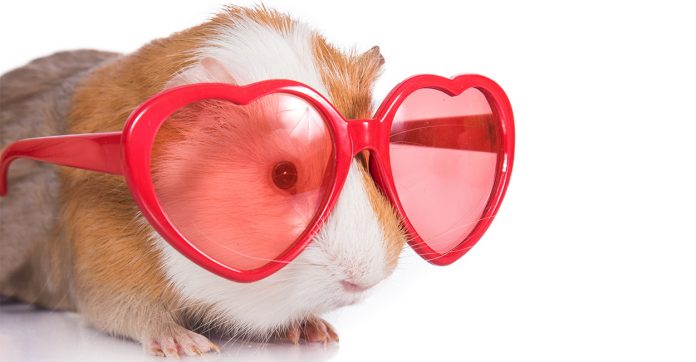 Looking for cool guinea pig names for your new best friends? We can help!
Guinea Pigs are cuddly, cute little creatures that can make ideal pets. How can you resist that furry little face with the twitchy nose and ticklish whiskers?
Did you know that Guinea Pigs aren't pigs, or from Guinea?
These little guys (and gals) are pretty unique pets, with a very interesting history.
If you're looking for cool name ideas to match your Guinea Pigs' cool personalities, you've come to the right place!
We've gathered together more than 300 awesome name ideas for your newest family members.
Cool Guinea Pig Names for Pairs
Did you know that Guinea Pigs love having a roommate?
Since they're so social, it's always a good idea to bring them home in pairs, so they don't get lonely.
Therefore, we're going to kick off this list with cool Guinea Pig names for pairs.
There are a lot of iconic duos to name your fuzzy little friends after, whether you're choosing fictional characters, Hollywood couples or objects (like chips and salsa)!
We've also added in some awesome Guinea Pig names that have a nice ring to it, just for fun.
Names for a Pair of Girls
If you want to avoid little guinea piglets, you should make sure you bring home two of the same gender.
Here are suggestions for two female Guinea Pigs.
Mary Kate & Ashley
Dolce & Gabbana
Peaches & Cream
Dolly & Polly
Daisie & Maisie
Ginnie & Winnie
Jenny & Penny
Ruby & Rosie
Thelma & Louise
Rory & Lorelai
Max & Caroline
Edina & Patsy
Minny & Aibileen
Tia & Tamera
Monica & Rachel
Romy & Michele
Lucy & Ethel
Tina & Amy
Polka & Dot
Rosie & Posie
Names for a Pair of Boys
There are some well known male duos that can make great names for a pair of boys. We've listed these, and some quirkier ideas below.
Batman & Robin
Bert & Ernie
Abbott & Costello
Calvin & Hobbes
Penn & Teller
Bugs & Daffy
Simon & Garfunkel
Chip & Dale
Spongebob & Patrick
Holmes & Watson
Snoopy & Woodstock
Mario & Luigi
Norm & Cliff
Kirk & Spock
Tom & Jerry
Scooby Doo & Shaggy
Troy & Abed
Ren & Stimpy
Beavis & Butthead
Cheech & Chong
Twin Guinea Pig Names
Are your two newest pals look-alikes? Perhaps they are two "peas in a pod"?
Here are some name suggestions of pairs that just seem to belong together.
Salt & Pepper
Mac & Cheese
Chips & Salsa
Zig & Zag
Fish & Chips
Bacon & Eggs
Milk & Cookies
Thunder & Lightening
Salt & Vinegar
Tweedledee & Tweedledum
North & South
Knife & Fork
Gin & Tonic
Pro & Con
Yin & Yang
Peanut Butter & Jelly
Hamburger & Fries
Up & Down
Right & Left
Back & Forth
Cool Guinea Pig Names for Trios
Maybe having a pair is simply not your style and you've decided you'd much rather have three furry little friends. Don't worry; we have you covered as well!
Here are some cool Guinea Pig names for trios that are based on well known characters from cartoons, television and movies.
Harry, Ron & Hermione
Aragorn, Legolas & Gimli
Kirk, Spock & McCoy
Superman, Batman & Wonder Woman
Iron Man, Captain America & Thor
Buffy, Willow & Xander
Plato, Aristotle & Socrates
Athos, Porthos & Aramis
Jack, Janet & Chrissy
Luke, Leia & Han
Curly, Larry & Moe
Annie, Brenda & Elise
Rocky, Colt & Tum-Tum
Blossom, Bubbles & Buttercup
Sam, Neal & Bill
Cory, Shawn & Topanga
Danny, Joey & Jesse
Ted, Marshall & Barney
Alvin, Simon & Theodore
Snap, Crackle & Pop
Cool Long Haired Guinea Pig Names
Just because your Guinea Pigs don't like to travel alone doesn't mean they can't have unique individual names, not related to well-known pairs & trios.
After all you don't have to give your children names that go together, although some people do!
We will cover lots of individual name ideas based on Guinea Pigs' looks, from their hair length, to hair color, to their cute piggy-like appearance.
Let's start with some cool long haired Guinea Pig names.
Fluffy
Woolly
Shaggy
Silky
Cotton Candy
Chewbacca
Chewy
Cousin It
Fabio
Furball
Hairy
Harry
Bushy
Rug
Rapunzel
Fluffers
Fuzzball
Goldilocks
Toupee
Locks
Awesome Guinea Pig Names
Are you still struggling to find the perfect names for your new pets?
There is such a thing as a hairless Guinea pig, however most of these little guys have white, brown, black or orange hair.
Below, you will find lots of awesome Guinea Pig names, based on the different coat colors.
White Guinea Pig Names
If your newest furry friend is all or mostly white in color, you may consider one of the following name suggestions.
Casper
Vanilla
Snowball
Cottonball
Snowflake
Icy
Coconut
Tofu
Popcorn
Alby (for Albino)
Bianca
Opal
Diamond
Crystal
Pearl
Cloudy
Misty
Alaska
Quartz
Ivory
Brown Guinea Pig Names
Brown Guinea Pigs can range anywhere from a light beige to a dark chocolate color. Whatever brown shade coat your little pal is sporting, we have some name suggestions here.
Butterscotch
Brownie
Hazel
Nutella
Woody
Pumpernickel
Biscuit
Amaretto
Bailey
Rolo
Caramel
Cappuccino
Cadbury
Chocolate
Coffee
Coco
Fudge
Mocha
Mudd
Truffle

Black Guinea Pig Names
Guinea Pigs can be found with very dark brown or dark grey coats, as well as true black.
Some suggestions for these companions are the following:
Coal
Soot
Blackie
Cinder
Cola
Marmite
Onyx
Midnight
Night
Batman
Phantom
Blackbeard
Cinders
Ebony
Espresso
Guinness
Inky
Shadow
Orange Guinea Pig Names
Whether your Guinea Pig is more of a strawberry blonde or a carrot top, we have some orange Guinea Pig name ideas here.
Strawberry
Autumn
Fanta
Honey
Ginger
Weasley
Apricot
Auburn
Blaze
Butternut
Cheddar
Copper
Garfield
Gingersnap
Marigold
Peach
Pumpkin
Sunshine
Russet
Umber
Multi-Colored Guinea Pig Names
Guinea Pigs can have a solid color coat, but others sport a wide variety of different color patterns.
Here are some name ideas based on the various possible hair patterns.
Brindles
For the Brindle pattern you could simply choose Brindles.
Dalmatian
If you have a black and white Guinea Pig with the Dalmatian pattern, you could name your little one after a famous Dalmatian, such as:
Spot
Pongo
Perdita
Patch
Lucky
Marshall
Dutch
Dutch guinea pigs have a white coat with a different color patch on their rump and their face.
Based on this, you could choose a name like one of the following:
Harlequin
If you have a Guinea Pig who is sporting a black and cream patchwork coat, he or she is called a Harlequin.
The most obvious name for this type is Harley and it can work for either gender!
Magpie
These are black and white Guinea Pigs that have a checkered pattern.
Some name suggestions for this furry friend are:
Roan
Similar to Dalmatians, these Guinea Pigs are also black and white but speckled instead of spotted.
Some cool Guinea Pig name ideas for this coat type are:
Tortoiseshell
There are two types of tortoiseshell coat for Guinea Pigs.
You made see a Guinea Pig with black and red patches, or one with black, red and white patches.
Some tortoiseshell name ideas are:
Turtle
Torty
Stripe
Patches
Newspaper ("what is black, white and read"…get it?)
Newsie
Himalayan
This is similar in appearance to the Himalayan cat, with a white body and distinct dark markings on the face and feet.
Some name ideas to consider are:
Creative Guinea Pig Names
If you're looking for a more creative Guinea Pig name, we've included some unique suggestions here.
Caviar (Guinea Pigs are commonly called "cavies" from their scientific name Cavia Porcellus)
Jabba (as Guinea Pigs can easily become overweight)
Porky
Pigglesworth
Hamlet
Abby (for the Abyssinian breed)
Fuzzy Wuzzy (for the hairless breed)
Pork Chop
Miss Piggy
Penny (as in penny whistle, since they whistle)
Clever Guinea Pig Names
Still struggling to find the perfect moniker for your new little pals?
How about one of these clever Guinea Pig name suggestions?
Guinea Pig Names Based on Sound
We just love the cute sounds Guinea pigs make. Why not use them as inspiration?
Squeaker
Squeaky
Tooty
Tweety
Whistle
Whistler
Rumble
Purr
Pippy
Poppy
Guinea Pig Names Based on Pigs
Even though these little pets are technically rodents and not pigs, they do have a physical resemblance to real pigs.
Here are some piggy name ideas!
Babe
Bacon
George
Gordy
Hamlet
Hammy
Hogwarts
Porky
Penelope
Peppa
Petunia
Pumbaa
Sausage
Wilber
Squealer
Smokey
Pinky
Piglet
Porkchop
Petal
More Great Guinea Pig Names
The naming possibilities for these little pals are nearly endless.
If you've browsed through the more than 300 suggested names above and haven't yet found the right ones, here are yet more great Guinea Pig names for you to consider.
Rocko
Boomer
Tank
Chomper
Pepsi
Princess
Buttercup
Baby
Softie
Stud Muffin
Snickers
S'mores
Domino
Sprinkles
Tootsie
Cuddle Bunny
Snickerdoodle
Meatball
Bam Bam
Chunk
Frisky
Scamper
Scooter
Zipper
Hopper
Sugar
Sleepy
McFluffy
Squirt
Squishy
Sweet Pea
Teddy
Stubby
Thumper
Alfalfa
Count Chocula
Still More Cool Guinea Pig Names
When you are considering what are good names for Guinea Pigs, you can be as creative and unique as you want to be.
Names are very individual. You may prefer to give your pets "human" names, or names them after objects.
Or, you might prefer to wait and learn their personalities and then give names reflective of them.
Some people prefer funny names, while others opt for intellectual titles.
After all, you're the one who will be calling the names, and your Guinea Pigs are the ones who have to answer to them, so whatever feels right to you are the best names to choose.
If, at the end of the day, you choose to go with something crazy like Note and Paper, no one has the right to judge!