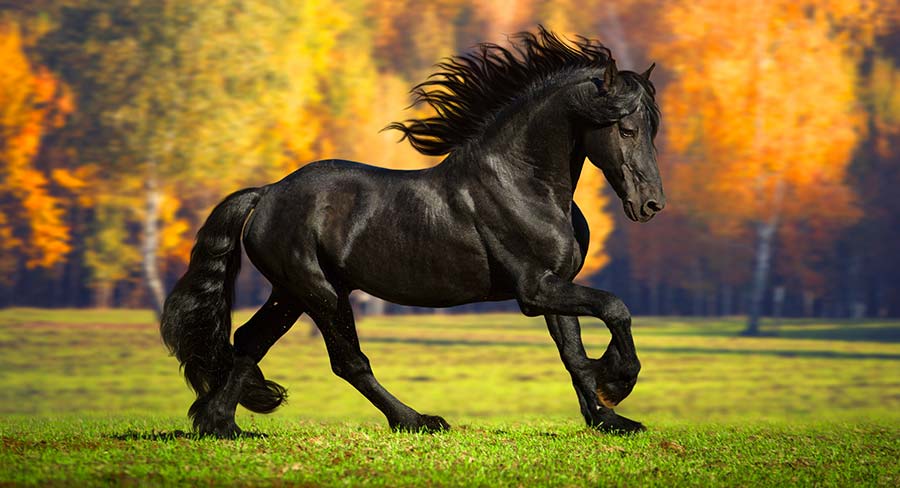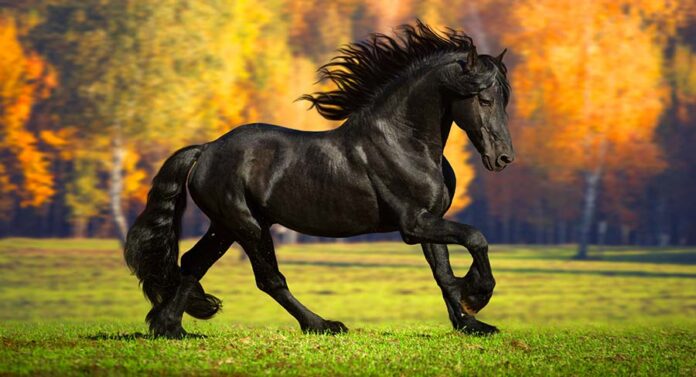 Cool horse names can be inspired by films, TV shows, or they could just be a cool sounding word. You don't need a specific reason to choose a cool or badass name for your horse. Perhaps you just get that awesome vibe from your new colt or filly. Or, you might just choose a cool name in the hopes that your horse will grow into that renegade title.
Searching for a horse name online, no matter what type you're looking for, can be tough. There's a lot of choices out there! And whilst that can be great, it can also be overwhelming. How are you meant to pick the best ones from the pack? We've collected some of the coolest ideas out there for you to look through. See if any jump out at you on the first read. If not, we've put some great tips for naming your horse at the very end of this guide.
Let's kick off with some of our favorites.
Really Cool Horse Names
Here are some of the coolest ideas out there. Can you think of anything more badass than one of these names?
Axel
Blaze
Buster
Duke
Ember
Espresso
Jester
Jinx
Knight
Lightning
Major
Nebula
Ox
Prince
Queen
Rebel
Rocket
Snake
Stallion
Tank
Titus
Tron
Vex
Whiskey
Wizard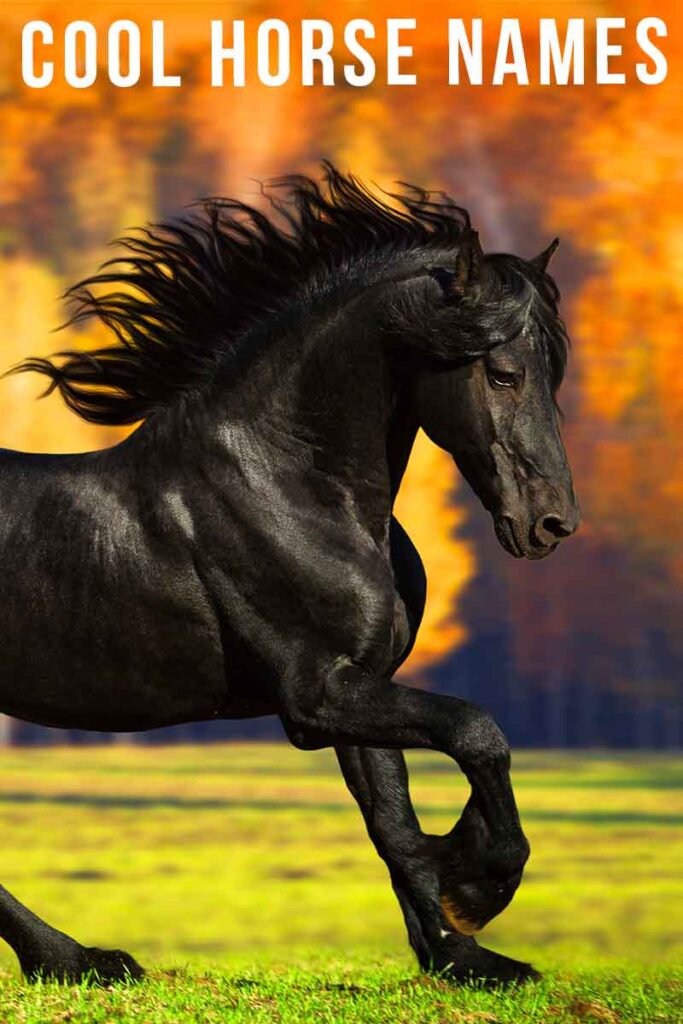 Cool Female Horse Names
There are still plenty of feminine names that give off awesome and badass vibes. Here are some that you could love.
Addie
Arya
Blaire
Brienne
Brooke
Cassie
Donna
Eva
Harley
Indigo
Jazz
Leela
Odette
Piper
Quinn
Raya
Sansa
Serena
Trixie
Tula
Ursula
Venus
Vera
Yaz
Zelda
Cool Male Horse Names
Of course, our cool ideas aren't just restricted to the girls. Here are some cool horse names boy horses will suit.
Archer
Ash
Blaze
Bruce
Damon
Dexter
Drake
Ezra
Flynn
Geralt
Gunner
Iggy
Isaac
Kane
Mac
Mason
Neo
Ozzy
Tanner
Troy
Ty
Vinny
Wade
Xander
Zeke
Cool Black Horse Names
Color is a great place to get inspiration when choosing a name. Here are some awesome ideas inspired by dark horses.
Carbon
Coal
Cola
Crow
Dementor
Diesel
Ebony
Galaxy
Ink
Jade
Midnight
Obsidian
Onyx
Panther
Pitch
Raven
Sable
Sesame
Shadow
Sooty
Spider
Storm
Thunder
Twilight
Witch
Cool Racehorse Names
Is your cool horse faster than light? There are plenty of cool names out there for racehorses, or other speedy ponies. Here are some to show off just how fast your horse is!
Apollo
Blaze
Bolt
Boost
Bugatti
Bullet
Cheetah
Comet
Concord
Dart
Dash
Falcon
Ferrari
Flash
Gunshot
Hare
Hurricane
Jet
Missile
Nuclear
Sonic
Sprinter
Turbo
Whizz
Zipper
Awesome Horse Names
Inspiration for the coolest name ideas can come from anywhere. So, here are some generally awesome options that could catch your eye.
Atlas
Bandit
Boss
Bowie
Chucky
Cyclone
Gamble
Hades
Hawk
Hendrix
Hera
Jinx
Magma
Nova
Oracle
Phoenix
Punisher
Ranger
Rogue
Slash
Sniper
Spike
Sting
Tank
Wasp
Badass Horse Names
We can also borrow ideas from our favorite movies and TV shows when looking for badass names. How about some of these? Do you recognise where they're from?
Aragorn
Bane
Bond
Cersei
Daenerys
Deadpool
Eowyn
Hercules
Hermoine
Indiana
Jennefer
Leia
Legolas
Leonidas
Merida
Morpheus
Mulan
Obi-Wan
Sherlock
Skywalker
Spock
Stark
Trinity
Wanda
Wolverine
How to Pick the Coolest Horse Name
If you're still struggling to narrow down your favorite cool horse names, it can be a good idea to write down a few that you like. Take them to your horse, and try them out in person! Perhaps your horse will react to one that they like the sound of.
Another alternative is simply to use the ideas for inspiration that we've briefly looked at here. You don't have to stick to these names exactly! But, maybe the badass ideas have made you think of another character you love. Or, perhaps the color-based ideas have you thinking about some cool white horse names.
Really, the sky is the limit when it comes to naming your horse. As long as you're happy with the name, your horse isn't going to mind what they're called. So, if you've found a name you're not sure about, you could also try it out for a couple of days, and switch to something better if you still don't love it after that.
Which Cool Horse Name Did You Choose?
If you can think of any other awesome ideas, we would love to hear them in the comments. Did you end up choosing one of the names in this list, or have you managed to think of an even cooler idea? Let us know!
More Horse Name Ideas