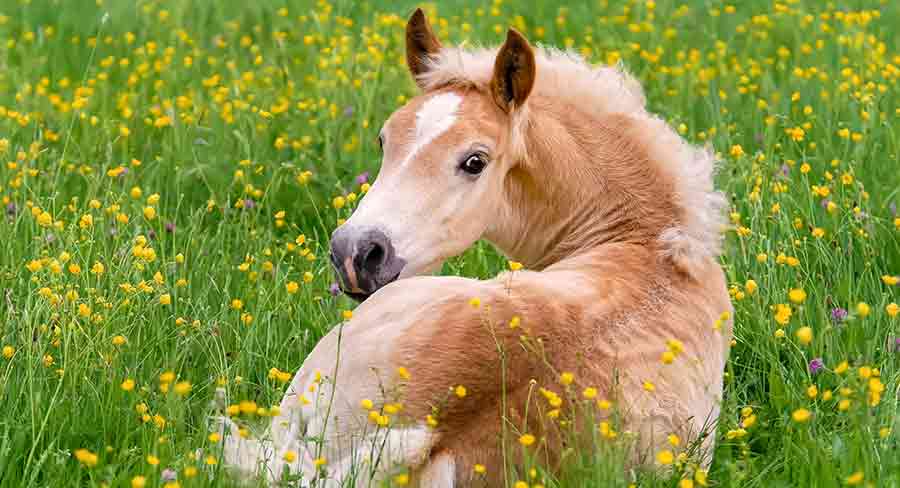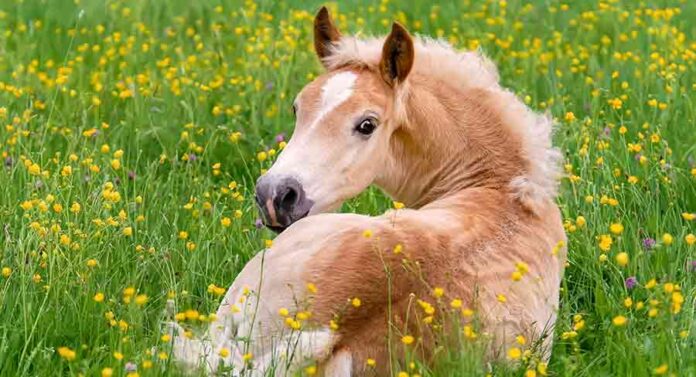 Cute horse names are fun, adorable, and full of personality. They're the perfect fit for your gorgeous filly or colt.
You can find cute names wherever you look. Whether you're inspired by your horse's temperament, their color, or even just nature in general.
Read on for the best adorable horse names.
Great Horse Names
Here are some of the most popular horse names that you're bound to love.
Angel
Bear
Bunny
Carrots
Charlie
Dolly
Faye
Gumdrop
Henry
Iggy
Joules
Lilly
Lottie
Mouse
Noodle
Poppy
Prince
Romeo
Star
Sunny
Tango
Teddy
Tink
Toto
Willow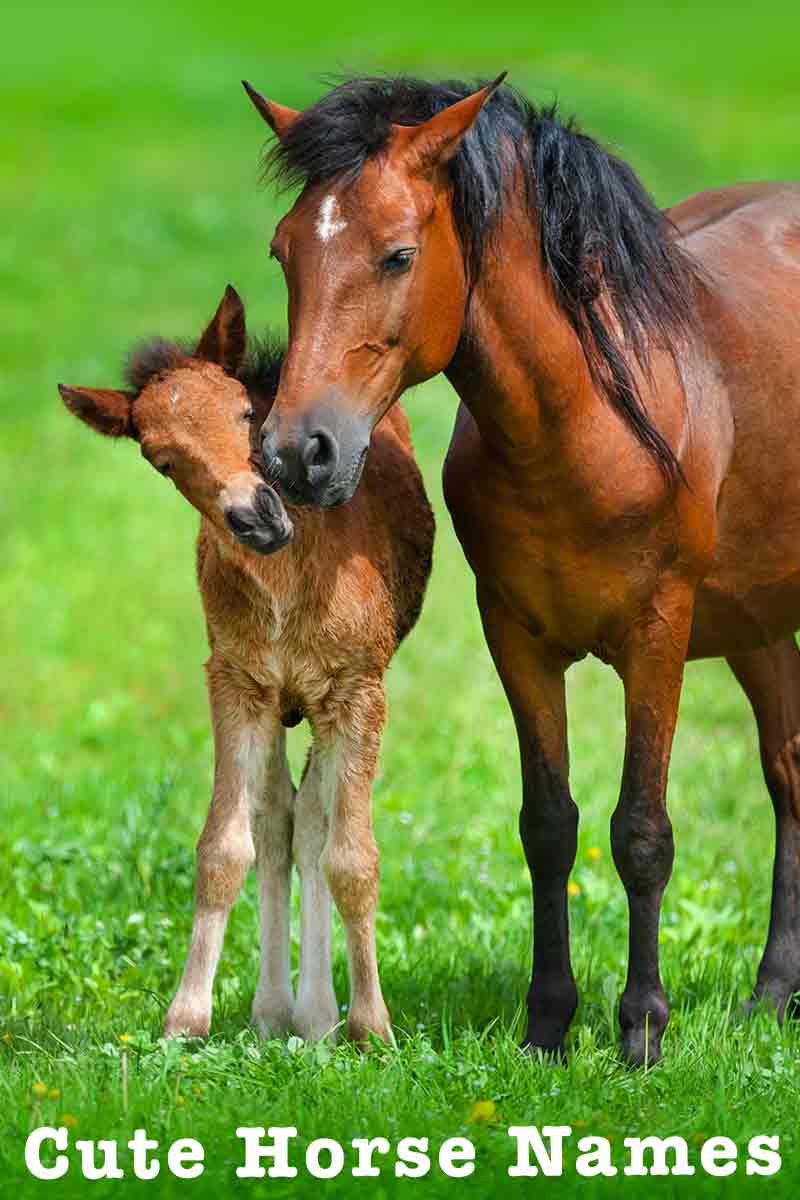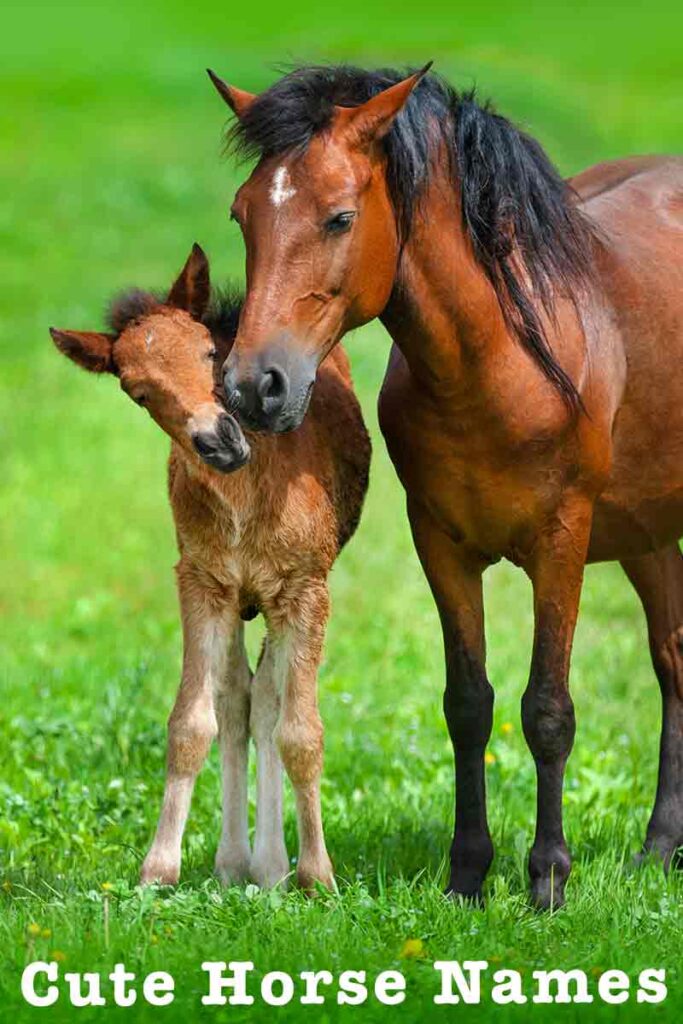 Cute Girl Horse Names
If you have a gorgeous filly or mare, you need a cute name to match her. Here are some cute horse names for fillies and mares.
Annie
Bonnie
Camila
Cora
Daisy
Ellie
Felicity
Freya
Grace
Hattie
Holly
Imogen
Jess
Katerina
Lottie
Maggie
Noelle
Opal
Pearl
Queenie
Raya
Sadie
Skye
Sophie
Talulah
Tess
Uma
Violet
Winnie
Zoe
Cute Boy Horse Names
And we can't leave out the boys! If you're looking for a cute boy name for your colt, one of these adorable ideas will be perfect.
Albie
Arthur
Benny
Caleb
Diego
Dominic
Ezra
Frankie
Giovanni
Harvey
Hendrix
Ismael
Justin
Kenneth
Levi
Luke
Max
Ned
Ozzie
Pat
Petey
Quinn
River
Rowan
Sammy
Sawyer
Toby
Vance
Wesley
Winston
Cute Black Horse Names
Your horse's color is a great place to take inspiration from. Here are some adorable ideas that make great names for horses with dark or black coats.
Anise
Blackberry
Brandy
Coal
Cola
Crow
Domino
Ebony
Eclipse
Ember
Espresso
Galaxy
Gothel
Guinness
Inky
Jet
Licorice
Midnight
Nero
Olive
Onyx
Oreo
Pepper
Pepsi
Rebel
Sable
Shadow
Slate
Sooty
Tux
Cute White Horse Names
Some beautiful, uncommon and adorable names can come from a white coat. Here are some of our favorites.
Ash
Aspen
Bounty
Casper
Chardonnay
Chowder
Cloud
Coconut
Cotton
Crystal
Cupid
Diamond
Dove
Eskimo
Frosty
Ivory
Marshmallow
Milky
Nova
Olaf
Pearl
Peppermint
Petal
Pinot
Snowdrop
Snowflake
Sugar
Swan
Tofu
Toga
Cute Chestnut Horse Names
Chestnut horse coats are just as beautiful as black and white ones. So, it's easy to think of cute names for a chestnut or another brown tone horse.
Amber
Autumn
Bagel
Biscuit
Brownie
Caramel
Cashew
Chocolate
Cinnamon
Cookie
Copper
Fawn
Foxy
Freckles
Ginger
Hazel
Honey
Maple
Moose
Muffin
Nutella
Nutmeg
Peanut
Pumpkin
Snickers
Tawny
Toast
Toffee
Truffle
Whiskey
Cute Grey Horse Names
Do you have a wonderful grey horse? Here are some sweet as sugar names that are just perfect for an adorable grey horse.
Anchovy
Aurora
Chrome
Cinder
Comet
Dolphin
Dorian
Dumbo
Dusty
Earl grey
Flint
Glacier
Glitter
Koala
Misty
Nickel
Orion
Oyster
Pebbles
Pewter
Raincloud
River
Silver
Smokey
Sterline
Sylvie
Tinsel
Twilight
Velvet
Wolf
Which Horse Name Is Your Favorite?
Can you think of any other absolutely adorable horse names that we've missed off this list?
We would love to hear your ideas in the comments. And make sure to let us know if you have chosen one of the names from our list!
Finding the best cute name can be tough. But, if you're struggling, try a few out on your horse. See if they react to one more than the others.
That could be their way of showing you which name they love!
Other Great Name Ideas
If you haven't found your perfect name yet, take a look at some of our other name guides for more inspiration.