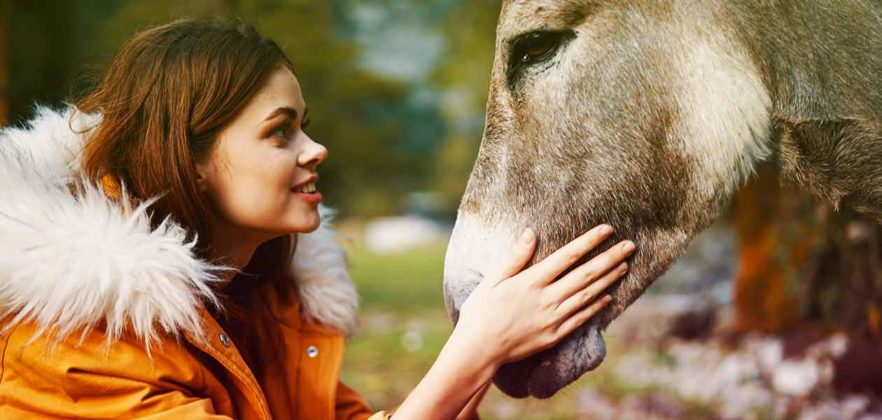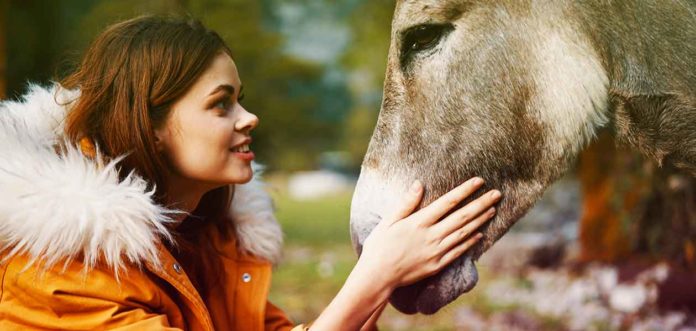 Today we will share the very best donkey names, to help you find the perfect match for your adorable companion. These names are a great way of expressing your donkey's personality or beautiful looks. You might want to choose something funny, cute, or even that begins with 'D'! Let's get started by taking a look at the top 50 donkey names for 2021.
Top 50 Donkey Names for 2021
Here are our favorite donkey names for this year.
| | |
| --- | --- |
| Eeyore | Donkey |
| Puller | Emily |
| Sasha | Jackson |
| Michael | Sid |
| Lana | Gus |
| Francis | Benjamin |
| Dominick | Flower |
| Chick | Olive |
| Emma | Sax |
| AJ | Silver |
| Bruce | Pepper |
| Lucy | India |
| Violet | Rose |
| Bonbon | Oscar |
| Pam | Trotter |
| Zipper | Bowie |
| Rich | Vinny |
| Dior | Glitter |
| Bray | Opal |
| Smith | Beard |
| Lemon | Creed |
| Scott | Polka |
| Sequin | Denver |
| Max | Jenny |
| Runner | Gallop |
Contents
Here are the different types of donkey names that we look at today.
Best Female Donkey Names
Let's get started by looking at some girly ideas. You can choose a beautiful feminine name for your donkey. Here are some of our favorite ways to show off her girly side!
Felicity
Hannah
Beth
Gracie
Poppy
Ava
Ellie
Pamela
Yara
Emma
Mia
Harper
Abi
Elizabeth
Camilla
Aria
Scarlet
Luna
Victoria
Madison
Penny
Chloe
Norah
Audrey
Zoe
Leah
Hazel
Skylar
Paisley
Alex
Maya
Naomi
Sandra
Elena
Cora
Maddy
Gianna
Isla
Quinn
Ivy
Piper
Sadie
Lydia
Emery
Vivian
Betsy
Maeve
Patty
Susie
Best Boy Donkey Names
We can't leave our boys out! There are also tons of great male names that will suit your donkey perfectly.
Freddie
Liam
Noah
Elijah
Hayden
Kylo
Oliver
James
Mason
Logan
Felix
Jacob
Daniel
Sebastian
Aiden
Sammy
Carter
Chris
Owen
Wyatt
Jack
Dylan
Grayson
Levi
Gabriel
Anthony
Josh
Theo
Ashley
Thomas
Connor
Ezra
Aaron
Robert
Nicholas
Ian
Jordan
Evan
Roman
Axel
Miles
Jason
Sawyer
Tyler
Albert
Elton
Frank
Erwin
Gary
Donkey Names Beginning with D
Another fun way to find the best names is to choose one that starts with the letter 'd'. Here are some great ideas:
Drake
Dapper
Disco
Diver
Daisy
Dapple
Deep
Dumb
Dude
Duke
Damsel
Devil
Dizzy
Daughter
Director
Dreamy
Date
Designer
Dark
Dam
Dip
Dot
Dally
Dawdler
Delicate
Derek
Diamond
Dianne
Dino
Danny
Dexter
Dear
Dart
Decoy
Derby
Denim
Dune
Dime
Dipstick
Dixy
Dishy
Doodle
Dozer
Doily
Dolly
Dundee
Dragon
Drumstick
Dynamite
Funny Donkey Names
Wanna bring some humor into your pet's life? Here are some hilarious ideas that could be perfect for your donkey!
Ears
Horse
Bartholomule
Burro
Kicker
Wonky
Kong
Smart Ass
Jack
Jonass
Honk
Spud
Ferris Mueller
Waffles
Casanova
Douglass
Gasston
Silass
Sassy
Duchass
Eddie Murphy
Yankee
Burrito
Taco
Enchilada
Bagel
Diva
Pony
Runner
Havoc
Bouncey
Nibbles
Zorro
Zipper
Mischief
Gizmo
Tigger
Toro
President
Felipe
Nobby
Shrek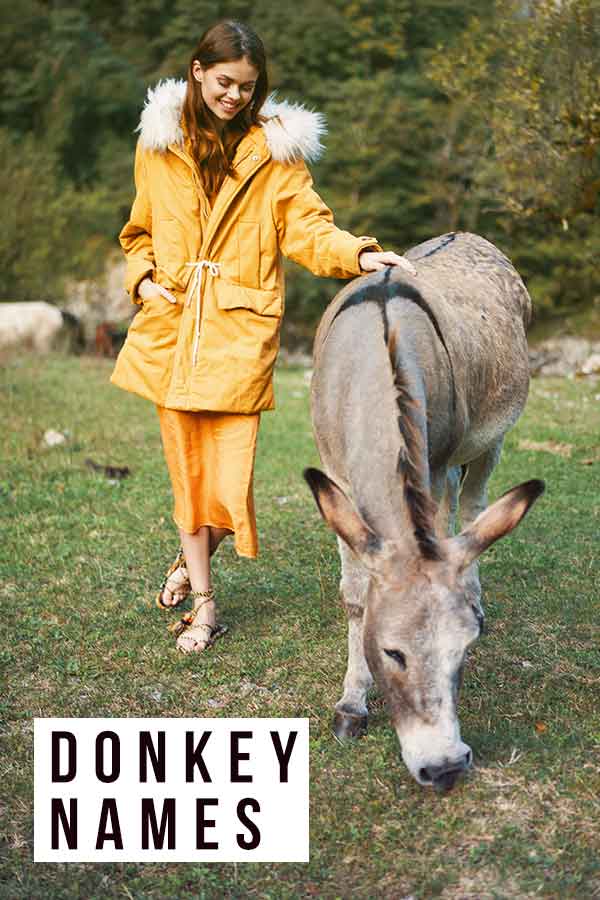 Cute Donkey Names
Another great avenue to go down for inspiration is cute things! Here are some adorable ideas that will get you smiling.
Snickers
Petal
Beans
Sparkle
Clover
Spice
Bobby
Millie
Coco
Peanut
Angel
Elvis
Wilber
Hercules
Sandy
Iggy
Mosaic
Puzzle
Quiver
Valentine
Gypsey
Pearl
Pixie
Tess
Bailey
Mocha
Twiggy
Willow
Nutmeg
Nala
Fiesta
Brandy
Pickles
Charming
Biscuit
Floss
Caramel
Yoshi
Beauty
Glitter
Cuddles
King
Dinky
Bear
Dobby
Pear
Sausage
Hoops
Crinkle
Farm Donkey Names
Perhaps you own a donkey as part of a farm! Here are some great farm-inspired ideas that might be perfect for you.
Harvest
Barn
Straw
Goat
Tractor
Cattle
Goose
Crops
Dairy
Fertilizer
Field
Farmer
Flock
Haystack
Herd
Meadow
Mule
Mower
Oats
Pail
Pasture
Plow
Rake
Ranch
Roost
Scarecrow
Stallion
Stable
Shears
Tiller
Udder
Wheat
Windmill
Auger
Silo
Wheelbarrow
Dungaree
Oxen
Bushel
Hock
Kernel
Mill
Scythe
Shear
Weed
Pollen
Fallow
Cradle
Bovine
Appearance Inspired Names
Another fun way to get ideas is to look at your donkey's appearance. These animals come in all shapes and sizes, so here are some ideas that might suit your donkey:
Roan
Chocolate
Noir
Slate
Ash
Silver
Shadow
Pearl
Sooty
Chalky
Ghost
Steel
Pewter
Fossil
Mink
Smokey
Rhino
Seal
Anchor
Charcoal
Cloud
Mousey
Koala
Licorice
Sardine
Glossy
Star
Stumpy
Gandalf
Feather
Bullet
Dusty
Vintage
Embers
Mercury
Tinsel
Anchovy
Eclipse
Champagne
Hiccup
Midnight
Dawn
Domino
Oreo
Chai
Tawny
Vapor
Minx
Cotton
Dumbo
Best Donkey Names
Have you found your ideal new donkey name in this list? We've used inspiration from loads of different places, but there's plenty more out there! If we've missed off your favorite name, make sure that you let us know in the comments! We would love to hear your ideas.
More Pet Names