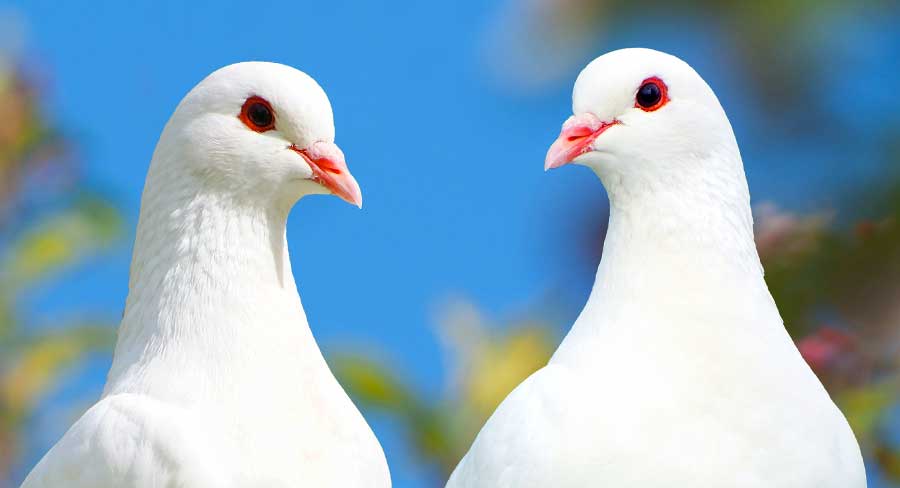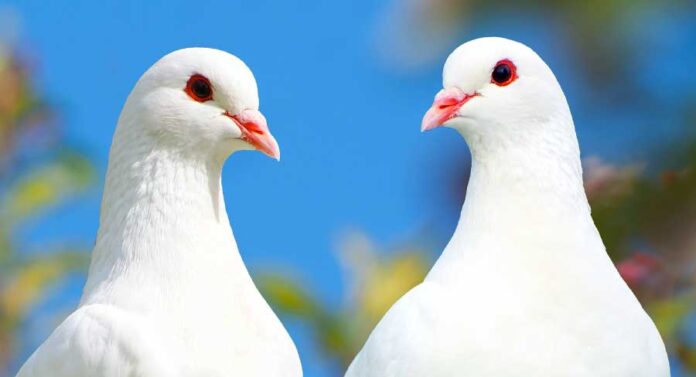 Dove names can be beautiful, symbolic, or cool! Birds are considered some of the most intelligent animals on the planet. So it's no surprise many humans find that birds make remarkable companions. When we think of pet birds, many of us think of parakeets or parrots. But, a new feathery friend is rising the ranks when it comes to making a winning pet. That's right folks, we're here to talk about doves!
Do you have some beautiful pet doves at home? It's important to choose the perfect name to suit such an unusual pet. And luckily, we have plenty of ideas to help. Let's begin!
Dove Names – Quick Links
The links above will take you straight to the category you're looking for. But, if you don't know what type of name will suit your dove pet, keep reading to get a feel of them all!
Female Dove Names
Doves love living in pairs. So if you're choosing a male and female dove pair to adopt, you may also be looking for a darling female dove name for your beautiful girl. These female names also work for male doves, or even other pets that aren't doves at all! There are no rules here, and the sky is the limit when it comes to dove names. Take a look at our favorite ideas below:
Bluebell
Skye
Lulu
Daisy
Stella
Tara
Juniper
Zoe
Kate
Lavender
Millie
Ginny
Luna
Poppie
Florence
Birdie
Rose
Lacey
Bella
Lucy
Molly
Harper
Abby
Pipa
Cleo
Remi
Or, maybe you would prefer a name for a boy dove!
Best Male Dove Names
Male dove names can work for male doves, but they are also just as wonderful for female doves. These below dove boy names can also make wonderful monikers for any other pets and even stuffed animals or children's toys.
Blue
Oliver
John
Charlie
Peter
Mark
Clark
Bradey
Freddie
Rio
Andy
Griffin
Ace
Rico
Donald
Bond
Abbot
Lou
Axel
Barney
Rocky
Henry
Bruno
Harold
Tom
Lewis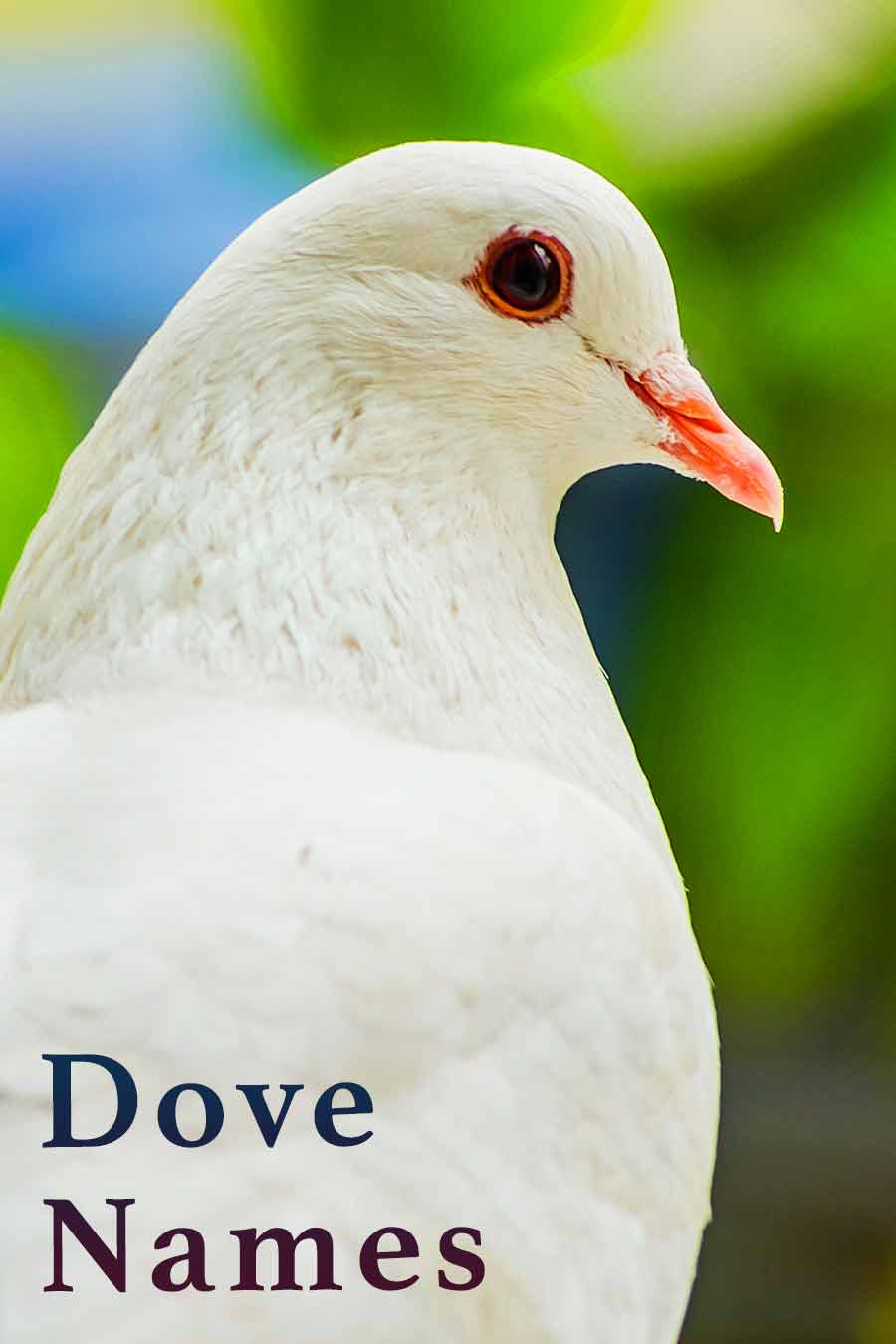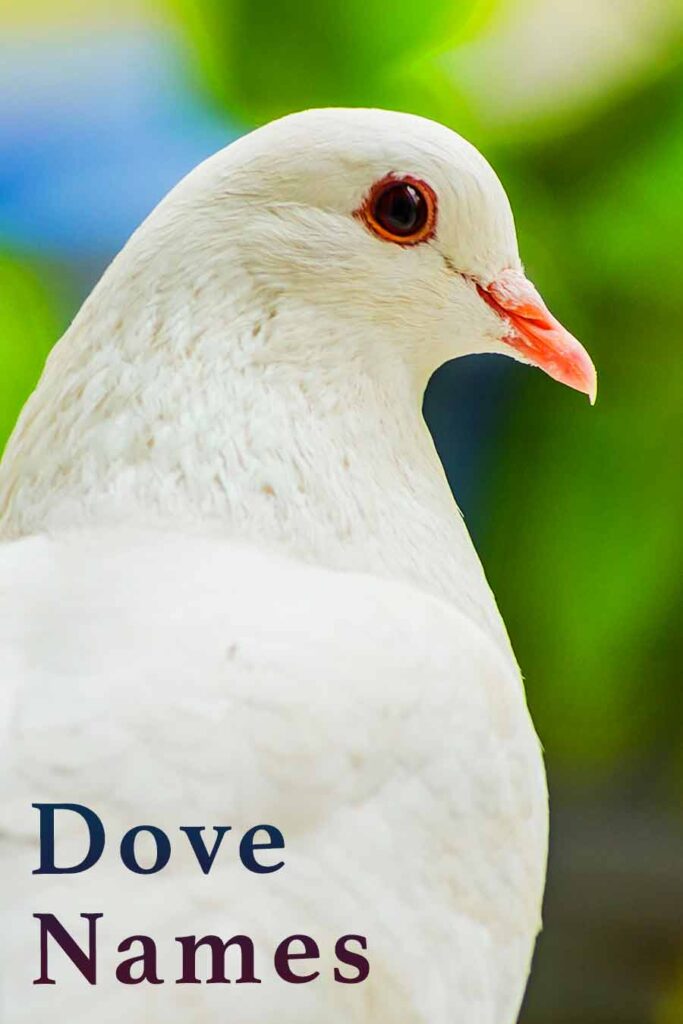 Some people prefer names that don't sound "human" at all for their birds!
Unique Dove Names
If you're a trendsetter, chances are you may want your new pet dove to be a trendsetter too. This will call for a list of doves names no one else will have chosen. We also like the idea of unique dove names because they are sometimes easier to remember. Unique names even make for excellent conversation starters.
Josetta
Capri
Zuri
Minx
Angel
Everest
Ivy
Paco
Alaska
Sheba
Ginger
Coldin
Saber
Pika
Noel
Nissa
Feather
Nixie
Karma
Kiwi
Cedar
Jewel
Posey
Polly
Gale
Doves are associated with some strong symbols. So, how about a name to reflect that?
Symbolic Dove Names
The dove is a classic symbol of love and innocence. If you would like a classic name that encompasses all things your dove stands for, then this is the section for you.
Amor
Precious
Saint
Angel
Gift
Story
Peace
Diamond
True
Love
Peaceful
Faith
Freedom
Adore
Hope
Grace
Beloved
Devoted
Purity
Beauty
Spirit
Heartly
Devotion
Lucky
Lullaby
Or, maybe you just want something downright adorable?
Cute Dove Names
It's likely when you thought of dove names, you thought of cute dove names first. That's because doves are all things cute, and there was certainly no shortage of cute dove names for us to choose from when compiling our list.
Snow
Lucky
Pepper
Frosty
Peaches
Candy
Peanut
Daisey
Gumdrop
Icicle
Skittles
Sugar
Snowball
Rainbow
Wonderland
Sunny
Dory
Numbus
Annie
Mango
Kiwi
Bisquit
Coco
Bonnie
Tweety
Not all doves need cute names. Here are some ideas with the opposite feel.
Tough Dove Names
Okay, so doves are not the toughest of birds. Unlike hawks or owls, which are known for being powerful birds of prey, doves are more famous for being gentle and sweet-natured. Still, that doesn't mean your dove can't have a tough sounding name to help give her some edge. Here are a few villainous names perfect for that daring dove of yours.
Hermes
Scar
Ace
Leo
Rufus
Elvis
Xena
Boomer
Whiskey
Zeus
Pyro
Thor
Hercules
Chaos
Electra
Rambo
Tank
Venom
Missile
Butch
Kong
Domino
Ajax
Vader
Arrow
Most dove owners will have more than one bird. So how do you find the best names for more than one dove?
Dove Names for Pairs
If you do plan on investing in a dove as a pet, it's highly recommended by experts that you purchase doves in pairs. These are social animals that can live upwards of 20 or more years, and they do best when they are raised with other doves. For this reason, we couldn't leave out a list of 25 fun pair names for the dove buddies in your life!
Romeo & Juliet
Olive and Popeye
Milli and Vanilli
Beauty and Beast
June and Johnny
Babe and Ruth
Adam and Eve
Prince and Princess
Lucy and Ethel
Micky and Minnie
Tom and Jerry
Ginger and Snap
Antony and Cleopatra
Ben and Jerry
Chips and Salsa
Barbie and Ken
Batman and Robin
Will and Grace
Cheech and Chong
Hansel and Gretel
Starsky and Hutch
Sonny and Cher
Chandler and Joey
Venus and Mars
Brooks and Dunn
What about an awesome idea to suit your cool bird?
Cool Dove Names
Finally, we have some cool dove names. Yes, we know doves are delicate and beautiful, but they're also totally rad. We think the below cool dove names are perfect for the dove in your life. Of course, these names are not designated to just doves. They will also work for any cool pet in your life, don't you think?
Knox
Everest
Casper
Alaska
Shadow
Aspen
Whisper
Phoenix
Lake
Ghost
Raven
Zuri
Ice
Pilot
River
Hunter
Champ
Ryder
Flex
Chase
Shade
Jett
Harley
Rocket
Sailor
When it comes to choosing from this huge list of names, how do you find the best one?
Naming Your Dove
Beautiful, a symbol of love, and highly intelligent, doves are flying their way into the hearts of bird lovers everywhere. They make excellent pets, according to experts, and are known to be affectionate, curious, friendly, and fun. But what's in a name? Is naming your pet really that important? The answer is YES! Naming your pet doesn't need to be taken too seriously, but it should be a process that is given some time and thought. This is true no matter where your dove is from. Even if they are a rescue! A shelter dove name doesn't have to be their permanent name, if you don't want it to.
While there are no rules when it comes to naming your dove, there are some tips we recommend you follow when trying to decide which dove name would be right for your pet. First, keep in mind that your dove's name is a reflection on you. Pick a name you love and that you're comfortable with saying often and in public from time to time.
We also suggest getting the family involved in the naming process. Naming your pet not only gives your pet an identity of their own, but it can also help enhance the bond between you, your pet and everyone else in the household. Last, did you know it's possible to teach your dove their name?
How To Teach Your Dove Her Name
Like most animals, birds learn best when trained using positive reinforcement techniques. When teaching your bird's name, dove pets will do best if you keep sessions short and repetitive. Repeat your dove's name to her and when she looks at you or comes to you, immediately reward her with a treat. Repeat this process several times throughout the day in short increments of 10 to 15 minutes. You can continue to play this game with your Dove as often as needed or until she understands her name.
Because doves are so clever, teaching a dove her name should not take too long. Birds have great memories, so retaining this information is also simple for them. Of course, if you choose a particularly difficult dove name for your bird, it may take you longer to get that name to stick. So, if it's important that your doves learn their names faster, choose a simpler, shorter option. But, either way, be patient, be repetitive, and have fun!
Which Name Did You Choose?
Doves are excellent companions and do best with owners who understand them and their unique needs. They also do best with owners who are able and willing to spend plenty of time with them. Are you getting a dove? Tell us below in the comment section! Which name did you choose for your new bird?
Readers Also Liked
References and Resources