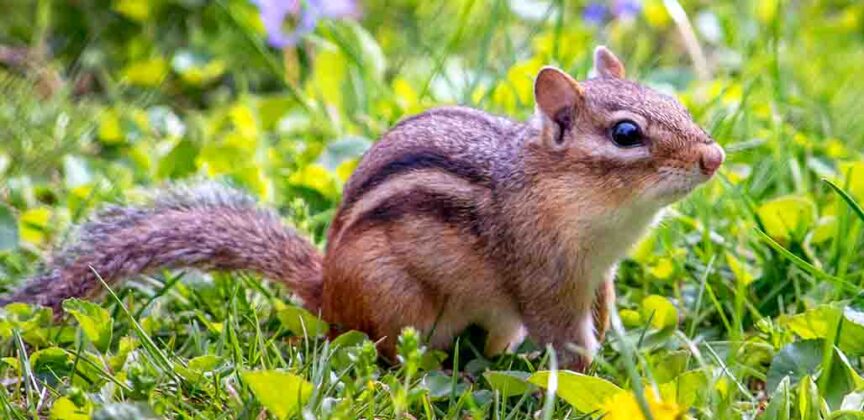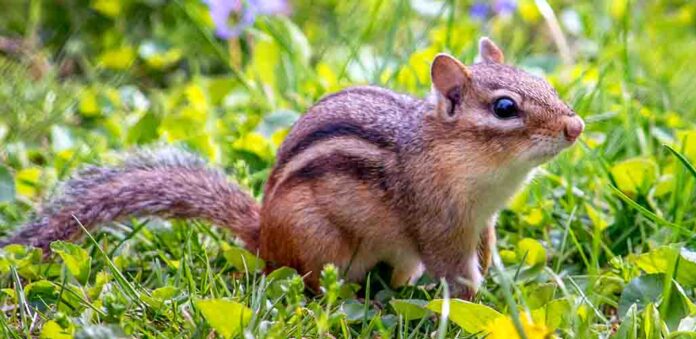 Girl chipmunk names should reflect these little pets' amazing traits. They are smart, sassy, active, energetic and affectionate. Chipmunks make adorable pets, and your special little lady deserves a unique name. But choosing the best one is no easy task. However, with a little inspiration and a bit of thought, you can find the perfect moniker in no time.
Contents
Here we have come up with plenty of ideas to help you find the perfect name for your female chipmunk. So, whether you want a name for your pet, a plush toy, or a regular backyard visitor, we've got you covered. And don't worry if you have two or three female chipmunks, as we have some great names for pairs and trios too!
Naming Pet Chipmunks
Chipmunks are adorable, and the best names capture your pet's unique features, characteristics, and energy. But don't be in a rush to name your little lady. Be sure to observe them and get to know their personalities and individual quirks first.
You can gain inspiration from famous female celebrities and fictional characters, or you may prefer a funny or cute name for your new little pet. Short, catchy names that are easy to say are best. Brainstorming names for a girl chipmunk are lots of fun, and you are sure to find some ideas from one of our lists below.
Girl Chipmunk Names
Female chipmunks are very independent as they have to look after their young by themselves with no help from the males. They must also protect themselves from predators, gather food to feed themselves and store enough for winter to hibernate! If you take on a girl chipmunk, you want an innovative, feminine name.
Abby
Amy
Angel
Ava
Bella
Betty
Carrie
Chloe
Daisy
Dina
Diva
Dixie
Elsa
Gigi
Gracie
Hattie
Hetty
Lady
Luna
Maggie
Mia
Molly
Nancy
Penny
Star
Stella
Tia
Tory
Wendy
Cute Girl Chipmunk Names
There is no denying that chipmunks are one of the cutest creatures on the planet with their puffy cheeks and bushy tails, not to mention their comical personalities! These cute girl chipmunk names capture all the cuteness of your adorable little lady!
Acorn
Autumn
Beauty
Biscuit
Buffy
Candy
Cashew
Coco
Cookie
Cutie
Echo
Fluffy
Hazel
Huggy
Maple
Minnie
Muffin
Nibbles
Nutmeg
Peaches
Peanut
Pistachio
Pixie
Pudding
Pumpkin
Skippy
Starry
Sugar
Sweetie Pie
Tiny
Walnut
Willow
Funny Girl Chipmunk Names
Chipmunks have comical personalities, so it is only apt you should give your girl chipmunk a funny name!
Cheeky
Chocolate Chip
Chubby
Dimples
Ginger Nut
Hazel The Nut
Miss Chatterbox
Mrs Nutty
Nutella
Puff cheeks
Puffles
Scoot
Tailsy
Truffles
Twitch Fuzzbottom
Girl Chipmunk Names Inspired by Female Celebrities
Female celebrities include anyone from show business, politics, sport, history, and a whole lot more and can inspire a mountain of names for you to choose from for your girl chipmunk. Check out these inspirational famous female celebrities.
Adele (English singer)
Agatha (After English writer Agatha Christie)
Amelia (After American pilot Amelia Earhart)
Angelina (After American actress Angelina Jolie)
Beyonce (American singer)
Diana (After Princess Diana)
Elizabeth (After Queen Elizabeth of the United Kingdom)
Ellen (After American talk show host Ellen DeGeneres)
Flo-Jo (After American athlete Florence Griffith Joyner)
Florence (After Florence Nightingale – the founder of modern nursing)
Grace (After American actress Grace Kelly also Princess of Monaco)
Hilary (After Hilary Clinton – Former U.S. Secretary of State)
Jlo (After Jennifer Lopez – American singer, actress and dancer)
J.K. (After J.K. Rowling – the author of the Harry Potter series)
Kamala (After Kamala Harris – Vice President of the United States)
Madonna (The Queen of Pop!)
Malala (After Malala Yousafzai – Pakistani activist)
Marilyn (After American actress Marilyn Monroe)
Meryl (After American actress Meryl Streep)
Michelle (After Michelle Obama – Former First Lady of the United States)
Oprah (After American talk show host Oprah Winfrey)
Rihanna (Barbadian singer and actress)
Rosa (After Rosa Parks – American activist)
Serena (After American tennis player Serena Williams)
Shakira (Columbian singer)
Tailor (After Tailor Swift – American singer and songwriter)
Zendaya (American actress)
Girl Chipmunk Names Inspired by Fictional Characters
Fictional characters can offer some great names, whether from movies, tv shows or books. The Chipettes are the famous girl singing trio of chipmunks in Alvin and the Chipmunks. They all have different personalities and looks. Is one of these names a fit for your little lady?
Brittany – the lead singer
Jeanette – the tallest of the three who is clumsy and sweet
Eleanor – the chubbiest of the three who always wears green
Here you can find more inspiration from other fictional characters.
Clarice (Chip and Dale)
Dorothy (The Wizard of Oz)
Eleven (Stranger Things)
Hermione (Harry Potter)
Princess Leia (Star Wars)
Princess Sally Acorn (Sonic the Hedgehog)
Rey (Star Wars)
Sandy Cheeks (SpongeBob SquarePants)
Thumbelina (Thumbelina)
Tinkerbell (Peter Pan)
Xena (Xena: Warrior Princess)
Girl Chipmunk Names for Pairs
Two is better than one, and here we have come up with some great pairings for your pair of girl chipmunks.
Betty and Wilma
Bubbles and Squeak
Cagney and Lacey
Chips and Salsa
Chocolate and Chips
Cinnamon and Sugar
Fluffer and Nutter
Gigi and Bella
Gin and Fizz
Peaches and Cream
Peanut and Butter
Romy and Michele
Sugar and Spice
Venus and Serena
Thelma and Louise
Girl Chipmunk Names for Trios
Three chipmunks are not a crowd when it comes to a trio of girl chipmunks, as the female of the species lives quite happily together. Here you can find some great triplet names for your three little ladies.
Anne, Emily, and Charlotte (The Bronte sisters)
Blanche, Dorothy, and Rose (The Golden Girls)
Blossom, Bubbles, and Buttercup (The Powerpuff Girls)
Brittany, Jeanette, and Eleanor (The Chipettes)
Kelly, Beyonce, and Michelle (Destiny's Child)
Mary, Winnie, and Sarah (Hocus Pocus)
Monica, Rachel, and Phoebe (Friends)
Prue, Phoebe, and Piper (Charmed)
Salt, Peppa and Spinderella (Rap group)
Choosing The Best Girl Chipmunk Names
Are you in the process of welcoming a new girl chipmunk into your home? Have you been inspired by any of the names we have listed? Please let us know in the comments.
More Pet Names