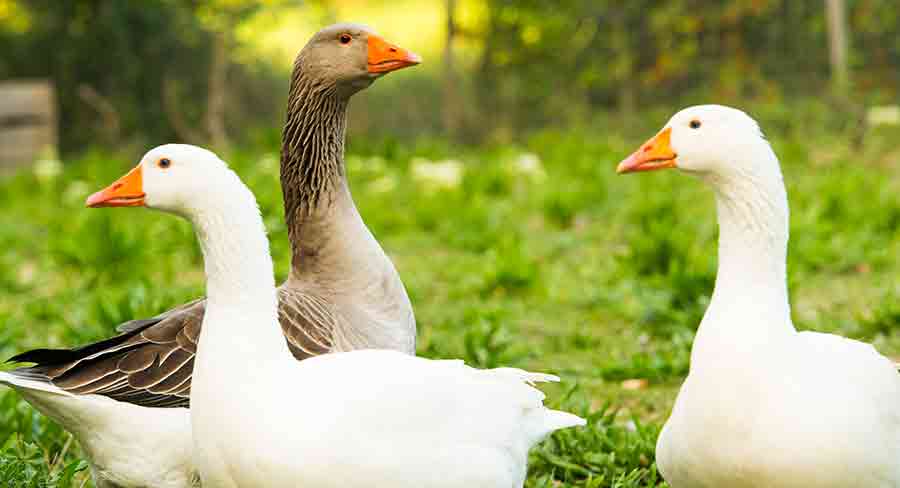 Pet geese are fabulously fun birds to have around your lake or pond. Today we are going to share the very best pet goose names for your gorgeous gaggle. Have a gander at these great ideas!
Good Names for a Pet Goose
A lovely way to name your pet bird is to use a more traditionally human name. Although they aren't going to be coming indoors any time soon, it helps to make them feel even more a part of the family.
Female Goose Names
Phillipa
Darcey
Olivia
Felicia
Charlotte
Cordelia
Beatrice
Fiona
Florence
Anastacia
Zoe
Demelza
Christine
Elizabeth
Harriet
Mathilda
Isobel
Alexa
Dayana
Maria
Samantha
Margaret
Alvita
Talia
Alexandra
Male Goose Names
Benjamin
Christopher
Alexander
Francisco
Theodore
Sebastian
Reginald
Arthur
Alfred
Jonathan
Marcus
Zander
Jacob
Tobias
Clifford
Frederick
Matthew
Thomas
Charles
Horacio
Phillip
Ronald
Chadwick
Herbert
Funny Names for a Goose
Geese are pretty funny birds. From that distinctive waddling walk to the way that they aren't afraid to show their personality. Especially around strangers or those that dare to get near their eggs! These names are inspired by everything from their passionate personalities to their hilarious quirks.
Slasher
Blade
Brute
Ego
Bolt
Blaze
Saber
Bandit
Raven
Enigma
Waddle
Toddles
Quackers
Foie Gras
Pate
Roast
Dinner
Duck Sauce
Puddles
Wader
Scramble
Storm
Paddle
Ducky
Another funny way to name your goose is to use rhymes!
Lucy Goosey
Juicy Goosey
Zanussi Goosey
Bruce Goose
Deuce Goose
Vamoose Goose
Gertie Goose
Spruce Goose
Ander Gander
Xander Gander
Zander Gander
Commander Gander
Outlander Gander
Queenslander Gander
Rosander Gander
Coriander Gander
Scientific Names for Geese
You might like to use a scientific term related to geese to inspire your name. Male geese are called Ganders and females are called Dames. Baby geese are named Goslings. All of these make lovely names for the individual too! Or if you want something a bit more unusual, how about using names related to how geese behave:
Gander (male goose)
Dame (female goose)
Gosling (baby goose)
Anser (type of goose)
Branta (type of goose)
Gaggle (group of geese)
Team (group of geese)
Skein (group of geese)
Wedge (group of geese)
Canada (type of goose)
Greylag (type of goose)
Snow (type of goose)
Barnacle (type of goose)
Brant (type of goose)
Cackling (type of goose)
Ross (type of goose)
Emperor (type of goose)
Bean (type of goose)
Hawaiian (type of goose)
Andean (type of goose)
Magellan (type of goose)
Kelp (type of goose)
Magpie (type of goose)
Orinoco (type of goose)
Cartoon Goose Names
So looking for names for famous geese in the real world could be a challenge, but fortunately there are plenty of cute fictional geese to fill that gap! Here are some of their fun names, and the tv show or film where you can find each character.
Baron von Sheldgoose (The Legend of the Three Caballeros)
Lord Felldrake Sheldgoose (The Legend of the Three Caballeros)
Sara Bellum (Darkwing Duck)
Herb Muddlefoot (Darkwing Duck)
Binkie Muddlefoot (Darkwing Duck)
Honker Muddlefoot (Darkwing Duck)
J Gander Hooter (Darkwing Duck)
Gus Goose (Ultraheroes)
Lucy (The 101 Dalmatians)
Abigail Gabble (The Aristocats)
Amelia Gabble (The Aristocats)
Peng (Duck Duck Goose)
Unique Goose Names
To pick a truly uncommon name, it helps to think outside the box. Or inside the box in the case of this selection…. Choose a random topic which contains lots of nouns, and jot them down. See which one fits your pet's personality! We've gone with board games as our theme here, but you can pick anything that works for your tastes or hobbies.
Twister
Clue
Risk
Boggle
Domino
Yahtzee
Stratego
Monopoly
Cribbage
Jenga
Chess
Uno
Chute
Ladder
Scrabble
Qwirkle
Scattergory
Mastermind
Password
Checkers
Trouble
Agricola
Catan
Sequence
Cute Names for Geese
Yummy foods always provide awesome inspiration for cute names. Think of your favorite tasty treat, and I bet that it's got a pretty adorable name.
Peanut
Candy
Pecan
Twizzler
Jelly
Haribo
Pizza
Twizzler
Oreo
Twinky
Gummy
Cupcake
Muffin
Walnut
Sugar
Jello
Honey
Mango
Bon Bon
Lollipop
Cool Names for Geese
Looking for a cool and out there pet? You can't get much better than a goose! They are packed with personality, and rare enough that you'll be the envy of all of your friends.
Shades
Harley
Rocky
Chaz
Twist
Cola
Disco
Rapids
Flare
Twirl
Alpha
Boomer
Everest
Arrow
Rocket
Sonic
Zippy
Steel
Boss
Jinx
Phantom
Noodle
Holt
Splinter
Neo
Goose Names Starting with G
Not sure which names have the most appeal to you? Why not dabble in a bit of alliteration! Gabby Goose? Garth Goose? The name doubled up with the breed has an extra certain something, don't you think!
Gabby
Ginny
Gabe
Gloria
Garth
Gwen
Gary
Gaston
Gale
Gil
Graham
Grayson
Gilbert
Geraldine
Gordon
Griffin
Gypsy
Grizelda
Gemma
Gatsby
Giovanni
Grant
Gavin
Gershwin
Gideon
Grimsby
Names Inspired by Nature
Geese make great pets if you've got the space, and water, for them. But they are also wild animals, with an important connection to the natural world and our ecosystem. These nature inspired names fit pet geese perfectly.
River
Meadow
Fell
Moor
Heather
Spring
Autumn
Winter
Summer
Arbor
Glenn
Dale
Peak
Mountain
Paddock
Plains
Desert
Forest
Glade
Wilderness
Ocean
Sandy
Harbour
Gully
Naming Your Pet Goose
Finding a name for your pet geese is really fun. You aren't going to expect them to come when they are called, unless you're particularly lucky, so you don't need to choose a name that fits with your training ideas. You can go as out there or as conservative as you like.
Which names did you settle on for your flock? Share your thoughts in the comments section below!