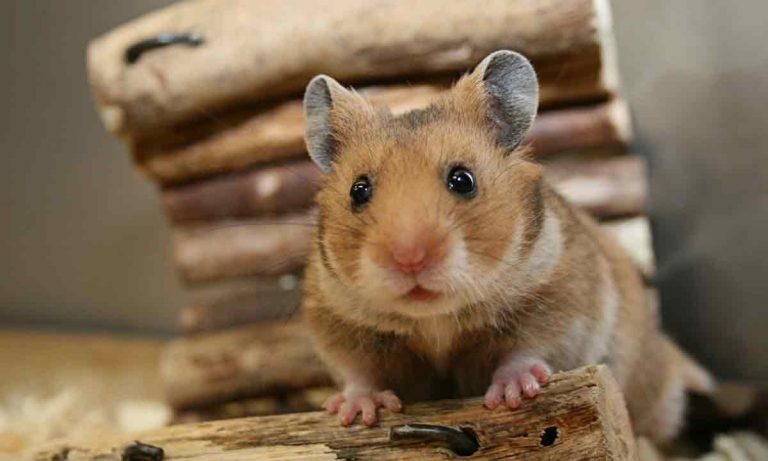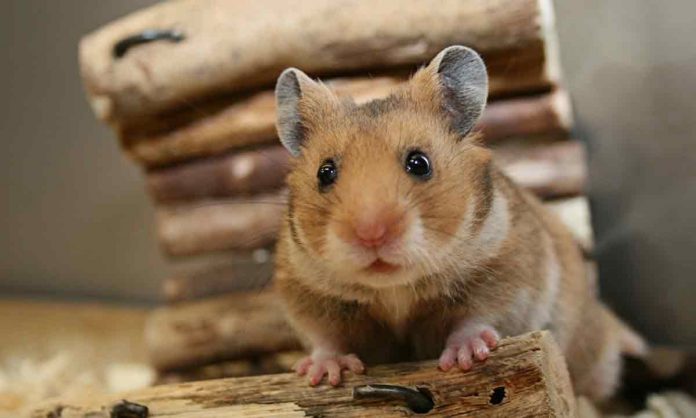 Hamster Chew Toys Are An Essential Part Of Your Pet's Habitat.
The Right Chew Toys For Hamsters Keep Them Busy, Entertained And Healthy.
Hamsters are small pets with big personalities. They're active, inquisitive, playful and curious little creatures.
Many make the mistake of thinking these small rodents don't require much input, but that couldn't be further from the truth.
A cage can get pretty boring – even for a tiny hamster. But you can improve that with the right hamster toys!
We'll provide a run-down of some fun, safe toys that your pet will love.
From wood chews for hamsters to chew sticks and mineral blocks – we've got it covered!
And we'll share a few hamster chew toys DIY tips as well for those resourceful pet owners who want to make their own.
All of these products were carefully and independently selected by the Squeaks & Nibbles team. If you decide to make a purchase from one of the links marked by an asterisk, we may earn a small commission on that sale. This is at no extra cost to you.
The benefits of hamster chew toys
To keep your pet healthy and happy it's important to give him enough stimulation to keep him amused.
Chew toys are a great way to ensure hamsters exercise both body and brain.
Given the right hamster chew toys, they can nibble contentedly for hours.
Strengthening their teeth, boosting their brain and exercising their jaw muscles.
So what can I give my hamster to chew on?
This guide will give you the answer to that!
Choosing hamster chew toys
Hamster toys come in all shapes, sizes and materials.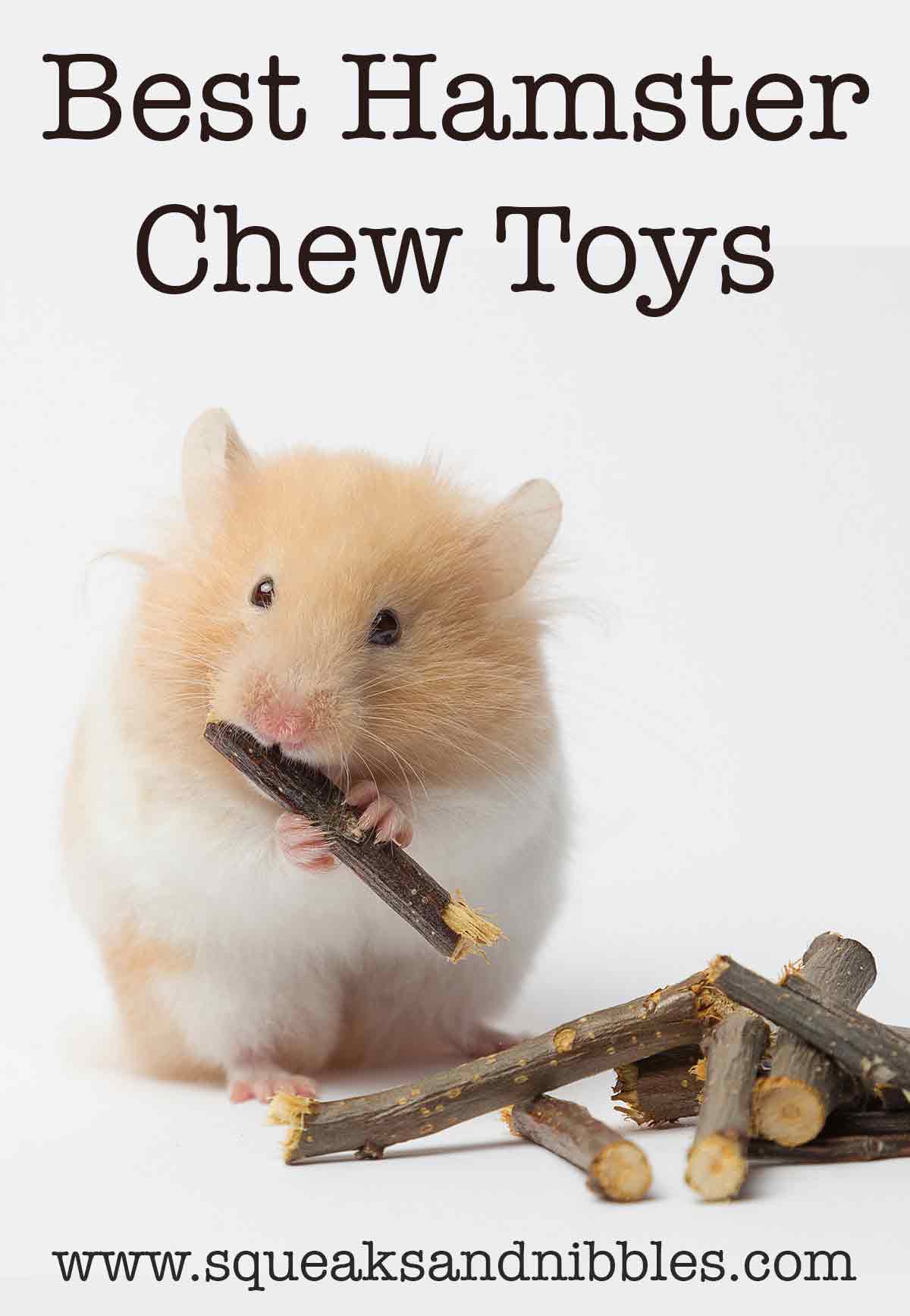 Good chew toys for hamsters are durable, easy to clean and have different textures so your little nibbler never gets bored.
Given their love of exploring new things, you can try a variety of different chew toys with your little guy.
And rotate them regularly to keep life interesting.
Daily play time outside the cage is a good idea – to expose your hamster to a different environment.
A hamster playpen filled with toys is a great way to achieve this.
Though you must remember to keep an eye on them!
Dwarf hamsters in particular are little Houdini pets, their tiny size allows them to squeeze through the tiniest cracks.
Dwarf hamster chew toys
Domestic hamsters are one of two breeds – the Syrian hamster or the Russian Dwarf hamster.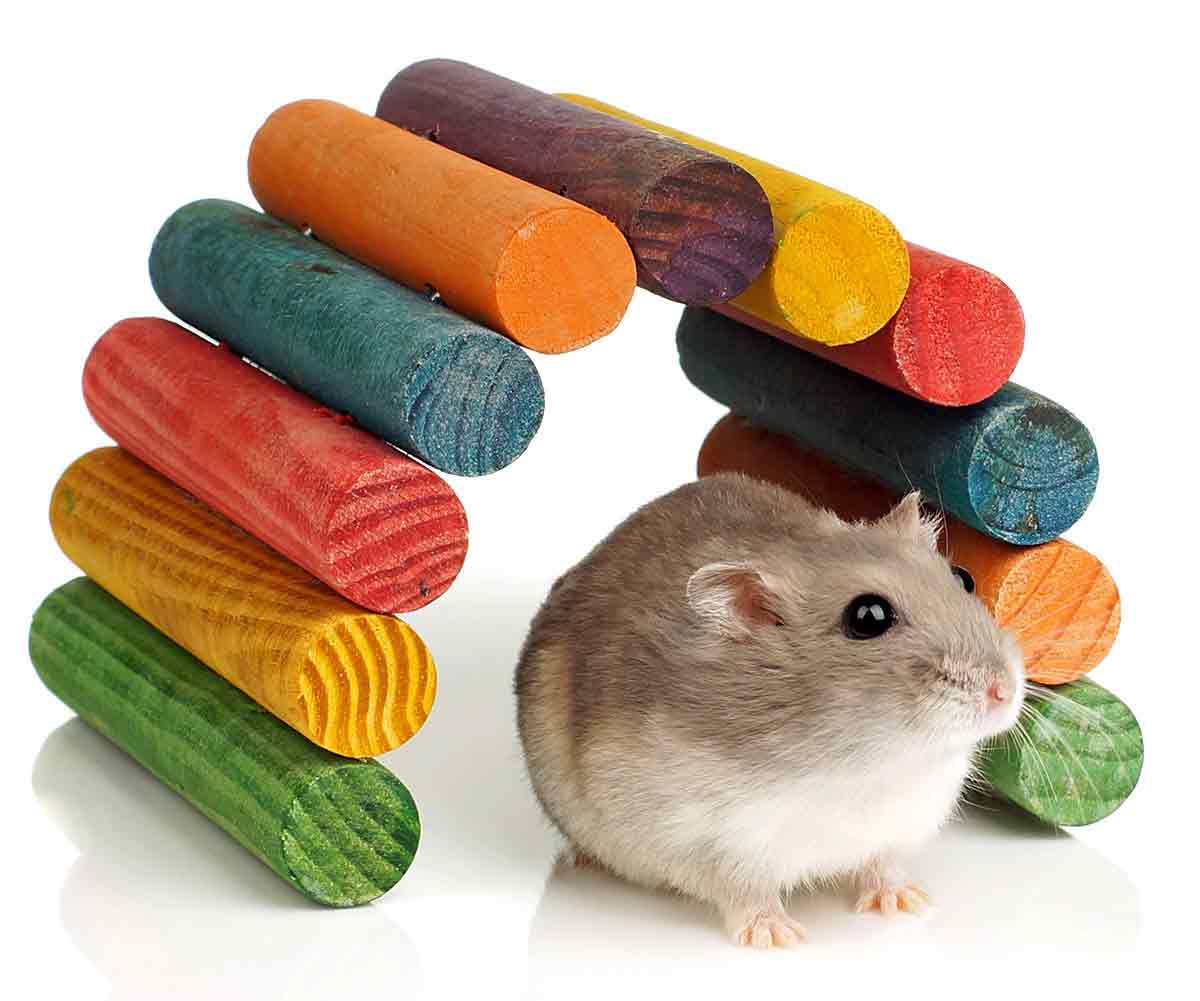 Syrian hamsters are larger, and less outgoing than dwarf hamsters who are more active and very lively.
Dwarf hamsters enjoy having lots of places to hide and explore in their cages.
Being tiny, they love to squeeze under, into and behind toys.
So if you have a dwarf hamster, be sure to choose hamster toys and chews with nooks and crannies that they can burrow into and sniff around.
Small hamster chew toys should have plenty of variation. Different textures and shapes to keep your teeny hamster amused all night.
Kaytee Perfect Chew
The Kaytee Perfect Chew* ticks all the boxes with a colorful, unique hanging, multi-layered design.
There are plenty of things for hamsters to chew on here.
The hanging mobile contains wood balls, wheels, a wood log and a block – all in bright colors.
It's made from wood and lofah to give tiny chewers different textures and tastes.
Kaytee's Combo Crispy Puzzle
Kaytee's Combo Crispy Puzzle* is another good choice for dwarf hamsters.
These are toys and treats in one package.
The natural apple wood treats clean, trim and floss your hamster's teeth, while puzzle-shaped loofah pieces offer playtime fun.
Niteangel Grass Ball
For something a bit different, give your dwarf hamster Niteangel's grass balls*.
These handmade balls are made from woven seagrass, water hyacinth and rattan.
They contain no glue, plastic or metals.
Your hamster will love pushing them around his cage, and nibbling them down to shreds.
You can also put food inside to provide an extra treat.
Wooden chew toys for hamsters
Wooden hamster chew toys can be trickier to keep clean than some of the other choices.
However, wood chews don't have to be avoided entirely. Just monitored and kept away from where your hamster does most of their business!
They are great for your hamster's teeth, and will keep him happy for ages by giving him something tasty to gnaw on.
Kaytee Carrot Patch
Kaytee's Carrot Patch hamster chews* are adorable carrot-shaped wood toys.
This pack contains three carrots – one wood for gnawing, one made from sisal to clean your hamster's teeth and loofa to provide a soft chew for flossing.
Kaytee Knot Knibbler
Kaytee also makes the Knot Knibbler*.
This is part puzzle, part treat.
A real nut is contained inside a ball-shaped wood structure so your hamster has to use his tiny teeth to get his reward.
A bright, colorful addition to your hamster's cage, the wood is coated with safe, natural vegetable dyes.
KaBob Dispenser
The large KaBob Dispenser from Kaytee* attaches to any wire cage.
It will entertain your little cutie with brightly colored wooden fruits, and a small bell that tinkles as they tear into the chews.
Available in both small and large sizes, it's perfect for any breed of hamster.
And it's easy to refill once your pet has devoured it.
Hamster chew sticks
Hamster chew sticks are ideal for frugal pet owners.
Sold in bulk, and generally inexpensive, these chews are good for your wallet, and your hamster's dental health.
Hamsters need to gnaw on something tough and durable. Not just to alleviate cage boredom, but to clean and file their sharp teeth.
Willow Critters Pretzel Sticks
Ware Manufacturing Willow Critters Pretzel Sticks* are 100 per cent natural wood.
They're full of flavour, but without any additives or dyes.
You can even hand feed these pretzels to your little furry to spend some bonding time together.
Apple Orchard Sticks
Superpet makes Apple Orchard Sticks* that are made from real apple trees.
They're crunchy, delicious and fairly healthy.
Although for diabetic dwarf hamsters we'd avoid them, as apples are fairly high in natural sugars.
Maiyuan Hamster Sticks
If you want to buy your hamster chew toy sticks in bulk, Maiyuan* sells a bundle of 50 to 70 for a great price.
These are also made from apple tree branches and can be snapped in half to make the bag last longer.
Mineral chews for hamsters
When it comes to your cutie's diet, variety is key.
Try mixing it up by switching out wooden chew toys with mineral ones.
Mineral chews not only provide your nibbler with a rough surface to test their teeth on, they also help your hamster get all the nutrition he needs.
SuperPet Lava Chews
SuperPet offers a 3-pack of lava chews*, made from genuine volcanic lava.
They come in three exciting flavors.
Chin-A-Min, Spear-A-Munch and Winter Grind!
Alfie Pet Chew Stone
Glam up your hamster's cage with the mineral stone chew charm from Alfie Pet*.
It is a 80-inch long hanging charm made from mineral stone blocks.
They contain salt and other minerals.
A fun and healthy hamster chew toy.
Hamster chew blocks
When it comes to hamster chew toys, hamsters love something they can clamber over and explore – as well as eat!
Satisfy your tiny pet's investigative instinct with chew blocks.
Pawliss Teeth Grinding Rocks
The Pawliss teeth grinding rocks* can be stacked to make a structure your pet will love scampering over and around.
They are made from lava rock and are lightweight, allowing your hamster to push and roll the cubes around his cage.
Kaytee Lava Block
The Kaytee Lava Block* combines both mineral rock and wood to give hamsters a choice of textures.
The base is lava with there's a cute, wooden heart on each side.
Homemade hamster chew toys
Hamsters are easily amused, which is great news for thrifty pet owners.
You don't have to spend a fortune to entertain your small companion.
Hamsters love playing with (and chewing!) many common household objects such as cardboard, paper and toilet roll tubes.
The latter are particularly great as you can string several together to build your hamster his very own tunnel and play area.
DIY hamster chew toys are a cinch to make, and a fun way to make your pet feel comfortable in his cage.
Got a spare paper towel roll? Make it into a tower for your hamster.
Throwing away a small cardboard box? Repurpose it as a new, nibble-ready, house for your pet.
Spare popsicle sticks? Build a ladder for your hamster's cage.
You could even get the kids involved and turn it into a creative project the whole family will enjoy.
There are lots more ideas for DIY hamster toys here.
Best chew toys for hamsters
What do hamsters like to chew on? Everything!
These rodents are born to nibble and will have a go at a wide variety of materials.
Wood, paper, mineral – your little furball loves to get his gnashers around all sorts of things.
Keep cage life interesting by providing plenty of hamster chew toys.
Blocks, hanging kebobs, grass balls and homemade hamster chew toys will keep your pet healthy, happy and very entertained!
Affiliate link disclosure: Links in this article marked with an * are affiliate links, and we may receive a small commission if you purchase these products. However, we selected them for inclusion independently, and all of the views expressed in this article are our own.
References