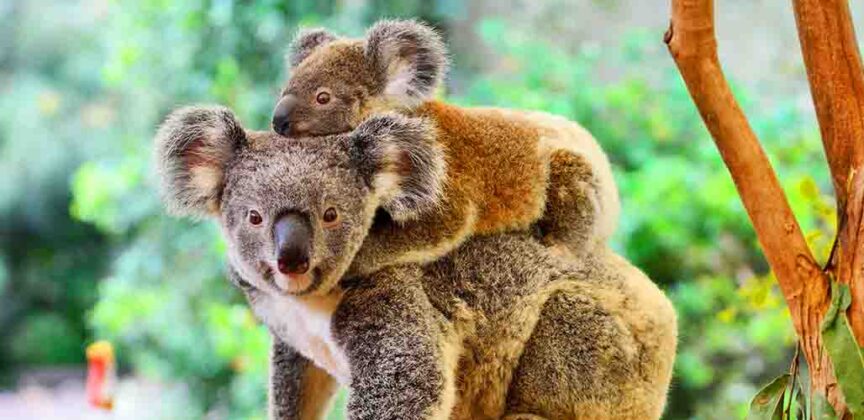 Koala names have to be cute, cool and quirky as this unusual animal. Today we share hundreds of cool names for koalas. Whether they are themed by their country of origin, personality, fluffy ears or fuzzy eyebrows, we've got the names for you. From cute koala characteristics to trending topics, these koala names will have you climbing the nearest eucalyptus tree to find your new friend.
You may not be lucky enough to have your own pet koala, but koala fans can see them in person at the zoo and be the proud parent of a stuffed koala toy. Many stuffed koalas come in mom and baby pairs. If you're looking for a name for your plush koala, you've come to the right place. We've gathered the most cute and cuddly names for this very special animal.
Contents
One of the most famously cute animals in the world is often referred to as a bear, but the koala "bear" isn't a bear at all. The koala is a marsupial from Australia. There are many kinds of marsupial animals, but few are as off the charts cute as koalas, and don't even get us started on adorable baby koalas (called joeys, just like kangaroos).
All About Koalas!
Marsupials are mammals that give birth to babies that are less developed than most other mammals, called placental mammals. Rather than develop in the mother's womb, a tiny marsupial baby will make its way to the mother's pouch and continue development on the outside of her body, but still safe and secure with mom's protection.
Most marsupials live in Australia (like the koala), but they also live in New Guinea and the Americas. Koalas are famous for eating eucalyptus leaves, spending most of their time in eucalyptus trees, and sleeping for over 18 hours a day.
Cute Girl Koala Names
An animal as adorable as the koala deserves an equally cute name! Check out these ideas for a little naming inspiration. Let's start with the girls and then go on to the boys.
Coco
Muffin
Dixie
Ruffles
Baby
Misty
Sprinkles
Poppy
Kiki
Buttercup
Twinkles
Chloe
Pixie
Cupcake
Princess
Bella
Goldie
Mochi
Peaches
Star
Cookie
Powder Puff
Bon Bon
Snuggles
Honey Bun
Wiggles
Gracie
Sassy
Petunia
Candy
Lulu
Daisy
Mia
Angel
Pebbles
Sophie
Ginger
Roxie
Stella
Jewel
Sunny
Flora
Cuddles
Bailey
Precious
Fluffy
Ariel
Pancake
Ladybug
Pippa
Buffy
Trixie
Noodle
Cricket
Rosie
Jellybean
Sparkles
Cute Boy Koala Names
Buster
Comet
Ollie
Peanut
Toby
Alfalfa
Snickers
Chubs
Milo
Yogi
Rupert
Buddy
Finn
Rascal
Gremlin
Izzy
Butters
Scooter
Chip
Archie
Pip
Bolt
Buttons
Pepper
Gordy
Boomer
Chester
Teddy
Bo
Gizmo
Biscuit
Sparky
Meatball
Leo
Chance
Buzz
Pongo
Corky
Huckleberry
Nugget
Mowgli
Fuzzy
Pockets
Jinx
Moose
Pumpkin
Bean
Freckles
Ziggy
Sammy
Nutmeg
Marshmallow
Junior
Elvis
Sushi
Bobo
Chewy
Silly Koala Names
Sometimes cute names can be silly, but we think funny koala names deserve a category of their own. Here are a few goofy koala names, including some familiar Aussie characters and slang words, to get started.
Crocodile Dundee
Matilda
Blinky Bill
Nugget
Crash Bandicoot
Bonzer
Doodles
Beast
Bilbo Baggins
Smudge
Thor
Kanga
Roo
Tater Tot
Barbie
Choo Choo
Spaghetti
Digeridoo
Dame Edna Everage
AC/DC
Walkabout
Buster Moon
Pistachio
Nom Nom
Boomerang
Squishy
Fair Dinkum
Cheeto
Killer
McLeach
Bluey
Crikey
Sheila
Butterball
McFluffy
Gromit
Fleabag
Tamagotchi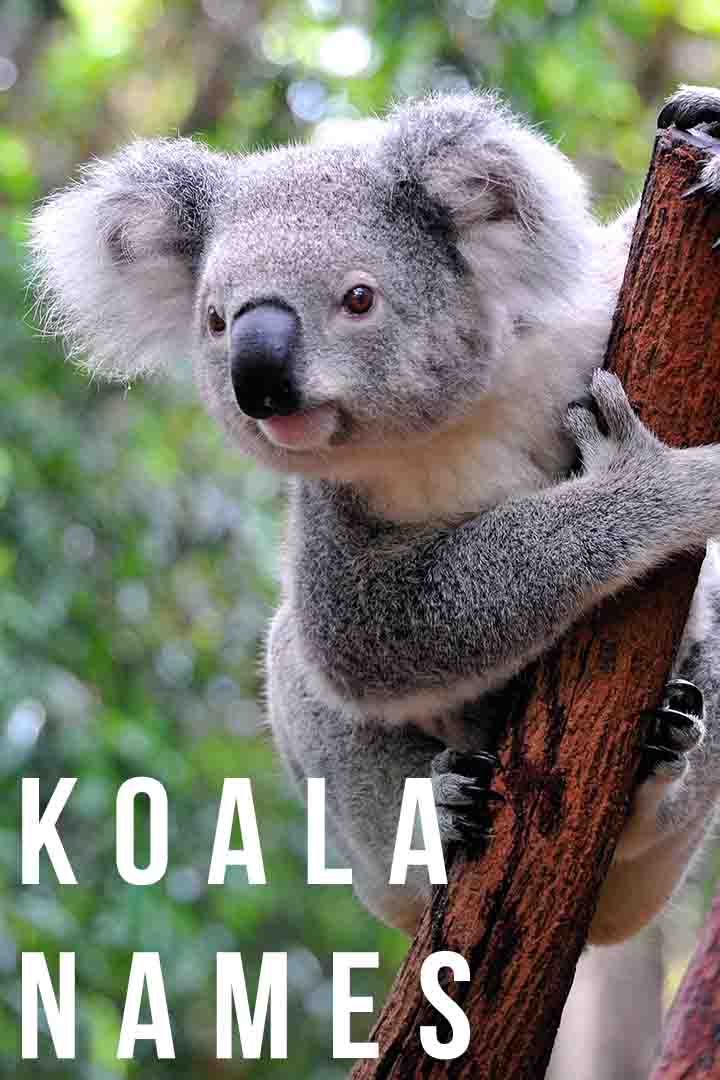 Names for Mom and Baby Koalas
What's cuter that a fuzzy little baby koala holding on to mom? Koala babies and their moms stick close together, even when baby is no longer a full-time pouch resident. Since koalas often come in mom and baby pairs, here are a few names to consider if you have two koalas to name.
Butterfly and Caterpillar
Goldie and Kate
Jada and Willow
Lois and Stewie
Bella and Renesmee
Mouse and Pinky
June and Beaver
Platypus and Puggle
Gemma and Jax
Frog and Polliwog
Melanie and Dakota
Kris and Khloe
Gertrude and Hamlet
Spider and Spiderling
Samantha and Tabitha
Judy and Liza
Marge and Bart
Lorelai and Rory
Morticia and Pugsley
Lucille and Buster
Marmee and Jo
Famous Koala Names
How about some names for your koala that are inspired by famous Australian people?
Paul Hogan
Olivia Newton-John
Iggy Azalea
Rebel Wilson
Liam Hemsworth
Chris Hemsworth
Nicole Kidman
Greg Norman
Rod Hull
Hugh Jackman
Portia de Rossi
Kylie Minogue
Evonne Goolagong
Bindi Irwin
Elle Macpherson
Russell Crowe
Malcolm Young
Angus Young
Toni Collette
Daniel Ricciardo
Keith Urban
Sleepy Koala Names
Since koalas have a well-earned reputation for sleeping a lot, let's look at a few sleepy names for your koala. Shhh…be careful not to wake him, though!
Snoozer
Dozer
Sleepy
Nodder
Drowsy
Nappy
Yawny
Pooped
Slacker
Night Cap
Dormouse
Plodder
Sleepyhead
Snoozy
Sloth
Lazybones
Sluggo
Dilly Dally
Loafer
Dreamy
Droopy
Bedhead
Dawdle
Haggard
Dozy
Zonk
Knacker
Tucker
Australian Place Names for Koalas
The koala's natural habitat is in the eastern and southeastern regions of Australia. Even though the koala is not found in the wild throughout the entire country, it's still symbolic of Australia, right up there with the kangaroo. If you want to acknowledge your koala's Aussie origins, here are a few down under-themed place names (including some distinctive Aboriginal place names) to get you started.
Wellington
Temora
Warana
Adelaide
Tallarook
Hobart
Ballina
Alice
Noosa
Canberra
Bunya
Victoria
Dingo
Sydney
Bondi
Kiama
Brisbane
Toowoomba
Tassie
Melbourne
Kakadu
Perth
Bouddi
Uluru
Ayers
Broome
Wagga Wagga
Fraser
Barangaroo
Darwin
Mungo
Australian Animal Names for Koalas
Australia is home to lots of other animals in addition to the cute koala. You can name your koala after its marsupial kin, or maybe some of Australia's distinctive birds, like the ones listed here.
(Fun fact!: Australia is home to one other unique type of mammal called the monotreme. Monotremes are an ancient type of mammal that lay eggs, but the young nurse with milk from their mothers. The 2 living monotremes are the echidna and the platypus.)
Dibbler
Numbat
Bandicoot
Quoll
Budgie
Emu
Kangaroo
Dunnart
Bettong
Parrot
Glider
Pademelon
Tasmanian Devil
Bilby
Wombat
Lorikeet
Possum
Cassowary
Quokka
Wallaby
Kookaburra
Potoroo
Cockatoo
Aboriginal Koala Names
Interested in some authentic Aboriginal names for your koala? There are many different Aboriginal languages and dialects in Australia. We've gathered just a few popular Aboriginal names, along with their meanings, for you to consider.
Birrani: boy
Lowanna: girl
Allira: quartz
Miro: spear
Jarli: owl
Medika: flower
Kirra: leaf
Alinta: fire
Koa: crow
Bindi-Bindi: butterfly
Yarran: acacia tree
Tau: twilight
Jedda: goose
Nullah: war club
We hope these names have gotten you into the Aussie spirit for a little koala naming inspiration!
References and Further Reading
10 Interesting Facts About Koalas. World Wildlife Fund Australia, 2021.
Marsupial Mammals. University of California Museum of Paleontology.
What is a Monotreme? Australian Museum, 2022.