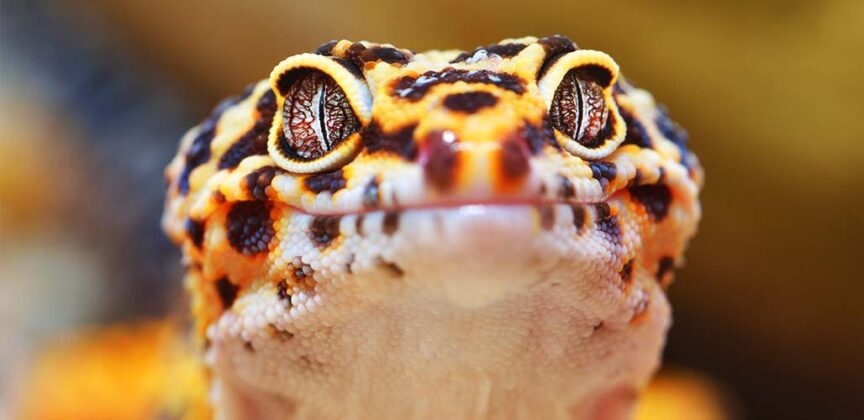 We've collected 250 leopard gecko names for you to choose from. There's something to suit each one of these unique reptiles in our complete list!
Leopard geckos are interesting and personable reptiles with a wonderful pattern. In fact, these geckos get their name from their pattern, which is spotted like a leopard. Thanks to their interesting pattern and their relative ease of care compared to some reptiles, the leopard gecko is one of the most popular choices for new reptile owners. But, you'll want to choose the right name, to ensure your leopard gecko stands out from the rest! So, let's start off with our top 25 favorite ideas.
Our Top 25 Leopard Gecko Names
Bagheera
Benny
Dragon
Duke
Echo
Jazz
Jigsaw
Lenny
Leo
Liz
Loopy
Pascal
Polka
Queen
Sabor
Scaley
Smudge
Spot
Spyro
Squish
Tanner
Yoshi
Zilla
Zippy
Zeus
We've divided the rest of our names into categories to help you narrow down your choices. After all, picking from these long lists can feel quite overwhelming! First up is some human-sounding names for leopard geckos.
Female Leopard Gecko Names
Amy
Beatrice
Catherine
Danielle
Elizabeth
Freya
Gemma
Gertie
Grace
Hannah
Imogen
Joanne
Lily
Lottie
Lucy
Maddison
Nadine
Penelope
Rachel
Sadie
Sally
Tammy
Wendy
Winona
Yvonne
Female names can be strong and bold or delicate and sweet. If you like human-sounding names, there are so many choices out there.
Male Names for Leopard Geckos
Adam
Benji
Connor
Dennis
Edward
Frank
Gary
Gerry
Gordon
Grayson
Harry
Larry
Lenny
Leonard
Luke
Michael
Nigel
Oscar
Pedro
Ryan
Simon
Steve
Tyler
Wade
Zuko
Just like female names, there's such a huge variety of male names to choose from. But, for some people, gendered names aren't the way forward.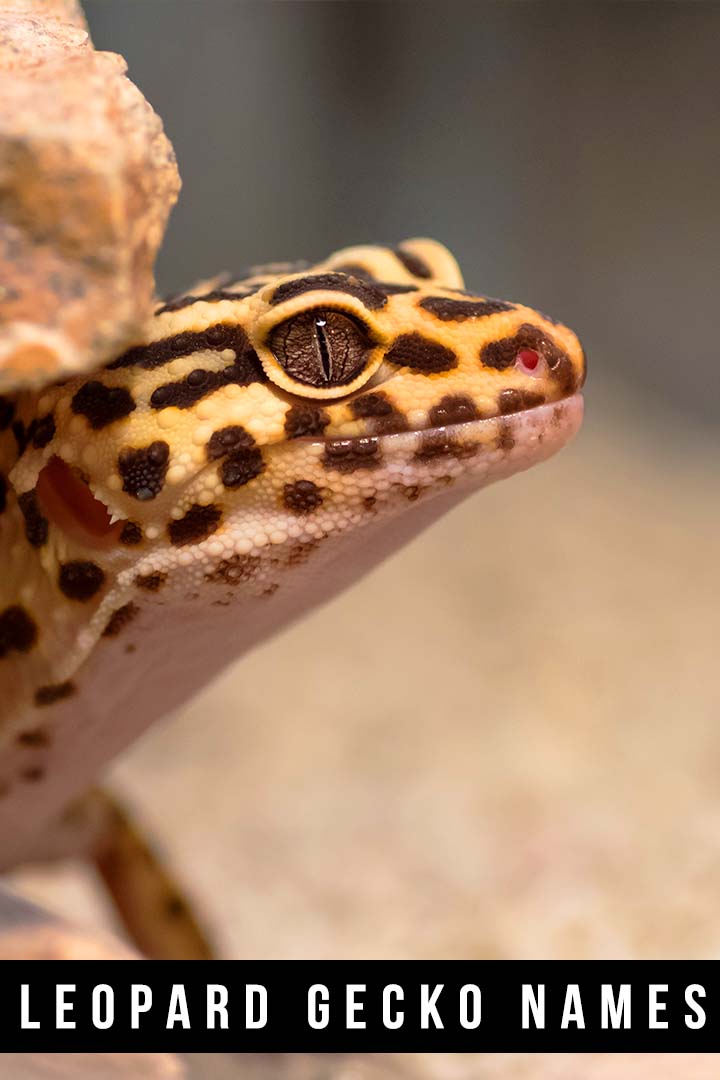 Unisex Leopard Gecko Names
Alex
Blake
Cameron
Carrie
Casey
Charlie
Dakota
Frankie
Jack/Jackie
Jamie
Jessie
Jo/Joe
Jordan
Jude
Kerry
Kris
Lennox
Lou
Morgan
Noel/Noelle
Reese
Sam
Skyler
Stevie
Tate
Human-sounding names won't be the right option for everyone. So, let's move on to look at some of the cutest name ideas that might suit your Leopard Gecko.
Cute Names for a Leopard Gecko
Bean
Blossom
Boba
Buddy
Candy
Feather
Flake
Grape
Hope
Iggy
Loopy
Luna
Melody
Monty
Mushroom
Nugget
Ozzy
Peaches
Peanut
Petal
Poppy
Rose
Shimmer
Star
Yolk
Inspiration for cute name ideas can come from anywhere! From food, place names, emotions, and more. Is one of the cute names above right for your new reptile?
Good Leopard Gecko Names
Asterix
Aurora
Blue
Cork
Domino
Flower
Goose
Haribo
Herb
Isla
Justice
Kooky
Lemon
Magic
Mustard
Nimbus
Nora
Odin
Paisley
Rory
Sky
Socks
Spark
Vespa
Winnie
Some of the best leopard gecko name ideas can feel completely random! But, test them out on your new reptile to see if they're a good fit!
Unique Leopard Gecko Names
Addison
Balloo
Bunny
Citrus
Constellation
Ember
Glitter
Gumbo
Ketchup
Leaf
Loco
Melody
Paisley
Pearly
Pickles
Pontiac
Puddle
Reptar
Sequin
Spud
Sunbeam
Tassel
Tozer
Umpire
Wisteria
Since leopard geckos are such popular reptiles, you will want a name as unique as their spots. So, one of the options above might take your eye.
Cool Leopard Gecko Names
Aang
Archer
Astro
Bowser
Buffy
Concorde
Cruella
Fang
Galaxy
Ghost
Godzilla
Hunter
Knight
Ninja
Phoenix
Runin
Spike
Stark
Storm
Thorn
Thunder
Viking
Vin
Wanda
Warrior
The coolest name ideas might vary depending on your hobbies and interests. But, the ideas above are a great place to get started with your creativity!
Badass Leopard Gecko Names
Aelin
Arya
Belgarath
Bond
Ezio
Fett
Galadriel
Gandalf
Geralt
Han
Hermoine
Katniss
Kratos
Lannister
Leia
Loki
McClane
Rambo
Ripley
Rocky
Smaug
Vader
Venkman
Xena
Yennifer
Characters from your favorite TV shows, movies, comics and video games can be a great source of badass name inspiration! Can you think of any to add to this list?
Pattern-Based Leopard Gecko Names
Blotch
Brindle
Bubbles
Cheetah
Dalmatian
Dapple
Dotty
Dusty
Flecks
Freckle
Mark
Merle
Mosaic
Mottle
Paint
Patch
Pepper
Pock
Pop
Speckle
Splatter
Spotty
Sprinkle
Sunset
Tessellate
Leopard geckos have a wonderful pattern over their scales which can be a great place to start when looking for name inspiration!
Caring for a Leopard Gecko
Leopard geckos won't be the right pet for everyone, so it's important to do plenty of research before bringing one home. They need an enclosure with plenty of space and elements to mimic their natural environment, including plenty of hiding places, rocks to lie on, and skin removal aids for shedding periods.
Your enclosure will need a safe substrate, but most options have pros and cons. For instance, sand makes spot cleaning very easy, providing a potentially more hygienic environment, but it can pose problems if ingested by your gecko.
Your enclosure must be kept at appropriate temperatures during the day and at night. So, you will need to invest in a thermostat. Heat mats are also a must, as they mimic sun-heated rocks in your gecko's natural environment. It's also vital to ensure you're offering a nutritious diet to suit a leopard gecko's needs. With the right care, your reptile stands a good chance of avoiding many major health problems.
What Should I Name My Leopard Gecko?
Have you managed to find your leopard gecko's ideal name in this list? Let us know which name you've chosen, or if you can think of any great ideas to add to our complete list!
Readers Also Liked
References and Resources