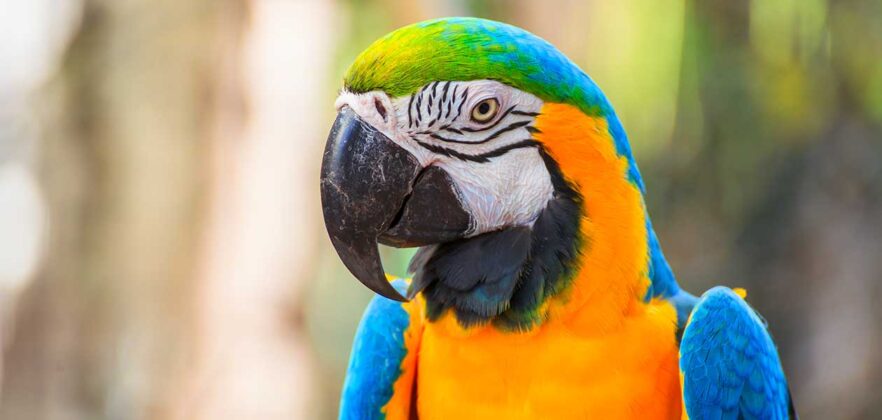 Searching for the best macaw names? Macaws are a wonderful and popular type of parrot. So, they need great names to match.
You could choose something that shows off exactly how vibrant your macaw's feathers are.
Or, something that tells friends about their personality. Here are over 300 ideas that could be perfect. So, let's start with our favorites.
Best Macaw Names
Here are 35 great macaw name ideas that you might love.
Aero
Archer
Avery
Blabber
Buddy
Chatterbox
Cisco
Cleo
Coco
Cotton's
Flora
Iago
Jersey
Juno
Kiwi
Love
Luco
Melody
Mojo
Molkky
Paco
Peaches
Pepsi
Pilot
Polly
Pixel
Piper
Quiver
Rasmus
Rico
Ringo
Roo
Skye
Sunshine
Zazu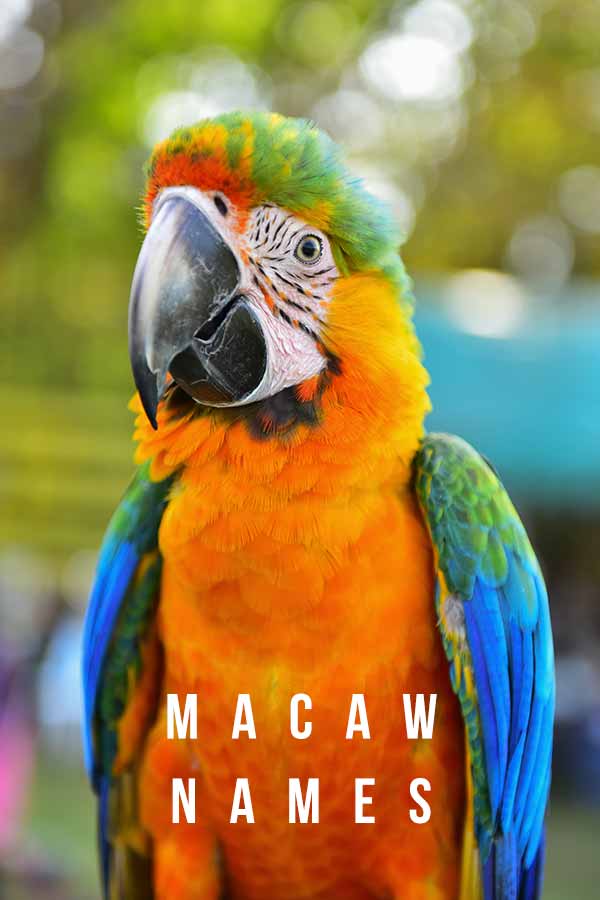 Macaw Names – Quick Links
Click the links above if you're looking for a particular type of name. Or, continue reading to consider them all.
Female Macaw Names
Firstly, here are some ideas for girl parrots. These are great if you're looking for something feminine.
Ashley
Ava
Bettie
Bonnie
Cady
Charlotte
Dinah
Delilah
Edith
Emily
Fran
Gemma
Grace
Hettie
Imogen
Joyce
Justine
Kelly
Layla
Lottie
Lucy
Mandy
Mona
Nina
Noelle
Opal
Patty
Polly
Raya
Sasha
Simone
Tammy
Wendy
Winnie
Zoe
But we can't leave out the boys!
Male Macaw Names
Here are some more masculin options that you will love for your boy macaws.
Arthur
Alby
Ben
Bruce
Carter
Chris
David
Dennis
Eli
Ethan
Freddie
George
Grayson
Harry
Hugo
Jack
James
Josh
Liam
Luke
Max
Mike
Nev
Nigel
Oscar
Ovie
Patrick
Pete
Roy
Ryan
Steve
Troy
Tyler
Wade
Yash
But, how about something less gender-specific?
Unisex Macaw Names
Here are some ideas that suit macaws, whatever gender they are.
Aiden
Alex
Ali
Andy/Andie
Ash
Bailey
Billy/Billie
Blake
Cameron
Charlie
Danny/Dani
Frankie
Georgie
Hayden
Henry
Jackie
Jamie
Jesse
Jordan
Leslie
Logan
Morgan
Nicky
Pat
Perry
Quinn
Riley
Robin/Robyn
Ryan
Sammy
Sidney
Spencer
Stevie
Sydney
Taylor
Human names are great. But what about something a little different?
Cool Macaw Names
Macaws are awesome pets. So why not choose a name to match this?
Archer
Axel
Avon
Bingo
Crook
Disco
Ender
Evo
Flames
Fugitive
Harley
Houston
Huxley
Iggy
Jax
Justice
Knight
Kooky
London
Looter
Madness
Ninja
Oswald
Prince
Queenie
Ray
Storm
Striker
Sumo
Taser
Thunder
Ursula
Yukon
Zag
Ziggy
But, what if you're looking for something more adorable?
Cute Macaw Names
Macaws are cute, lovely pets. So, here are some ideas that are bound to warm your heart whenever you say them!
Angel
Beans
Bear
Buddy
Button
Candy
Cotton
Cuddles
Cutie
Dancer
Faith
Gummy
Harp
Heart
Hymn
Joy
Kiss
Love
Luna
Melody
Mittens
Moonlight
Party
Ray
Sable
Sandy
Smiler
Socks
Star
Teddy
Toad
Trinity
Trust
Valentine
Violet
Or perhaps an option that makes you giggle?
Funny Macaw Names
Everyone loves a good laugh. So, here are some funny and punny ideas that you'll enjoy.
Alexa
Angry Bird
Beaker
Chandler Wing
Chick Jagger
Christopher Squawken
David Peckham
Feather Small
Flyjah Wood
Flyra Banks
Flyza Minnelli
Jack Sparrow
Kylo Hen
Lord of the Wings
Ludwing Beethoven
Macaw-lay Culkin
Marty McFly
Meryl Cheep
Nugget
Parrot Hilton
Parrot Top
Paul Macawney
Polly Parton
Roger
Siri
Skywalker
Stephen Squawking
Steven Spielbird
Sweet Dee
The Godfeather
The Real Macaw
Walk
Wing Crosby
Wingman
Wingston Churchill
What about something inspired by the color of their feathers?
Blue and Yellow Macaw Names
Macaws have vibrant feathers. So, here are some blue and yellow inspired ideas for the most colorful macaws.
Aster
Azure
Banana
Blondie
Bumblebee
Canary
Cheesey
Cobalt
Custard
Cyan
Daffodil
Dandelion
Dijon
Flaxen
Glacier
Goldie
Ikea
Indigo
Lapis
Lemon
Limoncello
Mustard
Ocean
Oxford
Peacock
Pineapple
River
Sapphire
Skye
Sunny
Sunset
Sweden
Teal
Ultramarine
Yolk
But, what about red macaws?
Red Macaw Names
Here are some colorful ideas for macaws with red feathers.
Berry
Blush
Brick
Cherry
Chili
Clifford
Cola
Cranberry
Crimson
Currant
Deadpool
Firetruck
Foxy
Garnet
Ginger
Jam
Jelly
Ketchup
Lobster
Mahogany
Mars
Merlot
Pepper
Raspberry
Rooster
Rose
Ruby
Rudolf
Sangria
Scarlet
Strawberry
Tomato
Watermelon
Weasley
Wine
But, maybe you're looking for something less specific.
Colorful Macaw Names
Here are some colorful ideas that are less color-specific. So they'll suit any shade of macaw!
Ablaze
Afremov
Bold
Brilliant
Candy
Chameleon
Clown
Dazzling
Flamboyant
Flower
Fluorescent
Frosting
Gaudi
Gelato
Glitter
Glory
Iridescent
Jazzy
Murciano
Opalescent
Painting
Psychedelic
Rainbow
Radiant
Saturated
Sherbert
Skittles
Smarties
Sprinkles
Starburst
Tint
Vinicunca
Vibrant
Vivid
Warhol
How about a name to suit a fancier personality?
Fancy Macaw Names
Here are some ideas that will show off just how fancy and elegant your macaw is.
Adelaide
Alaric
Ambrose
Anastasia
Aphrodite
Audrey
Augustus
Balthasar
Basil
Benedict
Caspian
Cassie
Cedric
Celeste
Darlene
Edith
Ethel
Eugene
Fabian
Fergus
Florence
Guinevere
Gulliver
Humphrey
Illaria
Ludovico
Magdelena
Pandora
Pascal
Percy
Primrose
Orlando
Tatiana
Theodore
Rupert
And finally, what about something completely unique?
Unique Macaw Names
Here are some ideas that you probably won't hear elsewhere!
Bishop
Blathers
Breezey
Carrot
Cucumber
Denim
Detective
Disco
Ego
Fossil
Frumpy
Glue
Grad
Honk
Hoover
Junior
Monk
Mouse
Overalls
Pigeon
Popsicle
Pops
Professor
Pumpkin
Ribs
Root
Scrooge
Sketch
Skip
Spade
Squeaks
Spooky
Taxi
Whistler
Yarn
What Name Did You Choose?
We would love to hear your macaw name choices in the comments. Did you go with one of the ideas in our lists?
Or did you think of something even better?
Let us know below!
Readers Also Liked