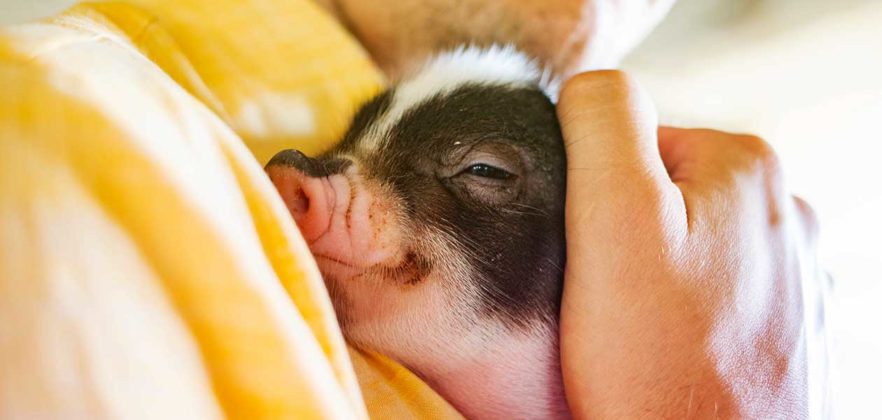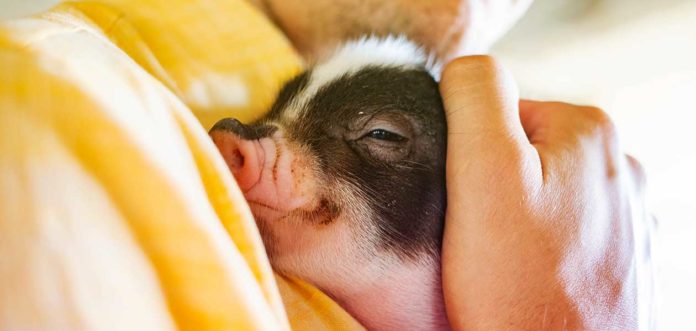 Piglet names should be as cute as your new pet baby pig. Pigs have become popular pets over the past several years, especially smaller sized pigs like the Vietnamese pot-bellied pig. Pigs are smart, trainable, affectionate, and cleaner than their reputation suggests. They make excellent pets for large outdoor homes, but keep in mind that there's no truly micro pig. Your cute little baby piglet won't stay small forever. Even the little pot-bellied piglets can weigh between 100 and 200 pounds when fully grown. Today we're going to share hundreds of piglet names that will suit your pet piglet into adulthood.
Contents
You don't have to be a farmer to find yourself in need of some piglet name ideas. You might also be thinking of a name for a new stuffed toy piglet, even if you don't have a farm or a real pet pig to call your own. Plush piglets will stay nice and small forever! We've gathered some of the best names for piglets, so you can find the perfect one for your pig.
Cute Piglet Names
Let's start with the fact that piglets are adorable! So here are some cute piglet names for your little bundle:
Squeaker
Squeaks
Squeaky
Squealer
Bubbles
Oinkers
Oinky
Buttercup
Squiggles
Cinderella
Pixie
Trixie
Zippy
Buttons
Nugget
Cuddles
Pickles
Marshmallow
Grunt
Checkers
Bubble & Squeak
Squirt
Dewey
Taco
Gizmo
Piggly Wiggly
Cookie
Butterball
Butter Bean
Chubs
Stubs
Spot
Pumpkin
Chomper
Bubba
Ozzie
Tinkerbell
Jingles
Acorn
Tootsie Roll
Boomer
Sweet Pea
Princess
Buttercream
Pebbles
Thumbelina
Peanut
Munchkin
Clover
Biscuit
Snuffles
Binky
Snout
Funny Piglet Names
There's something about a pig that inspires silly names that are full of word play. This includes food names of course (we'll get to those in a bit) but also names that are associated with all things piggy! If you and your piglet have a sense of humor, here are a few funny piglet names for your consideration.
Pig Pen
Pigsty
Stinkerbell
Stinky
Stinker
Pig Tail
The Notorious PIG
Piggie Smalls
Kevin Bacon
Jon Hamm
Elvis Pigsley
Mr. Pigginbottom
Mr. Pigglesworth
Mr. Piggers
Pig Newton
MC Hammer
Porkster
Mud Pie
Chonk
Super Chonk
Piggy Azalea
Hogwash
Boss Hogg
Sir Francis Bacon
Slop
Sooey
Harry Trotter
Harry Porker
Hogwarts
Pjork
Meatball
Alexander Hamilton
Jimmy Dean
Oscar Mayer
Amy Swinehouse
Mr. Oinkers
Peter Porker
Ham Solo
Chewbacon
Frankenswine
Hogzilla
Pigsqueak
Tommy Hilpiger
Mud Puddle
Mr. Puddlesworth
Food Names for Piglets
It's a fact, people like to name their piglets after food! It might seem a little on the dark side, especially if you're a vegan, but you will see plenty of pigs with names that reflect the fact that people just like to eat tasty pork! So, with apologies to our vegan friends, here are a few food-inspired names for piglets.
Bacon
Lardon
Pancetta
Guanciale
Porchetta
Maiale
Pork Chop
Chops
Sausage
Cutlet
Sausage Roll
Scrapple
Sausage Patty
Chicharron
Chorizo
Carnitas
Jamon
Hamlet
Hammy
Hamish
Hambone
Ham Hock
Chitlins
Frankfurter
Hot Dog
Moo Shu
Riblet
Sparerib
Short Rib
Salami
Spam
Taylor Ham
Pork Roll
Jowls
Pork Belly
Rasher
Banger
Kielbasa
Griot
Trotter
Knuckles
Scallopini
Pork Pie
Pot Pie
Pork & Beans
Pork Bun
Cha Siu Bao
Schnitzel
Fatback
Tonkatsu
Famous Names for Piglets
Popular culture is full of famous pigs. Whether it's books, movies, cartoons, television shows, or video games, you don't have to look too hard to find a pig character. Here are some famous names for piglets, some are more familiar than others, but all are sure to please any piglet owner who has a love for pigs and pop culture!
Celebrity Piglet Names
Babe
Wilbur
Piglet
Miss Piggy
Peppa Pig
Arnold Ziffel
Hamm
Porky Pig
Pumbaa
Rosita
Gunter
Toot
Puddle
Link Hogthrob
Dr. Julius Strangepork
Gordy
Leonard
Old Major
Squealer
Snowball
Napoleon
Tattoo
Waddles
Little Pig Robinson
Pigling Bland
Gub-Gub
Jodie
Wibbly
Bebop
The White Sow
Fluffy
Manbearpig
Nago
Okkoto
Plopper
Spider Pig
Noelle
Hen Wen
Pua
King Pig
Truffles
Sir Oinksalot
Hoglin
Pignite
Olivia
Petunia Pig
Pippo
Peppermint Pig
Piglet Names That Start With P
Looking over these lists, you've probably noticed a lot of cute, funny, food themed, and famous piglet names that begin with the letter P already. Well, here are a few more P names you might want to try on for size. Does your boy piglet look more like a Pierre or a Percival? Is your girl piglet a Polly or a Petunia? Here are some boy and girl P names that are a good fit for piglets.
Boy Piglet Names
Peter
Pete
Petey
Paul
Pauly
Paulson
Pierre
Parnell
Percival
Percy
Pygmalion
Parker
Preston
Paterson
Paxton
Pax
Pollux
Pedro
Pascal
Phillip
Plato
Perseus
Perry
Pasquale
Pericles
Pierce
Presley
Prince
Phineas
Patrick
Pat
Paddy
Padraig
Paulo
Price
Pancho
Pippin
Patton
Purvis
Paine
Penn
Paco
Philibert
Paddington
Painter
Pavel
Pietro
Pharrell
Girl Piglet Names
Priscilla
Penelope
Poppy
Paz
Phillipa
Pippa
Phyllis
Pansy
Pearl
Petunia
Precious
Patricia
Patty
Patsy
Patrice
Penny
Phoebe
Percilla
Paula
Pauline
Paulina
Paulette
Prudence
Prue
Pilar
Perdita
Petra
Paige
Pallas
Posy
Polly
Patience
Pamela
Pam
Petula
Peggy
Peg
Prunella
Philomena
Priya
Paloma
Phaedra
Portia
Pia
Piper
Padma
Vietnamese Pot-bellied Pig Names
As we noted earlier, many pigs kept as pets are Vietnamese pot-bellied pigs. As the name suggests, the breed of pig commonly kept as a pet in the West originated in Vietnam's Red River Delta. It is also known as the Lon I pig.
In Vietnam, the pig is a symbol of happiness. And in the Chinese zodiac, if you were born in the Year of the Pig, you share characteristics like intelligence and friendliness with the pig. In honor of the Vietnamese origins of the most popular breed of pet pig, here are some traditional Vietnamese names for your piglet.
Khiem
Lap
Hanh
Trang
Vinh
Qui
Tuan
Duy
Xuan
Duc
Hong
Lien
Liem
Bao
An
Anh
Yen
Lan
Trong
Hien
Trinh
Loc
Phong
Hoa
Nhung
Van
Quang
Kanh
Pham
Huy
Thanh
Mai
Thuy
Binh
Names for Pink Piglets
There are many different breeds of pig, both wild and domesticated. They come in all shapes, sizes, and colors…even though pink is most closely associated with pigs, especially baby piglets.
Scientists say that most pigs are brown or black and not pink at all. Only a few types of domestic pig are pink. Why is that?
Dark color helps a pig stay safe and camouflaged in the wild. A light-colored wild pig will not survive as well as a dark one. But a domestic pig on a farm can be white or pink and stay safe and protected.
Your pig may or may not be pink, but because pink is such a classic piglet color, here are a few names for pink piglets.
Pinky
Mr. Pink
Pinkerton
Pinky Tuscadero
Rosie
Pinky Dinky Do
Rose
Pinky Malinky
Peach
Seashell
Geranium
Blush
Jasmine
Coral
Sweetheart
Fuchsia
Alabaster
Blossom
Daphne
Peony
Flamingo
Cloud
Lilac
Myrtle
Powder Puff
Buffy
Teacup
Veronica
April
Rosa
Rosalia
Valentine
Flower
Princess
Dusty
Lotus Flower
Orchid
Barbie
Bubble Gum
Petal
Petunia
Carnation
Cameo
Dawn
Candy
Robin
Tulip
Sweet Pea
Fairy
Amaranth
Camellia
Clover
Azalea
Hyacinth
Cotton Candy
Dahlia
Pansy
Ballerina
Whew, that's a lot of piglet names, let us know what we missed! We hope we've given you a bit of helpful inspiration as you go about naming your adorable new piglet!
Find More Names for Piglets
Check out these other barnyard animal names for inspiration!
References and Further Reading
Pot Bellied Pigs as Pets. Animal Medical Center of Mid-America.
Vietnamese Pot-Bellied Pig. Los Angeles Zoo.
Are Pigs All Pink? The University of Melbourne Scientific Scribbles.