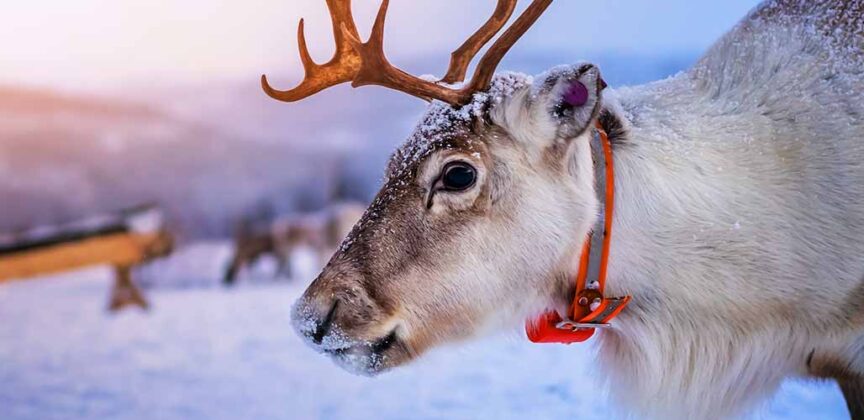 Reindeer names are a must-have for any pet deer, deer toy or, of course, those all important working Reindeer. As intelligent creatures with friendly personalities, reindeer can learn and respond to their names. Today we'll share Reindeer names that sound great, fit their characteristics and behaviors, and that work as real world pet Reindeer names too.
Contents
Reindeer may be well known for flying Santa Claus around in his sleigh on Christmas Eve, but they are not mythical creatures. They are relatives of the deer that live in wild and domesticated herds in the northern polar regions of the Earth. You might not be a reindeer herder living in Greenland, but if you have a bit of property, you could very well be a reindeer farmer looking to name a newborn calf.
Keeping Reindeer As Pets
Reindeer have traditionally been farmed for meat, antlers, and hide. They've also been used for pulling sleds, as Santa can confirm. Today, many reindeer farmers keep small herds to utilize around the Christmas holiday season. They're a favorite with people eager to see and interact with real live reindeer. These "pet" reindeer have all sorts of names to charm their admirers.
Even if you don't have an actual reindeer, you can have a stuffed reindeer toy, or a fake one you put up outside your house during the holidays. They need names too! Let's look at some of the best pet deer names, starting with—you guessed it—Christmas and holiday themed names!
Christmas Reindeer Names
Inspired by everything North Pole related, including those all important reindeer that pull Santa's sleigh!
Dasher
Dancer
Prancer
Vixen
Comet
Cupid
Donner
Blitzen
Rudolph
Santa Claus
Mrs. Claus
Kris Kringle
Krampus
La Befana
Wenceslaus
Nicholas
Nick
Saint Nick
Jingle
Jingle Bells
Noel
Sugar Plum
Tiny Tim
Ebenezer
Scrooge
Dickens
Joy
Yule
Magi
Goose
Candy Cane
Tinsel
Mistletoe
Holly
Angel
Carol
Elf
Bumble
Jolly
Star
Nazareth
Grinch
Merry
Coal
Pudding
Miracle
Shepherd
Poinsettia
Wintry Reindeer Names
Reindeer and caribou live in a region of the planet known as the Circumpolar North, which includes the Arctic and Subarctic areas of tundra and boreal forest that surround the North Pole.
As you can imagine, reindeer are very comfortable living in these cold parts of the world. They have thick coats of fur on their bodies, and even on the bottoms of their hooves. Their hooves are broad and sharp, which helps them walk on snow and dig for food. Because reindeer and winter go together like peas and carrots, here are some chilly names!
Boots
Flurry
Eskimo
North
Snowball
Freya
Blizzard
Dakota
Alpine
Yukon
Crystal
Mittens
Icicle
Tundra
Winter
Norway
Forest
Aspen
Whitey
Neve
Shiver
Jack Frost
Alaska
Bianca
Storm
Stormy
Snowman
Frosty
Juniper
Aurora
Eggnog
Yeti
Misty
Gale
Denali
Silver
Glacier
Nanook
Timber
Avalanche
Woody
Boy Reindeer Names that Begin with R
Of course, your reindeer doesn't have to be named for winter or Christmas. There are lots of other names to consider. How about something that sounds good with the word reindeer? Here are some suggestions for boy and girl reindeer names that begin with the letter R:
Rick
Ricky
Richard
Richie
Roland
Romeo
Roger
Raymond
Ray
Rufus
Rosco
Ralph
Reese
Rodney
Ridley
Ronan
Robert
Robby
Randal
Randy
Rocky
Rudy
Ronald
Ronnie
Roy
Raul
Ruben
Ryder
Reed
Russell
Roderick
Rory
Rafael
Rowan
Reginald
Reggie
Rolfe
Rocco
Regis
Raphael
Roman
Ragnar
Girl Reindeer Names that Begin with R
Rebecca
Roxanne
Roxy
Raquel
Rachel
Rhoda
Ruby
Rose Marie
Rosemary
Rose
Rosie
Robin
Renee
Raine
Ruth
Ruthie
Riley
River
Regina
Ramona
Rita
Raven
Reva
Rosita
Rhiannon
Retta
Rafaella
Radha
Rowena
Rae
Rosalia
Rolanda
Native and Geographical Reindeer Names
As we mentioned, reindeer live in the Earth's northern latitudes. They can be found across the north, in places like Alaska, Canada, the Scandinavian countries, Russia, and Mongolia.
Indigenous peoples in many of these areas have lived as reindeer herders for centuries. In honor of this long history of reindeer herding, here are some traditional reindeer names from the places that reindeer call home.
Sami
Siberia
Altai
Manitoba
Inuit
Tundra
Kola
Yakutia
Nunavut
Taimyr
Labrador
Tanana
Finn
Yupik
Tuvan
Taiga
Kamchatka
Tlingit
Kootenai
Seward
Kivalliq
Komi
Nenets
Banff
Cree
Inari
Aleut
Nuuk
Scandinavian Reindeer Names
How about a traditional Norse or Russian name for your reindeer? Here are a few get you started:
Sigrid
Erik
Thor
Gustaf
Sven
Astrid
Bjorn
Leif
Viggo
Hilda
Gunner
Elsa
Arne
Oskar
Loki
Viking
Ingrid
Lars
Gudrun
Siri
Knute
Alf
Maja
Dagmar
Ingvar
Jan
Stefan
Magnus
Anders
Axel
Einar
Halle
Rune
Saga
Kasper
Nils
Russian Reindeer Names
Dimitri
Mischa
Vanya
Boris
Konstantin
Pasha
Nikolai
Sofia
Ivan
Oleg
Todor
Anushka
Sacha
Valentin
Natasha
Igor
Sergei
Alexei
Yuri
Georgi
Mila
Igor
Pavel
Anastasia
Alexander
Dasha
Katja
Grigor
Nadya
Tatiana
Cute Reindeer Names
It's a fact, reindeer are cute and baby reindeer calves are super cute! Who can resist those furry coats and big brown eyes? Even if your reindeer doesn't have a big red nose like Rudolph, it still deserves and cute and cuddly name…like these!
Dolly
Buffy
Muffin
Puff
Skipper
Wiggles
Cookie
Rascal
Pepper
Baby
Noodle
Peaches
Coco
Bambi
Waffles
Bo
Buttons
Snickers
Pumpkin
Buddy
Peanut
JoJo
Bonbon
Snuggles
Biscuit
Skittles
Trixie
Sushi
Bubbles
Iggy
Pipsqueak
Sassy
Kipper
Dazzle
Sparky
Butters
Gizmo
Toby
Boomer
Archie
Funny Reindeer Names
Reindeer names can be silly, too. It's not against the law to give your reindeer a goofy name, so go ahead and get creative, the possibilities are endless! Here are just a few to get started.
Chewbacca
Nugget
Snowplow
Dobby
Cheeseburger
Gonzo
Mr. Jingles
Jiminy Cricket
Bubba
Pikachu
Toots
Yum Yum
Frodo
Stinker
Stinky
Mowgli
Mr. Antlers
Moose
Yukon Cornelius
Beans
Santa's Little Helper
Cream Puff
Elmo
Moon Pie
Beavis
Fluffy
Loco
Charlie Brown
Shaggy
Smurf
Pinky
Olaf
Gromit
Strawberry Shortcake
Bubble Gum
Yodel
Babushka
We hope we've given you a little reindeer naming inspiration! Maybe you're lucky enough to have a reindeer farm and need to name some new calves. But you don't have to be a farmer to name a reindeer.
There are plenty of stuffed reindeer out there who need names too. If you find a plush reindeer under the Christmas tree, there are more name possibilities than the ones in Santa's gang, so why not get creative?
References and Further Reading
Bryner and Bradford. Reindeer and Caribou: Facts About Majestic Deer. Live Science, 2021.
Reindeer Farming: A Cultural Approach to Herding Reindeer. AgronoMag.
What is Reindeer Husbandry? International Centre for Reindeer Husbandry.