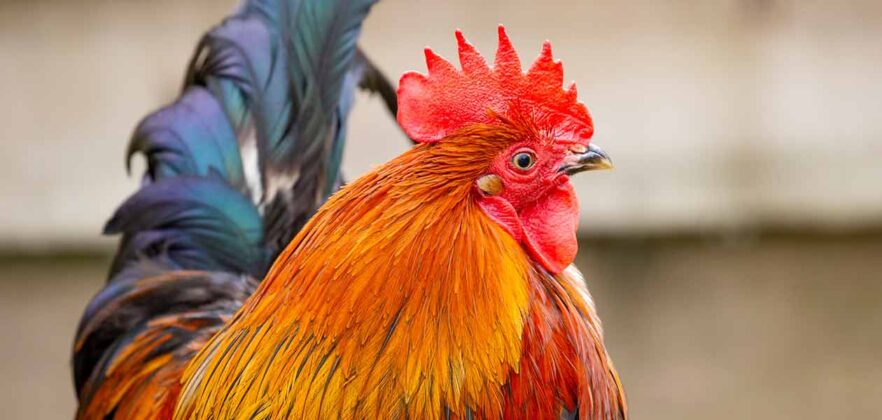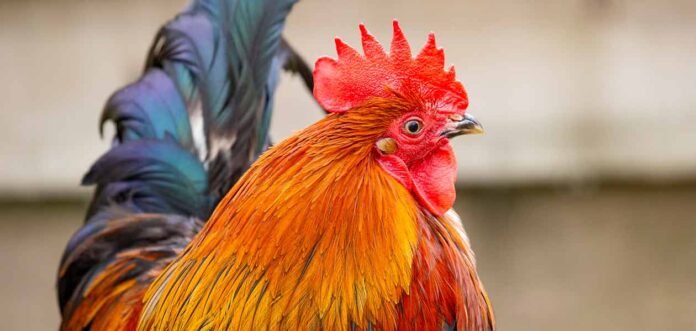 Good rooster names can be tough to find. But, we have a selection of over 300 ideas that might catch your eye.
Some roosters suit fancy or cute names, whereas others suit masculine, or tough ones!
No matter what type you're looking for, we've got you covered. Let's start with our top 30.
30 Best Pet Rooster Names
Here are some great pet rooster name ideas for 2020.
Beaky
Bruce
Buckbeak
Cesar
Colonel
Doodle
Drumstick
Duke
Ebenezer
Feathers
Foghorn Leghorn
Gizmo
Grohl
Heihei
Kelloggs
Ninja
Nugget
Ozzy
Poncho
Popeye
Randy
Rocky
Roy
Rupert
Scratch
Snickers
Spurs
Tikka
Vinny
Waddles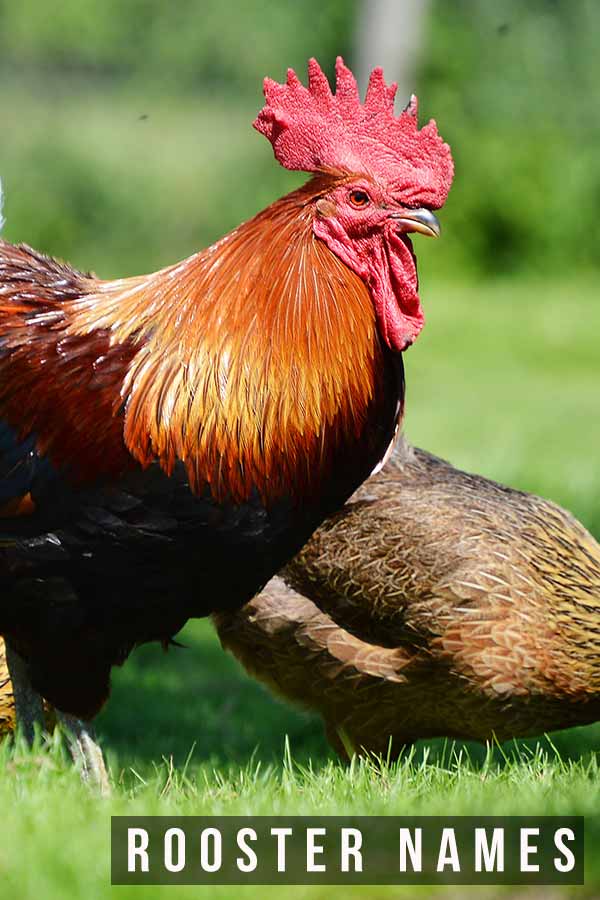 Rooster Names Quick Links
Looking for a certain type of rooster name? Just click the links below to jump straight to that section.
Let's get started with some traditional masculine ideas.
Male Rooster Names
All roosters are male! So, why not take inspiration from some traditionally mascline 'human' names.
Here are some of our favorites!
Abram
Andrew
Ben
Bradley
Caleb
Dan
Dennis
Ethan
Frank
George
Harry
Ichiro
Jake
Joel
Josh
Louie
Max
Muhammed
Noel
Oscar
Patrick
Pete
Quinn
Ross
Scott
Sebastian
Troy
Tyler
Victor
Wyatt
Or, perhaps you want something a little less masculine, and a little cuter!
Cute Rooster Names
Cute ideas like these could be the perfect choice for your adorable new feathered friend. Take a look!
Acorn
Albie
Angel
Bambi
Blue
Buggs
Buttercup
Cashew
Chick
Coco
Cupid
Dancer
Dreamer
Dumpling
Fudge
Hero
Kiss
Lemon
Loveheart
Peep
Prince
Robin
Romeo
Scramble
Taco
Teddy
Valentine
Wookie
Yolk
Yoyo
What about just the greatest ideas you can find?
Great Rooster Names
Trying to think of some great ideas? How about something beginning with 'R'?
Rabbit
Racer
Radiant
Rainbow
Raffle
Ragtime
Rally
Ranger
Raptor
Raven
Razor
Reef
Red
Remi
Rhino
Ribbon
Ribs
River
Robot
Rocky
Rod
Rodeo
Rocker
Rolf
Roots
Ropey
Rose
Roulette
Russet
Rusty
Maybe you want a name that will bring a smile to people's faces?
Funny Rooster Names
Here are some of our favorite ideas that will make you giggle as you call for your rooster!
Albert Eggstein
Alfred Hitchcock
Angry Bird
Aroostotle
Beaker
Beaky Blinder
Ben Aff-peck
Birdzilla
Bok Bok Choy
Boris Pecker
Brooster Willis
Charles Chickens
Chick Jagger
Chicken Little
Cluck Norris
David Peckham
Dr. Pecker
Eggdar Allen Poe
Elvis Peckley
Franklin D. Roostervelt
J. R. R. Yolkien
John Steinpeck
Kanga-Roo
Larry Bird
Mark Rooffalo
Martin Luther Wing
Roo Paul
Russell Crow
Tyrannosaurus Pecks
Wing Crosby
Maybe you want to choose ideas based on the most popular people you can think of?
Popular Rooster Names
Here are some famous names that you could choose for your bird!
Bob Dylan
Charlie Chaplin
Charles Dickens
Christiano Ronaldo
Clint Eastwood
David Bowie
Edgar Allen Poe
Elton John
Ernest Hemmingway
George Clooney
John Lennon
Johnny Depp
Leonardo Da Vinci
Louis Armstrong
Marco Polo
Mark Twain
Michelangelo
Michael Jordan
Nelson Mandela
Picasso
Quentin Tarrantino
Roger Moore
Rowan Atkinson
Stephen Hawking
Stevie Wonder
Tom Hanks
Van Gogh
William Shakespeare
Winston Churchill
Wolfgang Mozart
How about ideas based on color instead?
Black Rooster Names
Here are some great choices for roosters with dark feathers.
Ant
Bear
Cadbury
Charcoal
Coal
Cola
Crow
Currant
Ebony
Eclipse
Espresso
Hershey
Inky
Jet
Licorice
Mickey
Midnight
Noir
Ninja
Obsidian
Oil
Olive
Onyx
Panther
Pepsi
Raisin
Raven
Shadow
Sooty
Tar
If you haven't liked any of these, maybe something cool will be better for you!
Cool Rooster Names
Here are some awesome ideas that will suit the most awesome roosters out there.
Ace
Anakin
Arkham
Axel
Bolt
Bowie
Bruce
Captain
Duke
Ender
Fox
Gandalf
Han
Hulk
Jagger
Jett
Kai
Kirk
Lannister
Leo
Maverick
Orion
Ozzy
Phoenix
Roman
Stark
Thor
Vader
Xavier
Ziggy
If cool ideas aren't your thing, how about something a little fancier?
Fancy Rooster Names
Here are some ideas for roosters that are fancier than life! Which are your favorites?
Ambrose
Axton
Benedict
Carlisle
Chester
Clarence
Clifford
Edmund
Elmer
Ernest
Ezra
Fenwick
Francis
Gaston
Gerald
Hayden
Jasper
Lancelot
Lanston
Milton
Nelson
Preston
Ramsay
Raymond
Silas
Spenser
Sterling
Walter
Wilber
Winston
Or, instead, do you want your rooster to stand out from the crowd?
Unique Rooster Names
Here are some names that you might not find many other people using for their roosters!
Artemis
Babs
Bender
Buck
Chip
Costa
Donut
Eenie
Flapper
Gordo
Grad
Herb
Heston
Hoard
Indie
Lark
Medal
Nester
Nova
Orbit
Papi
Pogo
Quarter
Razzle
Roach
Rolo
Sulley
Tag
Woopie
Wonton
Or maybe something a little more hardy is your thing?
Tough Rooster Names
Roosters are pretty tough birds! So, you could choose a name to reflect that.
Arrow
Bite
Blade
Bucky
Claw
Fang
Fighter
Gunner
Hunter
Jedi
Justice
Lord
Master
Nibbler
Palpatine
Pilot
Professor
Razor
Rebel
Sargent
Shot
Sith
Slasher
Slayer
Soldier
Striker
Thanos
Venom
Viper
Wizard
Which is your favorite?
Best Rooster Names
If you can think of any awesome ideas that we haven't included in our lists, please leave them in the comments!
Did you choose a name idea from this guide? Which one suited your rooster best?
We can't wait to hear from you!
Readers Also Liked