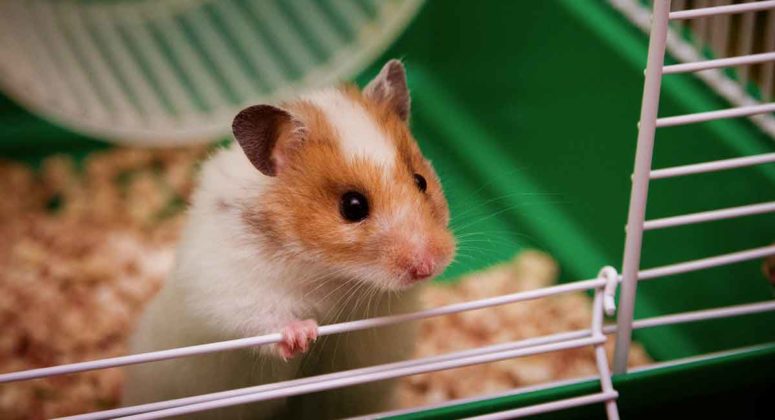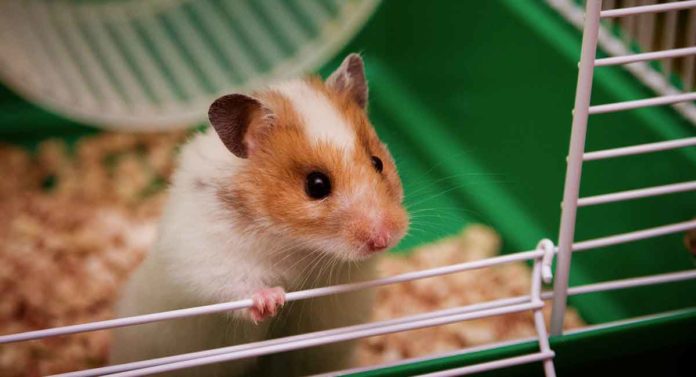 The best Syrian hamster cages have proper ventilation, plenty of space, and are easy to clean. Your cage should be a minimum of 24 by 12 inches for your hamster to have enough space.
But it also needs to be sturdy enough to avoid your hamster escaping!
There are a variety of different Syrian hamster cage types, including wire, wood, plastic, and hybrid models. And size absolutely does matter. Syrian hamsters are a larger variety, so you definitely want to look for a cage with plenty of space.
All of these products were carefully and independently selected by The Squeaks and Nibbles team. If you decide to make a purchase from one of the links marked by an asterisk, we may earn a small commission on that sale. This is at no extra cost to you.
Our Top Three Syrian Hamster Cages
With so many options out there to choose from, it can get a little overwhelming to try and boil the best choices down to a manageable amount!
So we have done the boiling for you!
Here are sneak previews of our top three best Syrian hamster cages, with a table of these and two more listed afterwards.
Further on in the article, we'll cover each of these in more depth.
Lixit Savic Hamster Heaven
This hybrid cage* is made of plastic and wire, with plenty of room for your Syrian to play. And it comes with all sorts of toys and accessories to keep your furbaby entertained! This is definitely at the top of our list of best Syrian hamster cages.
Pico XL Hamster Cage
Another one of our best Syrian hamster cage choices, this popular cage* is a large space packed with features to entertain your hamster. It is made of durable, high quality wire and plastic.
Kaytee My First Home Multi-Level Habitat For Exotics
Kaytee offers a range of different sizes and options* for different hamster breeds, but this one is a favorite for the larger Syrians. It measures 30 x 18 x 30 inches, and has four levels for play. You'll find many Kaytee habitats listed here, as they make some of the best Syrian hamster cages out there.
Here are the other choices that made the cut:
Important Features For Syrian Hamster Cages
Proper ventilation, ease of use, and ability to clean your new cage easily are all important factors to consider when buying hamster cages for Syrian hamsters.
Wire cages are probably the easiest to clean, and the less complicated the cage the better. Because you'll be able to reach inside easier to wipe it down without tubes and toys getting in the way.
There are also plastic cages, and those usually have a lot of tubes and compartments. However, since Syrians are larger hamsters, many of those options will be too small for your pet. Ultimately, the style of your new Syrian hamster cage all depends on your own preferences.
Good hamster cages for Syrian hamsters should all be large enough in size that your hamster can run around comfortably and have plenty of play room inside their new home. Experts recommend a minimum of 24 by 12 inches.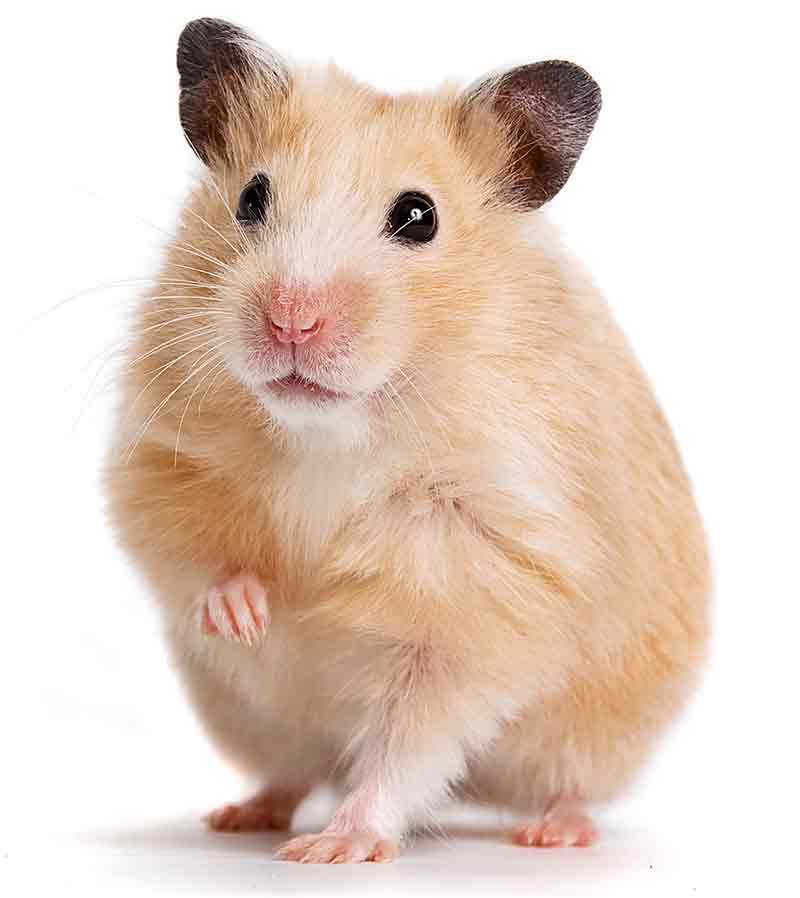 Cheap Syrian hamster cages are available, but just make sure the design is sturdy enough for your pet to play in without being able to break free. And, most importantly, that they have enough space to stretch their legs too.
Best Indoor Syrian Hamster Cages
To keep an eye on your hamster, it's definitely recommended that they be kept as inside pets. Though it can be nice to take them outside at times, it's much safer and healthier for even larger Syrians to stay inside where they are protected.
So you will almost certainly be interested in these indoor Syrian hamster cage options!
Amazon Basics Pet Habitat
This product from Amazon comes in three sizes*, but for a Syrian hamster — or even for two of them — we definitely recommend the jumbo size. It measures 48.6×26.6 inches, which means it has absolutely ample room for your pet.
The set up is fairly basic, without as many bells and whistles as some other options. But it does include a ramp and a landing, with a hiding space underneath.
The product is made from sturdy plastic and wire.
Midwest Homes For Pets Wabbitat
This option was originally designed for rabbits, but it also works for Syrians, as it is a large cage option*.
The design is simple and straightforward, and the cage measures 47x23x19 inches.
Guinea Habitat By Midwest
Another Midwest product, this cage* has several different options to consider.
The Guinea Habitat Plus option provides your hamster with eight square feet of living space, via two separate spaces connected by a ramp.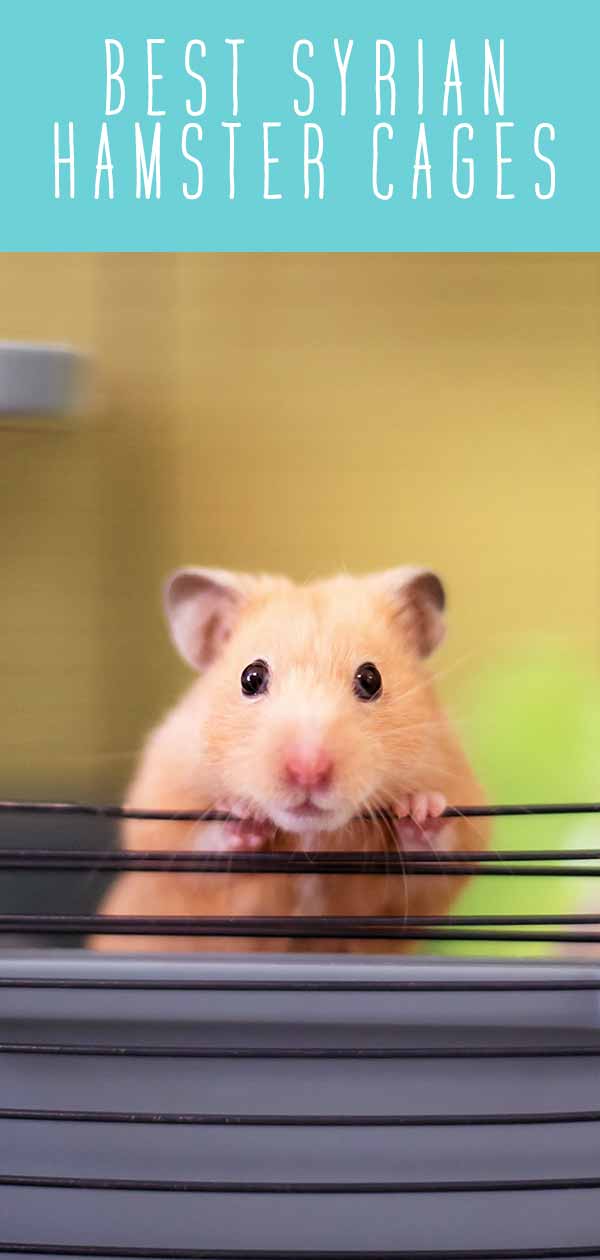 Best Outdoor Syrian Hamster Cages
As we mentioned above, your hamster should definitely be an inside pet.
But that doesn't mean that you can't ever take her outside!
Your little friend may really love to spend time out in the sun, as long as she is protected from the elements and other animals. We recommend that you not leave her unsupervised at any time.
But these outdoor playpens are helpful to make sure you know where she is and to keep her from scampering away.
ToysOpoly Outdoor Pet Playpen
This product* is simple and fast to assemble, as a tent-style fabric playpen.
It is completely enclosed to protect your hamster, but the top can be zippered off and removed for sunning.
Petsfit Outdoor Hutch
For more established outside time, this hutch-type cage* gives your hamster plenty of room to play in a really cute little house!
It has a solid shingled roof that can actually be removed to make it easier to reach in to get your buddy when it's time to go back inside.
Amakunft Outdoor Playpen
Another easy to use playpen option, Amakunft's soft playpen* spreads out to 47×15 inches.
This means plenty of room for your Syrian to explore and play!
Best Large Syrian Hamster Cages
The bigger the better when it comes to your hamster's cage. Larger cages will provide adequate space and ventilation.
And hamsters will be happier with a roomier cage and more space to run around in.
Here are some large hamster cages for Syrian hamster pals to enjoy!
Ware Manufacturing Chew Proof High Rise Pet Cage for Small Pets
Ware Manufacturing's Chew Proof High Rise Cage* is a large cage that provides ample space for Syrian hamsters.
It's made of chew proof wire and includes mesh ramps that are safe for your pet's feet.
And it has 3 floors, which is great for hamsters because they need a lot of space to run and play in.
Attach This to a Tank
You will also need to get a 10 gallon tank* to attach as the base, which you can fill with bedding for your hamster to dig in!
Kaytee Critter Trail 2 Level Habitat
The Kaytee Critter Trail 2-Level Habitat* is another best cage for large Syrian hamster pets choice, and it includes all you need for your little one to have fun.
The cage features an extreme wheel, front access door, a look-out tower and petting zone for maximum fun.
It's also compatible with all Critter Trail accessories, so you can add on as needed.
Ferplast Hamster Cage
The Ferplast Hamster Cage* has everything your hamster needs, in a cute white or blue design.
Large play areas and an exercise wheel give your hamster all it needs to stay healthy and fit, while having fun.
It's fully customized with a cozy nest and easy open design so you can clean when needed.
Best Plastic Syrian Hamster Cages
While there are all-plastic hamster cages out there, you may have noticed that many of them are very small and billed as "portable."
That's because all-plastic designs really are not ideal for hamsters.
On the other hand, plastic can be — and often is — used in tandem with other materials, such as wire. These types of cages are referred to as hybrid cages.
Here are the best plastic and hybrid hamster cages for your Syrian.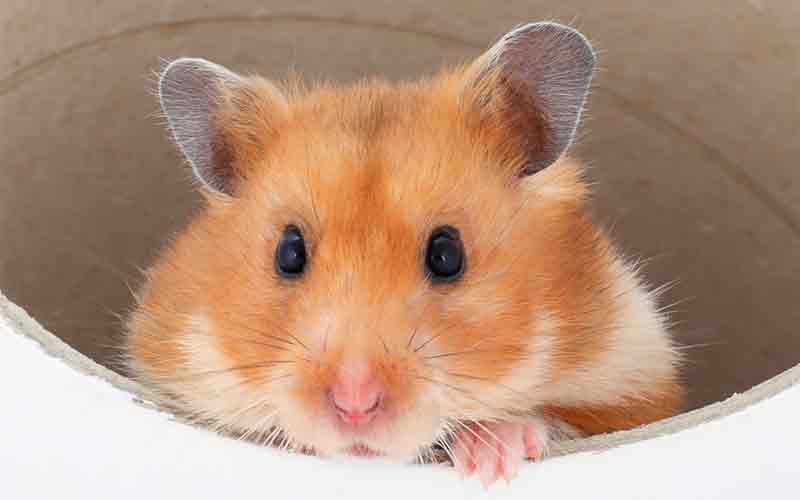 Iris Hamster Cage
This plastic cage* is on the smaller side, at only 18×12 inches, but it includes three different levels.
The deep tray at the bottom is made of sturdy plastic, and the whole thing is designed to be easy to clean.
Twin Towner Hamster Habitat With Long Crossing Tube
The Twin Towner Habitat* is a tall, towered hamster cage.
It's great for Syrians as it has plenty of space, and even includes hideouts, ladders, a water bottle, food bowl, hide house and an exercise wheel.
Not to mention a long tunnel too!
However, as with all of the tunnels on these lists, make sure that your Syrian is not too big for it. Otherwise, she may get stuck!
Kaytee First Home Habitat
The Kaytee First Home Habitat* has some cool features. It boasts a deep base that prevents bedding and litter from spilling out, and has multiple levels for your hamster to run around in.
This cage is made from wire on the outside to prevent your hamster getting out, and solid plastic inside to make cleaning up a snap.
The wire cage locks right into the base so you can be assured your pet won't make a run for it. Even better, the latches are all made from chew-proof wire.
Best Modular Syrian Hamster Cages
Modular hamster cages, and modular pet cages of all types, usually include a lot of different parts all combined together to create an interesting home environment for your small pet.
These cages are typically designed to be "modular" in that they fit a certain model, which makes them easy to put them together, even if they are a little more complicated.
Many modular cages are able to be combined with other cages made by the same manufacturer, often stacking together.
GNB Pet Hamster Do It Yourself Habitat
This DIY habitat* has tons of fun things for your hamster to do! It's a large space, chock full of entertaining toys.
It's made from plastic and wire, and even with all of the toys and gadgets already included, you can buy even more separately to truly create a fun, maze-like play space for your pet.
Kaytee Critter Trail One Level Habitat
Kaytee's Critter Trail Habitats* are almost the very definition of modular, as they are all designed to be connected with each other.
This compatible feature means that even smaller habitats, such as this one, still offer plenty of room when used in conjunction with others. Kaytee's fun adaptations also mean that you can mix and match and create a unique home for your hamster. You could even change up the route to keep it interesting!
Best Long Haired Syrian Hamster Cages
Is your hamster particularly hairy? Long haired Syrian hamster cages can be the same as those you would use for any other hamster.
However, you can also pick one that is harder for him to get tangled in, and likely to reduce his opportunities for matting.
Here are some of our top choices!
Kaytee My First Home Habitat Multi-Level for Exotics
The Kaytee My First Home Habitat Multi-Level for Exotics* features a deep base for your long haired Syrian hamster to play in.
This means you can avoid ending up with fluff, bedding or litter spills outside the cage.
With multiple levels and a solid plastic design, it's a great choice for your pet.
WARE Chew Proof Four Story Hamster Cage
WARE's Chew Proof Four Story Hamster Cage* has an all-metal design that's chew proof so your little pal won't be able to get out.
This cage has four floors of fun, and has a well ventilated design so your hamster will be able to breathe.
There are two separate access hatches, and the base lifts from the top when you want to clean him out.
And there aren't any integrated toys or tunnels that your hamster's hair could potentially get caught up in.
Best Syrian Hamster Cages
The best hamster cages for Syrian hamsters all feature a good combination of price, size and ease of use. They also feature a durable construction so that your pet stays safe inside and can't escape.
There are a huge number of choices out there when it comes to Syrian hamster cages. The one that you choose will depend upon your personal preferences, but it pays to have a rough idea in your mind.
By now, you probably understand why we chose our top three, listed at the beginning of this article. But different cages will work for different hamsters.
If you stick to a few criteria when buying your cage, like size, ease of use and design, your hamster will have the best chance to live a comfortable and happy life with you.
Did you opt for one of these cages listed here? How did it work for you? Let us know about your experience in the comments!
Affiliate link disclosure: Links in this article marked with an * are affiliate links, and we may receive a small commission if you purchase these products. However, we selected them for inclusion independently, and all of the views expressed in this article are our own.
References And Resources
Lianne McLeod, DVM, Before You Buy a Hamster Cage for your Syrian Hamster. November 22, 2016