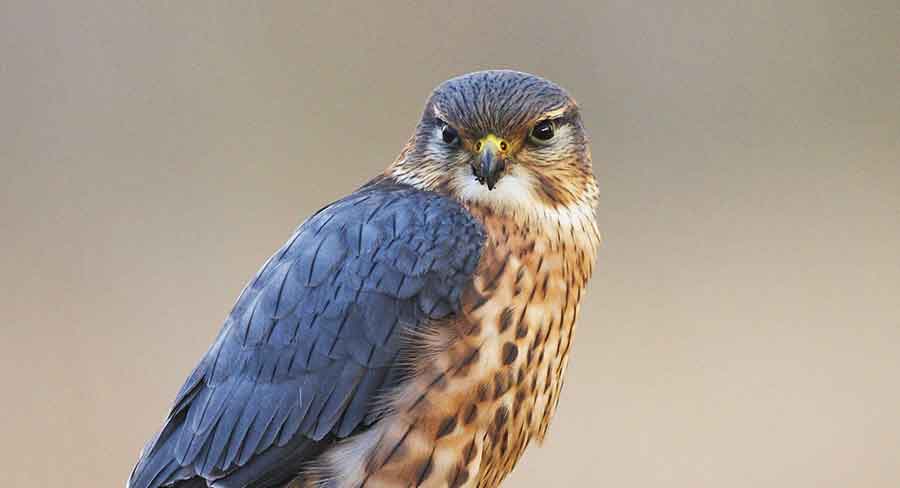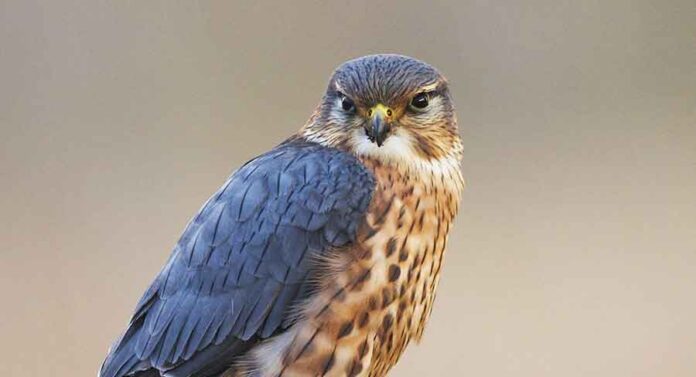 Would you believe there are 39 types of falcon in the world? Today we are going to share some amazing falcon facts. You'll find out that falcons truly come in all shapes, sizes and colors – and they can have some very different habits, hunting styles and skill sets!
3 Types of Falcon
While scientists use genetics to determine which birds belong in the genus Falco, you wouldn't necessarily know it just by looking at these birds. The Falconidae family comprises more than 60 birds, including falcons, falconets, caracaras, pygmy falcons, forest falcons and laughing falcons.
However, only the 39 bird species that belong to the genus Falco, a term that refers to these birds' sickle-shaped curving claws, are considered to be true falcons. All true falcons have a notched beak called the tooth and plumed ("flagged") leg feathers. And adult female true falcons typically outweigh adult male falcons by at least one-third.
Within the genus Falco, you will find three main groups of true falcons: kestrels, hobbies and peregrines (also called hierofalcons). As you read about each, you will quickly notice that not all scientists agree on where particular falcons should be placed. So let's move on to meet the many marvelous types of falcon now!
Kestrel Falcons
One of the best known types of falcon are Kestrel falcons. They are small, stocky, brown birds that hover while scanning the ground for prey. They eat mainly small prey like grasshoppers and other larger insects as well as lizards, sparrows or mice.
American Kestrel (Falco sparverius)
The American Kestrel comes from North and South America. These birds are the smallest of all American falcons and also the most numerous. Most kestrels have brown and grey feathers and are about the size of a blue jay.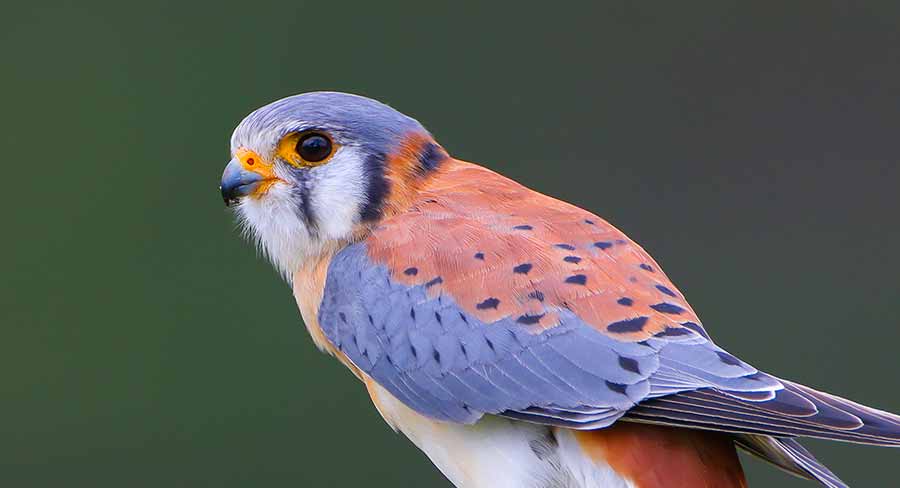 Banded Kestrel (Falco zoniventris)
This Madagascan kKestrel is closely related to the Grey Kestrel and the Dickinson's Kestrel. It is also sometimes called the Madagascar Barred Kestrel. These kestrels don't prefer to hover while hunting but will simply perch until they see prey and then swoop in to dine.
Common Kestrel (Falco tinnunculus)
The Common Kestrel is also known as the European Kestrel or Eurasian Kestrel. This is due to its widespread habitat throughout Europe and Asia as well as Africa and even North America. The Common Kestrel is Britain's only native kestrel.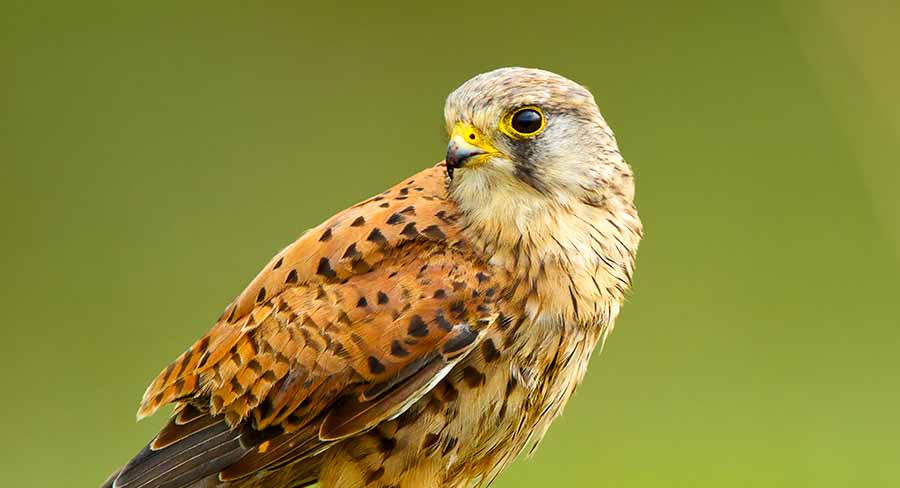 Dickinson's Kestrel (Falco dickinsoni)
Dickinson's Kestrel inhabits Africa to the south and east. It was named after the missionary John Dickinson. Another name they come under is the White Rumped Kestrel, which references the pure white patch of feathers above their tail.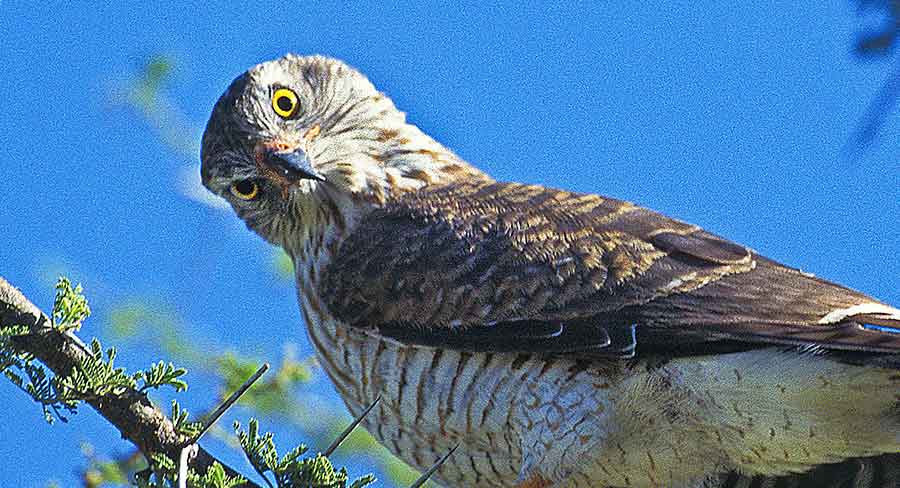 Fox Kestrel (Falco alopex)
The Fox Kestrel is quite large for a kestrel, but surprisingly it is not a well-studied kestrel species overall. These kestrels live primarily in the southern parts of Africa.
Grey Kestrel (Falco ardosiaceus)
Kenya, Tanzania and Ethiopia are the chosen home territory for the grassland-loving Grey Kestrel. Grey Kestrels are one of only a handful of kestrel species that are more active at dawn and dusk (crepuscular) rather than daytime (diurnal).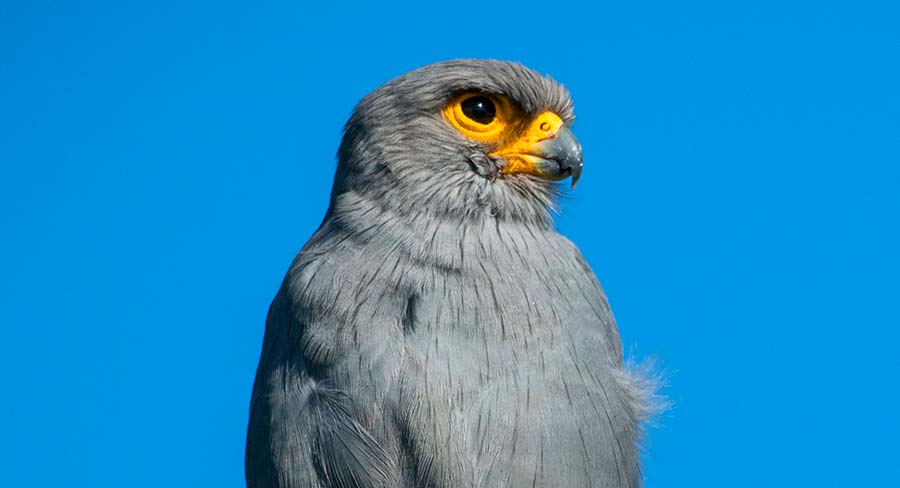 Lesser Kestrel (Falco naumanniz)
The Lesser Kestrel is a migrating kestrel species. The Lesser Kestrel will overwinter in Iraq, Pakistan, India or Africa. In summer, they will travel to their breeding grounds in Afghanistan, Mongolia and Asia.
Lesser Kestrels have unique white talons. While they look a lot like Common Kestrels, the two kestrel species are not genetically close.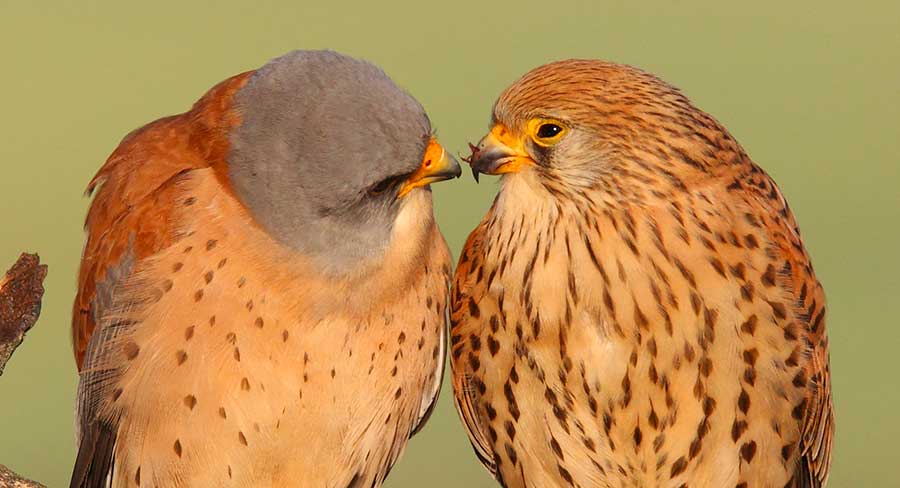 Madagascar Kestrel (Falco newtoni)
Also called the Malagasy Kestrel or Newton's Kestrel, these birds were named after Edward Newton, a British ornithologist. Closely related to the Seychelles Kestrel, Madagascar Kestrels are found only on Madagascar and Aldabra. Although these birds are also called Aldabra Kestrels and differ slightly in size from true Madagascar Kestrels.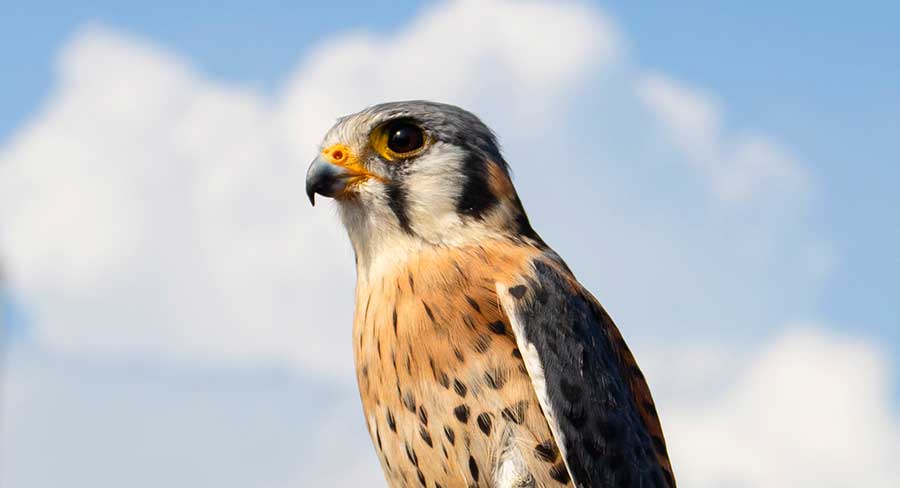 Mauritius Kestrel (Falco punctatus)
The Mauritius Kestrel is native to the Republic of Mauritius, a small volcanic island in the Indian Ocean. The species has been nearly wiped out several times. It is presently considered endangered.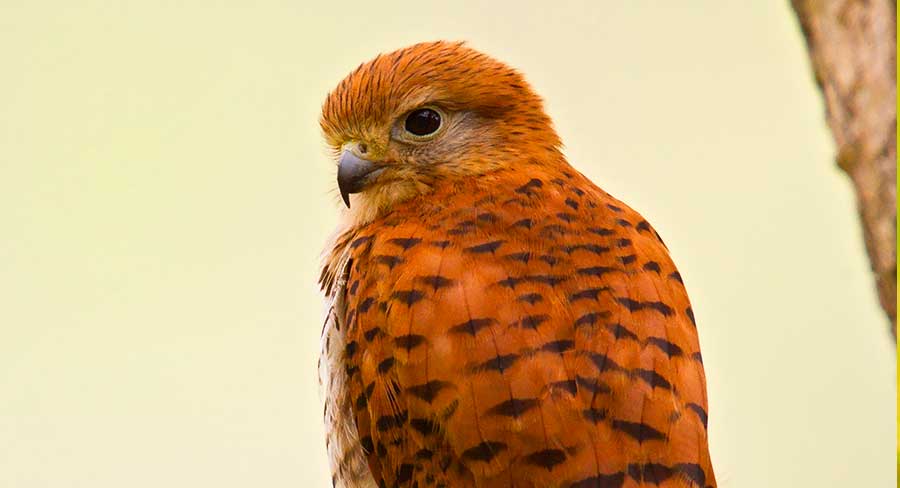 Nankeen Kestrel (Falco cenchroides)
The Nankeen Kestrel or Australian Kestrel is a native of (not surprisingly) Australia and also New Guinea. Researchers believe it is a close relative to both the Spotted Kestrel and Eurasian (Common) Kestrel species.
Reunion Kestrel (Falco buboisi)
The Reunion Kestrel is extinct as of the mid-1700s, although happily they are the sole extinct kestrel species to date. The Reunion Kestrel was named for its small volcanic home on Reunion Island in the Indian Ocean.
Rock Kestrel (Falco rupicoloides)
Also called the Greater Kestrel, the Rock Kestrel has only recently been granted independence from the Common Kestrel as its own species. These birds make their home in southern Africa, primarily inhabiting the Congo, Angola and Tanzania.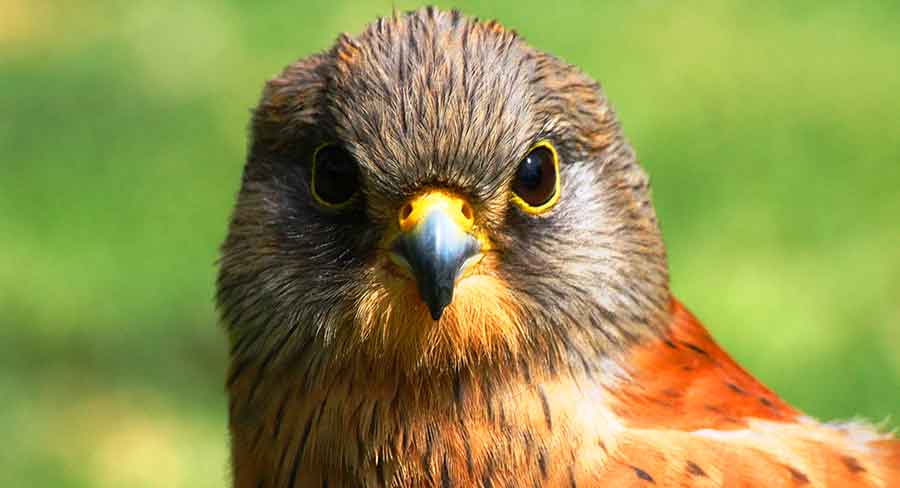 Seychelles Kestrel (Falco araea)
The Seychelles Kestrel is the only bird of prey that is native to the Seychelles Islands. These falcons are the smallest of all the kestrels and also one of the few kestrels that doesn't use hovering as a primary hunting strategy. It is thought that only about 800 Seychelles Kestrels remain in the wild.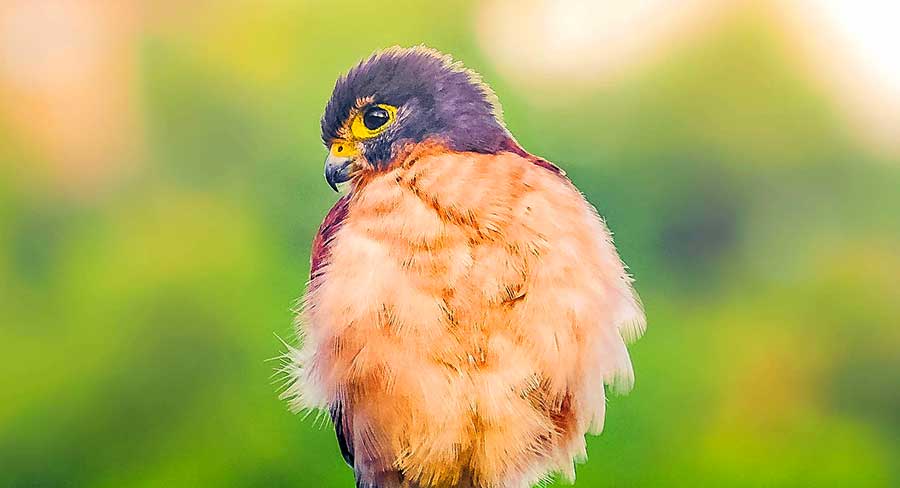 Spotted Kestrel (Falco moluccensis)
The Spotted Kestrel is sometimes called the Moluccan Kestrel. These island dwellers hail from Indonesia, where they coexist easily with their human neighbors, often nesting on rooftops and other human-made buildings. They are genetically similar to the Common Kestrel more so than other kestrel species.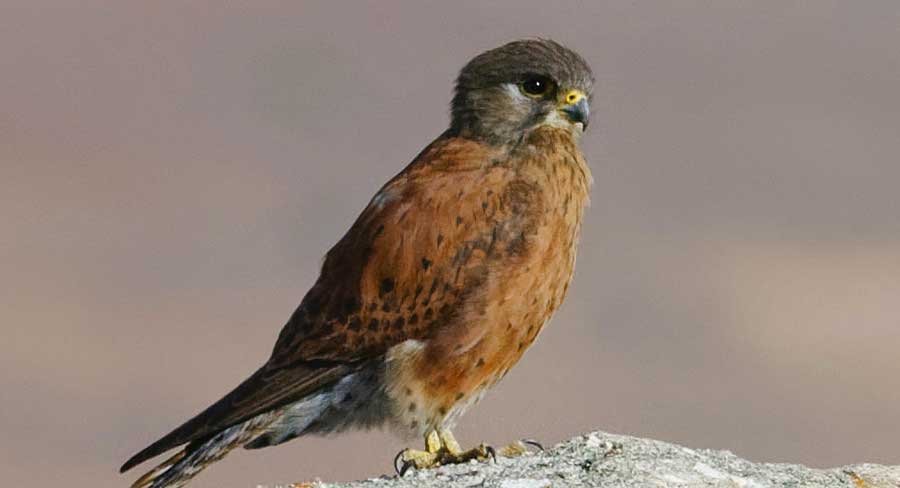 Hobby Falcons
The second of the types of falcon are Hobby falcons. These are the fastest of all true falcons, using speed to sneak up on their prey.
African Hobby (Falco cuvierii)
The African Hobby Falcon is native to parts of Africa. Their wings are so long they extend nearly to the end of the tail. African Hobbies like to eat insects. They have a prominent area of reddish (rufous) feathers under the tail around the legs.
Australian Hobby (Falco longipennis)
Sometimes called the little falcon, these hobby falcons actually have surprisingly long wing feathers for their genus. They will hunt alone for their primary prey of insects nearly anytime, although dusk is preferred. In areas where human light fixtures are prominent, the Australian Hobby will even hunt after dark!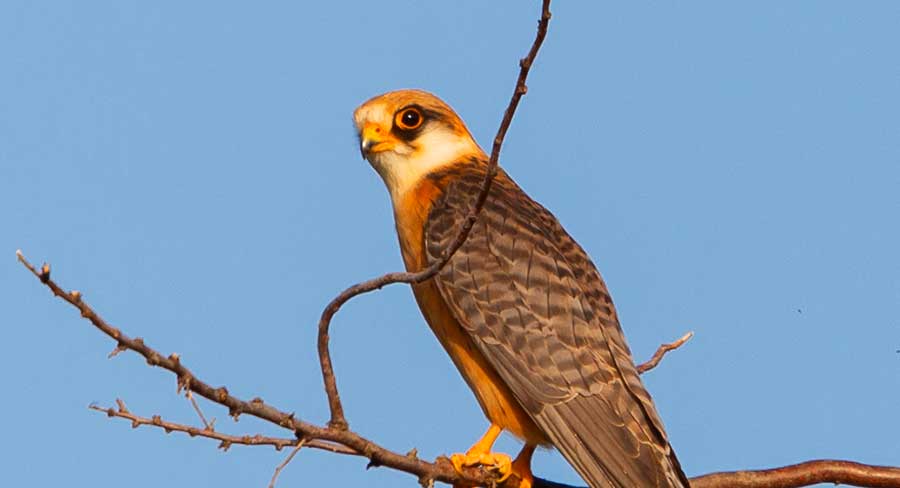 Eleonora's Falcon (Falco eleonorae)
The Eleanora's Falcon takes their species name from a 16th century Sardinian judge named Eleanor of Arborea. They live and breed in the Canary Islands, much of the Mediterranean and eastern Africa. While there is a general consensus that the Eleanora's Falcon belongs in the hobby group, these birds also closely resemble birds in the peregrine falcon group.
Eurasian Hobby (Falco subbuteo)
None other than the esteemed naturalist Carl Linnaeus was first to identify and describe the Eurasian Hobby. These birds have a very broad migratory range across much of Africa, India, Asia and the Mediterranean.
New Zealand Falcon (Falco novaeseelandiae)
The New Zealand Falcon is sometimes called the Karearea Falcon. These birds are the only falcon species as well as the only native bird of prey living in New Zealand. They are now considered to be a vulnerable species. New Zealand Falcons have been recorded as flying up to 200 km (124 miles) per hour.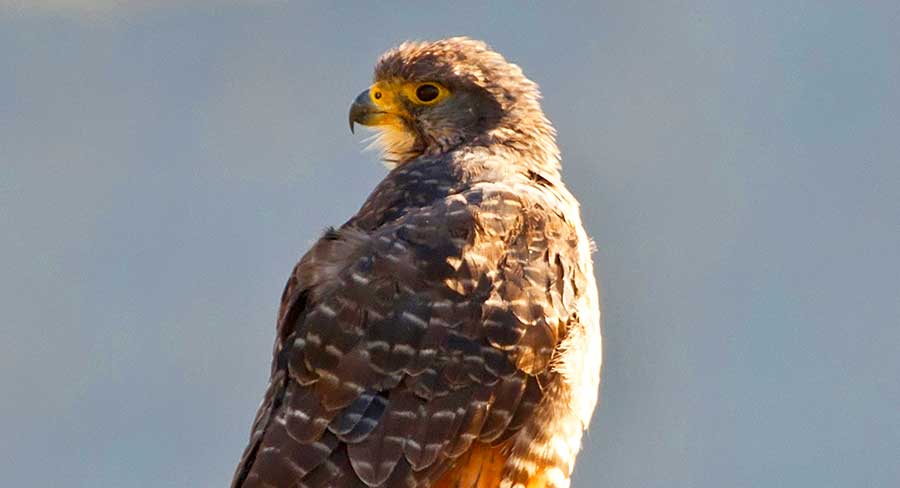 Oriental Hobby (Falco severus)
The Oriental Hobby lives primarily in South Asia. These birds have a striking color contrast with steel-grey wings and a reddish underbody and legs. To many, the Oriental Hobby closely resembles a much smaller version of the Peregrine Falcon.
Sooty Falcon (Falco concolor)
The Sooty Falcon is considered to be a near threatened falcon species. They live only in a very narrow geographical region in northeastern Africa and migrate long distances to breed there. Like the Eleanora's Falcon, the Sooty Falcon is sometimes attributed as a hobby and sometimes as a peregrine.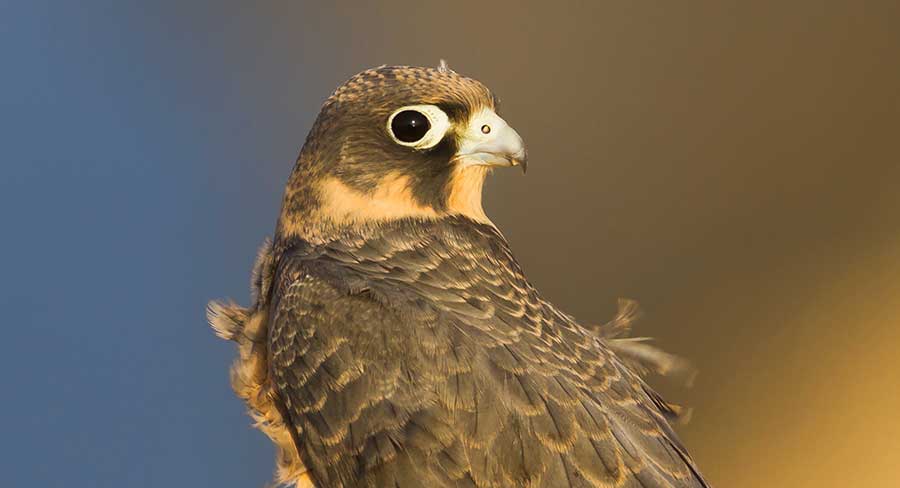 Peregrine Falcons
Peregrine Falcons are the largest of the true falcons and they are superb divers, seemingly falling straight down from the sky to nab choice prey.
This category can sound confusing because there is both a category for peregrine falcons and a falcon called the Peregrine Falcon (which also belongs to the peregrine falcon category).
Amur Falcon (Falco amurensis)
The petite Amur Falcon gets its species name from a region in its home territory in Siberia, Amurland. While these close relations to the Red-Footed Falcon look like adorable grumpy fluffballs, they are capable of flying an astounding 22,000 km (more than 13,600 miles) back and forth each year – the longest migratory path of any of their kind.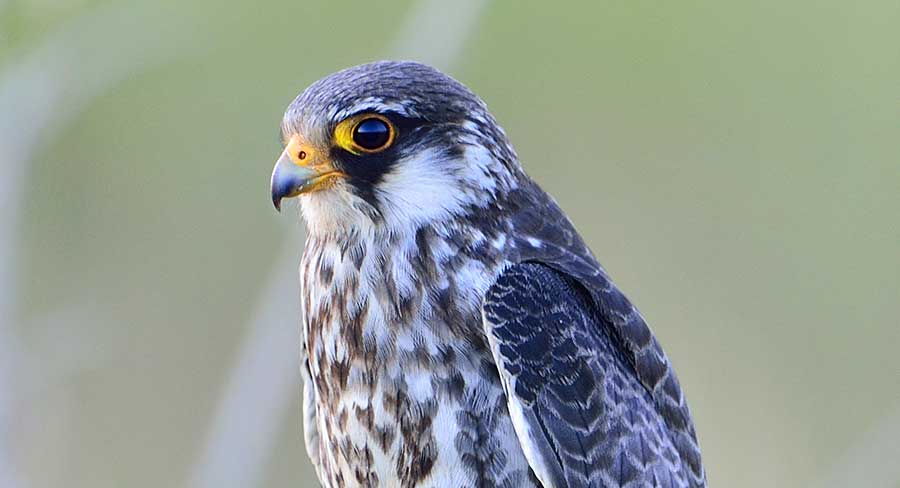 Aplomado Falcon (Falco femoralis)
The primarily South American Aplomado Falcon has striking coloration with their white, brown and black plumage and yellow beak, eye rims and feet. This species used to be common in North America and northern South America. But it is now somewhat endangered in both places, and is the focus of ongoing species reintroduction programs.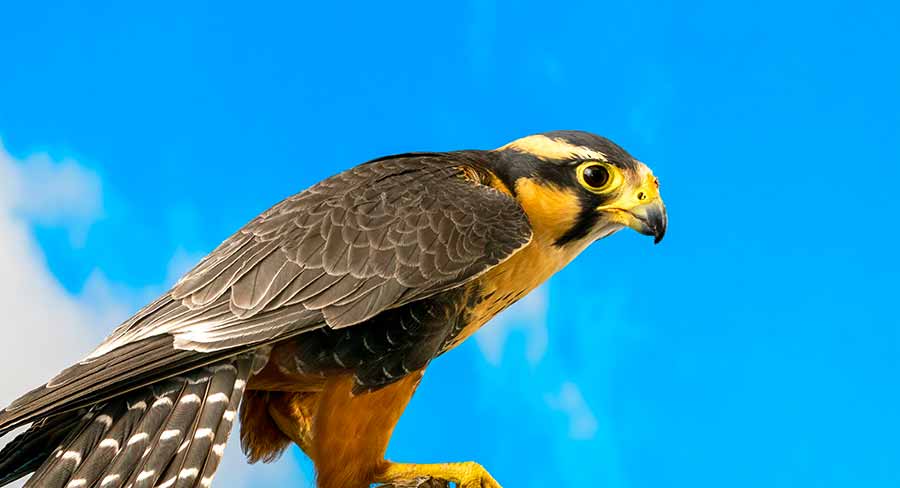 Barbary Falcon (Falco pelegrinoides)
The Barbary Falcon is sometimes confused with the larger Peregrine Falcon. However, scientists believe this is a distinct falcon species. The Barbary Falcon lives and breeds in the Middle East region, central Asia, northern Africa and the Canary Islands.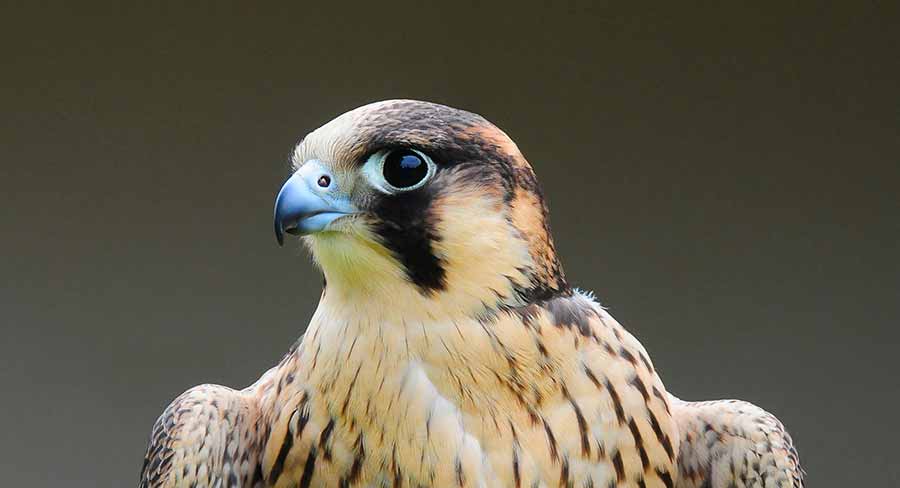 Bat Falcon (Falco rufigularis)
The dashing and distinctive Bat Falcon prefers the tropical climate of Mexico, Central America and northern South America. They get their name from their preferred prey – bats.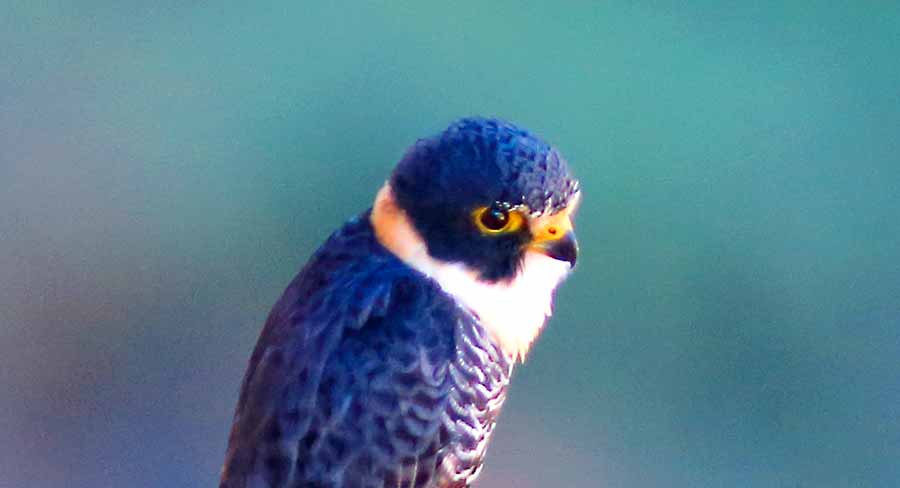 Black Falcon (Falco subniger)
This beautiful Australian Falcon is sometimes mistaken for the similar-looking Brown Falcon, which also lives in Australia. The Black Falcon is a remarkable flier and hunter. They are not seen as often in the wild as they used to be, which has bird fans worried!
Brown Falcon (Falco berigora)
The Brown Falcon is sometimes called the chicken hawk, because of its chicken-like cackling noises! They have no feathers on their legs and an easily recognizable "tear" mark underneath each eye.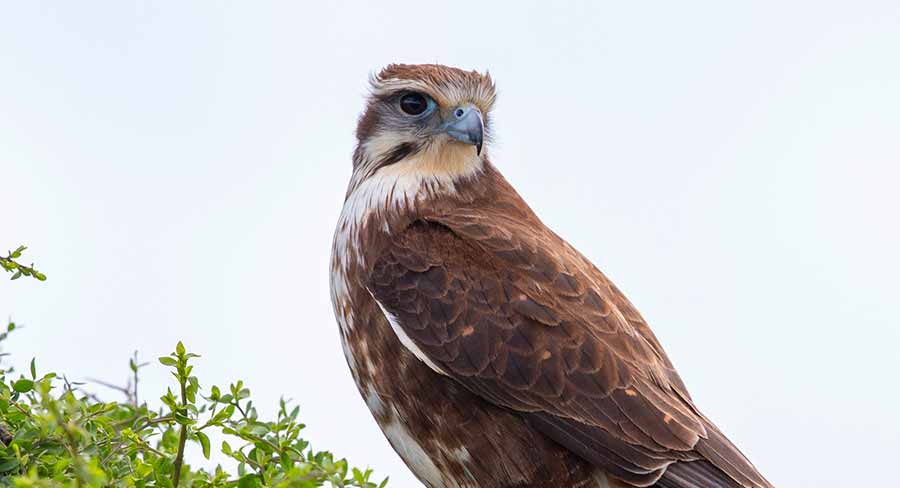 Grey Falcon (Falco hypoleucos)
The Grey Falcon is also called the smoke hawk or blue hawk. This is because of their gray-blue upper body and wings. This falcon species is very rare and there may only be around 1,000 adults in the wild. Grey Falcons live mainly in Australia and Tasmania.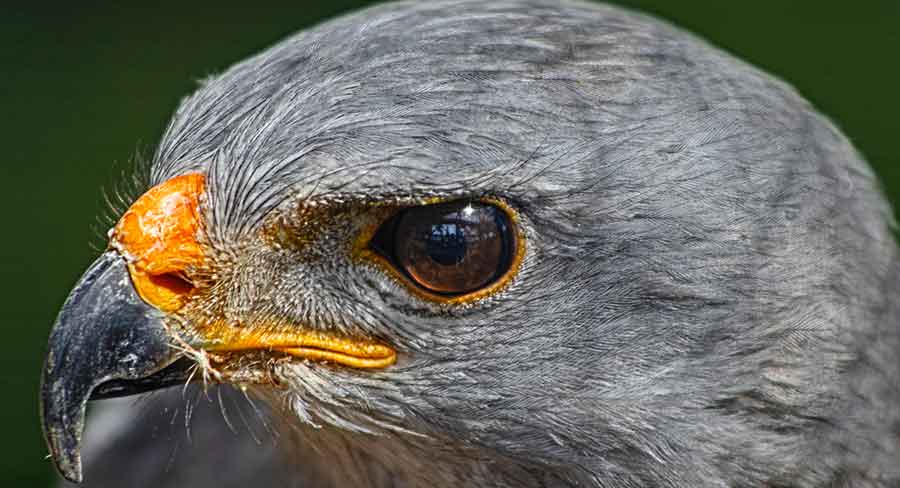 Gyr Falcon (Falco rusticolus)
The Gyr Falcon (also spelled Gyrfalcon and pronounced "JER-falcon") is the largest of all the falcon species. Gyrfalcons live and nest in far North America, preferring the cold temperatures and open tundra. While they nest on cliff faces, because Gyrfalcons are so large, they often perch right on the ground to wait for their prey – other birds!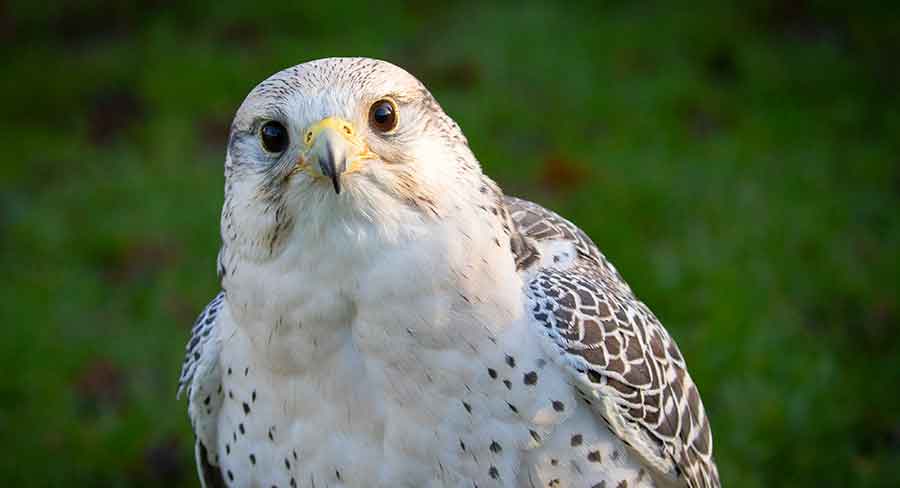 Laggar Falcon (Falco jugger)
The Laggar Falcon inhabits India and Iran as well as Nepal and Pakistan. Their populations are sadly going down. The Laggar Falcon belongs to a sub-genus of falcons that also includes the Gyrfalcon, Saker Falcon and Lanner Falcon.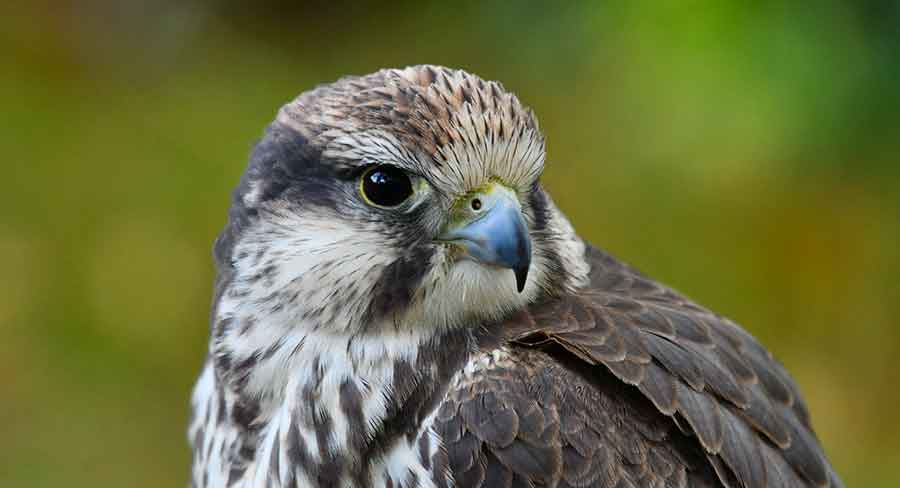 Lanner Falcon (Falco biarmicus)
Gorgeous Lanner Falcons are large and numerous in their native habitats of Africa, the Mediterranean and the Middle East. They are great hunters that eat a lots of different animals. These impressive birds can live in any type of habitat but need to nest on cliff faces.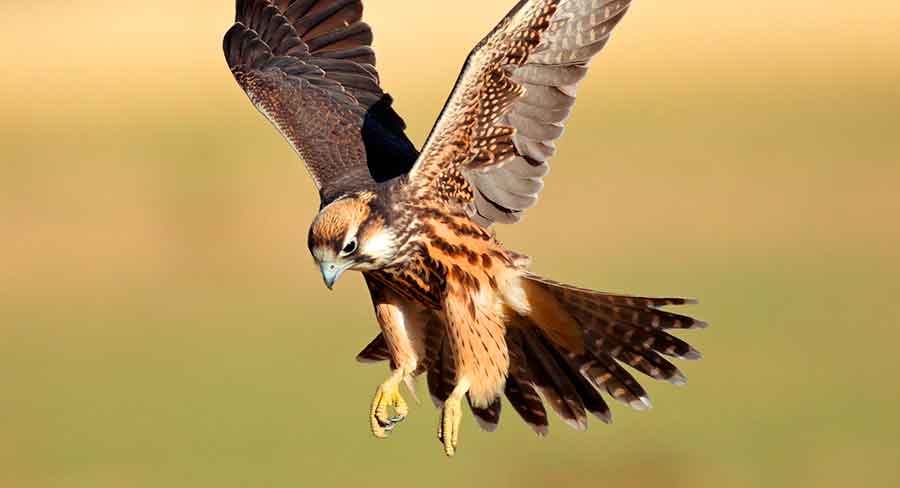 Merlin Falcon (Falco columbarius)
Merlin Falcons are quite numerous throughout North America and prefer to live and nest in forest habitats. They are small ,swift and look a lot like pigeons! Merlin Falcons used to be called lady hawks. This is because they were popular with Victorian-era noblewomen, who enjoyed the sport of falconry.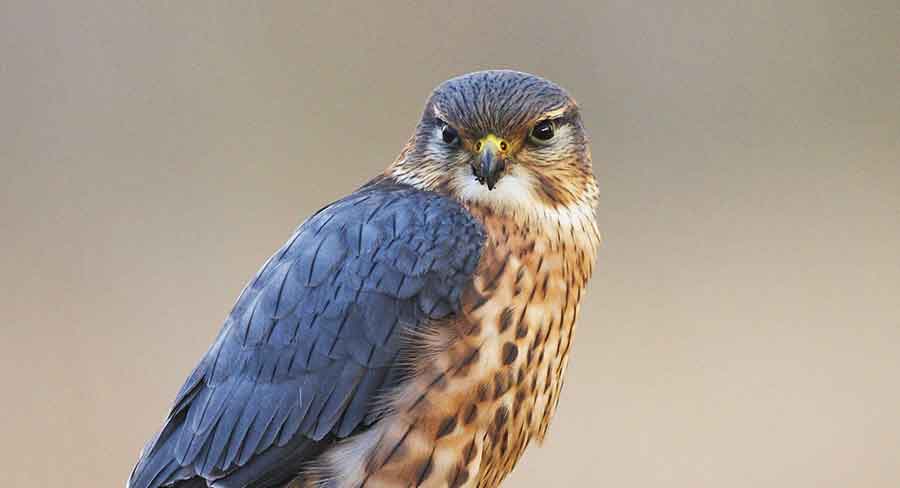 Orange-breasted Falcon (Falco deiroleucus)
The Orange-Breasted Falcon often appears to be wearing a three-piece suit due to the dark banding across their mid-torso. Less experienced birders sometimes confuse this falcon with the Bat Falcon. The Orange-Breasted Falcon lives in Central and South America where sightings are increasingly rare, and they are near threatened status. However, there is a captive breeding effort underway in Belize to restore their numbers.
Peregrine Falcon (Falco peregrinus)
The Peregrine Falcon is arguably the most famous of all the true types of falcon. While often distinguished as the fastest bird in the world, some believe the rare Saker Falcon is faster. Peregrines are found all over the world, but are still rare. Luckily, reintroduction programs are helping this prized falcon species to make a comeback.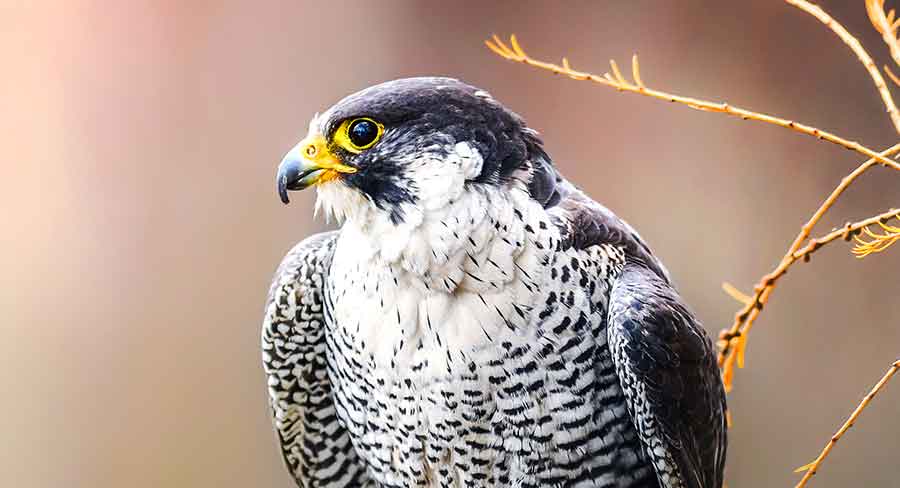 Prairie Falcon (Falco mexicanus)
Prairie Falcons are quite similar in size and appearance to the much more famous Peregrine Falcon. They are numerous in their native western North America as well as in southern Canada and northern Mexico.
Red-Footed Falcon (Falco vespertinus)
The Red-Footed Falcon is hard to find in the wild! This is mostly due to loss of its native habitat throughout Europe and Asia. In 2004, a Red-Footed Falcon made history and international headlines by crossing over into Massachusetts, the species' first visit to the Western hemisphere.
Red-Necked Falcon (Falco chicquera)
The Red-Necked Falcon lives in India and Africa in two separate populations. Not all scientists agree that the two separate populations represent a single falcon species, which is why some call this bird the Rufous-Necked Falcon or the Red-Headed Falcon. Currently, this falcon is classified as near threatened due to population decline.
Saker Falcon (Falco cherrug)
The gorgeous, large Saker Falcon is impossible to miss, with their broadly striped brown and white bodies and wings. This gorgeous birds are also endangered, and disappearing fast. The Saker Falcon are killed by predators in their main breeding ground in central Asia. Poachers also prize the eggs, young and adult birds for the black market.
Taita Falcon (Falco fasciinucha)
The Taita Falcon lives only in eastern and central Africa. These birds take their species name from the African Taita Hills. They are very hard to find today and are a near threatened species.
Types of Falcon
You have now met all 39 of the known true falcon species around the world. Which of these types of falcon is your favorite? Drop us a comment – and be sure to tell us why your chosen falcon is your favorite!
References