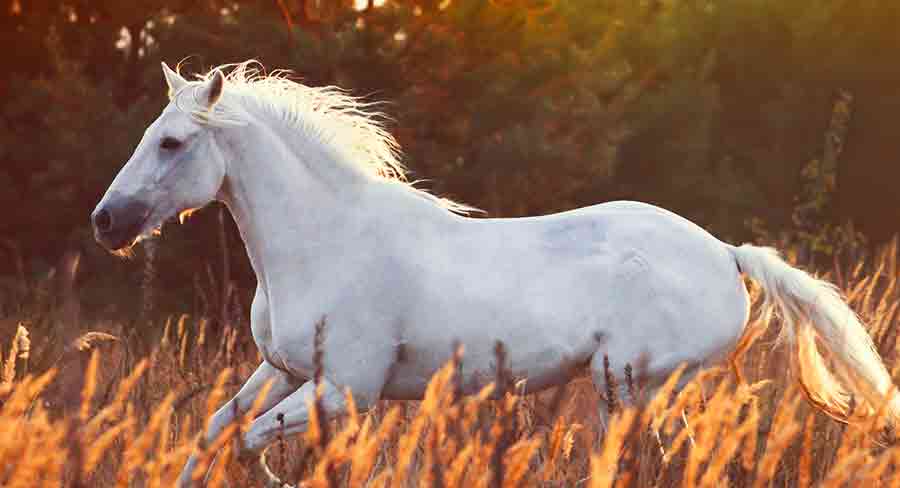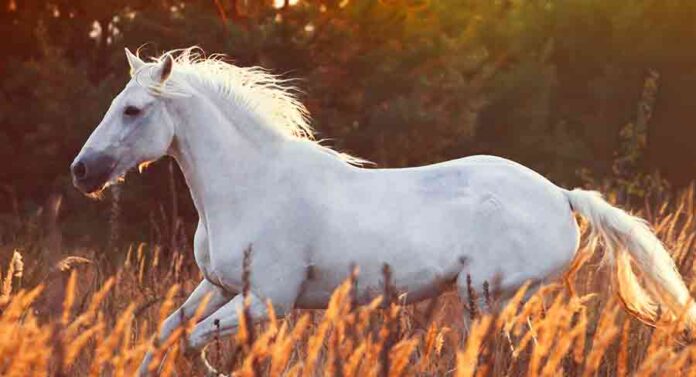 How do you choose the best white horse names? White horses have had special cultural significance in mythology, religion and storytelling across the whole world, for thousands of years.
Very few horses are truly white. But many horses that are technically gray (like the one in the photos accompanying this article) also have a white coat. Which means many of our most popular horse breeds can be white. So how do you choose the best white horse names to suit them? In this guide we've got over 200 ideas to name your white horse. From funny, to something cool, to something cute! Starting with 50 of our favorites.
50 Good Names For White Horses
Agnes
Alaska
Albus
Alva
Angel
Argon
Aubin
Aurora
Blizzard
Cesar
Chalk
Cloud
Cotton
Crystal
Diamond
Dover
Finn
Frost
Gavin
Gilmore
Hero
Indium
Kapalua
Lily
Luna
Mist
Neo
Nevada
Neve
Nola
Nouvel
Nova
Opal
Panama
Pearl
Porcelain
Rarity
Rocky
Rowena
Saint
Sierra
Smoky
Snowflake
Teton
Titania
Whittaker
Willow
Winter
Xavier
Zinc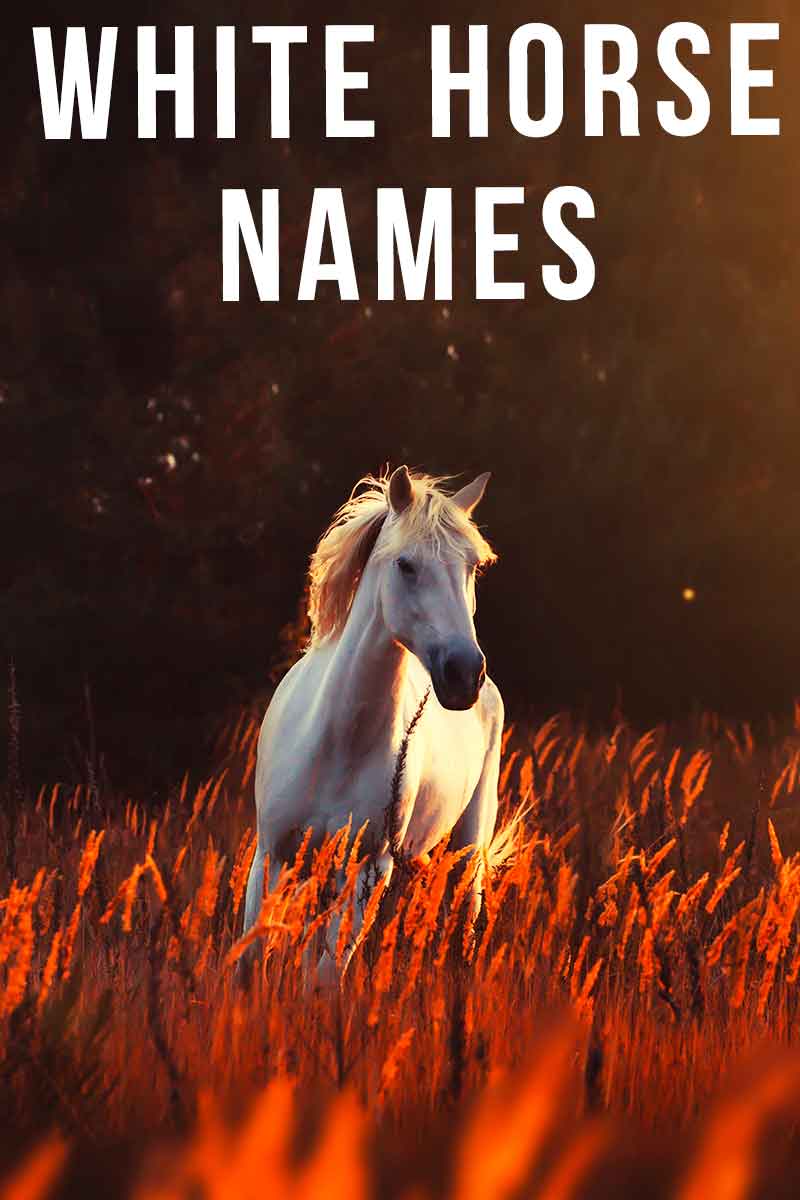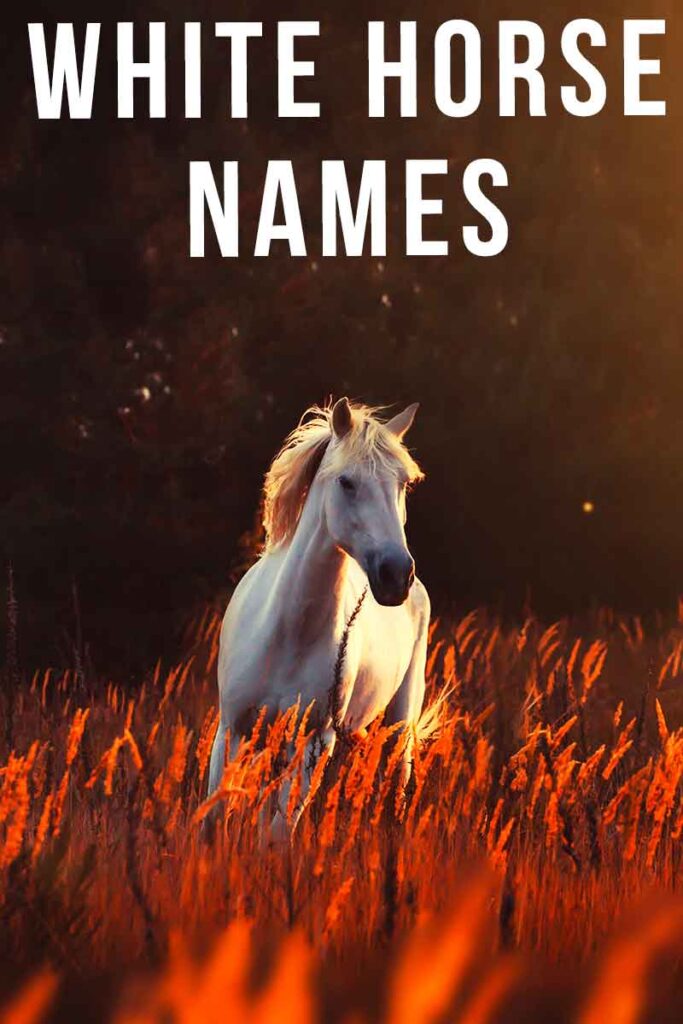 White Female Horse Names
If it's a filly or a mare you're trying to name, you won't struggle to find fitting names for female white horses. White mares look like goddesses in horse form. And lots of human female names are based on old fashioned ideas of purity and pristineness. So they suit white animals. For example:
Alba
Artemis
Bianca
Blanche
Bridey
Bronwen
Calla
Candace
Catalina
Chantilly
Daisy
Diana
Demeter
Elvira
Eve
Fiona
Galatea
Genevieve
Guinevere
Ivory
Jasmine
Josie
Juno
Katherine
Lace
Lilac
Livana
Snowdrop
Swan
White Horse Names – Male
What about a stallion or gelding? In the past, white stallions were given as impressive gifts from one royal household to another. There are lots of names for white stallions which still conjure up that feeling of prestige and status. And lots of traditional male names which mean 'white' or 'fair'. Here are some of our favorites:
Albin
Alexander
Arjun
Asher
Blake
Boris
Caleb
David
Dwight
Dylan
Duke
Finn
Fintan
Grayson
Hudson
Irvin
Kenyon
Luca
Mason
Noah
Ranch
Roman
Ryder
Sherlock
Theodore
Wynn
Black And White Horse Names
Is your white horse actually slightly piebald? Many are! The colored area of their coat can be large, or barely there. These names are great for a white horse with some beautifully contrasting dark patches:
Badger
Barcode
Bolt
Casablanca
Checkers
Cochise
Diablo
Dice
Dogtooth
Domino
Girl Friday
Hidalgo
Magpie
Mickey
Mono
Noir
Orca
Panda
Perdita
Philadelphia
Pingu
Pongo
Q.R.
Rook
Scout
Snoopy
Zeb
Cool Names For White Horses
From fearsome polar bears to the fluffy white cats of fictional supervillains, we're all familiar with the idea of white animals being aloof and unfriendly. Now you're naming a white horse of your own, I'm sure you know that it's not the case! White horses have the same temperament as all the other horses of their breed. But, you can still choose a cool name, to give them a little something extra! What about one of these white horse names?
Arctic
Astra
Clay
Coco
Dagger
Dumbldore
Echo
Egg
Everest
Gandalf
Gauze
Glacier
Ghost
Hibiscus
Ice
Ines
Merlin
Milk
Mozzarella
Phantomex
Rogue
Salt
Sloan
Storm
Wimborne
Unexpected Names For White Horses
Sometimes it's fun to turn naming expectations on their head. Naming animals is a chance to be creative, daring, or silly. And a horse whose name makes people smile will always have an advantage when it comes to making a good impression. We think these white horse names are a fun way to surprise people, and make your white horse unforgettable:
Banana
Basil
Brian
Cabbage
Coal
Daffodil
Dusk
Ebony
Emerald
Fido
Fluffy
Howard
Kitty
Minnie
Phantom
Pumpkin
Rainbow
Ruby
Sapphire
Scarlett
Shadow
Sooty
Spectrum
Strawberry
Sunshine
Tofu
White Pony Names
Not every white horse is a mighty steed. Some of them are sweet, gentle and small. They might be pets, or they might be responsible for introducing a new generation of children to riding. Whatever their destiny, one of these cute white pony names will suit them perfectly:
Bean
Blossom
Bodhi
Bonbon
Coconut
Cookie
Darling
Dolly
Finn
Floss
Flutterbutter
Ginny
Gumdrop
Katie
Marshmallow
Milo
Moonlight
Mouse
Nemo
Periwinkle
Polo
Pudding
Sherbet
Star
Sweetie
We've got hundreds more pony names in this article.
Famous White Horse Names
Finally, you might be inspired by the name of one of these famous white horses:
Achilles, from Disney's Hunchback of Notre Dame.
Bach Ma, the white horse patron saint of Hanoi in Vietnam.
Kanthaka, a white horse that appears in Buddhist texts as Prince Siddhartha's favorite horse.
Kelpie, the name of a horse shaped water demon in Scottish legends.
Major, from Disney's Cinderella.
Marengo, Napoléon's war horse.
Maximus, from Disney's Tangled.
Pegasus, the white, winged horse in Greek mythology.
Samson, from Disney's Sleeping Beauty.
Shadowfax, the white horse ridden by Gandalf in Lord of the Rings.
Sleipnir, the 8-legged white horse belonging to Odin, king of the Norse gods.
White Flash, the horse ridden by country singer and actor Tex Ritter in western movies.
What Is A Good Name For A White Horse?
So, which white horse names from our lists resonated with you? Have you come up with a shortlist of favorites? Remember that horses can live up to 30 years. So the best white horse name is one which will stand the test of time, and which you will still love two decades from now.
Once you've picked a name, why not teach it to your horse? Horses can learn a wide range of verbal and non-verbal cues. If you gently say their new name whilst feeding them treats, then you'll be able to call them by their name in future, and have them come up to you. To get the most out of this, it's also wise to choose a name which isn't too similar to any of the verbal cues you want to use for other actions – such as "walk", or "woah".
Which white horse names did you love?
Let us know in the comments box down below!
More Name Ideas