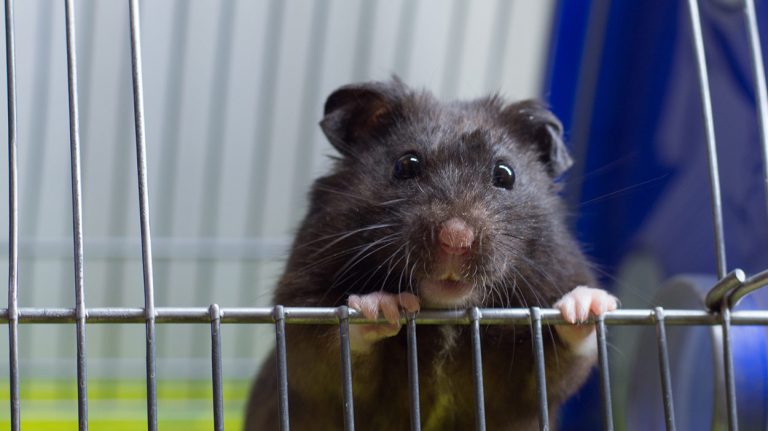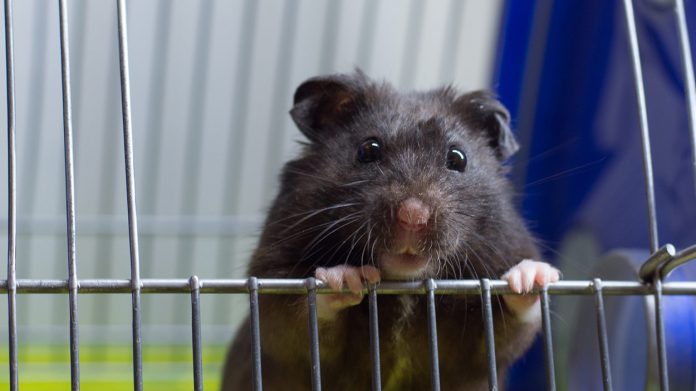 Need to know what the best pet carrier is? Sure you do!
From time to time, you may need to take your small furry friend away from the security and safety of his cage and into the outside world.
In this guide, we'll look at what types of pet carriers are available. We'll discuss what makes the best pet carrier. And we'll also talk about what makes the worst!
We've created a special section for each different species of small furry for your ease of reference. Each section includes helpful information on the best pet carrier for yourcritter, together with reviews of our favorites.
All the pet carriers we've reviewed are available to buy online from Amazon.com. And we've included convenient links to each product, so buying the best pet carrier for your furry friend couldn't be easier!
Let's begin by looking at pet carriers in general.
All of these products were carefully and independently selected by The Squeaks and Nibbles team. If you decide to make a purchase from one of the links marked by an asterisk, we may earn a small commission on that sale. This is at no extra cost to you.
What is a pet carrier?
So, just what is a pet carrier and do you really need one?
A pet carrier is a small portable crate, box, cage, backpack, or purse that's used to transport small pets, including guinea pigs, rabbits, and rats, from one place to another.
Pet carriers usually have a handle on the top so that you can carry your pet safely and securely.
Do I need a pet carrier?
When you first buy your pet, you will need a safe means of transporting him home.
For the safety and comfort of your pet it's vital that you have a suitable pet carrier for him to ride in. Never transport your pet on your lap or loose in your car!
In the event of an accident, your pet could be injured. You might even lose him if a window in the car is left open or broken!
After your new friend has settled in, veterinary visits, house moves, or traveling to attend breed shows are common times when you might need to transport him.
Some well-traveled pets even ride in airplanes, on ferries, and on trains. If you are intending to take long journeys like this, you will need the best pet carrier for the job.
What is the best pet carrier?
The best pet carrier will be the perfect size for your pet. Big enough for them to stand up and lay down comfortably, and utterly secure. It must also be easy for you to lift, either with handles or a strap.
Different styles of small pet carriers
There are a few different types of pet travel carriers available.
Airline pet carriers
Airplane pet carriers must meet the specific requirements of the individual airline to ensure that your pet and other passengers travel safely and in comfort.
In the case of very small pets, many airlines allow them to travel in the passenger cabin.
The general rule is that the pet carrier must fit underneath the seat in front of you and it must have a waterproof underside. There must also be ventilation holes on three sides of the carrier.
Backpack pet carriers
Backpack pet carriers include a comfy compartment for the pet to ride in. They come in different sizes and colors and have extra storage pockets.
Soft-sided or purse pet carriers
These carriers are designed specifically for very small pets. They usually have a reinforced floor, ventilation holes, and a roll-down mesh window.
What to look for in a good small pet carrier
Small animals such as rabbits, degus, hamsters, rats, and mice are prey animals.
They are instinctively flight animals. This means they will try to run and hide at the first sign of danger or if they feel threatened or exposed.
It is therefore very important that their environment makes them feel safe and secure. With this in mind, there are a number of things that make the best pet carrier.
Ventilation
Small animals such as rabbits and degus can overheat very easily, especially when stressed. It is therefore important to choose a pet carrier that offers good ventilation.
Pet comfort
As previously discussed, your small furry friend will feel threatened and afraid if he is left exposed to the outside world.
A good pet carrier will have a firm, non-slip bottom that can be lined with a comfy, washable pad. The carrier should also be enclosed on three sides so that your pet can hide if he wants to.
Ease of access
A well-designed pet carrier will have an easy access system so that you can get your pet out quickly in case of an emergency.
Easy to clean
You will probably need to use your pet carrier to transport your pet to the vet when he is sick. In addition, small animals are inclined to urinate and defecate when they are stressed.
For these reasons, an easy-to-clean carrier is important. Carriers that come apart are the easiest to wash out and disinfect.
Security
Pet carriers must be made from strong, chew-proof materials. They should also have a door latch or zipper that closes securely to prevent your pet from escaping.
Note that wire-fronted carriers are not suitable for transporting tiny pets such as mice, hamsters or gerbils. Remember that if your pet can fit his head through a gap in the wire, the rest of his body can follow!
The last thing you want is to arrive at the vet's, only to find that your pet has escaped into your car or onto the bus!
Carrying strap or handle
The carrying handle or strap on the pet carrier must be securely attached.
If the handle is fixed to the carrier's lid, bear in mind that the weight is being taken by the lid's catches and hinges. So these must be strong and firmly fixed too.
If you're transporting a rabbit, you might want a carrier that has wheels or a shoulder strap to help distribute the weight.
Size
The pet carrier must provide enough space for your pet to sit up and lay down comfortably.
However, there should not be so much extra room that he slides around when you lift the carrier or if you brake sharply when driving.
Unsuitable carriers for small pets
When shopping for pet carriers, there are a few designs that are not suitable for very small animals.
Pet carriers that are made entirely from wire could provide escape points for very tiny pets such as mice and rats.
Larger animals such as rabbits and chinchillas will feel very exposed and vulnerable. There's also the danger that your pet's legs or feet could become trapped in the wire.
Fabric carriers are great to fold away and store, but are totally unsuitable for larger pets such as rabbits who have a gnawing or chewing habit. Any bunny that habitually chews will be out of the carrier in a matter of minutes!
The same problem applies to traditional wicker pet carriers and the cardboard ones that pet stores often supply when you buy a pet.
Plastic tanks are not suitable for transporting animals such as hamsters and gerbils. The ventilation is inadequate, and your pet will feel totally exposed and vulnerable to what's outside, especially to lip-licking dogs and cats in the vet's waiting room!
Now let's move on to our reviews of the best pet carriers we found on Amazon.com.
Hamster carrier
The Yosoo hamster carrier* is also suitable for transporting pet mice, rats, chinchillas, degus, and squirrels.
The rodent carrier is made from 100% washable synthetic material, offering a warm, sheltered space for your little friends to hide whilst in transit. The inside is lined with silky, soft velvet and the outside is made from cozy, fluffy plush.
The carrier is available in pretty pink, sky blue, and mint green.
The strong, mesh front provides plenty of ventilation, whilst keeping your critter secure and safe. There's a sturdy zipper fastening for quick and easy access to your pet.
The carrier has an easily removable shoulder strap that attaches to rust-proof metal fastenings.
The Small Pet Carrier*, a dwarf hamster carrier, can be used to transport other small furries such as rats, mice, degus and squirrels.
The hamster travel cage is made from thick, short plush. It's lined with a removable velvet pad, providing a cozy ride for your pet.
The front of the carrier is made from heavy-duty plastic mesh, ensuring plenty of fresh air for the occupant. The whole carrier is fully washable.
The carrier is designed to be used as a shoulder bag and has a 1.65ft to 2.95ft long, adjustable strap. Fastening is achieved via a strong zip closure, making it quick and easy to move your pet in and out of the carrier.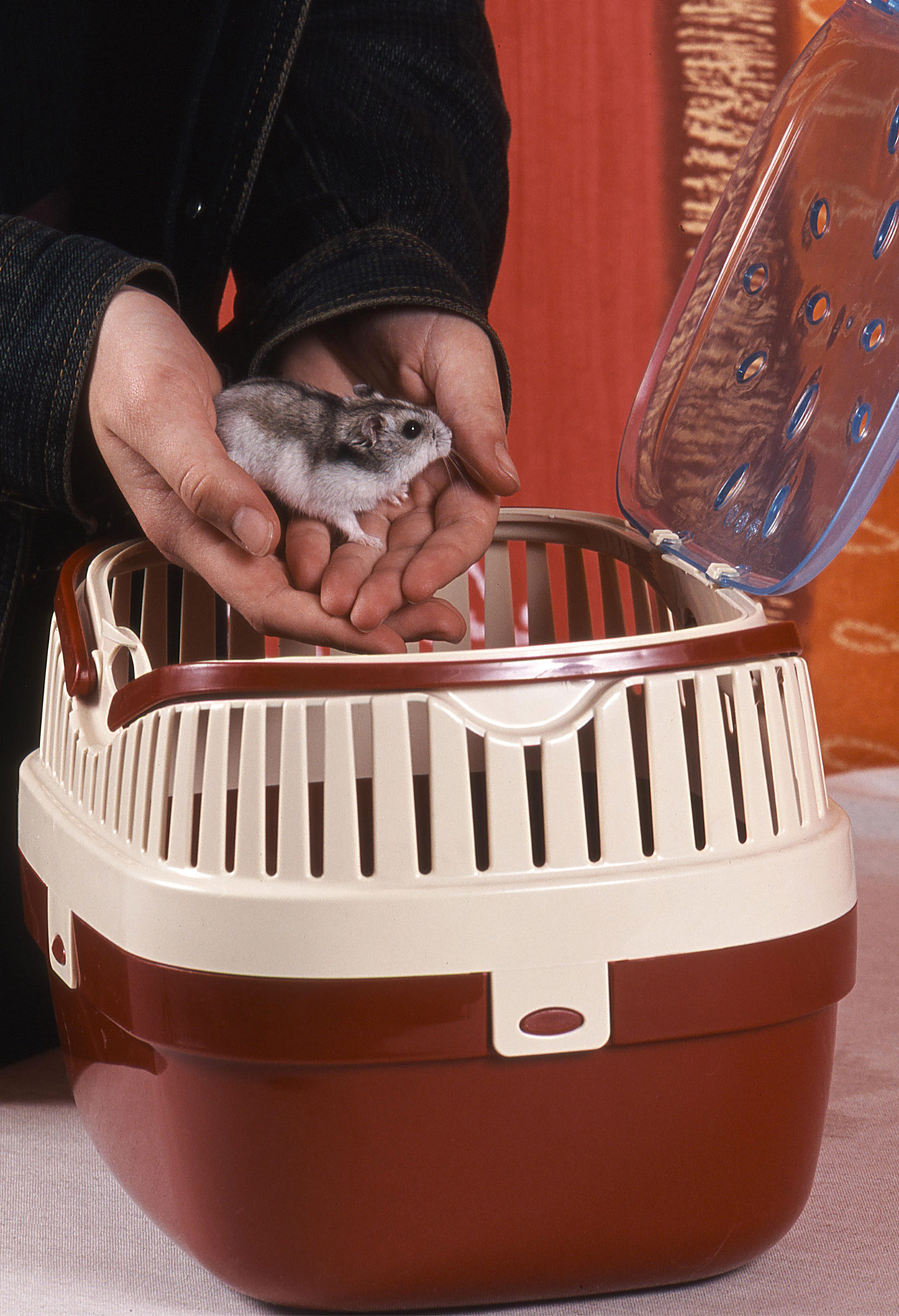 Gerbil carrier
Ware Manufacturing Twist-N-Go Carrier for Small Pets* is a pet carrier purse ideal for carrying several gerbils at once on trips to the vet. You can also use the carrier to house your pets temporarily while you're cleaning out their cage.
The carrier is made from extremely durable, nylon canvas for easy wipe-over cleaning. There's a robust, scratch-proof mesh screen to provide good ventilation for the carrier's occupants.
A premium zip fastening system allows for quick and easy access to your pets.
The carrier is designed to fold down flat for easy storage and pops open with a quick twist, so you can be good to go in just a few seconds!
Mouse carrier
This cute novelty pet carrier in the shape of a school bus, the Interpet Limited Superpet Crittertrail Off To School Pet Carrier* can easily accommodate several pet mice in comfort when you need to transport them, or when cleaning out their habitat at home.
The CritterTrail pet home even includes rolling wheels, so moving your mice around could not be easier!
To complete the comfort and totally cool ride experience for your critters, the carrier has good ventilation, an integrated food dish, water bottle, and expansion opening.
This pet carrier with wheels is equipped with a robust handle on the roof and is fully wipe-clean.
Rat carrier
For the fashion conscious rat about town, the SALICO Breathable Portable Rat Travel Handbags Backpack with Shoulder Strap* pet carrier fits the bill!
Made from thick, short plush in a variety of funky colored, leopard print designs, the carrier is lined for comfort and warmth. The front ventilation panel is made from heavy-duty mesh to allow plenty of air to circulate, while preventing your pet from chewing through it.
The whole carrier is machine washable at a low temperature.
The shoulder bag design has a removable strap attached by good-quality metal clips.
Access to the carrier is achieved via a strong zip fastener that's quick and easy to open.
Rabbit carrier
When choosing the best pet carrier for your rabbit, always make sure that you pick one that's big enough to easily fit your bunny, especially if he's one the bigger breeds.
Bear in mind that you will also need to put a soft, waterproof liner in the base of the carrier. This will take up some of the space inside.
Try the Amazon Basics Two-Door Top-Load Pet Kennel.* The basic, two-door, top-loading pet carrier will comfortably accommodate one medium sized rabbit or two very small ones.
The bunny carrier is made from sturdy plastic and has a strong, steel wire front door. The carrying handle is attached to the top of the carrier.
The carrier comes with additional screws so that you can secure the bottom and top of the carrier for extra reinforcement if you want to.
This carrier is a top-loader. This means that you can simply lower your bunny into the carrier for his journey, and then open the front door to allow him to come out when you arrive.
The design makes the whole experience stress-free for both bunny and pet parent!
Or how about the Texsens Innovative Traveler Bubble Backpack*?
This cleverly designed, airplane-approved backpack features a semi-sphere window so you can keep an eye on your bunny throughout his journey. Chew-proof mesh windows and air holes right around the carrier's perimeter allow good ventilation.
Zip fastened top and side access panels enable you to get to your pet quickly if necessary.
The backpack has adjustable padded shoulder straps. It also has a carrying handle, enabling you to attach the backpack to a car seatbelt if required.
Guinea pig carrier
The Hagen Living World Pet Carrier* is built to last.
The durable, chew-resistant plastic carrier has twin handles for easier and safer carrying and features a large top opening to allow ease of access to your guinea pigs and for cleaning.
There's a network of ventilation slits right around the edge of the carrier to provide optimal air circulation.
The bottom of the carrier is ridged to provide a slip-free surface. The door features a locking system to prevent your precious pet from escaping.
This carrier is suitable for transporting rats as well as guinea pigs. There's also a larger size that would comfortably accommodate small breeds of rabbits.
Degu carrier
The Favorite Pet Carrier* has plenty of room for two or even three degus.
The robust, chew-resistant plastic body of the carrier has a wire top-load design. This allows easy loading and a wire front door, providing plenty of ventilation for your pets.
Spring-loaded latches on both doors allow smooth and easy opening. Additional ventilation slits are included on the sides, top, and back of the carrier.
The carrier is supplied with extra screws that can be used to secure the bottom and top of the crate for additional reinforcement.
Chinchilla travel carrier
This neat Portable Pet Crate* is ideal for transporting one or two chinchillas in comfort and safety.
The heavy-duty plastic carrier is designed to last and is also very easy to clean. The carrier opens at the front with an easy to operate spring-loaded mechanism and has lots of ventilation on all sides via narrow wire.
There's a robust handle mounted on the top of the carrier for easy carrying.
Although this carrier represents good value for money and is well-made, you may want to include a cover to provide more privacy for your chinchillas during transit.
This PetAmi Premium Pet Carrier Backpack* is perfect for transporting small, lightweight pets such as chinchillas.
Designed to be used as a backpack, the carrier has plenty of ventilation for optimal airflow and pet monitoring. The lining is soft and cozy so that your pets can curl up and sleep throughout the journey.
Waist and chest buckles are included to keep the backpack secure and comfortable while you're wearing it. There are useful side pockets for essentials, too.
The carrier is made from durable 600D high-grade polyester and comes in 7 vibrant colors, including black, royal blue, red, pink, and light blue.
Ferret carrier
This lightweight and rather stylish small animal carrier, the Sherpa Park Tote Pet Carrier*, can be used to discreetly transport your ferrets in comfort and safety.
The tote bag pet carrier is completely machine washable, has a reinforced bottom for security and safety, and is secured with a robust zip fastener.
Ventilation is provided by a mesh panel in the front of the carrier and there's a useful roll-back panel to shield your pets from sunlight or potentially frightening situations.
Best small pet carriers
There are occasions when you might need to transport your small furry friend away from home. Transporting your pet safely and comfortably is best accomplished using a purpose-designed pet carrier.
We'd be thrilled to hear about your pet's away-from-home adventures!
Why not share details about your pet and his travels in the comments section below?
We'd also love to know what pet carrier you chose and why, especially if it was one we recommended!
Affiliate link disclosure: Links in this article marked with an * are affiliate links, and we may receive a small commission if you purchase these products. However, we selected them for inclusion independently, and all of the views expressed in this article are our own.