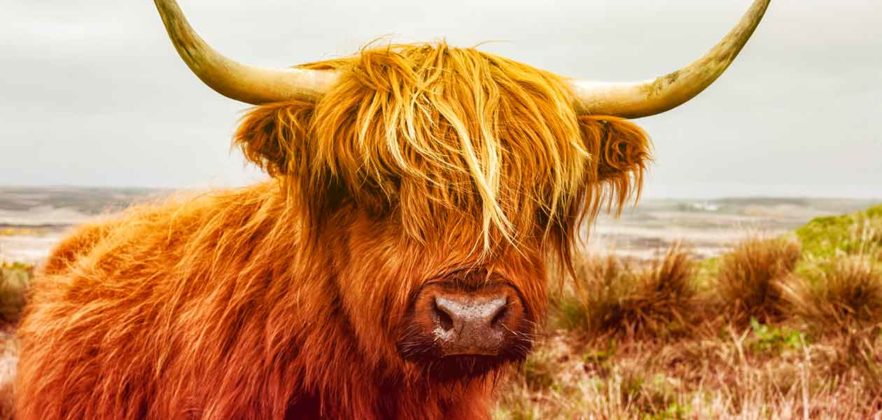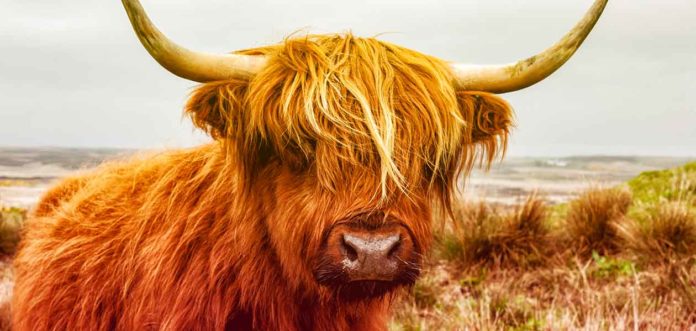 Cow names can be as cute, funny or stubborn as they are! Whether you are naming a real fluffy baby cow, cute cow plushie, or pet that looks like a cow, we've got you covered. Today we'll give you some creative ways to find totally unique cow names, along with some awesome ways to picking your favorite. Focusing on cow characteristics, personalities, colors, patterns and types! As well as cute cow characters and just generally adorable barn yard animal names.
Contents
The best cow names are perfect for pets and farmyard animals. They even make lovely cute stuffed animal names. Whether you're looking for color-inspired calf names, or want some funny farm names to help your cow stand out from the herd!
Top Cow Names
Here are the best cow names for this year. Classic names that would sound great on cattle, or any other pet that you think would suit a cute fluffy baby cows theme!
| | |
| --- | --- |
| Horns | Coby |
| Daisy | Ellie |
| Charlotte | Bully |
| Duke | Dahlia |
| Maggie | Emma |
| Gertie | Connie |
| Charlie | Honey |
| Beaux | Muffin |
| Madeline | Dora |
| Lily | Oliver |
| Zack | Stella |
| Trudy | Max |
| Matilda | Louis |
| Ida | Blanca |
| Otis | Holby |
| Minnie | Tank |
| Princess | Barney |
| Diesel | Elmo |
| Elvis | Fuzzy |
| Hershey | Dairy |
| Katie | Kyle |
| Patty | Angus |
| Queenie | Roy |
| Scooby | Violet |
| Waldo | Wilma |
Naming your Cow
It's fun to brainstorm ideas that have some meaning to you personally. Grab a sheet of paper and pen, and jot down a topic area in the center. One that appeals to you, like your hobby or a place that you love to visit. Then fill the page with words you associate with that theme. Don't limit yourself at this point by
This is a great method if you want to come up with several names too, all within the same field! Alternatively, just make your own list from the lists below! Jot down any name that you like, and then get the family to join in with whittling them down. Let's get started with some girls' cow names.
Female Cow Names
If you're looking for some feminine, girly ideas, we have plenty! Here are our top 50.
Anna
Meg
Beth
Joyce
Isla
Kelly
Poppy
Molly
Olivia
Jessie
Nina
Maude
Indie
Wendy
Becks
Gwen
Dolly
Jolene
Viola
Mia
Farraday
Heidi
Sarah
Zoe
Yasmin
Tallulah
Rose
Edie
Uma
Ruby
Enna
Willow
Amber
Demi
Gertrude
Hannah
Joan
Kerry
Lola
Faye
Ashley
Raya
Laura
Lottie
Jade
Hettie
Alex
Gemma
Tilly
Ness
Male Cow Names
Did you know that 'cow' technically refers only to female cattle? Male cattle are called bulls or steers, and here are 50 amazing steer names for them.
Dan
Phil
Kenny
Jack
Wayne
Carl
Oscar
Henry
Rhys
Vinny
Nigel
Zeke
Ryan
Simon
Noah
Seb
Liam
Luke
Benjamin
Logan
Ethan
Jackson
Carter
Owen
Wyatt
Jayden
Gabriel
Anthony
Lincoln
Christopher
Theo
Caleb
Ash
Hunter
Connor
Ezra
Nolan
Colton
Robert
Maverick
Dominic
Ian
Cooper
Roman
Evan
Everett
Sawyer
Jason
Axel
Leonard
Cute Cow Names
We don't just have to use traditional human names. Your ideas don't have to be inspired by humans. You can choose inspiration from the world around you to find some adorable names.
Beany
Trotter
Petal
River
Sun
Twilight
Diamond
Pollen
Juicey
Tulip
Oats
Rain
Silver
Stamps
Button
Lacey
Fisher
Rice
Eenie
Chalky
Joy
Feather
Happy
Fluffy
Bug
Opal
Fresian
Star
Bumble
Blossom
Buttercup
Clover
Flower
Grape
Citrus
Hero
Cloud
Jersey
Cream
Marble
Sugar
Pepsi
Spots
Milky
Blue
Dales
Gorgeous
Pitta
Harvest
Arnie
Funny Ideas
Your ideas can give you a laugh too! Here are some choices for cows and bulls that will have you doubled over with laughter.
Simon Cowell
Cowabunga
Moohammad Ali
Mooella Deville
Moona Lisa
Mooranda
Beef Stew
Kim Cowdashian
George Mooney
Moolan
Shia LaBeouf
Pat
Leonardo DiCowprio
Dairy Lee
Morgan Friesian
Wayne Mooney
Robert Cowney Jr.
Bradley Mooper
Ian Milkellen
Megan Ox
James Francow
Sandra Bullock
Milkauley Culkin
Roan Atkinson
T Bone
Cowabunga
Big Mac
Moodonna
Henry Cowvill
Donald Rump
Rumplestiltskin
Emily Ratajcowski
Liza Cowshy
DJ Cowled
Mootalica
Dr Moo
Lin Manuel-Mooranda
Jason Steakman
Hugh Heifer
Leather Small
Blake Livestock
Russell Brand
Milkshake
Mooana
Sir Loin
Mooley Cyrus
Marilyn Moonroe
J. K. Cowling
Pablo Picowsso
Frida Cowlo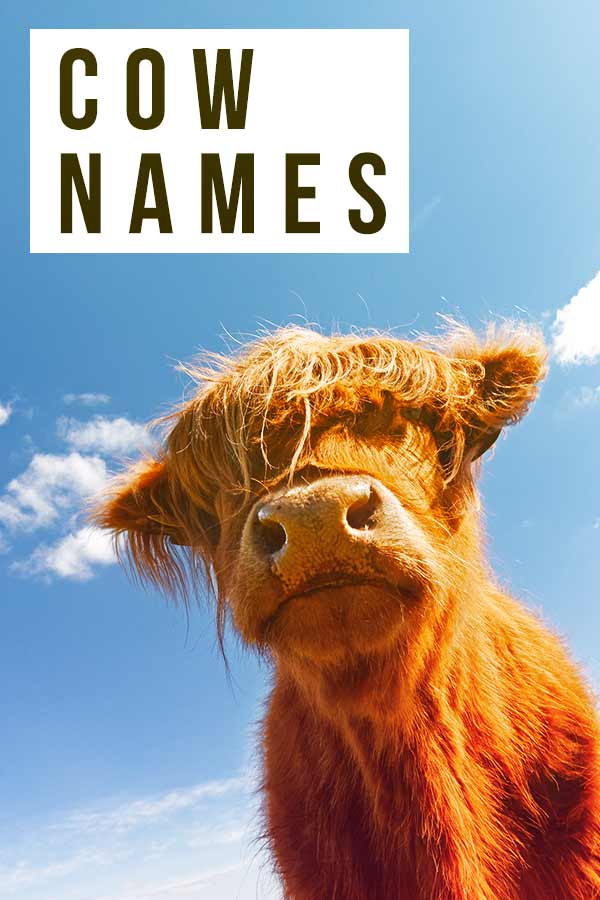 Famous Cows
Ermantrude
Clarabelle
Annabelle
Elsie
Elmer
Ferdinand
Laughing Cow
Milky White
Otis
Toro
Mrs Calloway
Kai
Heffer Wolfe
Benny
Betsy the cow
Taurus Bulba
Clemantine
Clovis
Maw Cow
Mr. Udderly
Unique Cow Names
What about something to help your cow stand out from the crowd? Perhaps you want your cow to stand out from all the rest. Here are some ideas that will show off your one-of-a-kind cow!
Zippy
Harley
Oakley
Bead
Bree
Astro
Galaxy
Drone
Fig
Reef
Palm
Ursula
Wazowski
Dumpling
Imp
Tinker
Titch
Clifford
Wade
Hulk
Moose
Sherman
Nemo
Zorro
Vache
Mucca
Speedy
Zoomer
Cleopatra
Diablo
Hiccup
Viper
Smithy
Lolly
Popsicle
Summer
Trident
Horniman
Moses
Flynn
Cinders
Mouse
Ego
Slapper
Flipper
Denim
Boyce
Loops
Racer
Axe
Cool Cows
Blade
Spice
Fury
Tyson
Diesel
Axel
Chopper
Viking
Mystery
Buzz
Stark
Brute
Sabre
Reaper
Rebel
Psycho
Tank
Gunner
Bolt
Bullet
Shot
Titan
Sumo
Kong
Bruiser
Ursula
Drone
Cracker
Arrow
Warrior
Major
Razor
Spud
Trip
Slicer
Charcoal
Grill
Gangster
Boss
Brute
Don
Danger
Pepper
Ton
Python
Poison
Ace
Woody
Blade
Hero
Black and White Cow Names
You can use color as inspiration too! Black and white cows, often Friesian by breed, are a common picture when people imagine these animals. So, here are some ideas based on black and white coloring. If you want to come up with even more unique ideas for black and white cows why not try thinking up as many black and white animals as you can? Or foods that contain both of those colors!
Oreo
Checkers
Chess
Dalmatian
Soccer
Puzzle
Dice
Orca
Piano
Penguin
Panda
Skunk
Vintage
Domino
Yin Yang
Badger
Butler
Patches
Salt N Pepper
Snoopy
Pongo
Perdita
Freckles
Tuxedo
Cruella
Charlie Chaplin
Keys
Harlequin
Banksy
Coca Cola
Dot
Lemur
Darth Vader
Storm Trooper
Snake Eyes
Sushi
Shadow
Silhouette
Doodle
Retro
Polka
Paisley
Blackberry
Pepper
Zebra
Magpie
Newt
Swan
Pebble
Storm
Brown Cow Names
But not all cows are black and white! Black and white cows aren't the only ones to exist! These animals comes in a huge variety of colors, including the adorable baby brown cow. These brown names for cows are inspired by all things cocoa colored. If you'd like to think up some more of your own, why not brainstorm candy brands or names of trees!
Chocolate
Coco
Hershey
Dairymilk
Oak
Wicker
Bear
Teddy
Pine
Conker
Mushroom
Coffee
Toffee
Fudge
Mocha
Peanut
Gingerbread
Walnut
Cookie
Acorn
Cello
Camel
Fawn
Chestnut
Pheasant
Muddy
Toast
Tea
Biscuit
Monkey
Coconut
Beaver
Tawny
Espresso
Umber
Brunette
Cinnamon
Cedar
Penny
Goomba
Malteaser
Brownie
Pretzel
Brunette
Tanner
Auburn
Copper
Bronze
Liver
Hazel