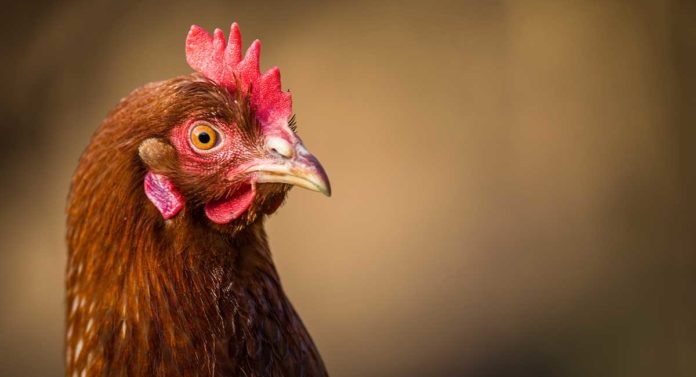 Chicken names can be as cute, fun or funky as your pet hen or rooster. Chickens are great pets for families with lots of outdoor space, and they even make fresh eggs for your breakfast too! Today we'll share lists of awesome names for every breed and color of chicken. Whether you've got Rhode Island Reds, Easter Eggers or Speckled Sussexes, we've got the perfect chicken names for your fabulous flock.
Contents
Choosing chicken names for your new pet hen or rooster can be a lot of fun once your creative juices start flowing! Keeping chickens has become so popular as more people want to eat fresh organic eggs and enjoy the company of these smart, social and sweet birds. But they all need chicken names to match their personalities!
70 Best Chicken Names
Here are 70 of our favorite choices to get you started:
Edwina
Blossom
Bonnie
Ruby
Angelica
Rosemary
Scarlet
LaRue
Gabby
Cora
Cosmo
Bruce
Jagger
Winston
Hartley
Hank
Colton
Floyd
Rusty
Sanders
Soft Boiled
Jeepers Cheepers
Laying Matilda
Little Red
Big Stuff
Chubby Chicken
Tammy Wyandotte
Broody Biddy
Lil' Layin
Mrs. Doubt-fryer
Rocky Rhode (Chicken Run)
Lady Kluck (Robin Hood)
Alan-a-dale (Robin Hood)
Panchito Pistolles (The Three Caballeros)
Hei Hei (Moana)
Going Quackers (Donald Duck)
Bernadette the Chicken (Donald Duck)
Cornelius the Rooster (Kellogg's)
Happy Feet (Happy Feet)
Ernie the Giant Chicken (Family Guy)
Chick-ovsky (Chaikovsky)
Chick-ira (Shakira)
Chick Jagger (Mick Jagger)
Hillary Fluff (Hillary Duff)
Edward Scissor-beak (Edward Scissorhands)
Annie Yoak-ley
Mary Poop-ins
Egg-dar Allen Poe
Feather Locklear
Hen-ifer Aniston
Frango (Portuguese word for chicken)
Galo (Portuguese word for rooster)
Kylling (Danish word for chicken)
Hane (Danish word for rooster)
Kahan (Finnish word for chicken)
Kukko (Finnish word for rooster)
Kip (Dutch word for chicken)
Haan (Dutch word for rooster)
Pui (Romanian word for chicken)
Cocos (Romanian word for rooster)
Boom Chick-a
The Egg-scorcist
General Tsao
Big Red
Egg-sy
Napoleon
Ruff Cluck
Vinny
Phoenix
Mohawk

Choosing Chicken Names
Punny chicken names are some of the most popular choices because of how easy and fun it is to take a celebrity's name or common saying and "chicken-ify" it! You will find lots of punny, funny ideas scattered (see what we did there?) throughout these categorized lists. Words like:
egg
comb
bird
feather
scratch
poop
shell
lay
hen
rooster
wattle
peep
beak
cluck
cock
doodle
chirp
chick
fowl
carton
All of these are fair game to get turned into a unique chicken name for your new feathered flock member.
More Naming Tips
Here are some other quick naming tips we think you might find helpful:
Chickens can actually learn their names, so keeping your ideas simple is a great strategy to shorten the learning curve.
Naming stress is a quick creativity killer! To take the pressure off, keep a little notebook or phone app open to jot down name ideas and then just try each out on your new chicken until you find a fit.
For more than one chicken, picking names is often easier if you choose a naming theme, such as characters from a favorite television show.
Best Chicken Names
Did you know the word "chicken" is actually considered gender-neutral? Keeping things gender-neutral can come in handy as a naming tactic if you are not sure whether your little chick is going to grow up to be a hen or a rooster.
This is especially the case since, every so often, a hen will grow up a hen and then change into a rooster, or vice versa! Of course, you can personalize any of these ideas by adding a Ms. or Mr. in front of it once nature takes its course and you finally solve the mystery.
Birdzilla
Egg-licious
Chicken Fried
Freaky Beaky
You're Outta Cluck
Your Egg-selency
Shake Wattle and Comb
Hard Boiled
Playing for Peeps
Female Chicken Names
These fabulous female chicken names have been chosen to capture the amazing diversity of hen personalities – from shy and sweet to bold and brassy, you are sure to find the perfect choice for your new feathered girl in this list.
Monique – awesome chicken that sailed around the world
Camilla
Tillie
Zinnia
Dot
Henrietta
Yetta
Ginger
Cordelia
Eloise
Bernadine
Margo
Violet
Harriet
Matilda
Zoey
Clementine
Stella
Katana
Bertha
Male Chicken Names
It can be pretty hard to tell male and female chickens apart when they are still downy young chicks. More than one surprised chicken owner has woken up one day to the unexpected, yet unmistakable sound of a young rooster crowing to his hens!
If this describes you, you will want to keep this list of short and sweet male chicken names handy!
Oscar
Arlo
Clyde>
Leary
Sonny
Opus
Poncho
Lefty
Jonesy
Rocky
Roy
Ace
Gus
Fowl-er
Crow-der
Cheech
Chong
Spike
Cool Chicken Names
These cool ideas feature creative plays-on-words from pop culture, popular tastes-like-chicken dishes, some punning (of course) and lots of fun!
Mother Clucker
McNugget
Hot Wings
Turkey Lurkey
Chick-Fil-A
Drumstick
Tyrannosaurus Pecks
Cock-a-doodle-do
Sweet Beak
Little Red Hen
Princess Buttercup
Sir Pecks-a-lot
Lady Bird
Coop-er
Free Range
Sir Cluckington
Scrambles
Sunny Side Up
Cute Chicken Names
These cute ideas based on popular cartoon, comic and movie hens and roosters can really bring your chicken's personality to life.
Foghorn Leghorn (Looney Tunes)
Chicken Little (Chicken Little)
Egghead Jr. (Looney Tunes)
Eggbert (Looney Tunes)
Feather Dusted (Looney Tunes)
Crocket Doodle-Do (Looney Tunes)
Booker (Garfield)
Sheldon (Garfield)
Roy Rooster (U.S. Acres)
Prunella Pullet (Silly Symphony Cock O' the Walk)
Hick Rooster (Silly Symphony Cock O' the Walk)
Henry Cabot Henhouse III (George & the Jungle)
Spot the Chicken (101 Dalmatians
Big Bird (Sesame Street)
Woodstock (Peanuts)
Beaker (The Muppets)
Henny Penny (Henny Penny)
Little Bo Peep (Mother Goose)
Pot Pie (Mother Goose)
Clara Cluck (Mickey Mouse)
Funny Chicken Names
These punny, funny chicken names based on well-known celebrities, bands, movies and popular fictional characters almost make naming your new chicken too easy!
Russell Crow (Russell Crowe)
Cluck Norris (Chuck Norris)
Dixie Chick (Dixie Chicks)
Goldie Hen (Goldie Hawn)
Princess Lay-er (Princess Leia)
Hen Solo (Han Solo)
Yolk-o Ono (Yoko Ono)
Hen-neth Paltrow (Gwyneth Paltrow)
Atilla the Hen (Atilla the Hun)
Amelia Egg-hart (Amelia Earhart)
Grace Shell-y (Grace Kelly)
Meryl Cheep (Meryl Streep)
Cluck Kent (Clark Kent)
Wyatt Chirp (Wyatt Earp)
Dolly Carton (Dolly Parton)
Gregory Peck (same)
Oprah Hen-frey (Oprah Winfrey)
Roo-st Paul (Ru Paul)
Rooster Cogburn (same)
Lindsey Lo-hen (Linsdsey Lohan)
Unique Chicken Names
Researching your chicken's breed can be a great way to come up with unique ideas for chicken names. Paying attention to personality quirks, interesting feather growth patterns and even crowing volume can also help you brainstorm names for each chicken in your flock.
Paisley
Strutter
Re-pecka (Rebecca)
Stewie
Goner
J.S. Bock (Bach)
Coxcomb
Egg-cellent
Curly-Q
Ziggy
Pavarotti
Alarm Clock
Hahnchen (German word for chicken)
Hahn (German word for rooster)
Pollo (Spanish and Italian word for chicken)
Gallo (Spanish and Italian word for rooster)
Poulet (French word for chicken)
Coq (French word for rooster)
Pullum (Latin word for chicken)
Gallus (Latin word for rooster)
Tough Chicken Names
Chickens might look soft and fluffy on the outside, but more than one surprised chicken owner has learned the hard way that chickens can be as tough as they come! If you have a bossy hen or a boorish cock, you might find the perfect new name in this list of tough chicken names.
Justice
Logan
Mr Bock Bock
Bandit
Buffy
Earl Gray
Lancelot
Fryer Tuck
Flew the Coop
Steampot
Trouble with a Capital C
Fun Facts About Chickens
Chickens, like people, have their own distinct looks, personalities, and, as science has recently discovered, names! Chickens use different calls to communicate with members of their flock – and sometimes with their human carers, too.
Some chicken keepers even feel strongly that it is possible to develop somewhat of a common language with chickens by paying close attention to the context for common coos, clucks and calls – how cool is that!
No one knows precisely how many unique chicken breeds exist in the world today, although estimates run into the hundreds.
Different Types of Chickens
Chickens can show amazing diversity in size, weight, colors and patterns, feathers and other features. Some chickens also lay eggs in different colors, including blue, buff, silver, brown, white, pink and more.
Some breeds are recommended for egg laying, while others are primarily considered "ornamental" (for chicken shows), as a source of meat and even as pets. Certain chicken breeds can also be a better fit for certain types of climates.
Congratulations on your new chicken! We hope you have enjoyed browsing through the many lists of male and female chicken names, cool and cute chicken names, unique and touch chicken names and funny chicken names.
When you do finally choose your chicken's "forever name," please bookmark this article and stop back by to share your new name and the story behind it. We love to learn from our readers!
References