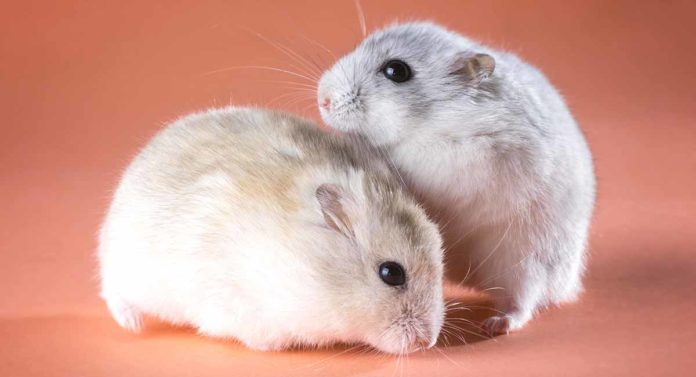 Have you just brought home a new baby boy hamster? Luckily, we can help you choose the perfect boy hamster names! We've got plenty of great ideas for you to choose from.
We're going to list male hamster names by a few fun categories. Whether you're looking for cute male hamster names, good male hamster names, unique, cool or even boy hamster names funny enough to make your laugh out loud.
Our 30 favorite boy hamster names for 2019 are:
Mickey
Finn
Nibbler
Fry
Carrots
Pippin
Tyler
Madden
Klaus
Diego
Lenny
Squeaker
Luke
Scotty
Damien
Hammy
Knuckles
Walter
AJ
Spike
Elijah
Freddy
Lemmy
Oscar
Matthew
Noah
Saint
Kylo
Luca
Easton
Now let's move on to some cuter ideas!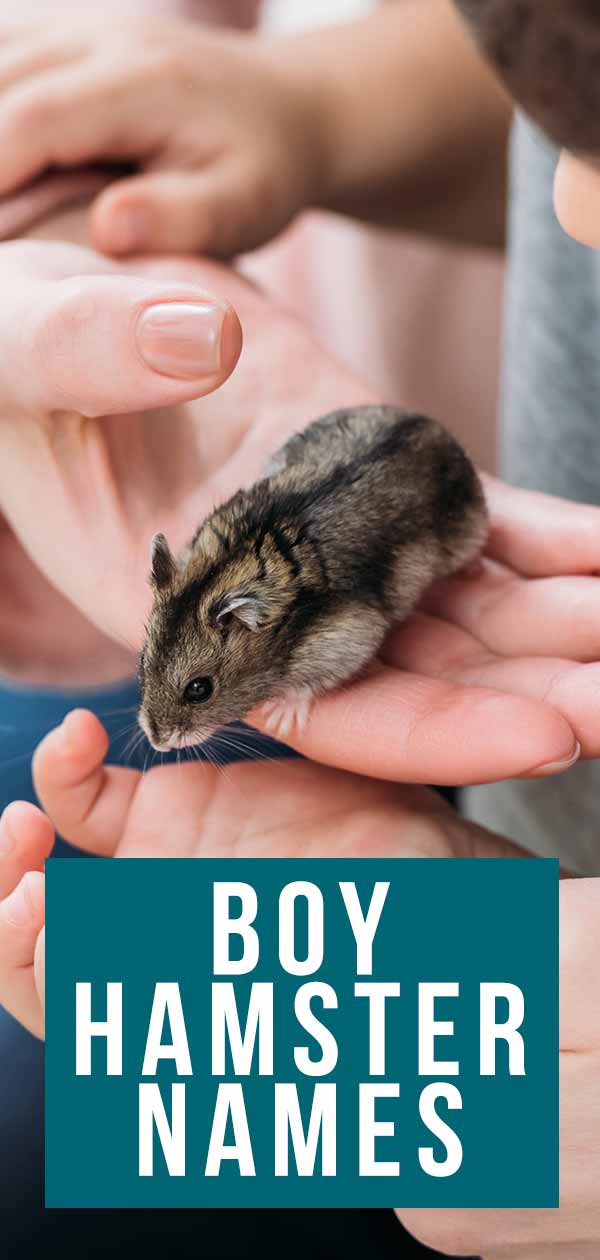 Cute Boy Hamster Names
Just because your hamster is a boy, doesn't mean you can't go to town picking at outrageously cute name. Here are our very favourite cute hamster names for males.
Biscuit
Boots
Bubbles
Charming
Cheeks
Chubby
Cuddles
Disco
Doodle
Fidget
Flipper
Fluffy
Gummy
Fuzzy
Lucky
Marshmallow
Noodle
Nugget
Pickle
Popcorn
Prince
Scrabbles
Skittles
Snoopy
Sprinkle
Sweep
Titch
Todrick
Tweek
Ziggy
Unique Boy Hamster Names
There are some great ways to pick names that aren't so everyday for your hamster, and taking something out of context like this is a fun way to achieve that.
Archer
Axel
Blue
Bond
Brax
Canterbury
Chalk
Cooper
Duke
Gary
Glass
Hankey
Huck
Jace
King
Lava
Lord
Magma
Mead
Moss
Neo
Onyx
Rip
Tanner
Teal
Ward
Webb
Wolf
Yale
Zane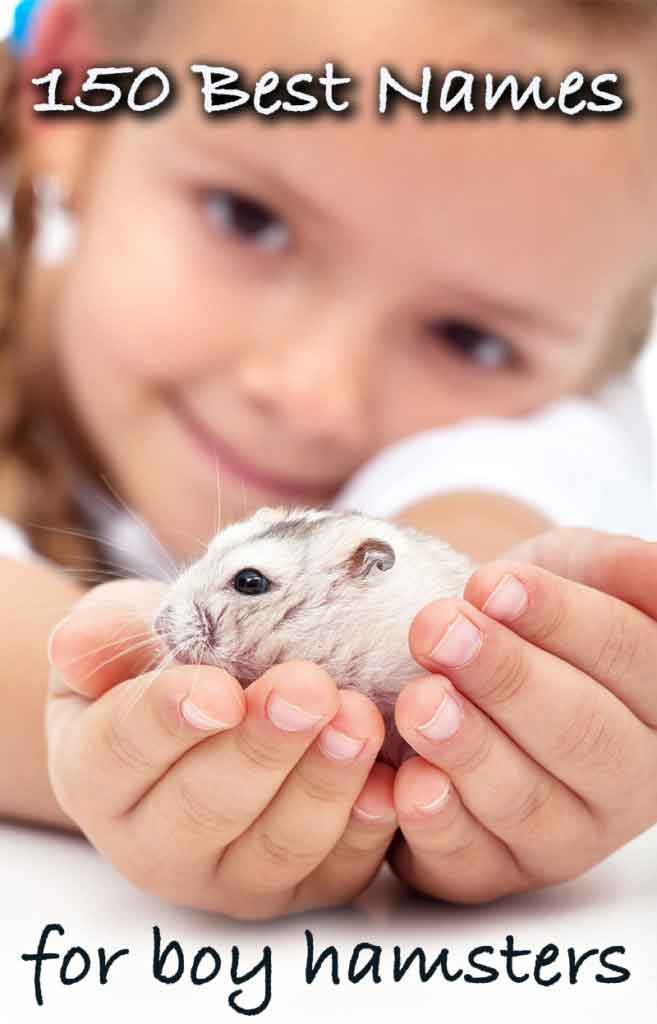 Funny Boy Hamster Names
Funny names for a boy hamster can be found from a lot of places. Normally those which are usually nothing to do with hamsters at all.
Abrahamster Lincoln
Adonis
Arnie
Bruce
Brutus
Captain
Chopper
Chris Hamsworth
Conan
Dave
Dragon
Dread
Elvis
Giant
Gizmo
Gnasher
Ham Solo
Hamburger
Hamlet
Hammy Potter
Hercules
Jaws
Jean-Claude Van Ham
Killer
MC Hamster
Rex
Rocky
Shredder
Tank
Thor
Titan
Cool Boy Hamster Names
Good names for hamsters male, well, they're all well and…. Good. But if good is good, then clearly cool is better.
Ace
Archie
Arrow
Ash
Bandit
Boss
Buster
Buzz
Chip
Diesel
Drake
Echo
Felix
Flash
Hendrix
Holt
Jazz
Jet
Junior
Kale
Kane
Max
Pike
Python
Rocky
Slate
Slash
Tommy
Van
Vinny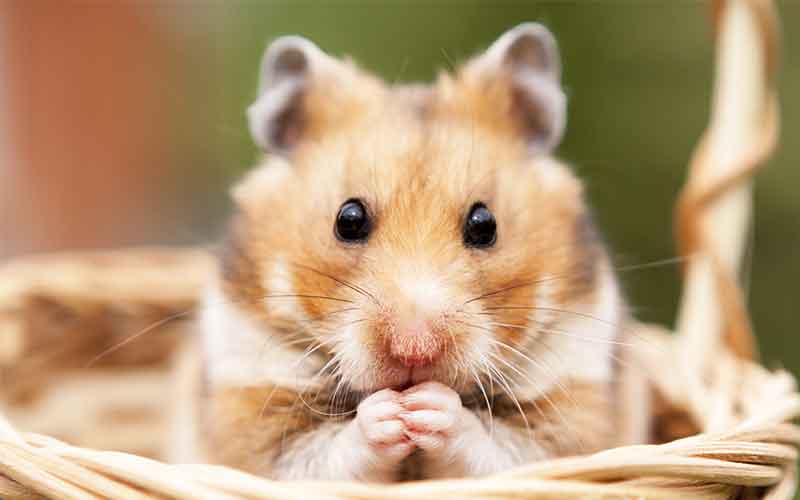 Male Dwarf Hamster Names
Boy dwarf hamster names can be a reflection of their tiny size. But they can also show off their awesome little personalities. From a racing Robo hamster, to a cuddly Campbell's.
Alfie
Bashful
Baxter
Charlie
Chase
Danny
Dash
Doc
Dopey
Flicker
Fly
George
Gray
Grumpy
Hamilton
Happy
Mclaren
Mickey
Paulie
Racer
Sebby
Sleepy
Sneezy
Sonic
Speedy
Tiny
Twist
Twitch
Whiz
Zippy
Male Syrian Hamster Names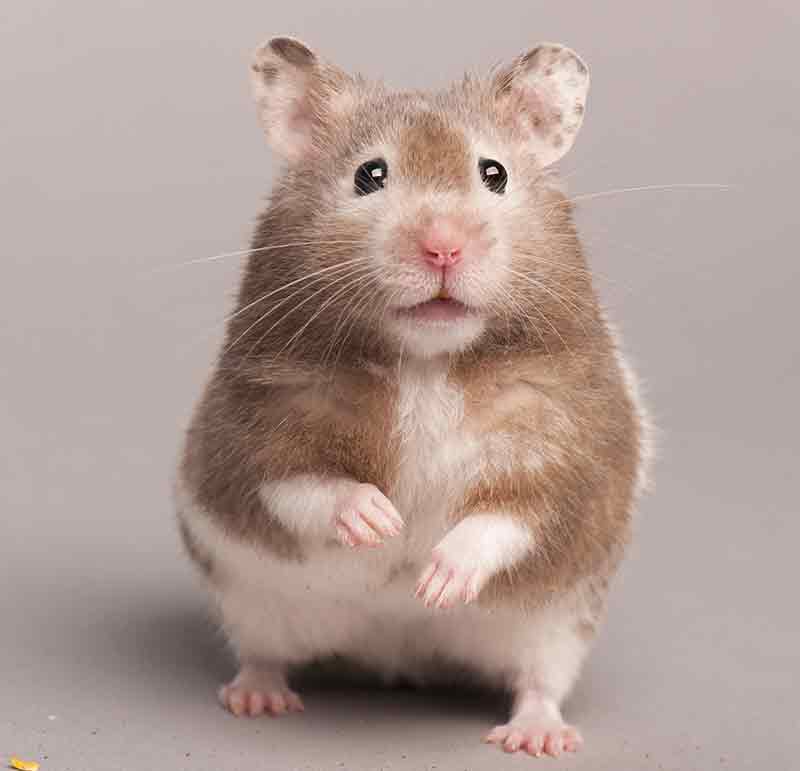 Although still tiny in comparison to most pets, Syrian hamsters are the biggest of the hamster family. Syrian boy hamsters names can reflect their commonly golden coat, or their cuddly teddy bear nature.
Anthony
Arlo
Barley
Bear
Billy
Block
Brick
Buckwheat
Buddy
Cheerio
Chester
Corn
Eddie
Goldie
Felipe
Flame
Jack
Lion
Nacho
Ricky
Rufus
Rusty
Sammy
Sandy
Scout
Stuart>
Sunny
Teddy
Theo
William
Ideas Based on Color
Boy hamsters come in a huge variety of colors! Take a look at some of these great ideas that can show of your beautiful hamster's fur!
Blondie
Bronze
Cinnamon
Cloud
Cocoa
Copper
Custard
Dorito
Dusty
Fudge
Goldie
Honey
Lemon
Liquorice
Midnight
Mist
Onyx
Paprika
Pearl
Platinum
Rusty
Silver
Smokey
Snowflake
Stripe
Sugar
Tango
Toffee
Wheat
Whisky
Pairs of Male Names
Although Syrian Hamsters live best on their own, Dwarf Hamsters often come in pairs. Choosing a pair of boy names is even easier with this list of iconic ideas!
Tom and Jerry
Ant and Dec
Batman and Robin
Bert and Ernie
Scoobie and Shaggy
Han and Chewie
Peanut Butter and Jelly
Mario and Luigi
Sausage and Mash
Macaroni and Cheese
Spongebob and Patrick
Holmes and Watson
Lennon and McCartney
Chip and Dale
Simon and Garfunkel
Laurel and Hardy
Penn and Teller
Calvin and Hobbes
Pooh and Piglet
Buggs and Daffy
Woody and Buzz
Stewie and Brian
Salt and Pepper
Pinkie and the Brain
Kirk and Spock
Wallace and Gromit
Ben and Jerry
Chandler and Joey
Jekyll and Hyde
Drake and Josh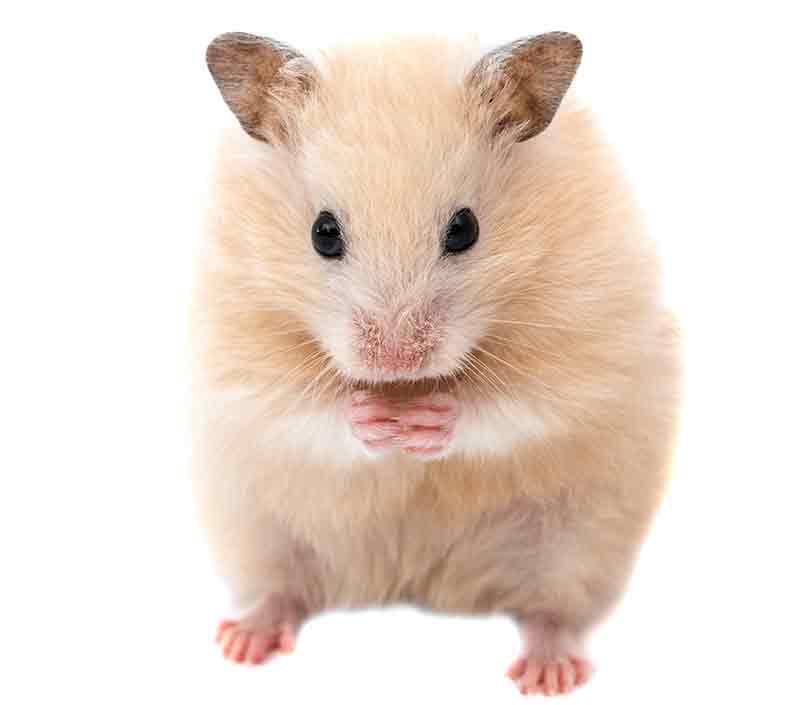 Fun Facts About Hamsters
The most common pet hamster is the Syrian Hamster! But there are also four types of dwarf hamster to choose from.
These are the: Chinese Hamster, the Roborovski Hamster, Winter White Hamster, and the Campbell's Russian Hamster.
Syrian hamsters are almost double the size of their dwarf counterparts! But there are some perfect name choices out there for all of them.
Looking for More on Hamsters?
Take a look at some of our other great hamster guides below.
Best Boy Names For Hamsters
I hope you've enjoyed checking out our list of the best hamster names for boys.
If you've not chosen yet, perhaps we have given you some inspiration for names for male hamsters and the areas you can choose to find them from.
But if you have chosen, make sure to leave your perfect boy hamster name in the comments!
free updates, tips and advice