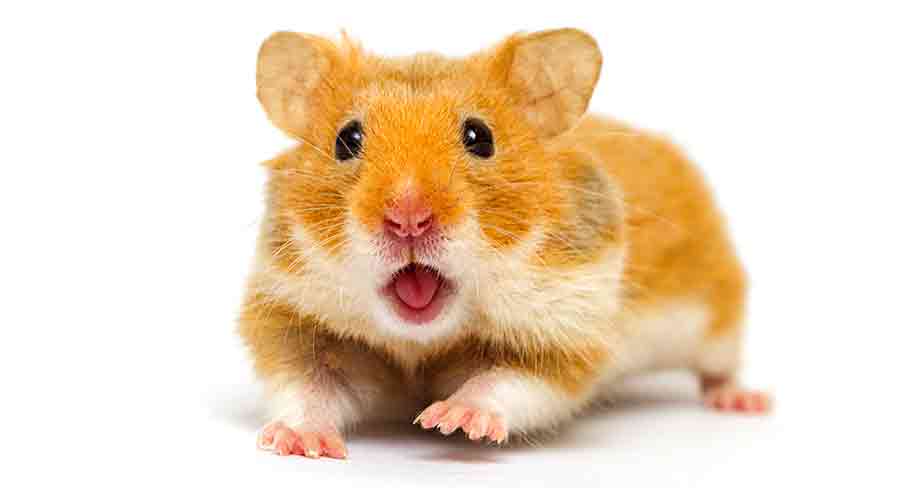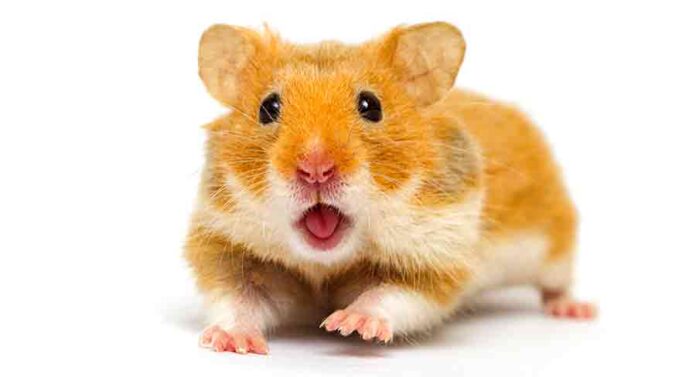 We've got the best boy hamster names in the world, right here! We'll share these with you in themed lists. And even give you some awesome tips for picking the coolest name for you new hamster.
Awesome boy hamster names can come in lots of different categories. Whether you're looking for cute boy hamster names, good male hamster names, unique, cool or even male hamster names funny enough to make your laugh out loud. Take a look through our options below to find the perfect one for your new little pet. There's a lot of choice out there. Here are some of the categories that you might want to choose from.
Top 50 Boy Hamster Names
| | |
| --- | --- |
| AJ | Beck |
| Bobby | Carrots |
| Cody | Damien |
| Diego | Easton |
| Elijah | Finn |
| Freddy | Fry |
| George | Goon |
| Hammy | Hugo |
| Ike | Jay |
| Jester | Justin |
| Klaus | Knuckles |
| Kylo | Lemmy |
| Lenny | Luco |
| Luke | Madden |
| Matthew | Mickey |
| Mittens | Nibbler |
| Noah | Noddy |
| Oscar | Ozzy |
| Patters | Pippin |
| Quentin | Rashford |
| Rusty | Saint |
| Scotty | Spike |
| Squeaker | Tyler |
| Tyke | Vinny |
| Walter | Ziggy |
Boy Hamster Names: Making the Right Choice
There are several different species of hamsters. But, no matter which one you've brought home, he's bound to be cute. You can choose a name based on the species of your hamster, or based on a trait that applies to them.
Do you want something cool? Perhaps something unique or funny! Browse through some of the categories we have to see which one suits the personality of your new pet. Or you can use them to pick your own uncommon hamster names boy and girl hamsters could sound awesome with!
Cute Boy Hamster Names
Now let's start with some adorable ideas! Just because your hamster is a boy, doesn't mean you can't go to town picking outrageously cute names. Here are our very favourite cute ideas.
Biscuit
Boots
Bubbles
Charming
Cheeks
Chubby
Cuddles
Disco
Doodle
Dots
Duke
Elmo
Eskimo
Fidget
Flipper
Fluffy
Fuzzy
Gamble
Gummy
Grumps
Ham
Hiccup
Jasper
Juicey
King
Kooky
Lamb
Lucky
Marshmallow
Mustard
Noodle
Nugget
Otis
Pickle
Popcorn
Prince
Racer
Rubble
Scrabbles
Skittle
Snoopy
Sprinkle
Sweep
Titch
Todrick
Tweek
Wafer
Wookie
Wooley
Ziggy
Good Boy Hamster Names
If cute isn't your thing, let's try something a little different. Some of the best male hamster names can be traditionally human ones. Try these on your little pet for size.
Adam
Alfie
Ash
Baxter
Ben
Bruce
Carl
Chester
Curtis
Damon
Dan
Dave
Dennis
Eamon
Ellis
Ethan
Frank
Freddie
Gavin
Gus
Harvey
Hugo
Ian
Jasper
John
Kevin
Kyle
Leo
Luther
Martin
Neil
Nelson
Oscar
Otis
Paul
Pete
Ray
Reese
Sam
Simon
Steve
Taylor
Tim
Trent
Troy
Vinny
Wayne
Wilson
Zane
Zeke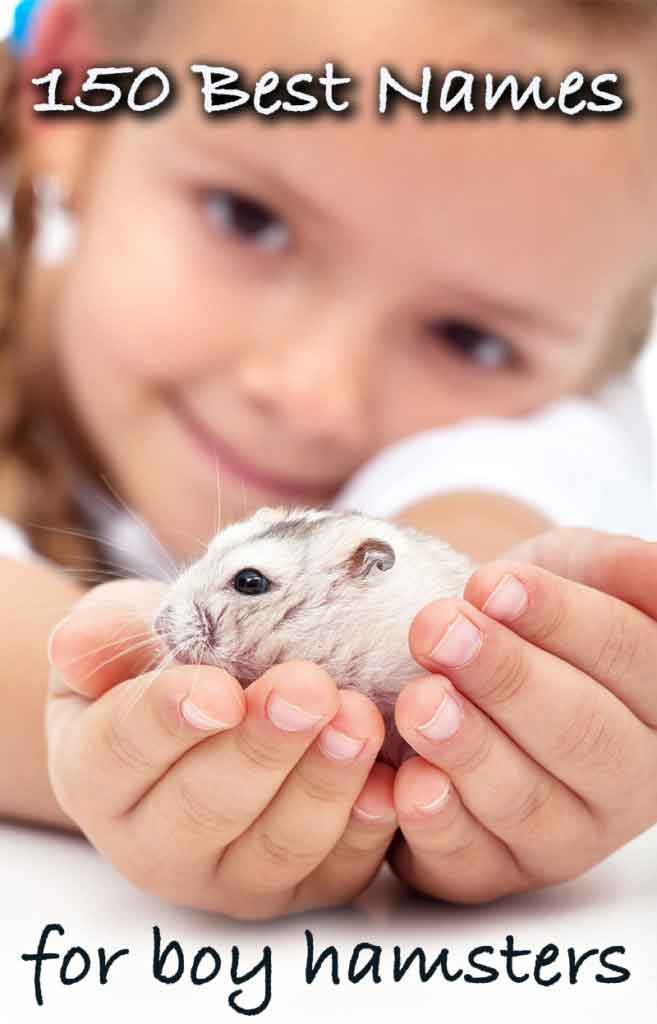 Names for a Pair of Hamsters
Trying to find two names? Most hamster species do best living on their own. But, Dwarf Hamsters often come in pairs. Choosing a pair of boy dwarf hamster names is even easier with this list of iconic ideas!
Ant and Dec
Bacon and Eggs
Bart and Milhouse
Batman and Robin
Ben and Jerry
Bender and Fry
Bert and Ernie
Buggs and Daffy
Calvin and Hobbes
Chandler and Joey
Chip and Dale
Drake and Josh
Fish and Chips
Fred and Barney
Hamburger and Fries
Han and Chewie
Holmes and Watson
J. D. and Turk
Jekyll and Hyde
Kirk and Spock
Laurel and Hardy
Lennon and McCartney
Macaroni and Cheese
Mario and Luigi
Marlin and Nemo
Michael and Dwight
Mickey and Donald
Milk and Cookies
Peanut Butter and Jelly
Penn and Teller
Phineas and Ferb
Pinky and the Brain
Pooh and Piglet
Ren and Stimpy
Rick and Morty
Rum and Coke
Salt and Pepper
Sausage and Mash
Scooby and Shaggy
Shrek and Donkey
Simon and Garfunkel
Spongebob and Patrick
Stewie and Brian
Tom and Jerry
Troy and Abed
Tweety and Sylvester
Wallace and Gromit
Wayne and Garth
Woody and Buzz
Zack and Cody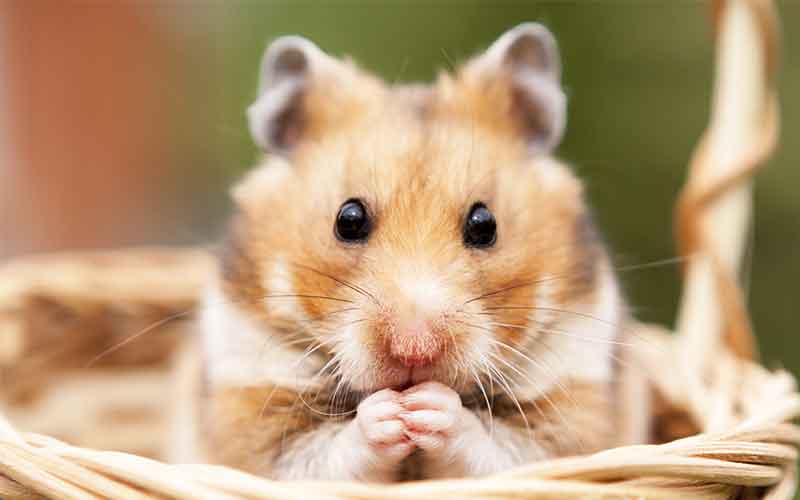 Looking for something to suit a teddy bear hamster?
Male Syrian Hamster Names
Although still tiny in comparison to most pets, Syrian hamsters are the biggest of the hamster family. Syrian boy hamsters names can reflect their commonly golden coat, or their cuddly teddy bear nature.
Anthony
Arlo
Barley
Bear
Billy
Block
Brick
Buckwheat
Buddy
Cheerio
Chester
Cheeto
Corn
Cutie
Denby
Drake
Dune
Duster
Eddie
Elmo
Ender
Felipe
Flame
Ghost
Goldie
Grub
Humphrey
Jack
Jupiter
Kooky
Lambo
Lion
Mason
Mint
Monty
Nacho
Ovie
Ox
Pine
Ricky
Rufus
Rusty
Sammy
Sandy
Scout
Stuart
Sunny
Teddy
Theo
William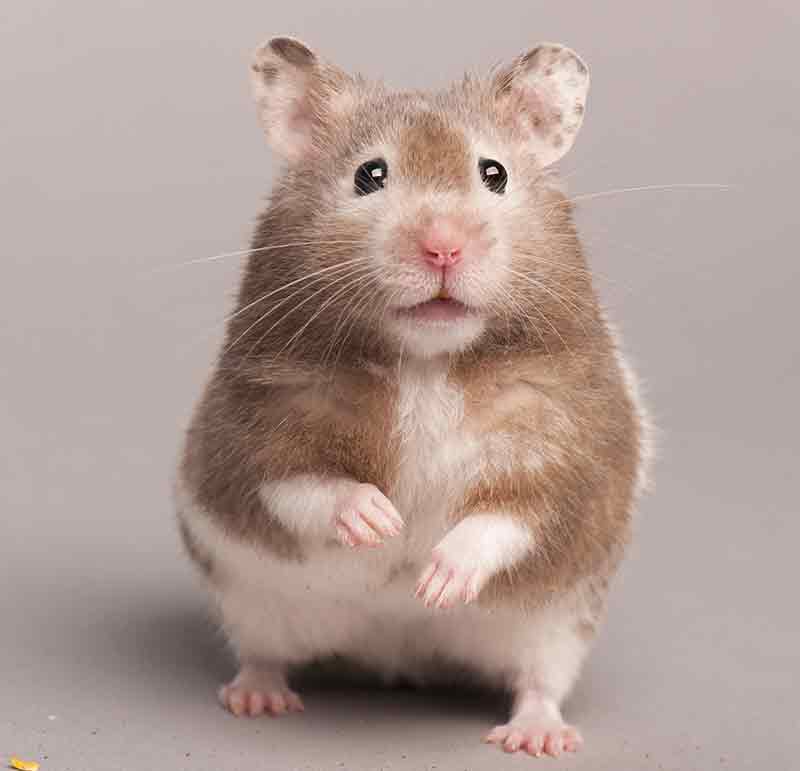 Male Dwarf Hamster Names
Don't have a Syrian hamster? Boy dwarf hamster names can be a reflection of their tiny size. But they can also show off their awesome little personalities. From a racing Robo hamster, to a cuddly Campbell's.
Alfie
Bashful
Baxter
Brush
Candy
Casper
Charlie
Chase
Clicks
Danny
Dash
Doc
Dopey
Drac
Eddy
Fallon
Flicker
Fly
George
Gnasher
Grey
Grumpy
Hamilton
Happy
Hula
Jay
Jelly
Kermit
Larry
Loopy
Mclaren
Mickey
Nike
Ollie
Paulie
Racer
Ringer
Sebby
Sleepy
Sneezy
Sonic
Speedy
Tiny
Tony
Twist
Uber
Vardy
Velcro
Whiz
Zippy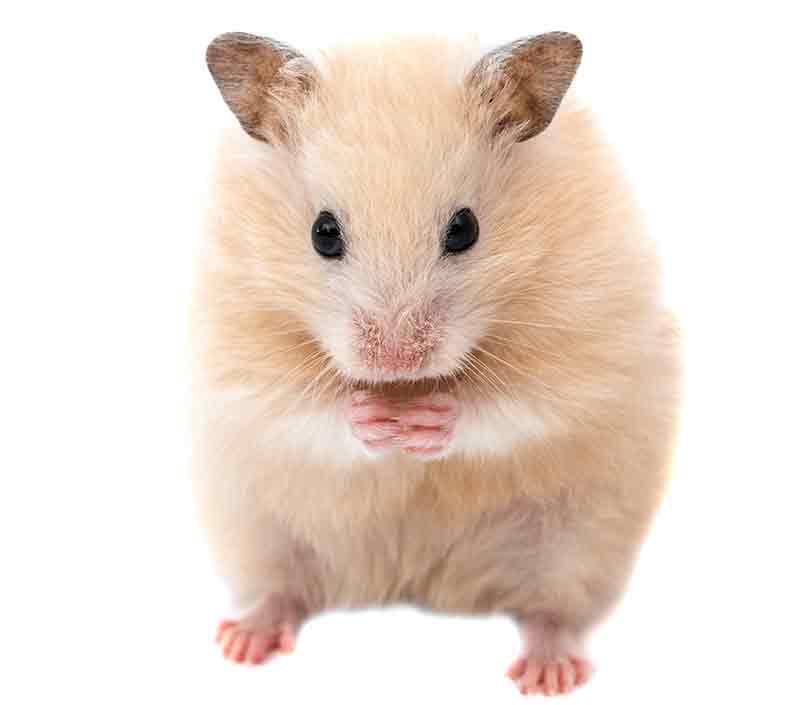 Color-Inspired Boy Hamster Names
You might prefer a name linked to appearance. Boy hamsters come in a huge variety of colors! Take a look at some of these great ideas that can show off your beautiful hamster's fur!
Ash
Auburn
Blondie
Bronzer
Cadburya
Caramel
Chili
Cinnamon
Cloud
Cocoa
Coffee
Cola
Copper
Custard
Dalmatian
Dorito
Dusty
Ember
Fudge
Goldie
Ghost
Grays
Hershey
Honey
Latte
Lemon
Licorice
Maple
Midnight
Mist
Oats
Onyx
Paprika
Pearl
Pepsi
Pimms
Platinum
Raisin
Rusty
Shadow
Silver
Smokey
Snowflake
Stripes
Sugar
Syrup
Tango
Toffee
Wheat
Whiskey
Cool Boy Hamster Names
Do you have the most awesome hamster around? Good name ideas, well, they're all well and…. Good. But if good is good, then clearly cool is better.
Ace
Archie
Arrow
Ash
Axel
Bandit
Boss
Buster
Buzz
Chip
Crusher
Diesel
Drake
Driver
Drone
Echo
Felix
Flash
Heist
Henderson
Hendrix
Holt
Jazz
Jet
Junior
Kale
Kane
King
Max
Mist
Nester
Nylon
Parker
Pike
Python
Racer
Riddles
Rocky
Sander
Slate
Slash
Strip
Suds
Tommy
Trent
Turner
Twister
Van
Vest
Vinny
Or, maybe you want something that helps your hamster stand out.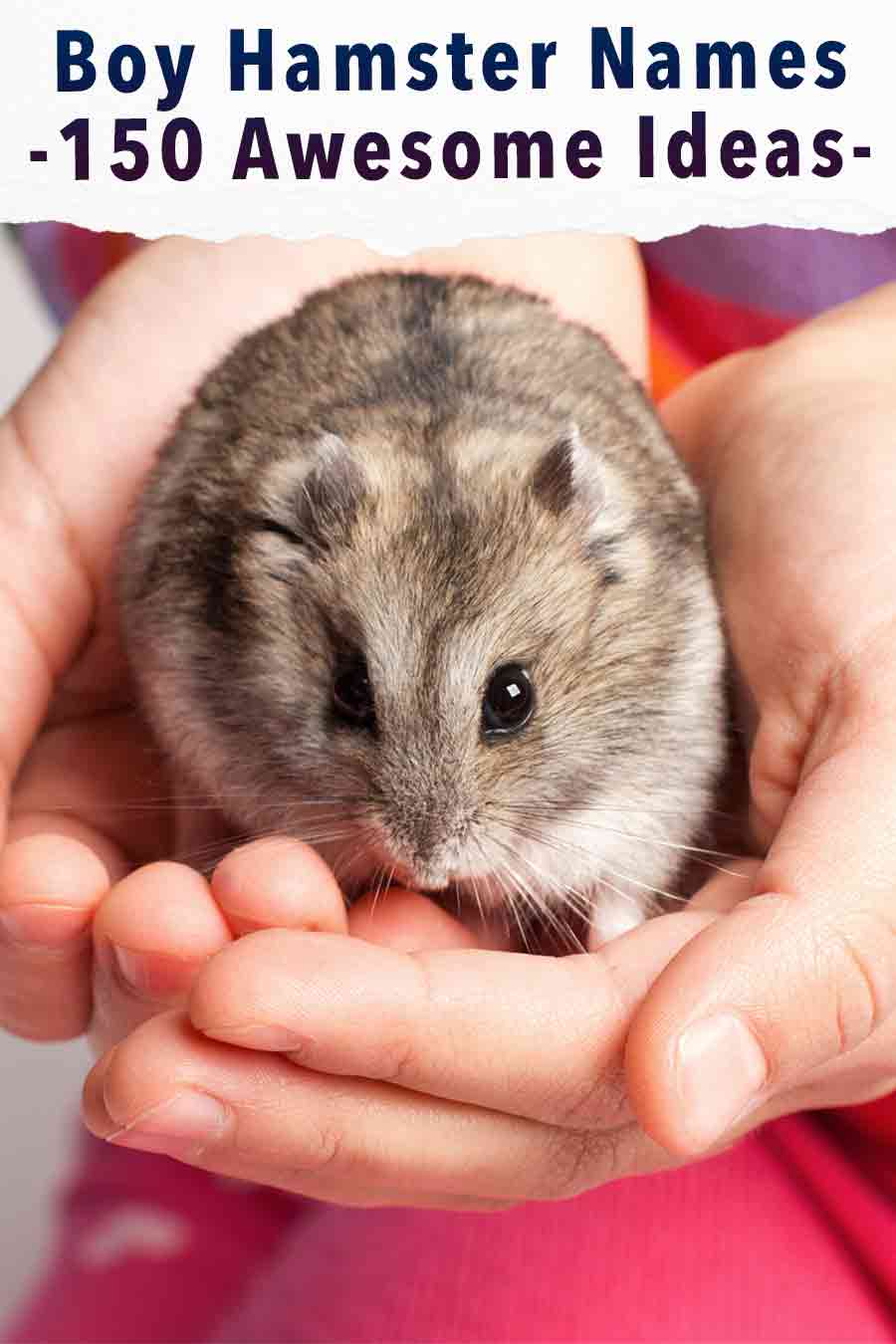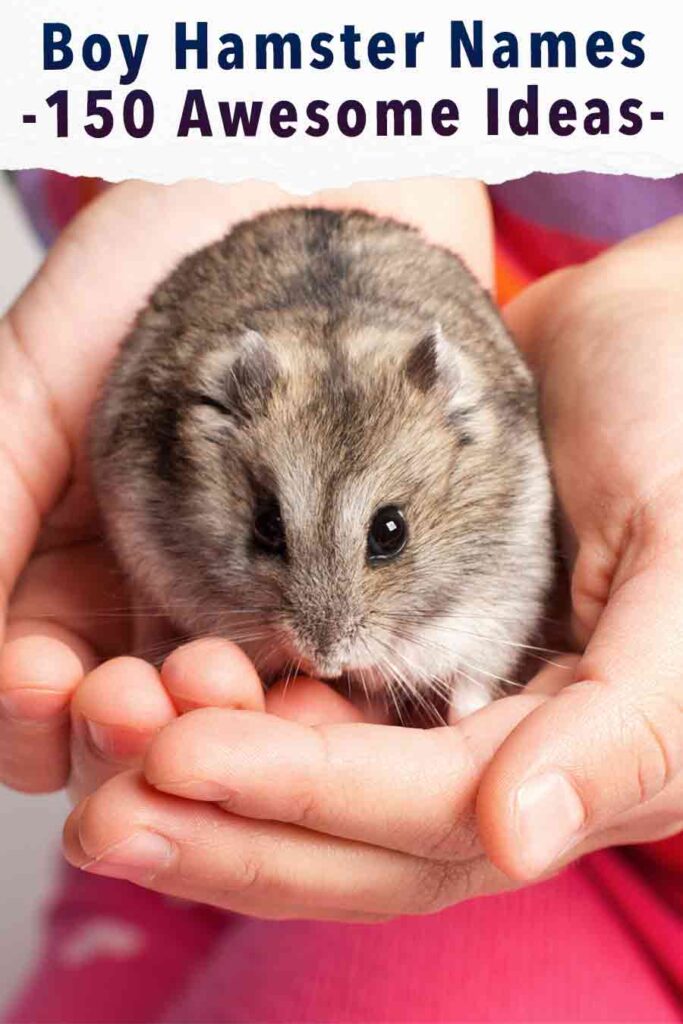 Unique Boy Hamster Names
There are some great ways to pick names that aren't so everyday for your hamster, and taking something out of context like this is a fun way to achieve that.
Archer
Avon
Axel
Blue
Bond
Boomer
Brax
Canterbury
Chalk
Cooper
Dancer
Dizzy
Duke
Elton
Fang
Fig
Fray
Gary
Glass
Glory
Grappler
Hankey
Huck
Hunk
Indiana
Jace
Justice
Keaton
King
Lava
Lord
Magma
Mead
Moss
Mustard
Neo
Noon
Orc
Pepper
Rascal
Rip
Smith
Tanner
Taxi
Teal
Ward
Webb
Wolf
Yale
Yukon
Funny Boy Hamster Names
Maybe you want a name that brings a smile to your face. Funny names for a boy hamster can be found from a lot of places. Normally those which are usually nothing to do with hamsters at all.
Abrahamster Lincoln
Adonis
Arnie
Bruce
Brutus
Captain
Cheeky
Chewbacca
Chopper
Chris Hamsworth
Chubbs
Conan
Dave
Dog
Dragon
Dread
Elvis
Giant
Gizmo
Gnasher
Hairy Kane
Ham Solo
Hamburger
Hamilton
Hamlet
Hammy Potter
Hamsterdam
Hamstring
Ham Who Must Not Be Named
Hercules
Houdini
Jaws
Jean-Claude Van Ham
Killer
Knockout
Loops
MC Hamster
Monster
Nibbles
Octo
Pancake
Prancer
Ray
Rex
Rocky
Shredder
Sir Squeaks a Lot
Tank
Thor
Titan
Best Boy Hamster Names
There are so many names out there to choose from. The best names for your new hamster will suit them completely. You can use the categories above, or even think of your own!
Other Hamster Name Options
There are plenty of other guides you can take a look at if you haven't found the perfect name in this guide. Here are a few you'll like:
Your Boy Hamster Names
What's your hamster called? We'd love to hear the story of how you chose their name! Let us know all about your pets, and your favorite boy hamster name ideas, in the comments below!