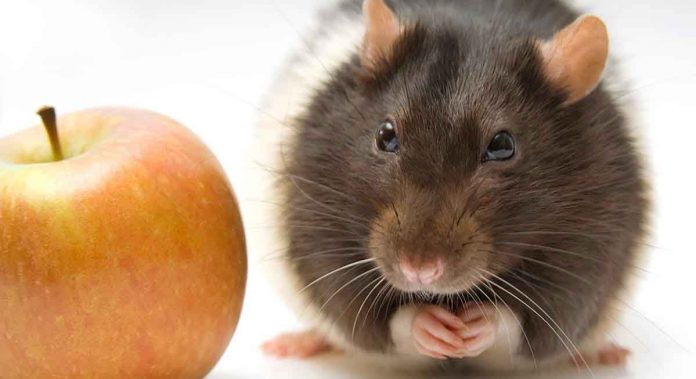 Choosing rat names can be hard! Pet names are a bit of a statement. They can reflect your interests and passions, and even your sense of humor.
You don't want your rat to have a boring, everyday name. Or a name that will seem dated or that you might regret in six months time.
So, we have put together some inspiring ideas to help you choose a brilliant, original and fun name for your new pet.
You'll find cute rat names, names inspired by movie characters and books, funny, unique, and original rat names, names for pairs of rats and much more.
Let's start with those irresistible cute names!

Cute rat names
Cute names are often diminutives of more serious names, names that recognize a rat's small size or sweet habits, or names that relate to treats! Here are some of our favorites
Pixie
Trixie
Nippy
Nibbles
Cutie
Poppet
Chickpea
Cupcake
Sweetie
Tickle
Pickle
Popcorn
Bubble
Squeak
Tinkerbell
Rats love their food! And expanding on the food theme a little we have
Cookie
Crumbs
Noodles
Cornflake
Pretzel
Bagel
Poptart
Cheerio
Oreo
Ketchup
Biscuit
I'm sure you'll figure out a load more appealing names by taking a look in your kitchen cupboards or refrigerator!
Rat names beginning with R
Names beginning with R always roll nicely off the tongue when it comes to pet rats.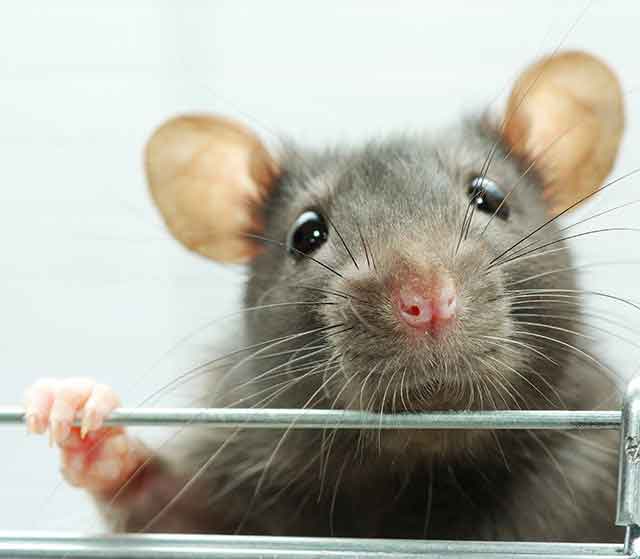 In the UK we have a TV character called Roland Rat. Here are a few more rat names beginning with R
Roland
Ronnie
Ralph
Rufus
Rachael
Rebecca
Remy
Rebel
Rizzo
Rosie
Reese
Ricky
Roxanne
Renee
Robbie
Ruby
Rambo
Roger
Famous rat names – from literature
Rats are often cast as the 'bad guys' in literature but there are a few stories where rats are characters we can empathise with.  They include
Samuel Whiskers – from Beatrix Potter's stories
Templeton – from Charlotte's Web
Rattie – from The Wind In The Willows
Scabbers – from Harry Potter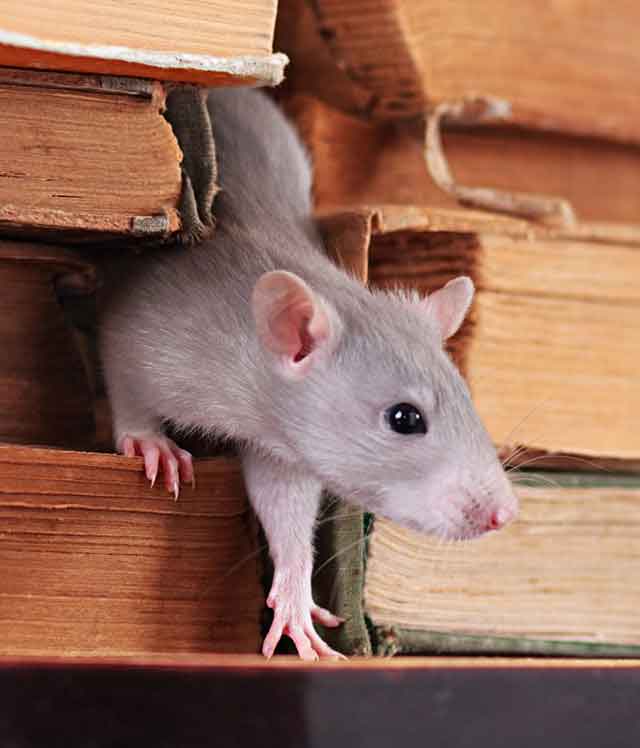 Or you might like the idea of naming your rat after a celebrity.  Think of your favorite TV show and some of the characters in them.
Here are some ideas to get you started
Famous rat names – movies and TV
Celebrity names can be amusing and can also be split for pairs of rats. Arnold and Schwarzenegger for example, or Donald and Trump!  The possibilities are endless
Here are some more names taken from film and TV
Characters from Game of Thrones
From Harry Potter
Harry
Ron
Weasley
Potter
Voldemort
Snape
Dumbledor
Minerva
Hermione
Crookshanks
Filch
Malfoy
Neville
Quidditch
Dobby
From Southpark
From the Simpsons
Homer
Marge
Maggie
Lisa
Bart
From Teenage Mutant Ninja Turtles
Bebop
Rocksteady
Splinter
From my little pony
From adventure time
Finn
Jake
Cosmo
Wanda
Marceline
Bubblegum
From the big screen
Arnold (Schwarzenneger)
Sylvester (Stallone)
James
Bond
Gandalf
Sam
Frodo
Gollum
Pippin
Gimley
Legolass
Elrond
Galadriel
Borrowmere
Aragon
As you can see, there's a bit of a Lord Of The Rings theme going on here! But don't forget to jot down ideas from your own favorite movies
Sometimes, a glimpse into the past is a great way to find an original or interesting name. How about naming your rat after some famous folk from history.
Some of these names are great conversations starters!
Famous rat names – presidents and generals,  home and abroad
Lincoln
Nelson
Franklin
Winston
Churchhill
Custer
Carter
Bush
Jimmy
George
Woodrow
Wilson
Hoover
Napoleon
Wellington
You can see that some of these famous names would be great for pairs of rats too.
Male rat names
Most of those figures from history are male. Here are some more male rat name ideas
Drake
Jasper
Freddie
Monty
Zac
Jed
Theo
Billy
Josh
Buck
Rat Names from trees and flowers
Hickory
Daisy
Apple
Hazel
Lily
Flower
Willow
Spruce
Maple
Poppy
Pansy
Clover
Female Rat Names
Girl rats are often named after plants and flowers.  Here are a few more girl rat names for you to consider
Bella
Mercy
Madonna
Savannah
Venus
Phoebe
Petra
Katy
Caitlin
Chloe
Lara
The names of herbs and spices can often be used for either male or female rats.
Dill
Taragon
Rosemary
Sage
Basil
Chilli
Juniper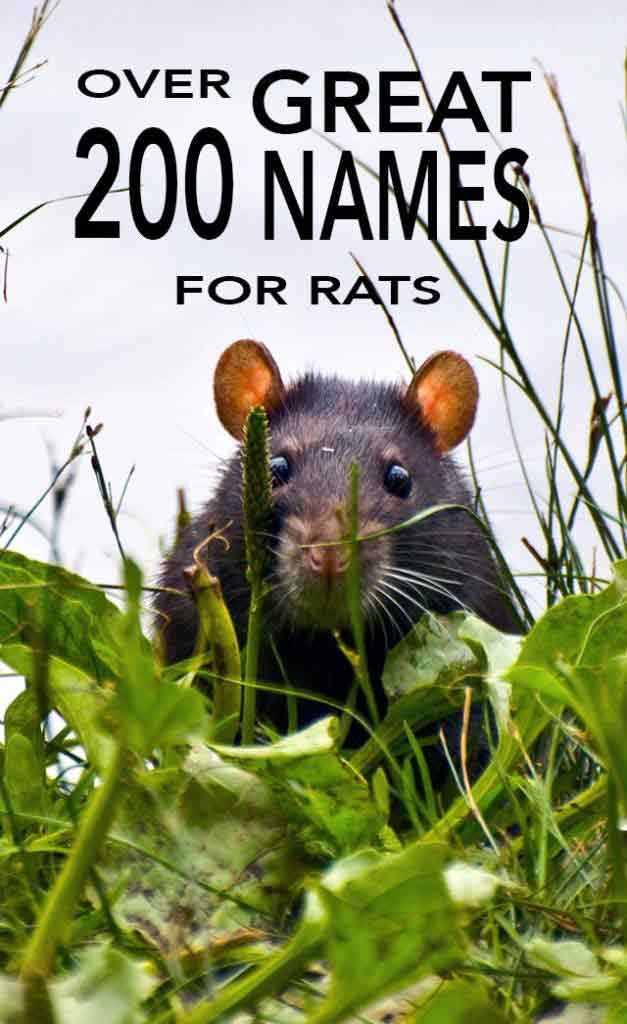 Then there are names based on nature and the wilderness
Storm
Hurricane
Twister
Forest
Prairie
River
Plus your favorite rock stars of course! Surnames can often make unique rat names.  How many people have a rat called Malik or Styles?
Bruno
Mars
Bieber
Jimmi
Hendrix
Malik
Styles
Unique rat names
Here are a few more rat names you might not have heard of or thought of
Drizzle
Bean
Levi
Oats
Zippy
Warrior
Cholmondley (pronounced Chumley)
Cool names for rats
Choosing a cool name can be tough. Funny names can be cool, names that reflect current trends can be cool too if you are one of the first to use them,  and so can original names that no-one else is likely to think of.
Try some from the following groups
Funny rat names
Names that take a lighthearted look at rat behavior or are taken from the world of comedy or comics can often raise a smile.
Spongebob
Squarepants
Sniffy
Sneezie
Shredder
Gnasher
Basher
Crusher
Weird rat names
Are you a bit of a science nerd or a maths freak? If so, these names might appeal to you
Pythagorus (Thaggy for short)
Ozone
Darwin
Crick and Watson
Gravity
Louis and Pasteur
Galileo
And don't forget your favorite video game characters and consoles.  Try
Mario
Luigi
Zelda
Legend
Sonic
Nintendo
Add your own to the list!
Rat names – female pair ideas
Rats love company and many of you are likely to have bought two rats at the same time. We have arranged the lists above so that names that go well together are paired. But here are a few more girl names for rat pairs.
Lexie and Laurie
Buttercup and Blossom
Pitter and Patter
Mabel and Martha
Sally and Suzie
Salt and Pepper
Rat names – male pair ideas
Ben and Jerry
Jeckyl and Hyde
Itchy and Scratchy
Trucker and Tracker
Digger and Dozer
Rambo and Rocky
Okay – that's over two hundred name ideas to get you started.
By giving you a range of different themes, I hope we have inspired you to create many more names to add to the lists above.  You can create your own themes depending on your own interests. Try your sporting heroes. Or your hobbies.
If you are into rock climbing for example, you might call your rat 'Crampon' and if you like knitting you could use the name 'Stitch'.
The possibilities go on and on. Once you get going, you won't be able to stop. In fact you may need to get some more rats to use all the great names you come up with (only partly joking).
You can make suggestions in the comments box below to help other readers!
Good rat names – your shortlist
A great way to choose a name is to make a shortlist of your favorites and pin it up on your refrigerator or bedroom mirror for a few days.
Say the names out loud each time you look at them.  You'll soon find out which are the ones you can live with and which are the ones you'll need to discard.
If you just can't decide between your two or three favorites, get members of your family and friends to give each name a vote out of ten, and choose the name that gets the highest score
Don't forget to let us know which name you decided on! Use the comments box below to tell us your pet rat's name.