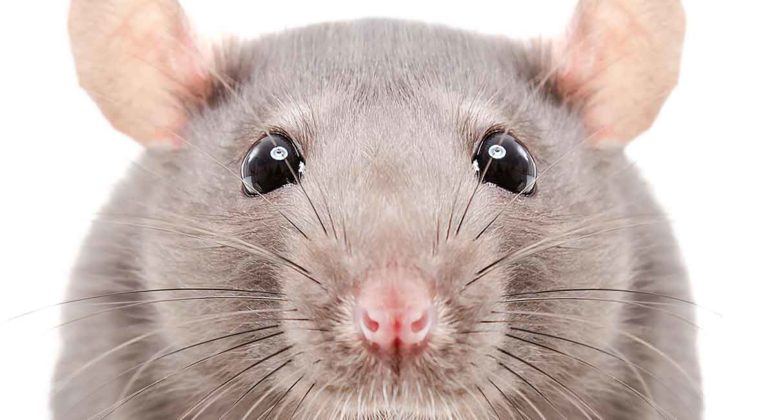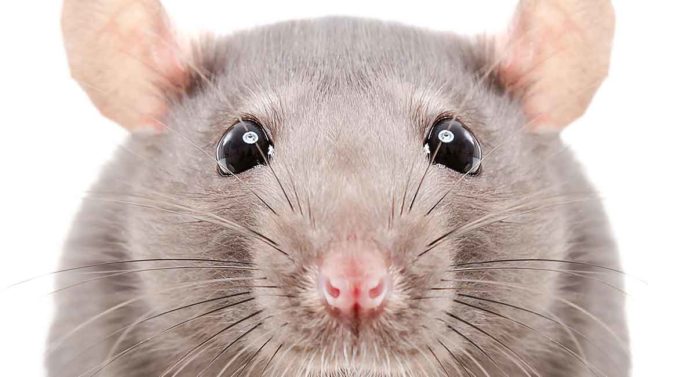 The great thing about rat names is they can be a bit of a statement. They can reflect your interests and passions, and even your sense of humor. You don't want your rat to have a boring, everyday name. Or a name that will seem dated or that you might regret in six months time. Today I am going to share the best rat names with you! I'll give you lists of names from popular themes, along with some clever tips for choosing the right names for your clever, social pet rats.
Contents
Top Rat Names
Our fifteen favorite cool rat names are:
Remy
Templeton
Ultima
Roscuro
Roddy
Hazel
Poppy
Woodrow
Jupiter
Bianca
Ratt Damon
Hendrix
Hielo
Zelda
Hoover
The Best Rat Names
Rats in the wild might have a bit of a bad reputation. But pet rats are a different thing entirely! Rat owners celebrate their pets as being smart, clean, affectionate, and generally fantastic pets. They're also the perfect size for a pet owner who doesn't have a lot of room to dedicate to their pet. Apartment living or small houses won't bother a pet rat!
Since there is so much to love about rats as pets, we naturally look for a name that reflects some of those qualities. Of course, there's a wide range, just as there are with any other type of pet. We have put together some inspiring ideas to help you choose a brilliant, original and fun name for your new pet. You'll find names inspired by movie characters and books, funny, unique, and original ideas, names for pairs of rats and much more. So let's jump in by looking at cute rat names!
Cute Rat Names
Cute names are often diminutives of more serious names, names that recognize a rat's small size or sweet habits, or names that relate to treats! Here are some of our favorites.
Pixie
Trixie
Nippy
Nibbles
Cutie
Poppet
Chickpea
Cupcake
Sweetie
Tickle
Pickle
Popcorn
Bubble
Squeak
Tinkerbell
Famous Rat Names
Remy – Ratatouille
Samuel Whiskers – from Beatrix Potter's stories
Templeton – the rat's name in Charlotte's Web
Rattie – from The Wind In The Willows
Scabbers – from Harry Potter
Roscuro – The Tale of Despereaux
Roddy – Flushed Away
Rita – Flushed Away
Nick – Chicken Run
Fletcher – Chicken Run
Rizzo – The Muppets
Splinter – Teenage Mutant Ninja Turtles rat name
Female Rat Names
Female rat names are often drawn from plants and flowers. Here are a few more girl rat names for you to consider, including names based on herbs and spices, nature, and even rock stars.
Bella
Mercy
Madonna
Savannah
Venus
Phoebe
Petra
Katy
Caitlin
Chloe
Lara
Dill
Taragon
Rosemary
Sage
Basil
Chilli
Juniper
Storm
Hurricane
Twister
Forest
Prairie
River
Hickory
Daisy
Apple
Hazel
Lily
Flower
Willow
Spruce
Maple
Poppy
Pansy
Clover
Bruno
Mars
Bieber
Jimmi
Hendrix
Malik
Styles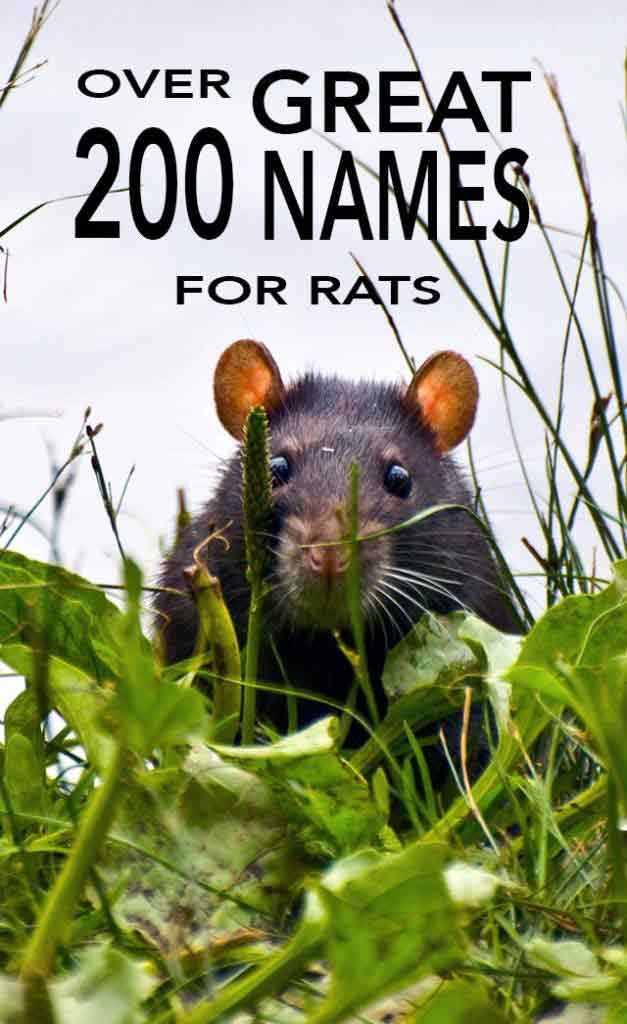 Male Rat Names
These boy rat names are drawn from famous historical characters, human names, and also rock stars. Because there just aren't enough rats named for rock stars!
Drake
Jasper
Freddie
Monty
Zac
Jed
Theo
Billy
Josh
Buck
Lincoln
Nelson
Franklin
Winston
Churchhill
Custer
Carter
Bush
Jimmy
George
Woodrow
Wilson
Hoover
Napoleon
Wellington
Elton
Billie Joe
Mercury
Jagger
Tre
Rod
Eric
Dave

Funny Rat Names
Names that take a lighthearted look at rat behavior or are taken from the world of comedy or comics can often raise a smile.
Spongebob
Squarepants
Sniffy
Sneezie
Shredder
Gnasher
Basher
Crusher
Jeff
Joel
Ratunzel
Cheese Wiz
Ratt Lauer
Ratt Damon
Ratthew McConaughey
Unique Names For Rats
Rats are full of unique personality. So you'll want a unique name to match!
Drizzle
Bean
Levi
Oats
Zippy
Warrior
Cholmondley (pronounced Chumley)
Belford
Davies
Fischel

Cool Rat Names
"Cool" is in the eye of the beholder, these days. So take a look at these monikers that reflect some cool interests and enthusiasms!
Pythagorus (Thaggy for short)
Ozone
Darwin
Crick
Watson
Gravity
Louis
Pasteur
Galileo
Mario
Luigi
Zelda
Legend
Sonic
Nintendo
Rat Names for Girl Pairs
Rats love company and many of you are likely to have bought two at the same time. You may have found some paired names already in the lists above. But here are a few more girl names for rat pairs.
Lexie and Laurie
Buttercup and Blossom
Pitter and Patter
Mabel and Martha
Sally and Suzie
Salt and Pepper
Rat Names For Boy Pairs
The same goes for boy pairs of rats. They're sociable animals and do well with friends. And these names work well with a partner!
Ben and Jerry
Jeckyl and Hyde
Itchy and Scratchy
Trucker and Tracker
Digger and Dozer
Rambo and Rocky
Black Rats
Ember
Ash
Ashes
Jupiter
Universe
Coffee
Cafe
Cibo
Ultima
Oscuro
Raven
White Rats
Rabbit
Snowball
Benji
Frankie
Drift
Hielo
Glacier
Arctic
Beaches
Tourist
Bianca
Blanca
Fictional Characters
We all have a favorite character from TV, books, comics, or elsewhere. Here are a few suggestions on some pop culture characters that may work well for your rat's personality.
Cersi
Tyrion
Arya
Jamie
Harry
Ron
Weasley
Potter
Voldemort
Snape
Dumbledor
Minerva
Hermione
Crookshanks
Filch
Malfoy
Neville
Quidditch
Dobby
Kenny
Stan
Cartman
Kyle
Homer
Marge
Maggie
Lisa
Bart
Bebop
Rocksteady
Splinter
Celestia
Applejack
Finn
Jake
Cosmo
Wanda
Marceline
Bubblegum
Arnold
Sylvester
James
Bond
Gandalf
Sam
Frodo
Gollum
Pippin
Gimley
Legolass
Elrond
Galadriel
Borrowmere
Aragon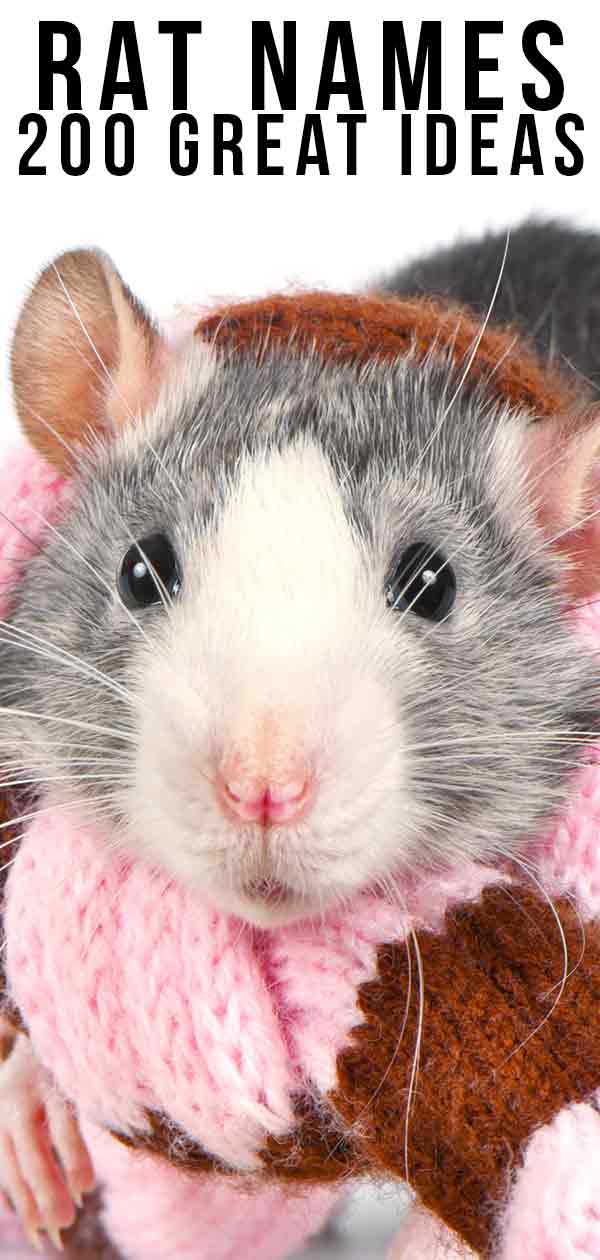 Names Inspired By Food
Pet names of all sorts are often found by looking into things we like to eat. We're certain it isn't because we want to eat our pets. It's probably because we associate our pets with other things we like! I'm sure you'll figure out lots more appealing names just by taking a look in your kitchen cupboards or refrigerator!
Cookie
Crumbs
Noodles
Cornflake
Pretzel
Bagel
Poptart
Cheerio
Oreo
Ketchup
Mustard
Pizza
Biscuit
Rat Names That Start With R
Names beginning with R always roll nicely off the tongue when it comes to pet rats. Here are a few more suggestions that also start with R, for the always alliterative among us.
Roland
Ronnie
Ralph
Rufus
Rachael
Rebecca
Remy
Rebel
Rizzo
Rosie
Reese
Ricky
Roxanne
Renee
Robbie
Ruby
Rambo
Roger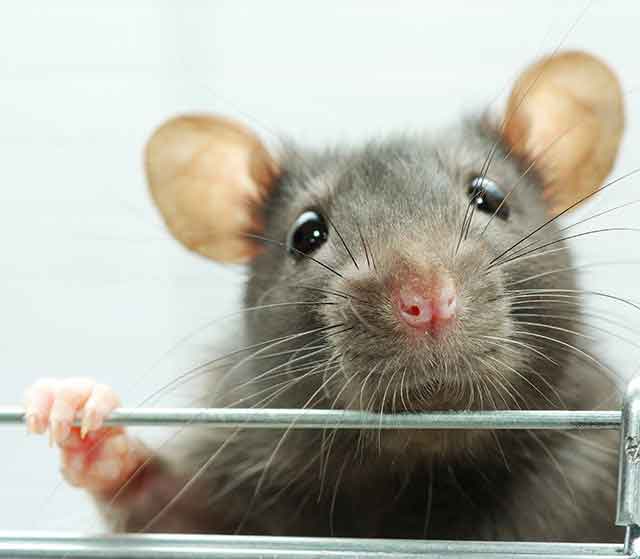 Good Names
Well, those tidy little lists above give you well over 200 names to think about! That's quite a lot! And the odds are that these names have inspired you to think of others, as well.