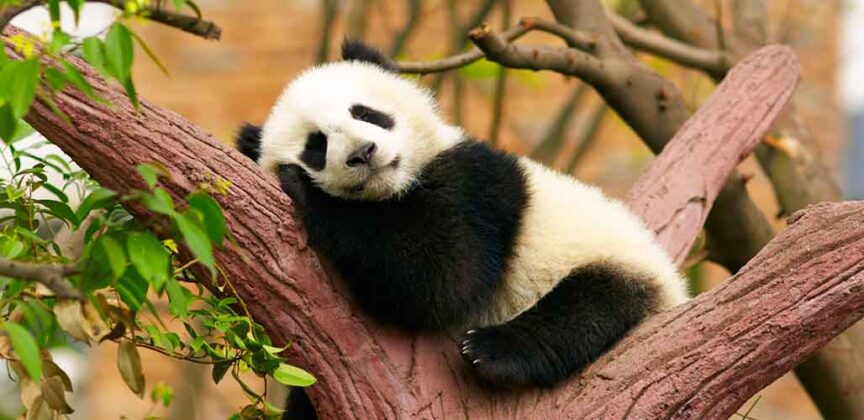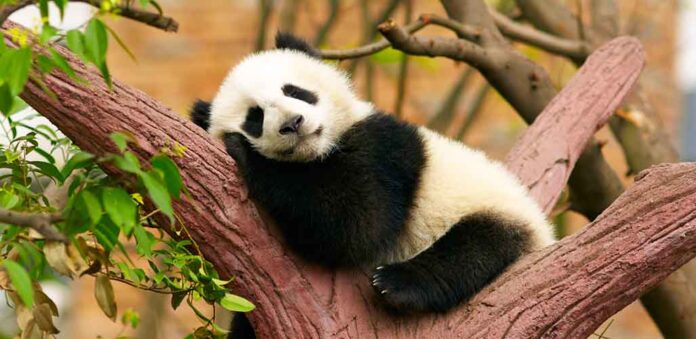 Panda names can be as cute, cuddly and silly as they are! These adorable black and white bears are funny, clumsy and surprisingly active. Their names can be inspired by their nature, characteristics, colors or behaviors. They can also come from famous panda cartoon characters or celebrities. Whether you are looking for names for your panda toy, a black and white bunny, guinea pig, dog or cat, these panda names will suit them perfectly.
Contents
Though endangered, Panda Bears are some of the most popular and unique bears in the world. Pandas are famously seen as being lazy yet lovable. It's no wonder you might be considering Panda names for your furry family member, stuffed animal, or adopted Panda friend.
Meet The Panda!
Sadly, Pandas are considered at risk animals. In fact, there are less than 2,000 Panda bears left in the wild and they need our help! If you're considering symbolically adopting a Panda bear, or if you simply have a pet or stuffed animal that reminds you of a Panda, we're here to make your job a bit easier.
25 Top Choices
Spot
Checkers
Oreo
Daisy
Piano
Penguin
Rocky
Keys
Puffin
Tumbles
Bulls-Eye
Sushi
Sundae
Moo-Moo
Tux
Pan Pan
Dice
Pepper
Orca
Figaro
Cookie
Harlequin
Bamboo
Dotty
Patches
Minnie
Female Panda Names
Nita
Precious
Kyra
Bella
Wilhelmina
Winona
Beara
Maddy
Nita
Millie
Bitsy
Maggie
Jumbo
Frankie
Polly
Fiona
Princess
Louise
Suzie
Ellie
Irene
Gypsy
Coco
Holiday
Nizie
Effie
Male Panda Names
Bruce
Bono
William
Eddie
Rupert
Rex
Jasper
Oscar
Barney
Franklin
Lex
Stevie
Lester
Dexter
Chad
Bobo
Bear
Knight
Charlie Brown
Eddie
Clover
Ernie
Berny
Moby
Ralph
Funny Ideas
Mr. Cuddlesworth
Frankenstein
Pumpkin
Bamboozled
Bowzer
Sir Clings
Clutz
Teddy
Madam Trips
Beethoven
Shaggy
Madam Pan -Duh
Beary Potter
Mops
Mr. Tubs
Bearly Chubs
Hungry
Champ
Tubby Tubs
Ding Dong
Rollie Pollie
Lazy Bear
Bearly There
Fluffy
Muffin top
Cute Names For An Adorable Bear
Pretzel
Fuzzy
Lucky
Noodle
Cuddlebug
Baloo
Buttons
Hugs
Bear Hugz
Muppet
Sprinkles
Winnie
Socks
Baby
Twinkie
Chip
Buttercup
Squirt
Softie
Biscuit
Benji
Squishy
Snuggles
Bobo
Bubbles
Tough Panda Names
Apocalypse
Tank
Axel
Rambo
Bruiser
Rage
Hercules
Boomerang
Claw
Fang
Cruiser
Bruno
Arrow
Shade
Knight
T-Rex
Maverick
Zeus
Trigger
Killer
Atilla
Thunder
Bear
The Rock
Hulk
Famous Pandas
Pandas are certainly one of the most famous bear species in the entire world, so it should come as no surprise that there are several movies, books, and tv shows dedicated to the amazing Panda. There are also a few historically famous Panda names listed below that you won't want to ignore, especially if you're looking for a Panda name that has already made a mark.
Mei Ziang
Xiang
Jake The Panda
Tai Shan
Hong Liu
Koo
Po
Mojo
Stormstout
Milton
Bao Bao
Raiden
Panda-Z
Er Shun
Kungfu Panda
Hau Mei
Hei Bai
Pandaren Race
Hungry Panda
Chen Stormstout
Jing King
Chou Ling Sing
Kolo
Shinjo Greatpaw
Master Yo
Cool Panda Names
Last but never least, we have some of the coolest Panda names around. These names are all things awesome, and awesomeness is certainly an adjective that describes the Panda to a T. See for yourself!
Bane
Ghost
Harley
Whiskey
Phoenix
Ryder
Galileo
Chase
Flint
Trigger
Sarge
Blaze
Remi
Aspen
Jet
Kane
Duke
Silver
River
Gunner
Nixie
Dozer
Pirate
Jax
Luna
Wild Animal Names