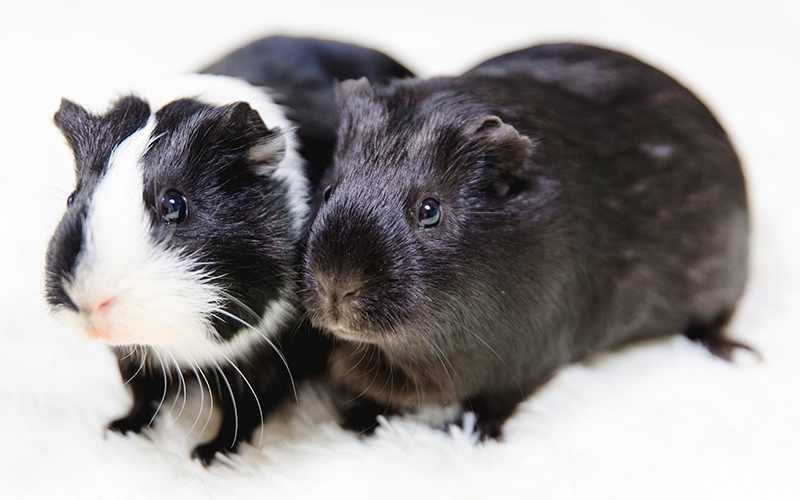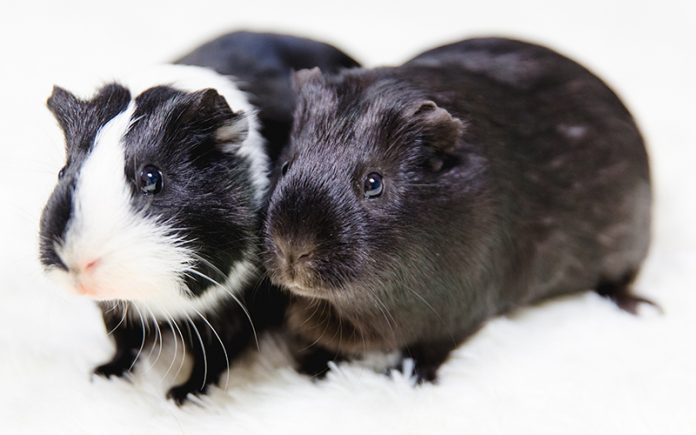 Black and white guinea pig names can be as cute, fun and cool as your new little pets. Today we'll share dozens of adorable ideas for naming your black and white guinea pig. Helping you to pick the best names for black and white guinea pigs and their friends!
Contents
We'll bring you a selection of names that would sound totally awesome for your gorgeous guinea pigs. Broken down into fun sections, you can pick the perfect names for your new pets. And as you know, guinea pigs rarely arrive solo, so we'll help you to name your black and white guinea pig's pal too.
Black and White Guinea Pig Names
Let's make a start with some names that will totally match your gorgeous black and white guinea pig's fur coat.
Boots
Checkers
Chess
Dice
Domino
Freckles
Freesia
Harleyquin
Keys
Lemur
Magpie
Orca
Oreo
Osprey
Panda
Patches
Perdita
Pingu
Pinto
Pongo
Puzzle
Scrabble
Soccer
Socks
Swallow
Tapir
Zebby (the Zebra!)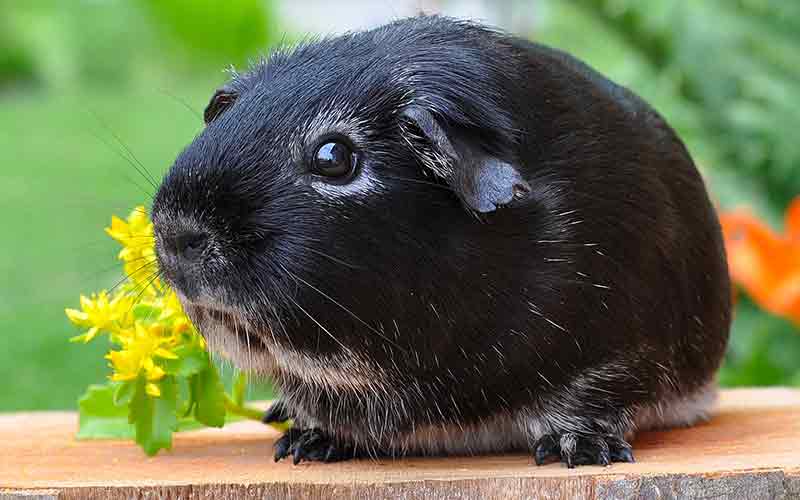 Black Guinea Pig Names
If your black and white guinea pig is predominantly black in color, then you might like to go with one of these cool black guinea pig names. One of my little boy guinea pigs is brown and white, and was aptly named 'Brownie'. It definitely suits him.
Ash
Blackjack
Coal
Dusky
Ebony
Inka
Jet
Luna
Midnight
Moon
Onyx
Panther
Raven
Sable
Shadow
Shades
Smokey
Sooty
Twilight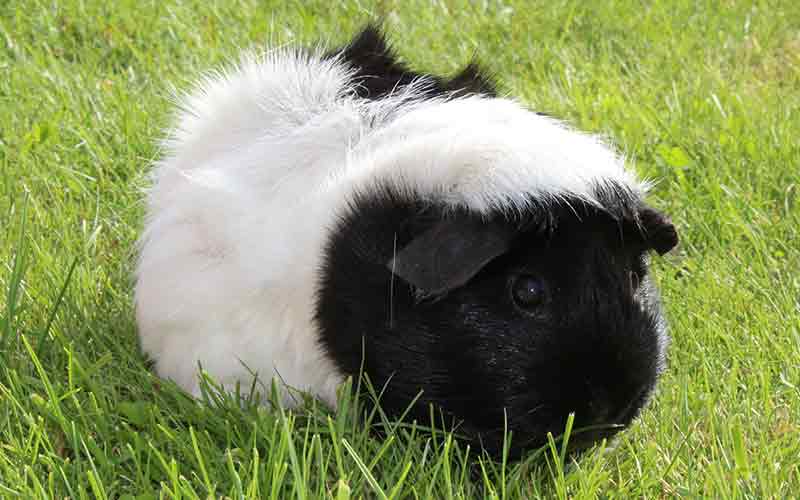 White Guinea Pig Names
White guinea pig names can work really well on a black and white guinea pig with a predominantly pale coat.
Arctic
Cloud
Clover
Creamy
Dahlia
Daisy
Ghost
Glossy
Iris
Ivory
Lily
Opal
Orchid
Pansy
Phantom
Polar
Snowdrop
Sugar
Zinnia
Female Black and White Guinea Pig Names
Just because you have a beautiful black and white guinea pig, doesn't mean they need a color based name. A lovely way to name black and white guinea pigs is to simple give them a nice human name.
I have nine guinea pigs sharing my home with me at the moment, and their names vary quite a bit. But some of my favorites are those with human names. Including Mabel and Tallulah. Flick through this selection of cute female black and white guinea pig names and see what you think!
Abbie
Amy
Ava
Bella
Cassie
Chloe
Clara
Ella
Emma
Eva
Frankie
Gracie
Hannah
Harper
Izzy
Layla
Madison
Mia
Milly
Molly
Nora
Penny
Piper
Quinn
Ruby
Skylar
Sophie
Stella
Tilly
Zoe
Male Black and White Guinea Pig Names
Male black and white guinea pig names can come from the world of human names too, of course! Whether you like traditional names, popular names or slightly more off the wall names. We've got a range of cute suggestions that will hopefully suit your new friend down to the ground.
Arlo
Benny
Brad
Carlo
Charlie
Danny
Frank
Freddie
George
Harry
Jackson
Jaime
Jeff
Kenny
Levi
Luke
Mason
Mikey
Ned
Noah
Oli
Oscar
Petey
Robby
Seb
Stan
Tim
Vic
Wilf
Zane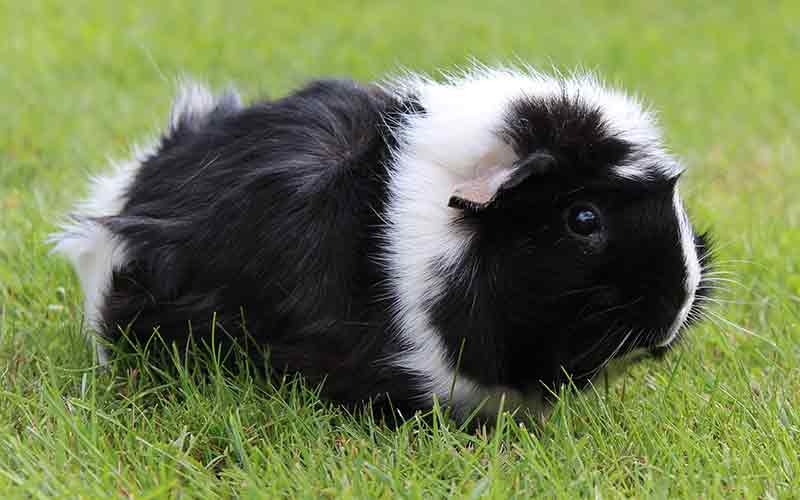 Disney Guinea Pig Names
When it comes to picking a name for your guinea pig, there is another way to search. Beyond the books of standard baby names. Disney has produced some totally awesome characters over the years. From goodies to baddies, girls to boys, there are an amazing selection to choose from.
If you or your kids love a bit of Disney magic, then it's a great place to get inspired. Here are our favorite Disney guinea pig names.
Aladdin
Alice
Anna
Ariel
Aurora
Bambi
Beast
Belle
Bernard
Bianca
Buzz
Cinderella
Duchess
Elsa
Eric
Flynn
Jasmine
Lady
Lilo
Nala
Maui
Meg
Moana
Mowgli
Mike
Mulan
Rapunzel
Simba
Stitch
Sully
Thomas
Woody
Clever Guinea Pig Names
But great names don't just come from fantasy, of course. There are some incredible people that you might like to tip your hat to when choosing the best black and white guinea pig names.
Do you suspect that your guinea pig might be a bit of a genius? Outsmarting her guinea pig friends, and maybe even you? Here are our favorite clever guinea pig names, inspired by some of the biggest names of from science.
Albert
Alfred
Bill
Charles
Dorothy
Emilie
Erwin
Galileo
Grace
Isaac
James
Lise
Louis
Marie
Mary
Neil
Niels
Richard
Rita
Vera
Longhaired Guinea Pig Names
Who doesn't love a guinea pig with a gorgeous flowing coat? Although these little darlings are slightly higher maintenance, there adorable look is well worth the effort. And there are loads of fun ways to name them too!
From traditional long haired beauties to the wonderful world of long haired rockers and celebs. There are tonnes of characters with long hair or great descriptive words. We've picked our wide ranging favourite long haired guinea pig names for you here.
Aslan
Axl
Beauty
Chewy
Fizz
Fluffy
Fozzy
Furby
Fuzzy
Glossy
Kurt
Pom Pom
Rapunzel
Russell
Shaggy
Silkie
Teddy
Tribble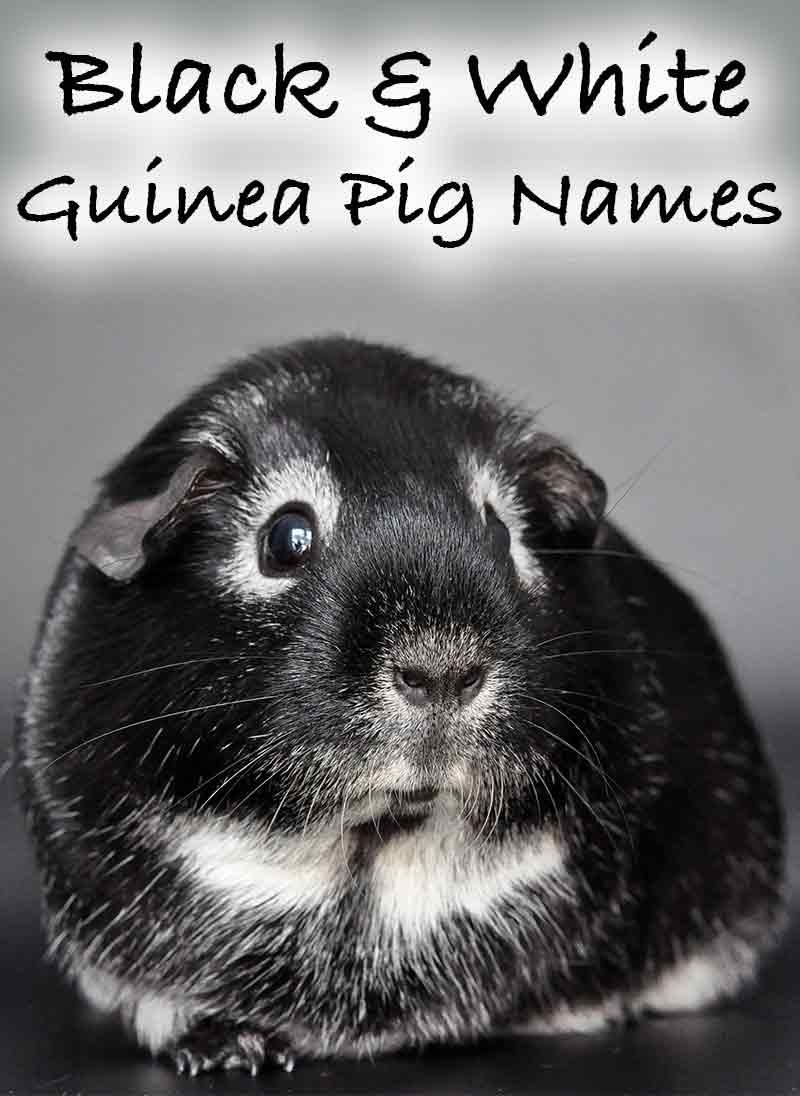 Creative Guinea Pig Names
Another super fun way to name your guinea pig is to get a bit creative. Creative guinea pig names can have numerous sources of inspiration. From art to nature, people to places. Think of something, or somewhere that you love, and follow that train of thought. Here are some of my top creative guinea pig names that your new friends might love.
Acorn
Alaska
Alpine
Banjo
Banksy
Baylea
Beaker
Beastie
Beech
Bermuda
Cale
Cappuccino
Coach
Dali
Dynamo
Indie
Leonardo
Monet
Pablo
Raphael
Rocket
Ruger
Spirit
Adorable Guinea Pig Names
And how could we end this great guinea pig names list without adding in that most shining feature of the guinea pig – adorableness! These are without a doubt some of the cutest, sweetest and most adorable pets out there. Here are my favourite adorable guinea pig names for black and white guinea pigs and their friends!
Angel
Apple
Baby
Biggles
Bingo
Binky
Bliss
Bonnie
Bumble
Caramel
Charm
Cheery
Crackles
Cutie
Dainty
Darling
Dazzle
Dream
Echo
Flower
Flossy
Grace
Hope
Jinx
Lolly
Monkey
Pickle
Poppet
Rosie
Sweetie
Trinket
Wiggles
Best Black and White Guinea Pig Names
Choosing the best names for black and white guinea pigs is great fun, but a big task. My guinea pigs are a wide range of colors and types, with names coming from a host of inspirations. From the world of My Little Pony, to the pattern of their fur. We have Dash, Mabel, Celestia, Tallulah, Clover, Donut, Hog, Brownie and Squeaker. You can probably guess why Squeaker ended up with her name – even for a guinea pig she's incredibly chatty!
I hope you had fun checking out our ideas for black and white guinea pig names. And whatever way you decide to pick your guinea pig's name, I'm sure it will be perfect for her.
Find More Guinea Pig Names