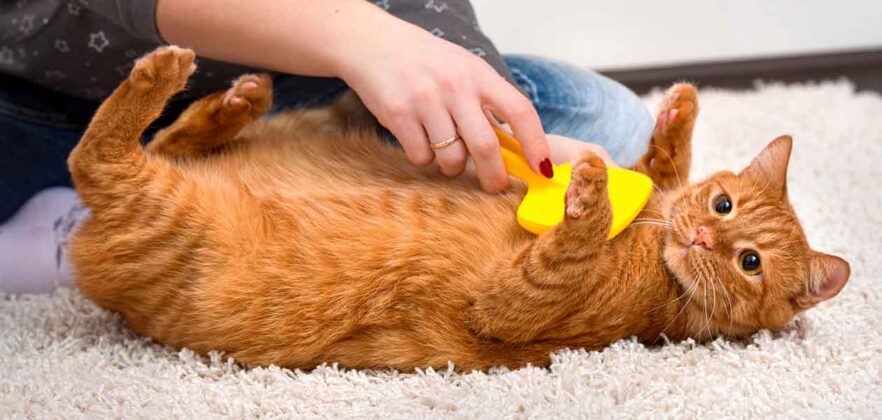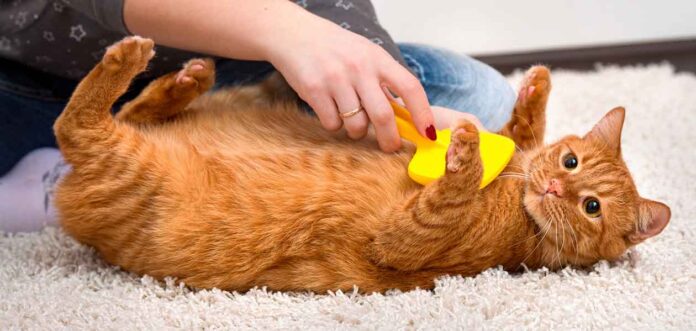 The best cat brush is easy to use, easy to clean, and complements your cat's coat type.
Regular brushing removes shedding hair before it can form hairballs, and gives fur a beautiful glossy shine.
This can help your cat, and make it easier to keep your home clean.
There are hundreds of options out there to choose from. So we've reviewed our favorites, with some tips to help you find the best brush for your cat.
All of these products were carefully and independently selected by The Squeaks and Nibbles team. If you decide to make a purchase from one of the links marked by an asterisk, we may earn a small commission on that sale. This is at no extra cost to you.
Choosing the Best Cat Brush
The best brush for your cat will depend on whether they have a long or short coat. And on whether it is dense or fine, and how much they like being groomed.
We've picked our favourite brushes for each type of cat, to help you choose.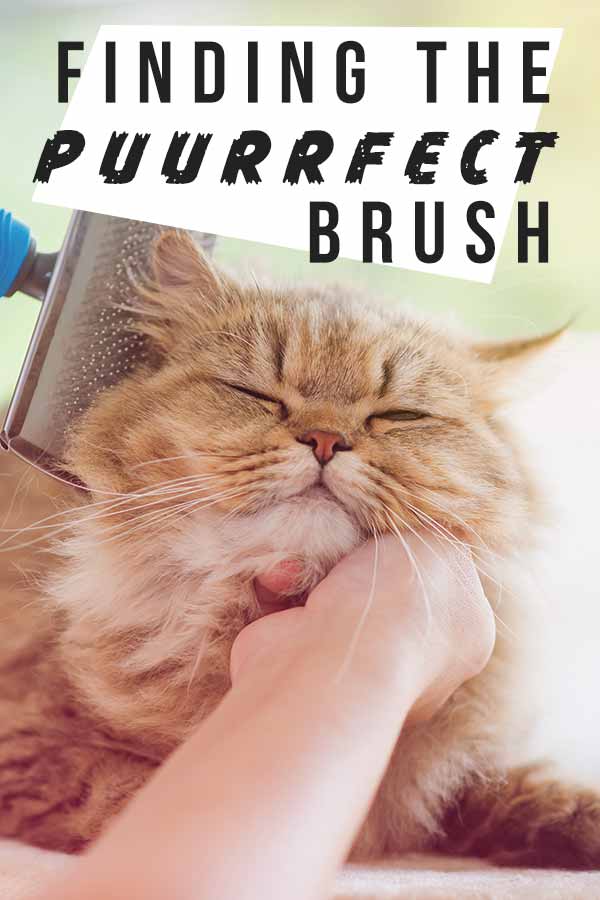 If you are not sure what coat type your cat has, you'll need to work out what breed they are, and read up on their coat type before buying the perfect brush.
Best Cat Slicker Brush
Slicker brushes have a wide surface with lots of fine teeth. They're great for removing dander, dirt and dead hair from medium or longer length coats.
The best cat slicker brush is gentle on your cat's skin and coat, easy for you to grip and use, and simple to clean after a grooming session.
Safari Slicker Brush
This popular and highly rated cat slicker brush by Safari* has a concave base to follow the contours of your cat's body while you brush.
The stainless steel tines feature round-tip ends for skin comfort and safety.
Best of all, it has a one-button self-cleaning feature sends all that trapped hair right into the trash can.
Four Paws Slicker Brush
This slicker brush by Four Paws* is gentle enough to use on a kitten and features a durable wooden handle for your comfort while you brush.
If your kitty has sensitive skin and a fine hair coat, this may be the perfect slicker brush for you.
JW Pets Round Slicker Brush
For smaller cats and kittens, this round soft slicker brush by JW Pets* is a great choice to navigate smaller areas of their coat easily.
The non-slip handle is ergonomic for your comfort and is a great choice to control shedding.
Best Short Hair Cat Brush
The best cat brush for short hair focuses on de-shedding and smoothing your cat's short coat. It doesn't have to get through the same depth of fur as a long-haired coat has, so it can be a little softer, especially on a cat with a single layer coat.
Furminator Rake
The Furminator de-shedding rake* is designed for short-hair cats with thick, dense, double or triple-layer coats.
The single-press eject button makes cleaning the rake fast and easy. There is also a long hair cat model.
Hartz De-Shedding Tool
This unusual de-shedding tool by Hartz* is designed with the year-round shedding cat in mind.
It features layers of micro-combs that are softer on your cat's skin and effective at removing dead, shed hair.
CELEMOON Silicone Brush
This soft silicone grooming tool by CELEMOON* has a non-slip grip for you and soft, massaging silicone bristles for your cat's comfort.
It traps shed, dead hair and debris. It also lifts them away while smoothing your cat's coat.
Best Long Hair Cat Brush
The best long hair cat brush often isn't a brush at all but a grooming comb.
You need a tool that helps to separate out long, fine individual hairs without the risk of inadvertently tugging or pulling on your cat's hair and skin.
Safari Comb
This stainless steel comb by Safari* features a double-layer of tines to reach down to the skin for a soothing massage.
It also combs out tangles, mats and shed hair. The ergonomic wood handle is contoured for your comfort.
Andis Comb
This 2 Inch Steel Comb by Andis* is a different version of a double-tined comb.
It features closer-set tines at one end and wider-set tines at the other end for grooming different size surface areas on your cat's body.
Combo Comb
This is Combo Comb* is another comb that gives you two sizes. Allowing to work on your cat's body and extremities with gentleness and ease.
Best Cat Brush Glove
Did you know you can buy a glove to wear with a 'brush' surface?
This is often the best way to introduce your kitty to being brushed; the glove feels more like petting than brushing.
The best cat brush glove is one that makes it easy for you to brush and groom your cat without causing any stress.
Upgrade Version Grooming Gloves
This pair of cat grooming gloves by Upgrade Version* is designed to fit a variety of hand shapes and sizes.
It also has elastic spandex material and an adjustable Velcro wrist strap.
The glove material is breathable quick-drying mesh.
The inside of the glove is outfitted with short silicone rounded tips that collect shed, dead hair.
It gives a skin massage as you move your hands over your cat's body.
Winning Gloves
This pair of grooming gloves by Winning* comes in five sizes (Junior, S, M, L, XL).
They are designed to be used for bathing as well as dry brushing and grooming.
The manufacturer provides a handy sizing guide with fit instructions.
HIG Gloves
This set of two different grooming gloves by HIG* gives you two options to see what works best for your cat's bathing, brushing and de-shedding needs.
One glove is a true five-finger glove while the other is a grooming mitt (like a mitten).
Both are made from soft, quick-drying mesh and neoprene soft rounded bristles.
Best Cat Grooming Brush
Some cat owners argue that the best cat grooming brush is one that can pull double duty, such as with these multi-purpose brushes and brush sets.
HaloVa Pin and Bristle Brush
This sturdy, durable, and attractive pin and bristle brush by HaloVa* features a sustainable and ergonomic bamboo handle and base.
One side has a nylon bristle brush, and the other side has round-tip pins. The center is vented for use during styling.
Friends Forever Two in One Brush
This neat two-in-one kit by Friends Forever* gives you two grooming options:
De-shedding rake for removing dead hair
Pin and bristle brush for de-matting and smoothing
Change out the brush type with a click of the button on the handle.
Poodle Plush Combo Brush
This unique rectangular brush by Poodle Plush* features a two-sided head: one side has rounded pins to work out tangles, and remove debris and shed hair.
The other has soft bristles to add shine.
For cats with curly or thick coats in particular, this may be just the right brush for the job.
Best Cat Brush for Self-Grooming
Some of you may have a kitty who is particularly shy or just doesn't like to be brushed and groomed.
The perfect solution could be one of these innovative self-grooming tools.
AikoPets Grooming Brush
This cat grooming brush by AikoPets* looks like a cat toy.
It is mounted on a soft, comfy carpeted base.
It is curved to let your cat arch up against it and scratch as desired to remove dead, shed hair and massage the skin.
Catit Self Grooming Toy
This creative corner-mount self-grooming toy by Catit* comes with a packet of free Canadian catnip to help lure your cat to give it a try.
Mounting options include screws or self-adhesive strips.
U-Shaped Brush
This U-shaped cat grooming brush* is made to fit into the entryway of your cat's litter box to provide a nice massaging brush.
As a perk, it can also help to remove clinging cat litter particles.
Breed-Specific Grooming Products
There are some great options in this article for every type of cat. But perhaps you want something that will suit your specific kitty.
Take a look at some of our guides below for even more options.
These will help you find the perfect choice for your breed!
Best Cat Brush
We hope you have enjoyed learning more about the different cat brush options.
Do you already have a favorite cat brush that your kitty and you both love? Why not let us know in the comment section below.
We can't wait to hear about the options you think others would love.
And, if you use one of the brushes we've recommended here, be sure to let us know your favorite thing about it!
Affiliate link disclosure: Links in this article marked with an * are affiliate links, and we may receive a small commission if you purchase these products. However, we selected them for inclusion independently, and all of the views expressed in this article are our own.
Readers Also Liked