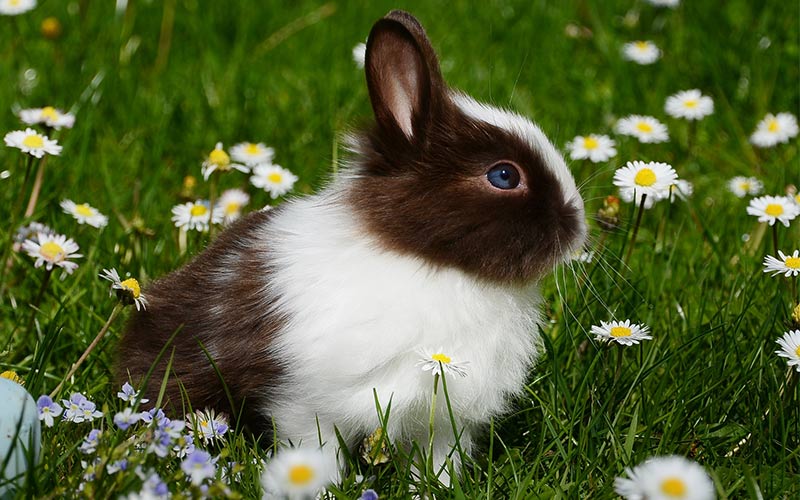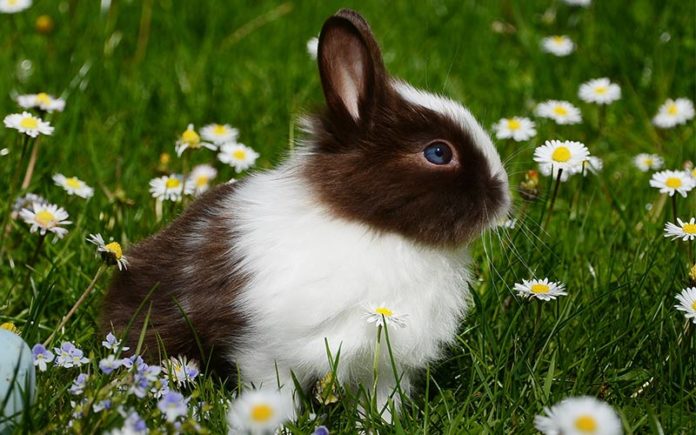 Welcome To Our Complete Guide To The Very Best Rabbit Food.
Giving You Top Tips For Choosing The Right Diet For Your Bunny, With Reviews Of The Best Brands.
So you've just brought home the most delightful, precious little bundle of fur.
You and your new bunny are about to embark upon an exciting life together.
In order to maximize your time together, and keep her as healthy as possible, you will need to choose the best rabbit food you can.
In a rush? Here are some of our top choices:
You can find out more about these in the article below, as well as more options to help you pick the nourishment for your pet.
Products included in this article were carefully and independently selected by the the Squeaks and Nibbles team. If you decide to make a purchase from one of the links marked by an asterisk, we may earn a small commission on that sale. This is at no extra cost to you.
Selecting The Best Rabbit Food
So what food do rabbits eat?
If you see your rabbit eating food, how do you know whether that food is on the list of bunny safe foods that rabbits should be eating?
And what if your bunny turns out to be a picky eater?
What can you feed her that will ensure she gets balanced nutrition no matter what?
Let's take a look at the answers to those questions, at choose the best rabbit food for your new bunny.
What do rabbits need in their diet?
Rabbits are plant eaters – herbivores – throughout their lifetime.
However, pet rabbits still need the same basic nutrients as all animals. Water, protein, fat, carbohydrates, minerals and vitamins.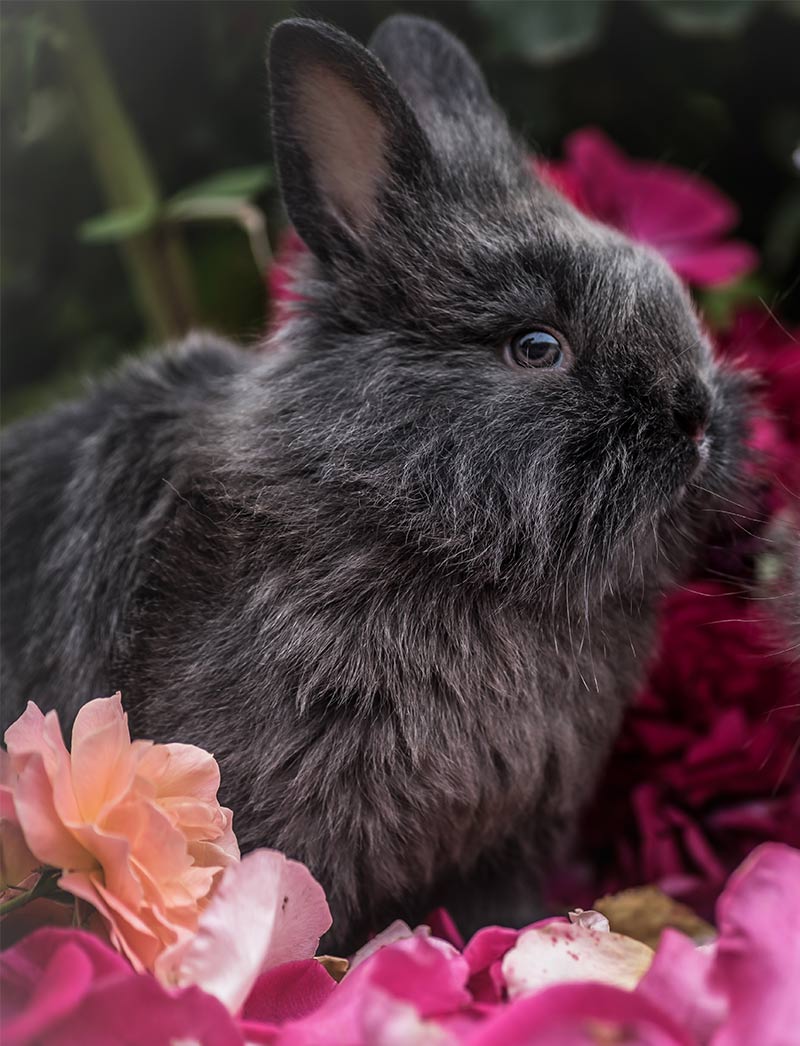 Baby, juvenile and pregnant or nursing mother rabbits may need slightly different levels of these basic nutrients. But there is never a time when one or more nutrients become optional.
Fiber is the most critical nutrient for your pet rabbit.
Your rabbit needs both soluble (digestible) and insoluble (non-digestible) fiber to stay healthy.
At least 14 to 20 percent of a rabbit's daily diet should consist of fiber.
A rabbit will also naturally eat his own feces ("cecotrophy")!
But this seemingly nasty habit actually provides the rabbit with a valuable source of protein.
Along with beneficial bacteria and is a very natural habit for a rabbit (even though to a human it might seem quite gross!).
Veterinarians on the National Research Council recommend providing your adult rabbit with a digestible diet that is around 4o to 45% carbohydrates, 12% protein, 1.5 to 2% fats, and 14 to 20% fiber.
You can achieve this balance by providing timothy hay at all times for grazing.
Along with offering a high quality pellet food once per day. A good guide is to feed 1/8 cup per every 4 to 5 lbs of rabbit.
As well, always make sure your rabbit has plenty of fresh, clean water on hand to avoid dehydration and dangerous fecal compaction.
Making the right choice
Your rabbit may come to you fully weaned and already used to a certain type of rabbit food.
If this is the case, and you are happy with the nutrient content and reputation of that food, you can simply continue on feeding it.
However, if you want to transition your rabbit to another type of food because of a vet recommendation or your own knowledge, it is best to schedule this over at least a 7-day period to give your rabbit time to adjust.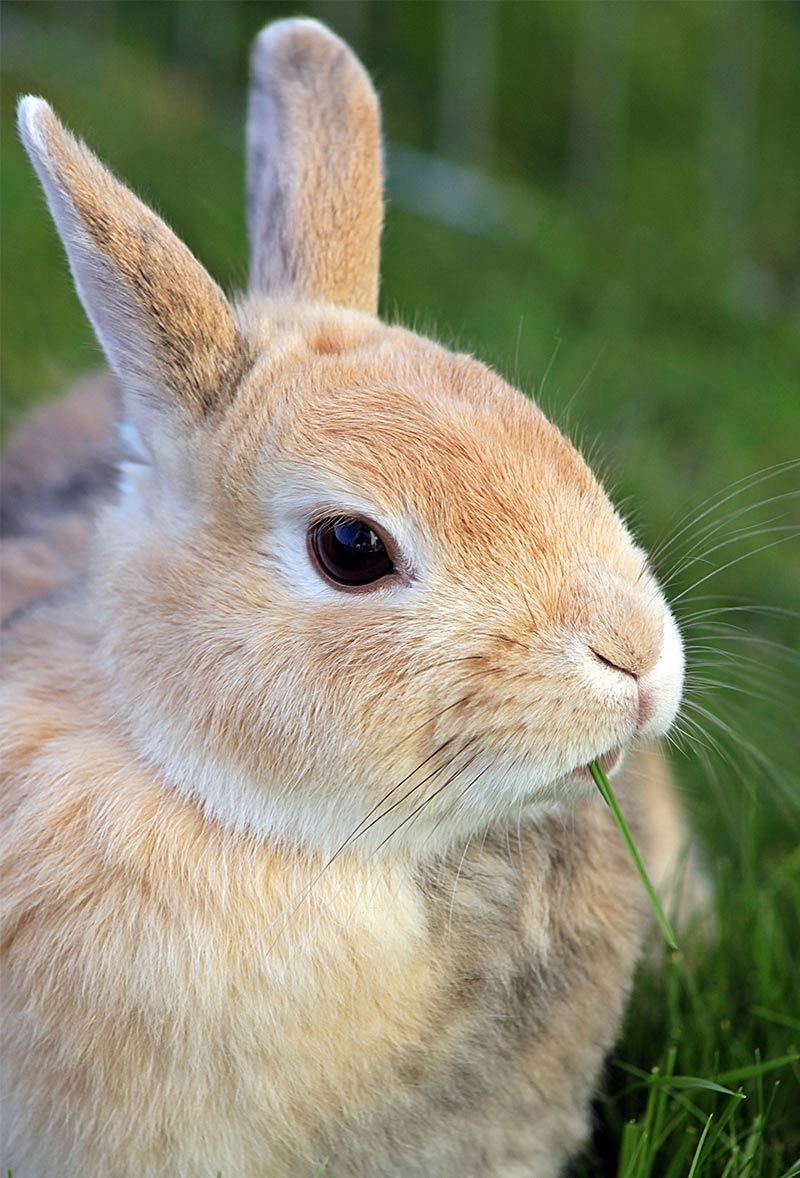 To avoid any chance your rabbit will dislike the new food and then reject her existing food also, do not mix the two foods together.
Rather, offer a small portion of the existing food, and then a small portion of the new food.
Start out with a 90/10 split (existing food/new food) and then move towards the opposite. By day eight or so, your rabbit should be eating the new food exclusively.
Rabbit pellets
Many rabbit owners feel that the best rabbit food comes in a basic pellet that doesn't permit their bunnies to sort through the food and only eat their favorite tidbits.
By choosing a pelleted food that has a proper concentration of ingredients and nutrients for your bunny and is presented so that each morsel offers the same nutrition, you can guard against selective grazing.
As well, if you find you have a picky eater on your hands, offering a basic pellet food can encourage your hungry rabbit to eat what she needs rather than just what she prefers.
Small Pet Select Rabbit Food Pellets
This popular and highly rated Small Pet Select Bunny Food* is high in fiber and based on Timothy hay, which is a healthy staple of any rabbit's diet.
It is made in the U.S.A. in small batches and can only be purchased online.
The manufacturer offers a 100 percent satisfaction guarantee.
You can purchase this food in three sizes from five to twenty five pounds.
Healthy food for rabbits
These two respected food brands are both great choices for a healthy food for rabbits!
Supreme Pet Foods Science Selective Fortified Pellets
This healthy bunny food by Science Selective* contains the vet-recommended minimum of a quarter fiber content to maintain the healthiest bunny teeth and digestion.
The bunny food is free from sugar and loaded with nutrients, including Omega-3 and Omega-6 fatty acids and natural pre-biotics.
Rabbit owners say their pets just love this food – one even calls it "fine dining" for rabbits! This food comes in a 4-pound bag.
Best Senior Rabbit Food
Science Selective also offers another formula especially designed for rabbits ages 4 years and older*.

Sherwood Pet Health Adult Rabbit Food: Timothy blend
The Sherwood Pet Health Blend* could be the top product if you are looking for something grain free.

It has a refreshingly short ingredients list. Including plenty of high-fiber hay plus essential amino acids, vitamins, minerals and oils.
This food is a nutrition and taste hit with our fur babies.
You can choose from a 4.5-pound or 10-pound bag.
Best Baby Rabbit Food
Sherwood also offers another food specifically formulated for baby rabbits*.
Burgess Excel Tasty Nuggets Adult Rabbit Food
Burgess rabbit food (also known as Excel)* is a high-fiber diet.
It includes two essential fibers: digestible fiber (nutrient-rich) and indigestible fiber (digestive health).
The food is nugget-shaped so your rabbit can't feed selectively.
It is also designed to help keep your rabbit's teeth worn evenly and healthy.
This good rabbit food is sold in a two-pack of two 2.2-pound (2kg total) bags.
Organic rabbit food
Feeding your rabbit organic rabbit food ensures he won't inadvertently ingest any toxins such as pesticides or genetically modified foods.
Oxbow Bene Terra Organic Rabbit Food
This Oxbow rabbit food* is created to mimic what a wild rabbit would eat.
With all organic ingredients and a balanced array of vitamins, minerals, Omega-3 and Omega-6 fatty acids and plenty of grass hay fiber, juvenile and adult rabbits can enjoy a great diet.
Owners rave about this food and say their bunnies really love it. You can choose from a 3-pound or 6-pound bag.
Coyote Creek Certified Organic Rabbit Feed
This Coyote Creek organic feed* is medication free and free from artificial ingredients or preservatives.
It is a certified organic food. Coyote Creek is a participant in the non-GMO project, which means this food will never have any genetically modified ingredients.
The ingredients are chosen to help your rabbit develop and maintain a strong immune system and optimal health.
Natural rabbit food
Natural rabbit food isn't the same as organic rabbit food. But it can cut down the risk that there will be any processed, artificial or filler ingredients in your bunny's food.
Vitakraft's Vita Nature Natural Timothy Formula for Pet Rabbits*.
This pet rabbit food includes natural herbs, greens, flowers, vegetables, berries and grains. For a nutritionally complete, high fiber forage that is free of artificial ingredients or preservatives.
Rabbit owners say their bunnies just love this food and often come running when it is mealtime. It comes in a 3-pound bag.
Cheap rabbit food
When it comes to budgeting for necessities such as food, habitat, routine vet visits, toys and more, it is only possible to plan for known, routine costs.
Since the unknown costs are often the priciest ones (like emergency vet care), you want to do your utmost to budget well for the costs you can predict, like rabbit food!
The good news here is, good food for rabbits doesn't have to be expensive, especially if you can buy it in larger quantities and store the extra until it is needed.
In fact, some of the best rabbit food brands are really quite affordable, especially if you are buying in bulk for multiple bunnies!
Here are two examples of cheap rabbit food that is also healthy and nutritionally balanced for your rabbit.
Dogswell Purina Mills Rabbit Complete Blend
The Purina brand is best known for its dog and cat food lines, but this Purina rabbit food* comes very highly recommended by rabbit owners as well!
This rabbit food has a good balance of fiber and protein to maintain rabbit health.
It comes in a 25-pound bag.
Kaytee Supreme Food for Rabbits
This popular and highly rated Kaytee rabbit food* is free from artificial colors or flavors and comes in an array of sizes.
This pellet food is corn-free and includes alfalfa.
F.M. Brown's Encore Rabbit Food
FM Brown's Encore Rabbit Food* certainly looks the part.
This affordable and nutritionally balanced rabbit food comes in a 4-pound bag and includes probiotics, plenty of vitamins, minerals and amino acids.
Plus, alfalfa is the first ingredient listed.
Fresh food for rabbits
Research studies have highlighted how the diet rabbits are fed during the weaning process will help shape their lifetime dietary preferences.
For this reason, if you are raising rabbits, you will want to be sure to institute a balanced diet as soon as weaning begins!
If you are choosing your bunny from a breeder or pet store, it can be helpful to find out what was fed during weaning to determining if you will have any challenges encouraging your rabbit to eat a nutritionally balanced diet.
The best fresh foods to offer your rabbit are
kale
lettuce
parsley
carrot tops
broccoli
celery
spinach
escarole
endive
cilantro.
Starchy veggies like carrots should only be offered with tops on and as a treat food because they are higher in sugar.
Fruits should be offered sparingly.
Corn is not a safe food for rabbits (even fresh).
Your bunny can begin to enjoy some fresh foods once he has turned two months old.
Offer one type of fresh veggie at a time until you are sure your rabbit's still-developing digestive system has learned how to digest and process that veggie.
Then you can offer another, and another, until your rabbit grows up into an adult who can eat a wide range of fresh vegetables safely.
Steer clear of offering processed or cooked "people" food, even if it is high in fiber such as some cereals.
Your rabbit's digestive system is actually quite similar to that of a horse, another herbivore that requires a very specific diet in order to stay healthy.
Best bunny food
We hope you have enjoyed learning all about the best bunny food to offer your precious new furry baby!
By taking the time to learn about the nutrition your rabbit needs, you can feel confident about the food you offer your pet.
By choosing a bunny safe food and providing appropriate portions for your bunny's age, you can make sure you will be able to enjoy each other's company for a long time to come!
Affiliate link disclosure: Links in this article marked with an * are affiliate links, and we may receive a small commission if you purchase these products. However, we selected them for inclusion independently, and all of the views expressed in this article are our own.
Resources
Bilko, A., et al, "Transmission of food preference in the rabbit: The means of information transfer," Science Direct: Physiology and Behavior, 1994.
Lily, A., "The Cost of Owning 5 Popular Small Household Pets," Kiplinger, 2011.
Krempels, D., PhD, "What Should I Feed My Bunny?," University of Miami: Department of Biology, 2017.
Mayer, J., DMV, MSc, DABVP (ECM), DECZM, "Nutrition of Rabbits," Merck Veterinary Manual, 2016.
Karr-Lilienthal, L., PhD, "Nutrients Required by Rabbits," The University of Nebraska-Lincoln, 2017.