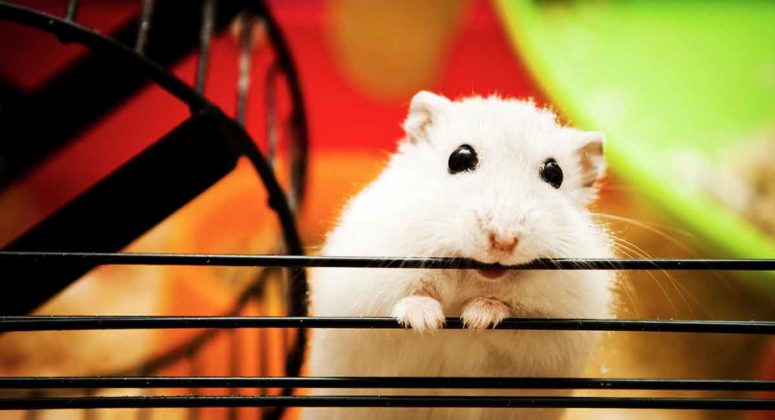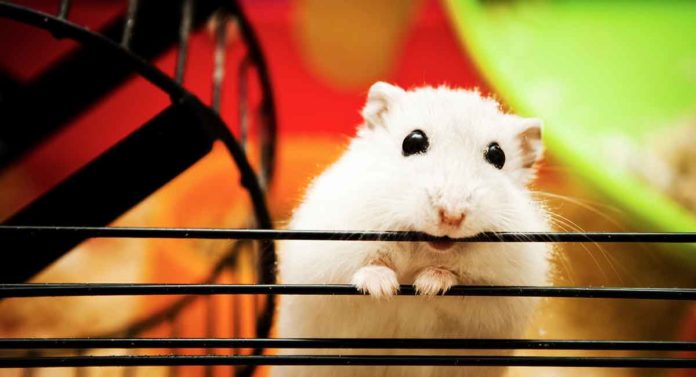 Of all the choices we have to make for our pets, where they'll live is one of the biggest. A nice environment can go a long way in keeping your dwarf hamster happy and healthy. In 'The Best Dwarf Hamster Cages' we'll look at some great options for your dwarf hamster's home. At the very least, we'll give you some great dwarf hamster cage ideas.
Our Top Three Dwarf Hamster Cages
While it might be difficult to say exactly what the best dwarf hamster cage is, we'll save you some time and show you three of our favorites.
Favola Hamster Cage
The Favola Hamster Cage is a simple design with lots of features your hamster will love.
Lixit's Hamster Heaven
Lixit's Hamster Heaven is large and in charge. Boasting a sturdy design and lots of space for activities and exploration, this is one of our top picks for sure.
Habitrail OVO Dwarf Hamster Habitat
Speaking of dwarf hamster cage ideas, the Habitrail OVO dwarf hamster cage is on our top three list by virtue of its originality. Add to that its potential for customization and you've got a clear winner on your hands.
Important Features for Dwarf Hamster Cages
Whether it's robo dwarf hamster cages or a cage for a larger breed, buying a cage is normally the most expensive part of owning any hamster, no matter the size.
Hamsters, at their best, could put Houdini to shame with the stunts they're capable of. They'll squeeze through tight spaces that look impossible. So you'll want a cage you can trust to keep them in.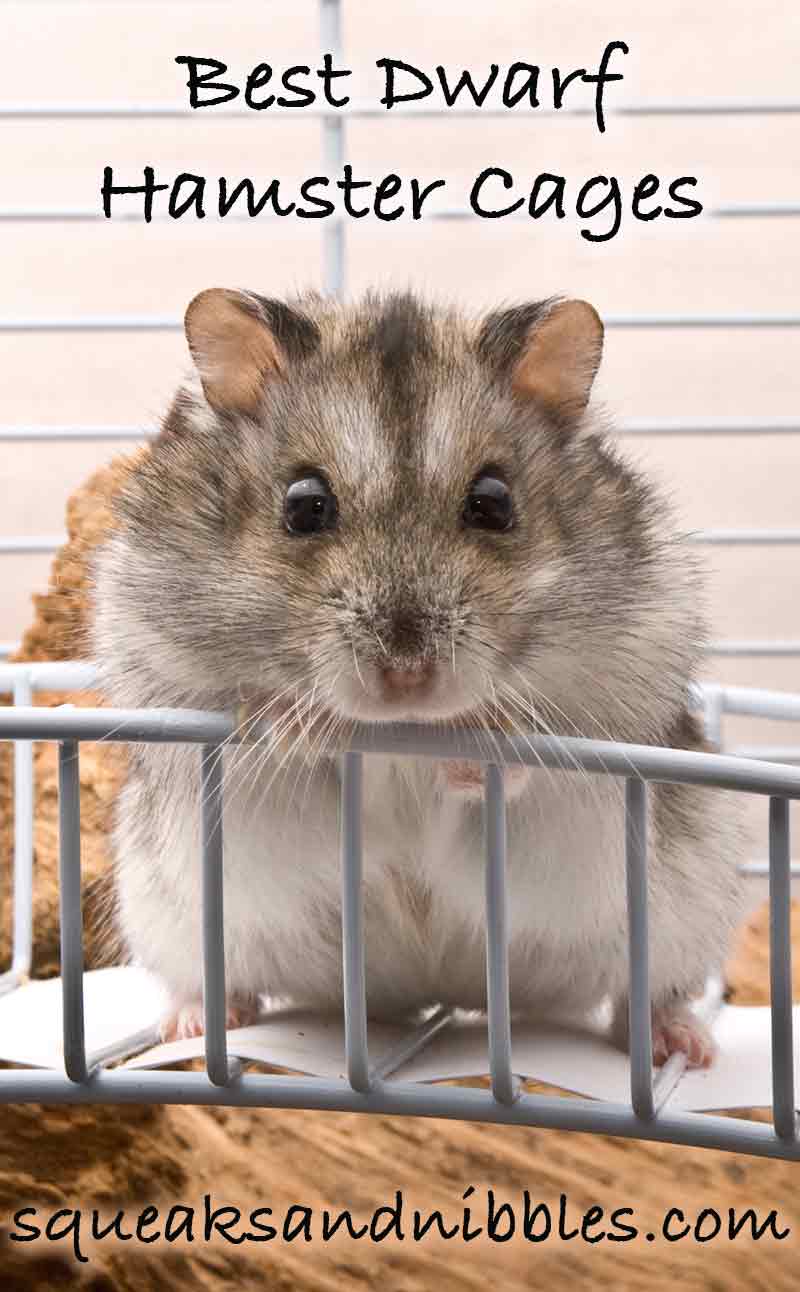 Dwarf hamsters come with their own unique set of challenges. Their small size could mean that a cage that might be okay for other hamsters may be easily escapable.
Luckily most cages will specify which animals they're suitable for. Often enclosures rated for dwarf hamsters will also be listed as suitable for mice and gerbils.
Things to Look Out For
Don't fall into the trap of buying any old hamster cage! The mesh will often be wide enough for your dwarf hamster to fit through, even if it doesn't look like it.
Ideally, your new cage should have 1/4" bar spacing if it is a traditional cage (many normal hamster cages have 1/2" spacing).
Best Indoor Dwarf Hamster Cages
An indoor cage is probably going to be your hamster's daily habitat. So, you want to make sure it's comfortable, fun and safe.
Breed specific robo dwarf hamster cages are difficult to come by, but we've put together this article based on cages that will keep your little guy safe and sound.
Little Friends Grosvenor Rat and Hamster Cage
If you're not too keen on lots of plastic, this cage might be up your alley. Little Friends Grosvenor Rat and Hamster Cage comes with a wooden shelf and ladder.
As it contains wooden parts, it's probably best to leave this cage inside to prevent any warping that may occur outside in the rain. This cage looks cosy and safe. It even comes with a house, wheel and bowl!
Favola Hamster Cage
The Favola Hamster Cage comes with a one year's manufacturer's warranty on all parts included.
This is another cage packed with potential fun for your furry friend. My favourite feature of this cage is the translucent base. This means you'll be able to see your dwarf hamster as he snuggles up in his hay.
Kaytee CritterTrail 2 – Level Habitat
Possibly the most colorful of all the hamster cages we've seen, the Kaytee CritterTrail 2 – Level Habitat has so much to offer.
With plenty of space to explore, this cage has two levels and a wheel. If you feel as though your cage could do with some more tunnelling space, you can buy additional tubing from Kaytee.
Best Outdoor Dwarf Hamster Cages
You might not see these habitats on many lists of the best dwarf hamster cages. This might be because most hamsters spend their lives indoors.
Maybe you feel that your dwarf hamster needs a change of scenery. In that case, you might want to put him into an outdoor habitat for a little while.
But as we know, these little cuties are very small and can escape rather easily! Here are a few options if you are in the mood to do some supervised outdoor playtime.
RYPET Playpen
RYPET's Playpen couldn't be easier to set up. Just fold it out and a new play area will unfurl for your hammy.
The material is breathable and easy to clean. So, when playtime is over, you won't have loads of work to do.
Amakunft Small Animals C&C Cage Tent
Super light and water resistant, Amakunft's Small Animals C&C Cage Tent
comes in a whole bunch of colors and patterns.
Feel free to add whatever toys and accessories you like to this pen. Just be sure to keep a close eye on your hamster in any outdoor environment.
Ruff and Ruffus Portable Foldable Playpen
Ruff and Ruffus Portable Foldable Playpen isn't strictly designed with a dwarf hamster in mind. But, because the mesh is breathable, we think this would be a pretty good choice as an outdoor environment for your little tyke.
What this product lacks in hamster-specific design, it more than makes up for in portability. With the reinforced floor, you can take your little guy wherever you like!
Best Large Dwarf Hamster Cages
Small as they are, dwarf hamsters still need space to run around and stay exercised. The PDSA tells us that wild hamsters can travel up to 5 miles in a single night. Any extra space will be appreciated and used, so don't shy away from larger cages.
The effects of a cage that's too small go well beyond just boring your hamster. Cramped and boring surroundings can affect a hamsters core temperature. They can even make it worse at responding to infection or illness!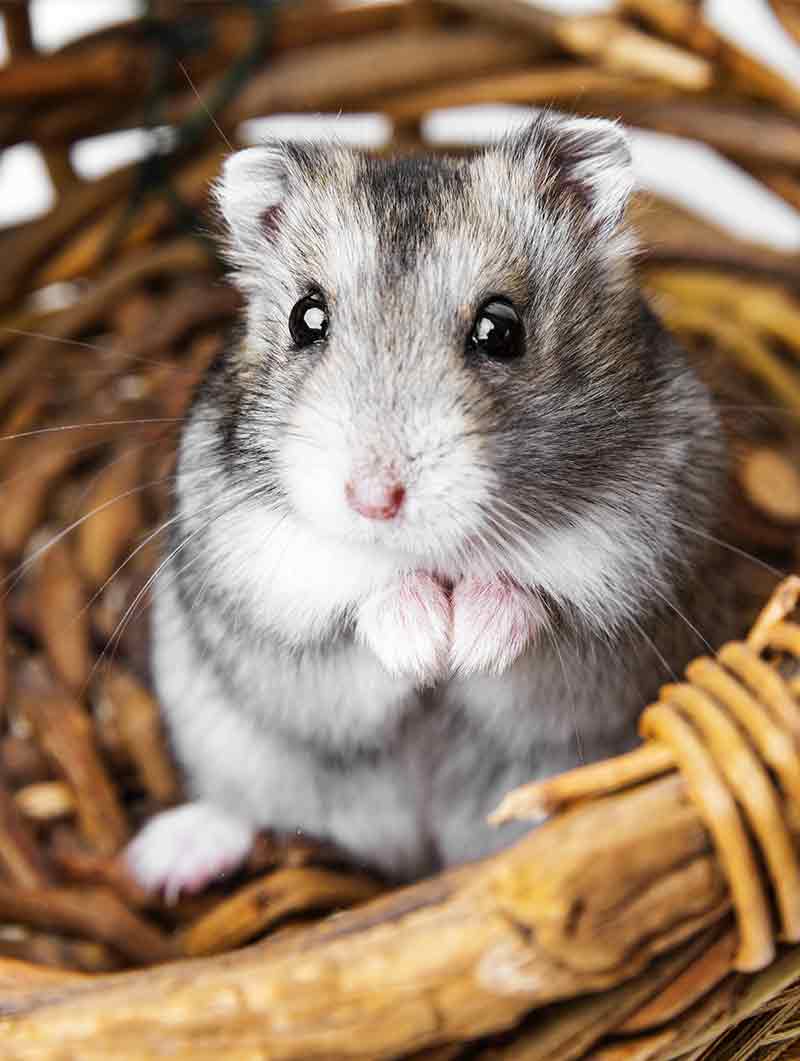 Dwarf hamster cage size becomes more important still when you house more than one individual, as they shouldn't have to fight for space. The area they will get to roam around in should be a big factor in your decision on which cage to go for. Dwarf hamster cages should also be deep.
Hamsters love to burrow in thick layers of bedding material, so be sure to provide for this. The RSPCA recommends having a layer of bedding around 3-6 inches in depth.
Let's begin by taking a look at some big dwarf hamster cages.
Lixit's Savic Monkey 2
Let's look at Lixit's 'Savic Mickey 2' first of all. This large dwarf hamster cage boasts a few great features.
The narrow gauge wire is suitable for dwarf hamsters and mice. Usually enclosures this large have gaps too large for these small pets.
The easy to clean plastic housing is a great plus. A raised platform over half of the cage essentially adds another 50% to the already generous floor space.
The lack of accommodation for external tunnels make this cage a bit less customizable and fun than some of the others that we'll look at. But with more than four square feet of floor space to run around on the bottom floor alone, your dwarf hamster won't be short of room to maneuver.
It's one of the pricier cages on this list, but for the extra space your hamster gets, it will be well worth the extra money.
Prevue Pet Products' Universal Small Animal Home
Next up it's Prevue Pet Products' Universal Small Animal Home. Although it's not as bright as Lixit's offerings, it's certainly suitable for your dwarf hamster.
The wires are spaced at 3/8ths of an inch apart, which should be tight enough to keep your little houdini under lock and key!
This is a large cage with loads of space for exercise and home decor!
Lixit's Hamster Heaven Metro Cage
Lixit's Hamster Heaven comes jam packed with all of the entertainment and amenities the discerning dwarf hamster has come to expect!
Complete with tubes and multiple levels, your hamster will get loads of exercise and will have plenty of nooks and crannies to hide out in too!
Check out our reviews of the best large hamster cages here.
Best Plastic Dwarf Hamster Cages
Plastic is easy to clean, lightweight and cheap to produce. Modern hamster cages often do away with metal almost completely. These plastic cages have no wire mesh at all, just clear plastic screens with venting holes.
Your hamster gets all the fresh air benefits of a traditional cage. But without the opportunity for a cheeky hamster to squeeze between the bars.
Escaping is something that always worries dwarf hamster owners, and cutting out the bars removes a major risk factor.
These cages can also look very modern and different. What your cage looks like is bound to be important to you.
Plastic dwarf hamster cages look modern and different from the traditional mesh options. So what's the best way to show off your hamster to friends and family?
Habitrail OVO Dwarf Hamster Habitat
How about the Habitrail OVO dwarf hamster cage.
With an entirely plastic construction, there's no need for risky bars. The vents all around this cage provide your hamster with air and the whole thing is easy to clean as a result.
Designed entirely with a dwarf hamster in mind, this cage aims to satisfy your hamsters desire to climb and explore. The customizable tubing and modules are great fun for kids, and adults too!
The OVO dwarf hamster cage falls short of some others on space, though, and this is the only real concern with this enclosure. But you can make up for this by adding on additional modules to make a bigger and better adventurous cage experience for your dwarf hamster.
Habitrail Cristal Hamster Habitat
The Habitrail Cristal Hamster Habitat has lots to offer. The manufacturers boast that it gives you unobstructed views of your hamster.
The small gauge mesh makes this cage appropriate for dwarf hamsters.
The cage includes all the usual amenities, like a wheel, water bottle, and a food dish.
Space is quite limited if you were considering this cage alone for your hamster, but don't worry as it has the option to expand.
This dwarf hamster cage can be connected to other Habitrail modules and units. If you would like to expand the hamsters enclosure, you can do so with the extra units in the adventure pack below. Having a fully customized habitat might mean the best dwarf hamster cage is your unique cage at home.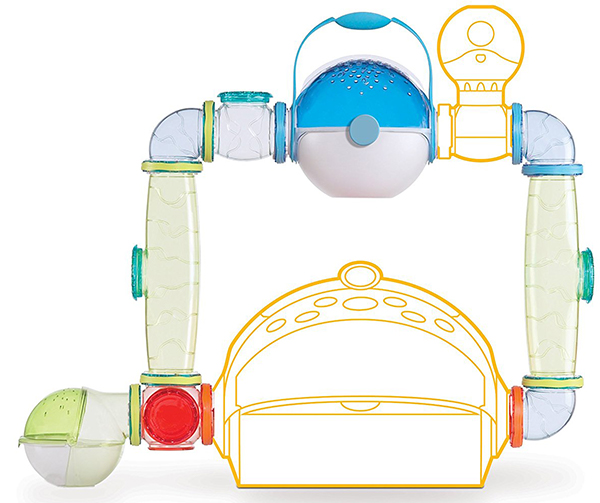 Best Wooden Dwarf Hamster Cages
There are loads of reasons to choose wood over plastic in this day and age. Maybe it's for environmental reasons.
Perhaps you just prefer the look and feel of wood. Either way, we've found a couple of hamster habitats that might be just the thing for you and your hamster friend.
Ferplast HAMSTERVILLE
Ferplast's HAMSTERVILLE is a stylish and fully featured habitat for those of you who love that wooden finish. There are lots of accessories included and multiple layers for your hamster to play on.
It might be worth reinforcing the bottom layer of this habitat to discourage any nibblers from trying to gnaw their way out!
ALEKO Deluxe 3 Tier Hamster Cage
ALEKO's Deluxe wooden cage is made from weatherproof, rot-resistant Fir.
Its three tiers should provide ample stimulation for your hamster and it'll look great in the process.
The manufacturers are keen to impress that this is a supremely comfortable place for a hamster to live. It looks like they could be right! Does this rank on your list of the best dwarf hamster cages?
Best Modular Dwarf Hamster Cages
Unfortunately there's not much on offer when it comes to modular hamster habitats. Having a modular environment might be useful to some, particularly if you're keen on customizing your hamster's living space.
SONGMICS Playpen
SONGMICS Playpen is suitable for all sorts of small animals, including your dwarf hamster.
Designed for outdoor use, it comes with a rubber mallet and everything else you need to secure it outside.
Best Dwarf Hamster Cages
Dwarf hamster cages come in all shapes and sizes. We've looked at some of the best dwarf hamster cages available today.
As we've mentioned, space is so incredibly important. Our top three picks are Favola Hamster Cage, Lixit's Hamster Heaven and Habitrail OVO dwarf hamster cage
Exercise and stress prevention should be priorities for all dwarf hamster owners. And if your cage looks good and keeps your hamster happy, then all the better!
Get the best dwarf hamster cage for your pet. You'll be rewarded with a happy, healthy companion.
We'd love to know about your experiences looking for a hamster cage. Did you get any dwarf hamster cage ideas? Let us know in the comments!
References and Resources