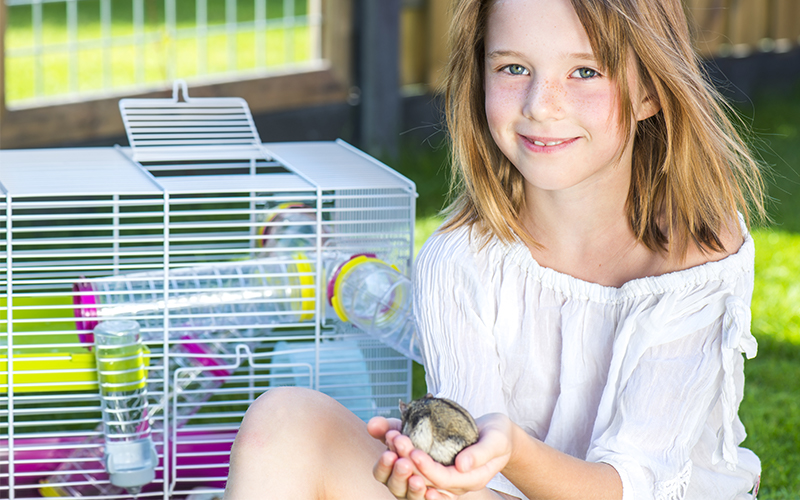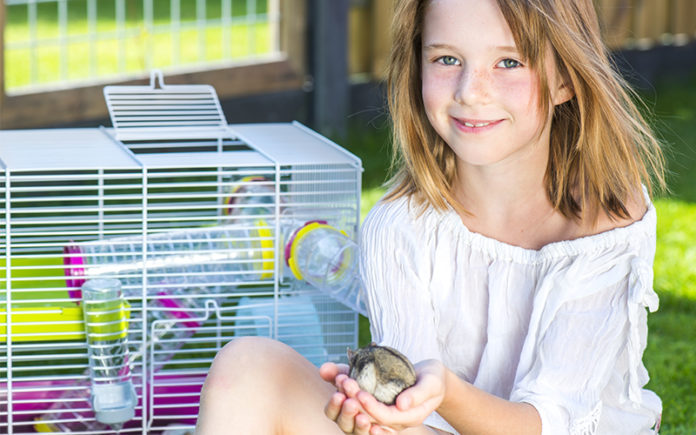 Welcome to our guide to the very best pink hamster cages!
Hamsters as pets can make for precious memories indeed, especially for young children who are experiencing caring for a pet for the very first time.
In fact, many children who love hamsters grow up to be adults who still love hamsters, and who then introduce their own kids to these furry cuties in turn!
As you know, there is a lot to do when you are preparing to welcome a new hamster into your household.
You have to collect all the supplies, the food, the bedding, the toys….and you need just the right cage to serve as your new hamster's permanent home!
You might catch yourself thinking about how cute she would look in a little pink palace hamster cage.
And if this describes your thoughts right now, then you are in luck, because you are about to read about some of the cutest, poshest, pink-est hamster cages available today!
Pink hamster cages
There are so many aspects to think through when you are choosing between hamster cage pink options. To compound the challenge, there are lots of different pink hamster cage options to choose from!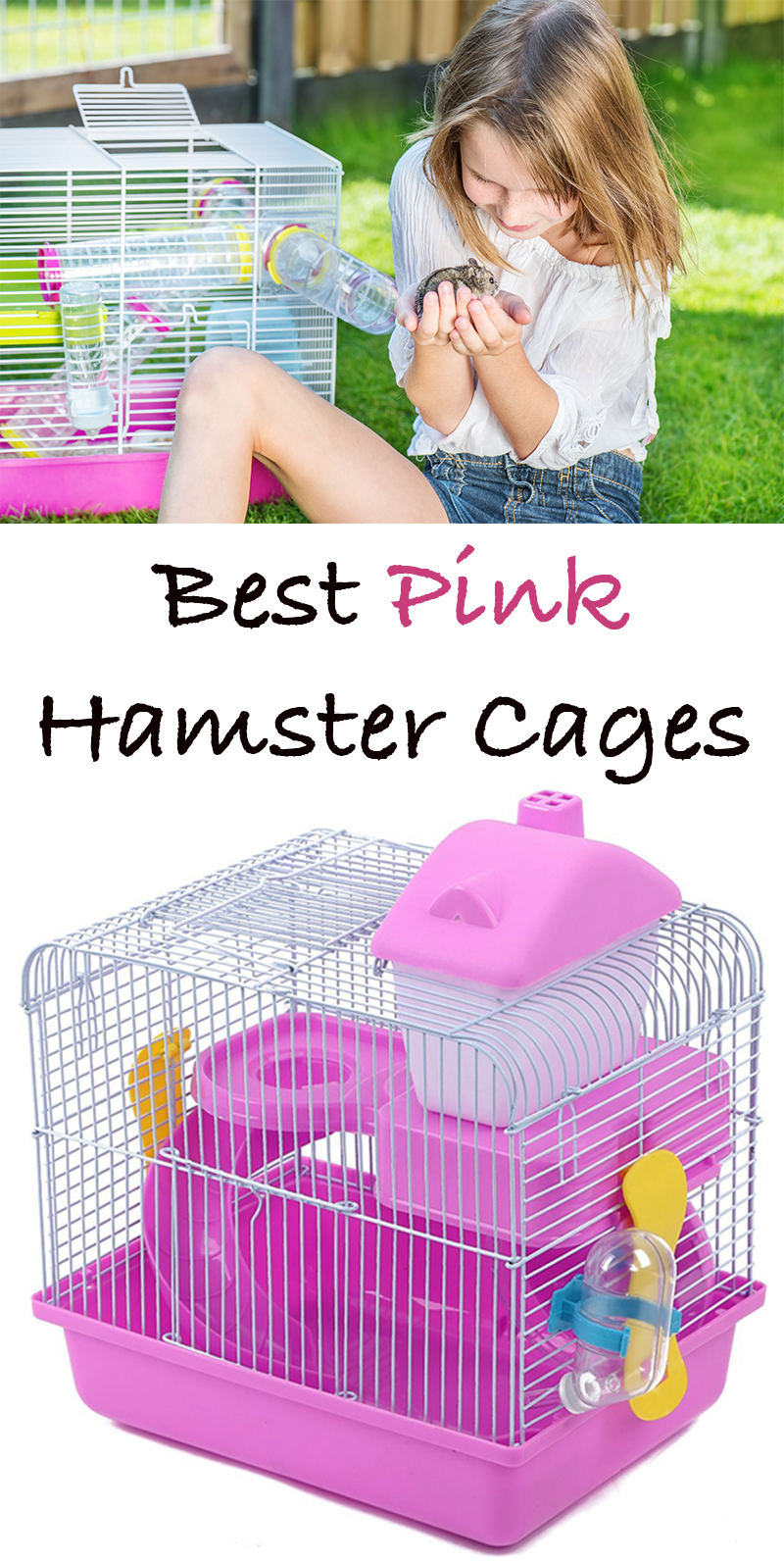 Two particular features many hamster owners really enjoy are translucent/clear play areas and silent exercise wheels.
The former is so fun because you can watch your little hamster as she plays! The latter is so wonderful because your night-loving hamster can exercise while you sleep and you'll never even hear it!
These two cute pink hamster cages each feature one of these prime options.
BESAZW 2 Storey Hamster Cage with Toys. This cute, petite, two-story hamster cage pink is chock-full of accessories and toys. Providing the perfect compact housing for very small (dwarf) hamsters.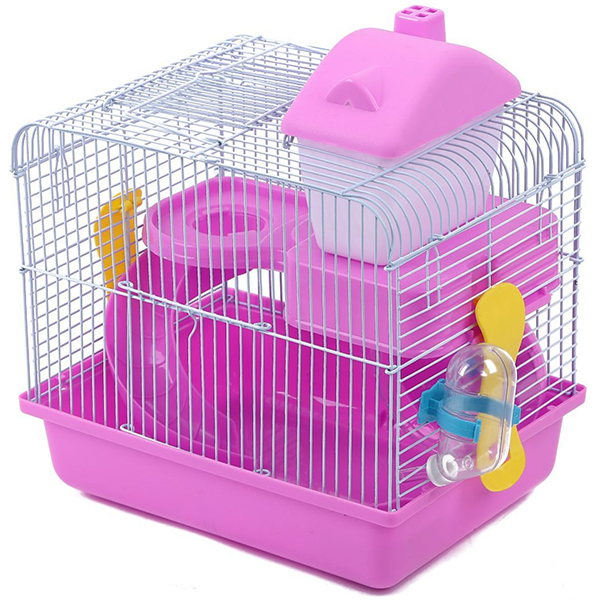 The cage comes stocked with a silent hamster wheel, a top-story hide hut and a play slide. It also comes with a food bowl, water bottle and an underneath area for play or sleep or hiding/nesting.
The cage also has a top handle for carrying. The dimensions are 11.4L x 8.2W x 11.8H inches.
YML Clear Plastic Pink Dwarf Hamster Cage. This basic starter dwarf hamster kit cage comes with a white wire top and a hot pink base.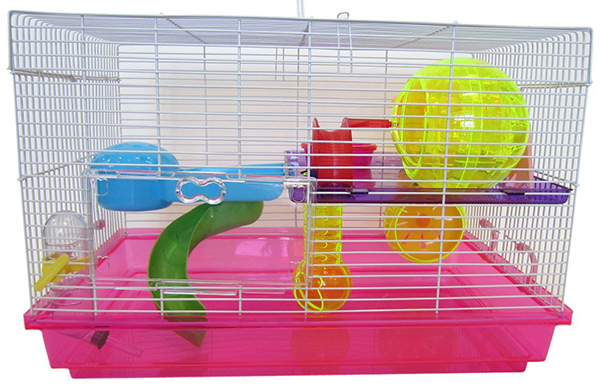 The dimensions are 12H x 18L x 12W inches. The cage bar spacing is .375 inches (9.52 mm).
It comes with lots of accessories including a food bowl, a water bottle, a cute little exercise ball, a tunnel tube and an exercise wheel.
Most accessories are translucent so you can enjoy watching your hamster play.
Rotastak pink hamster cages
The Rotastak company launched in the U.K., and has slowly become a trusted name in hamster housing in the United States as well.
Rotastak has a number of cool, unique and really fun hamster cages, including an entire line of pink hamster cages! We hope you will really enjoy these two pink hamster cages!
Armitages Pet Products Rotastak Pink Fun Palace Hamster Cage. This jaw-dropping Rotastak pink palace hamster cage has so much going on you may need a moment or two to take it all in.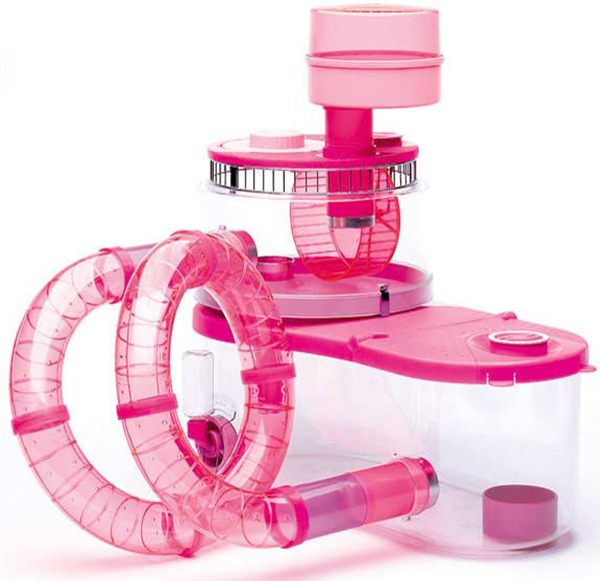 There is a wide base area that is translucent so you can see your hamsters scurrying about within. A tunnel tube system allows your hamster to access the topside exercise wheel and skyscraper lookout pod.
The accessories also include a food bowl and a water bottle. The manufacturer does not provide exact dimensions but hamster owners say it is a suitable size to house one or two dwarf hamsters.
Armitages Pet Products Rotastak Dreamland Hamster Cage. This amazing pink Rotastak Dreamland hamster cage isn't so much a cage as it is an entire activity center all rolled into one unit.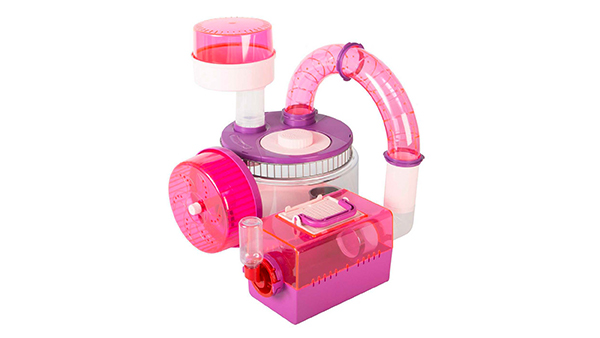 It will also work with any Rotastak accessories, so you can build it out further if you like. There are two distinct bases, one of which is a separate hiding area. The other is the main base which extends out to an exterior pink exercise wheel.
A tunnel tube system also connects the two base areas together. It also includes a food bowl and a water bottle. The dimensions are 16H x 15L x 14.17W inches.
Pink palace hamster cage
These pink palace hamster cage options can easily house one or several dwarf hamsters together because there is so much play space offered on multiple levels!
Petzilla Hamster Cage Pink Skylight. As far as a pink palace hamster cage goes, this roomy pink hamster cage comes in a two-tier and three-tier pink model depending on how many small hamsters you have housed together.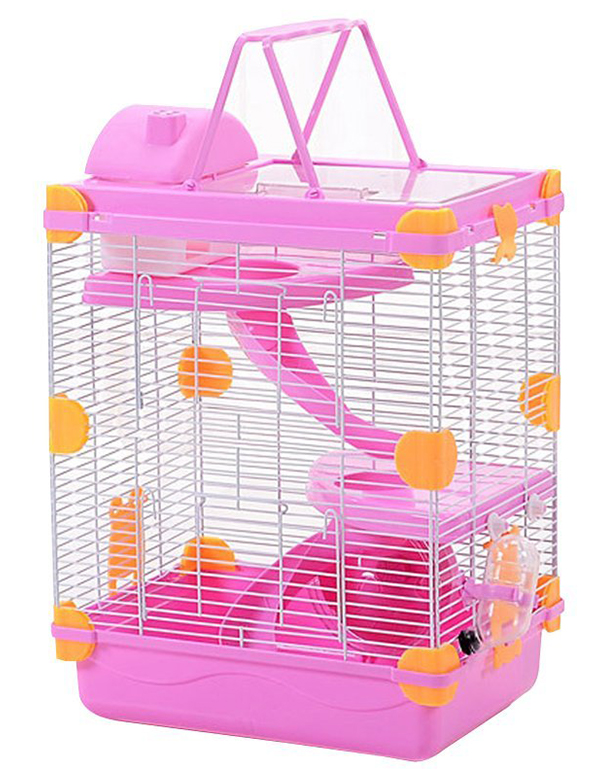 Both the two-tier and three-tier models have the same basic dimensions (except for height). The two-tier measurements are 12L x 9.5W x 12H and the three-tier measurements are 12L x 9.5W x 18H.
The accessories include a water bottle, a food bowl, a play slide, a top lookout skylight and an exercise wheel.
Prevue Hendryx Pet Products Three Story Hamster/Gerbil Cage. Standing a whopping three stories high, this palatial pink hamster cage might appear roomy enough for even a Syrian hamster to enjoy.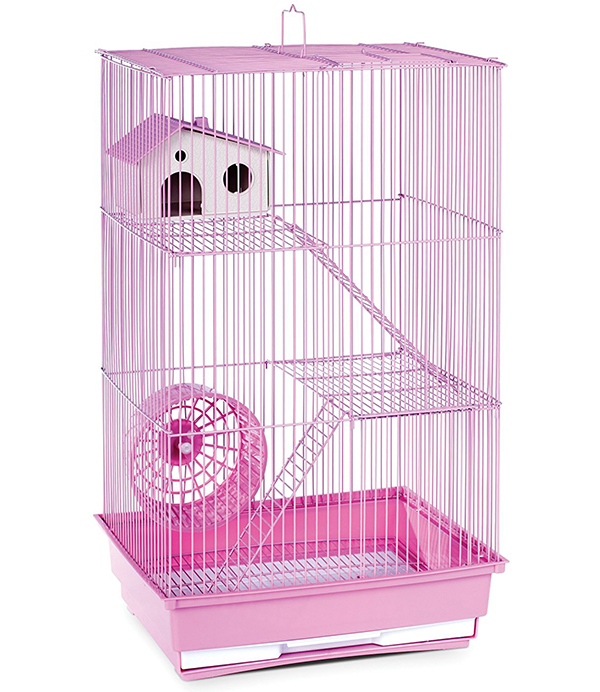 But the truth is, cage space should always be evaluated based on available floor square footage, since hamsters really need ample floor space for running, exercising and play.
From that perspective, with 1.13 square feet of available floor space, this multi-story cage is a much better fit for petite dwarf hamsters housed together. The dimensions are 14.5L X 11.25W X 22H inches.
Accessories include an exercise wheel, two resting or feeding platforms and two ladders. The cage bar spacing is 0.31 inches (7.87 mm).
Pink Crittertail hamster cage
Any hamster will be lucky indeed to live in a Crittertrail pink hamster cage! They are well made, unique and full of fun "extras" your fur baby is sure to love!
This section includes one particular extra we found especially worthy of mention – an absolutely adorable petite pink hamster "Cruiser" that offers your hamster a fun place to play while you are cleaning her cage out (for more on how to properly clean a hamster cage, please visit this informative article).
After all, every hamster princess should have a pink ride to match her pretty pink castle!
Kaytee Super Pet Crittertrail Pink One Level Habitat. This pink Crittertrail hamster cage is so darling and feminine it is hard not to want one for yourself!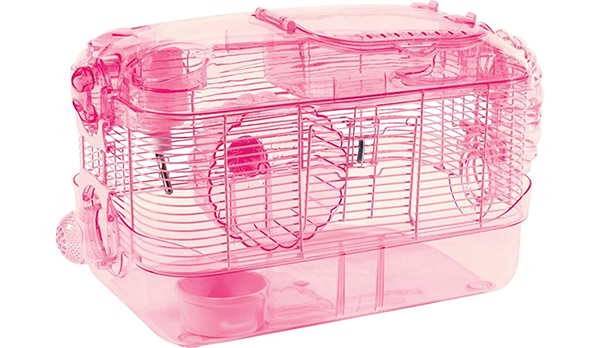 It comes with a very affordable price tag and loads of extras, including a water bottle, a food dish, a petting zone that detaches, and a cute little pink exercise wheel.
The bar spacing is one-quarter inch (6.35 mm), making it safe for even petite hamsters. The cage dimensions are 20L x 11H x 10.5W inches.
Kaytee CritterTrail Dazzle Turn-About Habitat. This truly remarkable pink Crittertrail hamster cage will definitely generate a second look.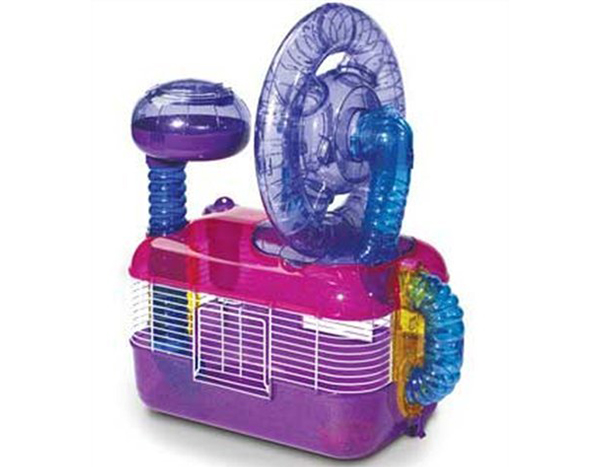 Here, it earns the "dazzle" in its name honestly for the exterior network of lookout tower plus trails and exercise wheel. A water bottle and food bowl are also included.
The cage bar spacing is 0.23 inches (6 mm), which means it can house even the teensiest hamster breeds safely. The cage dimensions are 10.5W x 19.8L x 22.2H inches.
Interpet Critter Cruiser Interactive Exercise Car Toy. While not technically a pink Crittertrail hamster cage, if you need a fun and secure small matching pink space for your hamster to wait while you clean her Crittertrail cage, this pink Critter Cruiser car toy is the lady hamster equivalent of a Barbie convertible car!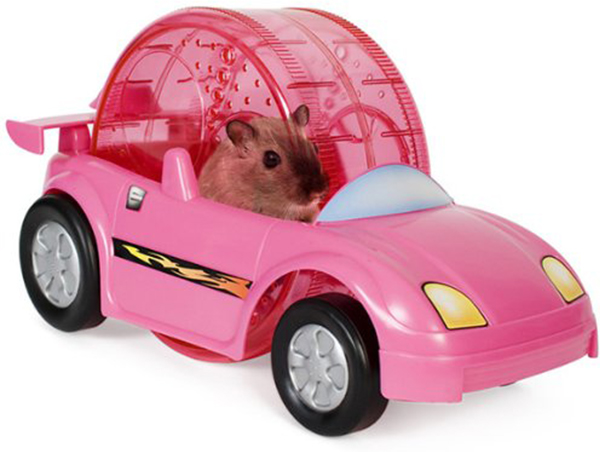 It features an actual hot pink car with wheels, but instead of the usual seats and steering wheel, there is a big hot pink hamster exercise wheel smack dab in the center of the car. It features three different modes, one of which will cause the car to actually move across the floor.
At 9.06H x 11.87W, hamster owners say it is roomy enough even for a Syrian hamster to fit inside to enjoy some temporary fun play activity.
Pink princess hamster cage
These two pink hamster cages are true princess cages in earnest. From sky-high views to basement hides, with bells and whistles galore, your little gal won't ever get bored in these beautiful pink princess hamster cages!
Penn-Plax Princess Castle Home. This petite pink princess hamster cage is truly fit for a lady dwarf or petite hamster breed.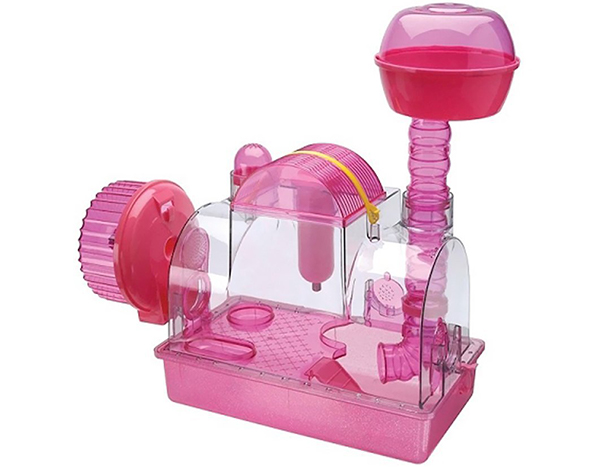 It comes with a variety of accessories, including an exterior exercise wheel, a skyscraper lookout pod, tunnel tubes, a water bottle and food dish and even a basement hiding area with a ladder. The dimensions are 11H x 14L x 8W inches.
Venture Land Exploration Pink Hamster Cage. This soft pastel hamster cage pink has sufficient bells and whistles to leave your eyes popping – and your hamster's too!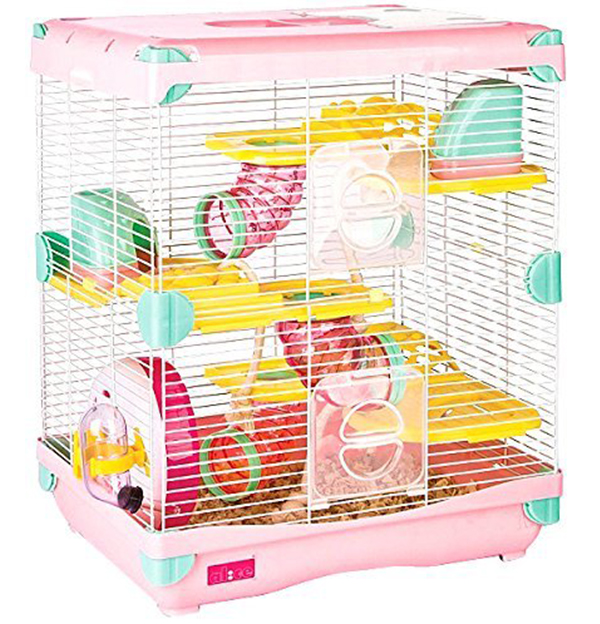 With just under one square foot of available floor space and multiple play and exercise options above the ground story, this is a perfect cage for tiny hamster breeds.
Accessories include a silent exercise wheel, a rope climbing toy, a tube tunnel system, multiple platforms and enclosed hides and a food bowl and water bottle. The dimensions are 14.2L x 10.6W x 16.7H inches.
Pink Syrian hamster cages
Syrian hamsters, of course, are the "super-sized" version of the pet hamster. Outweighing all other species rather significantly, these popular pet hamsters need more floor space than their dwarf cousins to be healthy and happy (for more detailed information on the topic of cage type and space, please visit this informative article).
These two pink Syrian hamster cages will do nicely space-wise for the lady Syrian hamster in your life!
Homey Pet 3 Tiers Pink Hamster Cage. This cool pink hamster cage offers a full 3.07 square feet of floor space, which is plenty large enough for even a Syrian hamster to get sufficient exercise.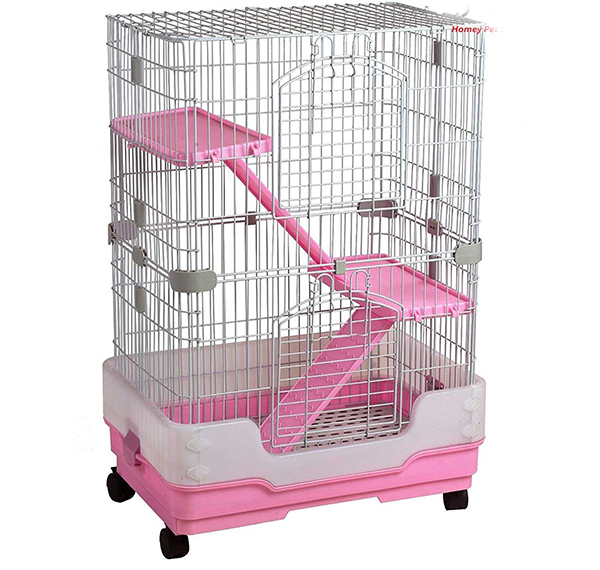 Accessories include two sleeping or feeding platforms, lockable rolling casters (wheels), a pull out tray for easy cleaning, and a base guard to keep litter inside.
The dimensions are 26L x 17W x 38H and the bar spacing is 0.8 inches (20.32 mm).
Rosewood Pet Pico XL Pink & Purple Hamster Cage. This cage is especially designed for the larger Syrian hamster.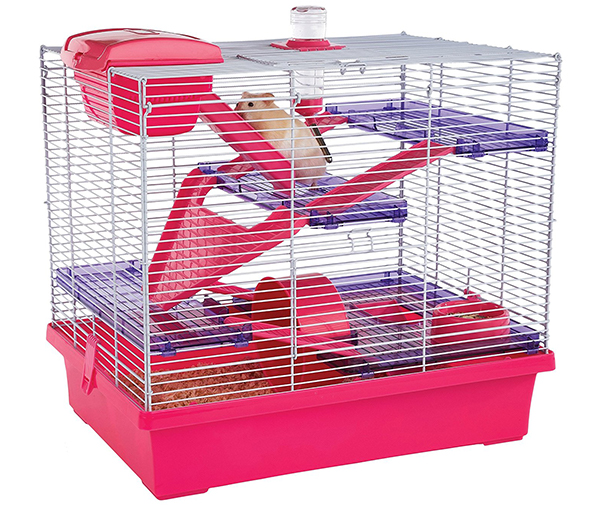 This cage has some uniquely fun features, include a top-side hide box for resting and nesting. The base is hot pink and the tunnel and platform system is hot pink with alternating purple colors.
It also features a floor-level exercise wheel, a system of slides and tunnels, and a food bowl and water bottle. With nearly two square feet of available floor space, the dimensions of 14.2W x 19.7L x 17.7H inches will suit a single Syrian hamster of average size.
Pink dwarf hamster cages
What is cuter than a teensy lady dwarf hamster? A teensy dwarf lady hamster in her own palatial pink hamster cage, of course!
Dwarf hamsters actually represent the majority of hamster species. And while the larger Syrian hamster is still the best-known and thus most popular pet hamster, dwarf hamsters are catching up fast (to learn more about the main pet hamster breeds, we highly recommend this informative article).
One perk of choosing a dwarf hamster is that a dwarf hamster cage won't take up as much real estate in your home. This is especially wonderful if you live in close quarters already.
So these petite pink hamster cage options might just be the perfect fit for your casa and your cute fur baby!
Ferplast Pink Hamster Cage. With 1.19 square feet of floor space, this cute pink Ferplast hamster cage is a good fit for small dwarf hamster species to enjoy.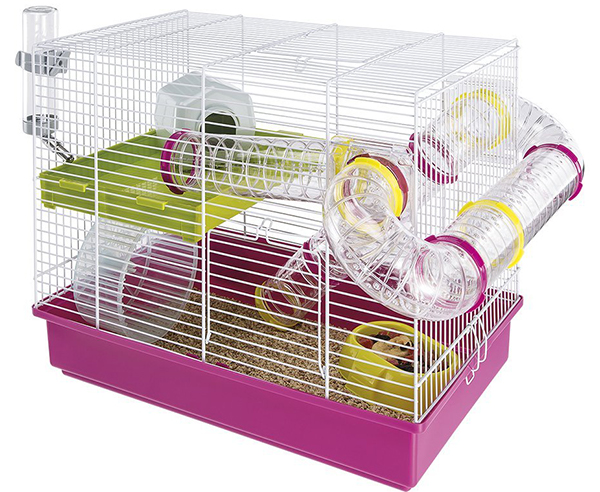 The accessories include an exercise wheel, tunnel tubes, a water bowl, a food bowl, and an enclosed nest for hiding.
The dimensions are 11.61 x 18.11 x 14.76 inches. The cage bar spacing isn't specified, but hamster owners say it is suitable for safe dwarf hamster housing.
Habitrail Ovo Home for Hamsters. There isn't anything else out there quite like this quaint and quirky oval ("Ovo" = "egg-shaped") pink and purple hamster home!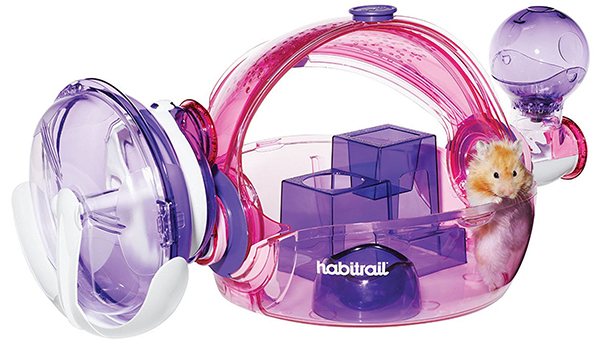 The rounded edges of this home are specially designed to minimize the kind of destructive chewing and gnawing that can sometimes cause hamsters to escape from plastic hamster habitats.
It features a network of tunnels, an exterior exercise wheel, an exterior lookout pod, a food dish, a water bottle, and a cool retractable roof that gives you easy access to your pet for cleaning and play time. The dimensions are 11H x 22L x 10W inches.
Best pink hamster cage
We hope you have enjoyed this curated list of precious pink hamster cage options for your sweet fur lady!
It probably won't be easy to choose between them, but if you run into trouble, try making a short list of your five favorites, and then narrow it down to three and then two favorites, and then you can make your final selection from there.
When you do decide which pink princess hamster cage is your number one pick, please post your choice here and let us know why!
And if you find another pink hamster cage that isn't on this list here that you and your hamster fall in love with, we would love to know about it too. Who knows – we may even feature that pink hamster cage in an upcoming article!
Resources and Further Reading
Kuhnen, G., "The effect of cage size and enrichment on core temperature and febrile response of the golden hamster," Sage Journals, 1999.
Reebs, S.G., et al, "Effect of Cage Enrichment on the Daily Use of Running Wheels by Syrian Hamsters," Chronobiology International: The Journal of Biological and Medical Rhythm Research, 2009.
Owers, R., "Managing Bar Chewers," The National Hamster Council, 2014.
Vinerean, H.R., DVM, DACLAM, "Hamsters," Florida International University, 2017.