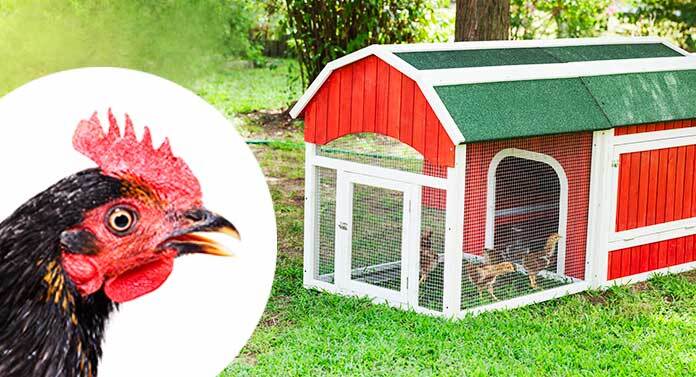 The best chicken coop will be weather-resistant, easy to clean, and big enough for all of your chickens.
Ideally, it will have a warm, cosy nesting box, roosting bars, and a spacious run for exercise. Although, you can also buy these elements separately if needed.
When choosing the best chicken coop, pick something that is secure and will protect your hens against predators.
This includes any that could dig underneath the run.
All of these products were carefully and independently selected by the Squeaks and Nibbles team. If you decide to make a purchase from one of the links marked by an asterisk, we may earn a small commission on that sale. This is at no extra cost to you.
Top 5 Best Chicken Coops
You can use these links to jump straight to our favorite chicken coop options.
As well as our 5 favorite chicken coops, we will also look at the key things a chicken coop needs to have, and some great accessories you can add.
So, to start things off, let's find out about the best features a chicken coop needs for happy hens.
Features of the Best Chicken Coop
The best chicken coop options keep our chicks safe and comfortable, but they may also offer some extra benefits.
Let's take a quick look at the added extras some chicken coops may provide.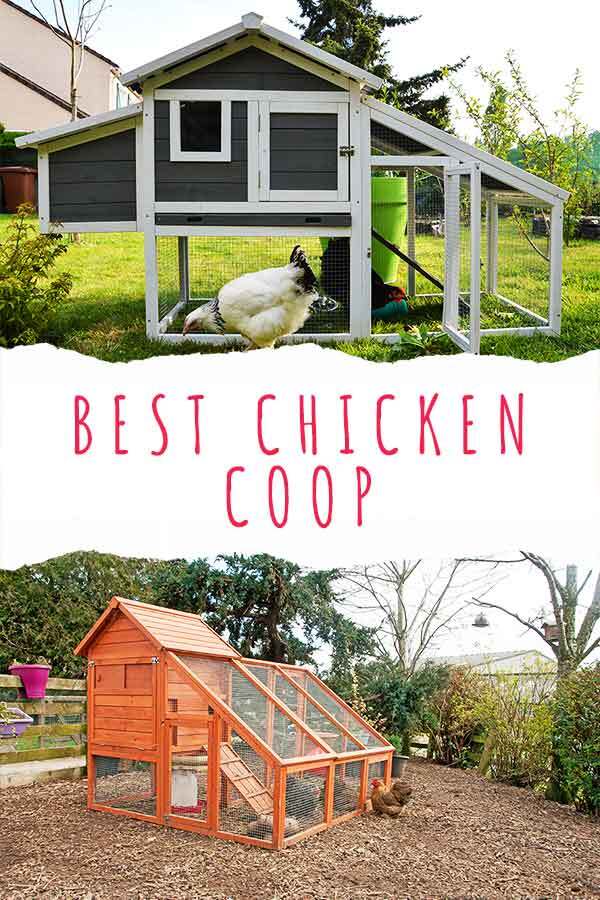 Chicken Run
Some coops come with runs attached so your chickens have a safely enclosed area to exercise and forage.
Chicken runs are usually fully enclosed, with mesh covering both the roof and floor. This lowers the risk of successful predator attacks – from those flying above and those who could dig underneath the run.
Some runs are big enough for you to walk around inside with your birds.
But, not every chicken coop comes with a run attached. If yours doesn't, you will be able to buy one separately.
A good sized run gives your chickens somewhere safe to exercise without giving them free reign of your entire yard.
Nesting Box
A nesting box provides a safe, enclosed area for your chickens to lay their eggs.
You'll have to be able to open it easily to get the eggs, but also be able to secure it safely when closed to protect your hens.
And it will need to be spacious, so you can put down hay, wood shavings, or whatever your preferred nesting material is.
Ease of Cleaning
The best chicken coops will be easy to clean. Some have removable floors, so you can simply pull the floor out and refresh the coop when it's not being used by your hens.
Chicken droppings will need to be removed regularly. This can be quite an arduous task if your coop hasn't been designed with cleaning in mind.
Ventilation
Chicken coops are designed to keep your chickens safe from predators. But, this shouldn't come at the expense of good ventilation.
Your chickens will need a coop that has good ventilation to let in fresh air.
The best chicken coops will have adjustable ventilation so you can adapt to the current weather conditions.
Roosts
The best chicken coops have roosts for your chickens to use.
Many hens like to sleep on roosting perches. So, no coop should be without some!
Make sure there is anough space on the roosts for every single hen in your coop.
Plenty of Space
Chicken coops must offer enough space for all of the chickens you have.
There should also be enough space for food and water facilities, roosting perches, and any extra accessories you choose to include, such as heating pads.
Some chicken coops will be big enough for you to walk into as well. But, others will not offer the headroom for this.
The RSPCA states that chickens need enough space to "exercise, stretch their wings, and carry out normal behaviors".
They recommend that 12 square meters is usually enough for 30 birds. But, it will vary depending on the size and type of chickens you have, as well as your coop layout and facilities.
In general, bigger is better.
Can You Make Your Own Chicken Coop?
Chickens are quite resilient and adaptable birds. So, for many people, the best chicken coop is a completely unique one that they've made themselves.
Ideally, a DIY chicken coop will have all of the features we've listed above.
But, ultimately, the most important considerations should be space, warmth, and safety for your chickens.
Finding Inspiration
People get really creative when making their own chicken coops. Search for examples online to get inspiration!
You might choose to convert an old shed or playhouse, to repurpose home furniture, or even upcycle an old car body! Let your imagination run wild.
But, make sure no potential predators can get in any part of the coop. There must be plenty of space for your chickens and every facility they need, like perches, food, and water.
A DIY coop must also have enclosed, safe nesting areas, and be warm enough for chickens in all weather.
Some people also choose to convert large hutches for other pets into chicken coops. A large rabbit hutch is ideal for this.
Top 5 Best Chicken Coop Options
Now, we've seen some features that make a great chicken coop. You might struggle to find one with absolutely everything you need straight away.
But, luckily, you can get a lot of these features as added extras.
We've rounded up some of the most popular chicken coops available online, to make your quest easier.
SnapLock Formex Large Chicken Coop
The SnapLock Formex Large Chicken Coop* is a great choice for anyone who has fewer than 12 hens.
It has three roosting perches at various levels for your chickens to enjoy, and is easily set up with no tools needed.
This chicken coop is weather and chemical resistant. It also has adjustable ventilation to suit any type of weather.
The litter tray is removable, so you'll easily be able to clear up any droppings left.
If you choose this chicken coop, you'll need to let your chickens have free run of the yard, or buy them a run to exercise in.
Advantek Stilt House Farmhouse Red
The Advantek Stilt House in Farmhouse Red* is another great choice for a chicken coop.
This isn't suitable for a large number of chickens. But it provides a great nesting box and small run for a couple of hens.
This stylish coop has an elevated nesting box, with space underneath for your chickens to move around.
The nesting box has a pull out tray so you can easily clean it when your chickens are outside. But, it also has a door that will allow you easy access to the eggs inside.
Like the last option, you will want to buy some added accessories for this coop. If your chickens don't have free range of the yard, you might want to invest in a bigger run, where you can include perches.
New Age Pet EcoFlex Fontana Chicken Barn
The New Age Pet EcoFlex Fontana Chicken Barn* is another option if you don't have many chickens.
For the environmentally conscious, this is a great choice. It is made from a recycled wood and polymer blend that will still keep your chickens safe and comfortable.
It has ventilation space at the back, and is resistant to moisture, warping, cracking, and splitting.
This product has a 10 year warranty. Even though it doesn't come with an attached run, you can buy a mesh wire run from the same company.
There are two roosting perches inside this small coop for your hens, as well as a nesting space off to the side.
The roof of the nesting box can be easily removed when it is time to collect your eggs.
Pawhut Wooden Backyard Chicken Coop
The PawHut Wooden Backyard Chicken Hut* is another one of our favorite chicken coop ideas.
This is one of the larger options on our list. It has an elevated nesting area and coop on top of a large mesh run.
The nesting box and coop both have slide-out floors to easily remove old nesting material and droppings.
The roof of the nesting box can also be removed to access eggs, and locked to keep hens safe.
There's a door and window so you can check on your chickens whilst they're in the coop. But, all entrances are covered in mesh wire, so no unwanted visitors can get to your birds.
Zoovilla Country Style Chicken Coop
The Zoovilla Country Style Chicken Coop* is our final favorite chicken coop.
This option will hold up to 6 chickens. It has two nesting boxes, at either end of the coop, and two roosting perches in the main compartment.
The nesting boxes have lockable roofs, to keep your hens safe. But, they are easy to open by humans to remove the eggs when necessary.
Underneath the coop and nesting boxes, there is a run enclosed with wire mesh.
You may choose to extend this with an additional run, or just let your chickens have some time in the yard each day.
Best Chicken Coop Accessories
As well as the main chicken coop, there are plenty of added extras you can get to treat your hens.
Here are some of our favorites.
Vehomy Chicken Ladder Swing
The Vehomy Chicken Ladder Swing* is a fun accessory that will keep all of your chickens entertained.
It's a natural, non-toxic ladder swing that chickens will love to jump on as a perch.
It has a suspension hook design and hangs from long chains. You can adjust the height so your hens won't struggle to get on and off.
On the chains, you'll find colorful wooden balls and bells. So, your chicken has plenty it can interact with if it's not interested in just standing and gently swinging.
Automatic Chicken Coop Door
The Run Chicken Model Automatic Coop Door* is popular with everyone that loves fancy tech.
It is light-sensing, or can be set to a timer to allow your chickens out in the morning.
This door is easy to assemble, and closes with motor power at the absolute lowest setting, so anything blocking the door will not get hurt.
Although, if you're worried about the door closing whilst you aren't there, just stick to using this automatic door to let your chickens out of the coop.
Vehomy Chicken Xylophone
The Vehomy Chicken Xylophone toy* is a great accessory to brighten up your chicken's run.
It is a colorful, hanging toy that chickens can peck to create beautiful tunes!
Your hens will love interacting with the colors and sounds on this toy. It's a great way to prevent any potential boredom.
And, you'll be able to hear exactly when your chickens are using it!
Cosy Products Chicken Coop Heater
The Cosy Products Chicken Coop Heater* is a great product for chickens, especially throughout the winter.
It is designed to be safe for chickens, and reaches a maximum of 200 watts.
There are no bulbs or lamps that you'll need to replace or fix. It's simply ready to go when it arrives.
You can lean it against a wall in your coop, or use it free-standing.
Chicken Pellet Feeder
A final great accessory that all chicken-owners will want to invest in is a Chicken Pellet Feeder*.
This is suitable for adult hens, but not chicks. Smaller ones can get stuck in the food port.
This product keeps pellets enclosed and safe from rain and other weather. So, it can be placed anywhere in your coop or run.
It is also very hard for chickens to spill this food, so nothing will get wasted.
You may want to sit it on top of something so your hen can reach her head in the ports easily.
Best Chicken Coop Summary
Have you got one of the chicken coops on our list at home? Or did you choose to make your own coop from scratch?
We would love to hear what you decided on, especially if you designed your own!
What accessories do your chickens love?
Affiliate link disclosure: Links in this article marked with an * are affiliate links, and we may receive a small commission if you purchase these products. However, we selected them for inclusion independently, and all of the views expressed in this article are our own.
Readers Also Liked
References and Resources