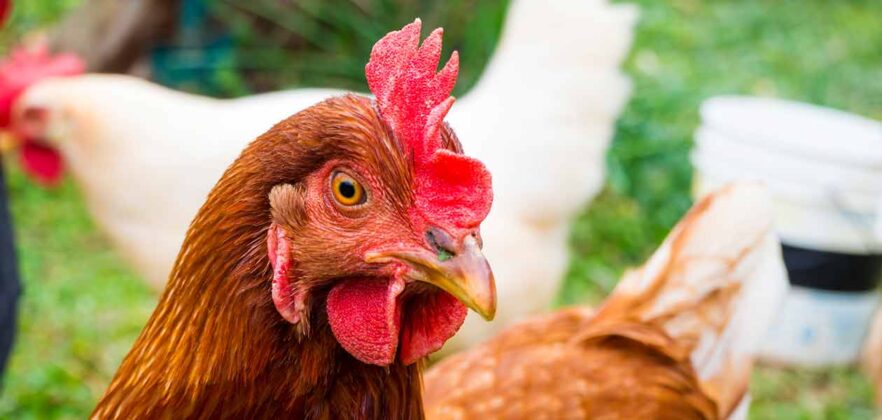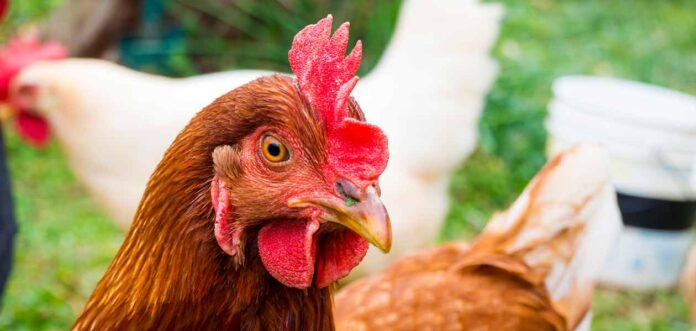 Choosing Rhode Island Red chicken names for a whole flock is no mean feat!
In fact, some people are pretty skeptical about naming backyard chickens at all.
But these days, lots of chicken keepers can afford to be a bit more sentimental about their birds, and so choosing the best monikers for their Rhode Island Reds is a matter of pride.
If you're stuck for inspiration, look no further – we've got a huge directory of name suggestions to pick from!
Top 50 Rhode Island Red Chicken Names
To get the ball rolling, here are our absolutely favorite Rhode Island Red names for 2020:
Ada
Beryl
Martha
Sadie
Lucy
Squawk
Hank
Biff
Hester
Kip
Eggbert
Fox
Ingot
Tallulah
Chip
Kirk
Rhys
Robyn
Colin
Charlotte
Olivia
Amelia
Jack
Harris
Archie
Harold
Norman
Leslie
Horace
Clifford
Doris
Ethel
Hilda
Phyllis
Edna
Marianne
Gladstone
Indie
Jolly
Zippy
Ed
Jupiter
Juno
Lydia
Athena
Scott
Reuben
Cameron
Arden
Jules
Rhode Island Red Hen Names
Many backyard chicken flocks are 100% female. After all, only hen lays eggs!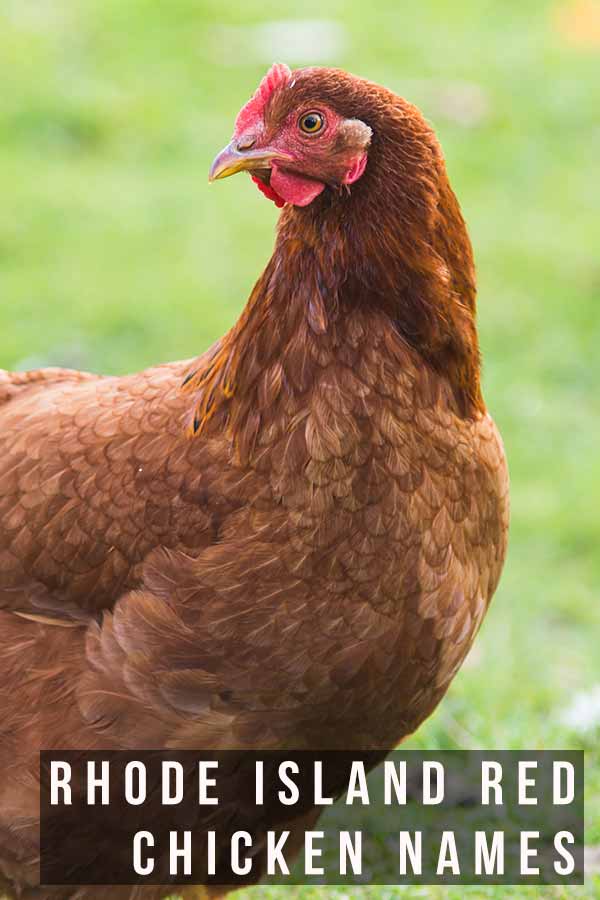 And here are some classy and feminine names to celebrate your girls:
Alice
Betty
Sylvie
Ophelia
Aurelia
Audrey
Penelope
Bunty
Evangeline
Josephine
Beatrice
Darling
Katie
Megan
Maxima
Camilla
Zara
Betty
Lilac
Biba
Coco
Rosie
Rita
Reece
Rachel
Valentina
Valeria
Sadie
Lucy
Etta
Rhode Island Red Rooster Names
Of course, some people do keep roosters too.
Hens don't need a rooster around in order to produce eggs. And they won't lay any more or less if you have one.
But if you have a large flock, and you'd like to hatch your own chicks, then you'll need a rooster to fertilize your hen's eggs.
One rooster is enough for this though – more than that and they're likely to fight.
So we don't know how you're going to choose just one perfect rooster name from all the possibilities!
But here's a list of ideas to think about:
Rocky
Cosmo
Rudy
Archie
Leon
Jake
Ollie
Lucas
Wyatt
Hudson
Ryder
Maverick
Eric
Rhett
Brian
Colin
Titan
Romeo
Adonis
Remy
Rocco
Roy
Rylan
Jasper
Cassius
Reginald
Captain
James Bond
Casanova
And if that's not enough, we've got 300 more in this article.
Cool Rhode Island Red Chicken Names
Chickens are far from boring.
Each one has their own individual personality, made up of quirks, preferences, mannerisms and idiosyncrasies.
Watching your birds and getting to know them is as much part of the pleasure of owning, them as eating their eggs.
And if you've got a Rhode Island Red who stands out from the crowd, then they deserve a notable name too.
Like one of these:
Thunder
Ace
Chance
Gunner
Odin
Julius
Sterling
Phoenix
Cyrus
Buzz
Enzo
Nova
Stella
Athena
Rogue
Nakia
Okoye
Shuri
Valkyrie
Sif
Nebula
Hela
Thor
Loki
Clint
Bucky
Admiral
Storm
Slayer
Diablo
Rhode Island Red Chicken Names Inspired By Their Color
Rhode Island Red chickens aren't literally bright red (except for their comb and wattle, which really is!)
Their plumage varies from vibrant auburn, through chestnut browns, and all the way to rich dark espresso shades.
All of these names take their inspiration from those tones, or the name 'red'!
Cherry
Cerise
Carmine
Vermillion
Scarlett
Rusty
Russet
Ruby
Garnet
Merlot
Cardinal
Crimson
Radish
Radicchio
Beet
Velvet
Chilli
Strawberry
Rose
Maple
Lobster
Elmo
Chestnut
Cinnamon
Pecan
Ginger
Penny
Copper
Hickory
Tulip
Rhode Island Names For Rhode Island Red Chickens
Rhode Island Reds were developed in Rhode Island and Massachusetts.
These birds have a lot of heritage. In fact an official breed standard for them has existed since 1898!
All the names in this list pay homage to their home state, Rhode Island.
They're drawn from famous places, landmarks, and people who lived there.
Providence
Warwick
Sox
Bruin
Ellery
Gilbert (Stuart)
Arkwright
Barrington
Cranston
Lincoln
Richmond
Debra (Messing)
Mena (Suvari)
Seth (McFarlane)
Dicky (Barrett)
Viola (Davis)
Mat (Franco)
Jhumpa (Lahiri)
Elizabeth (Chace)
Jerimoth
Durfee
Watchaug
Worden
Wallum
Olney
Blue Bug
Hope
Ocean
Vanderbilt
Names For Baby Rhode Island Chicks
It goes without saying that Rhode Island Red chicks are incredibly cute.
All chicks are!
Of course, they have to grow up one day. But if you like ultra-cute names, why not give one your your fluffy chick anyway?
After all, they're not going to have an opinion about it.
These are some of our most cute and indulgent Rhode Island Red chick names:
Cookie
Cuddles
Cocoa
Cheesecake
Fuzzling
Splodge
Chickadee
Bess
Bert
Aurora
Eric
Downy
Clover
Buttercup
Westley
Fudge
Toffee
Oreo
Tootsy
Woodstock
Tweety
Donald
Daffy
Wilbur
Plucky
Riddle
Sprout
Raisin
Rolf
Roxie
Co-ordinating Rhode Island Red Chicken Names For A Whole Flock!
If you're setting up a flock from scratch, you need a lot of names!
A good way to beat the pressure is to choose a theme with lots of possibilities, such as your favorite musicians, candy bars, etc.
Here are a few suggestions to get you going, for flocks of all sizes:
For a large flock, how about naming them for the rivers in Rhode Island?
Blackstone
Pawcatuck
Kickamuit
Abbott
Runnins
Chockalog
Seven Mile
Keach
Base
Tinkerville
Carson
Bungay
Sucker
Mary Brown
Ashaway
Quanduck
Croff
Salisbury
Cady
And for a medium flock, what about using the names of all the constellations which look like birds?
Apus
Aquila
Columba
Corvus
Cygnus
Grus
Pavo
Tucana
And for a small flock, what about a tribute to the named owls of the Harry Potterverse?
Hedwig
Errol
Hermes
Pigwidgeon
Brodwin
Choosing Rhode Island Red Chicken Names
I hope this article has given you some inspiration, or fired up your creativity to choose your own Rhode Island Red names!
You can really run wild with chicken names – you won't need to call them in the park for example, so there's no need to worry about feeling embarrassed if they're a bit 'out there'.
If you'd still like some more ideas, we've got another compilation of chicken names for all breeds right here.
You might be interested in our duck name ideas too!
Have fun with it, and let us know in the comments box which names you choose!
Readers Also Liked
Can Chickens Eat Asparagus?