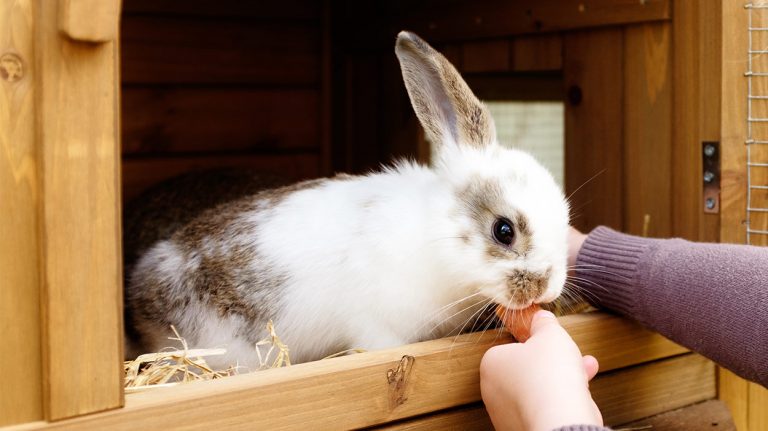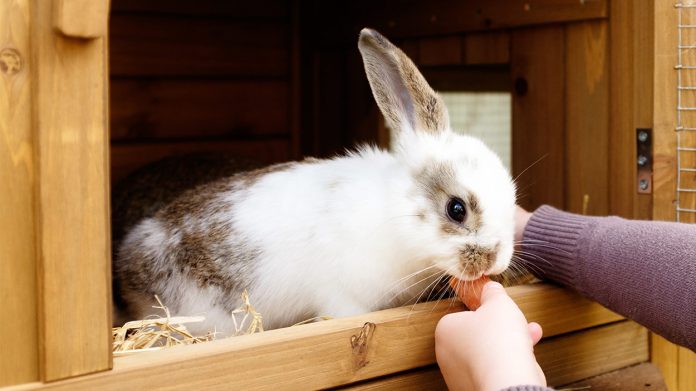 What's the best rabbit cage for your new bunny? Let's take a look!
Rabbits are extremely popular pets, especially with families.
And it's easy to see why! They're cute and fluffy, friendly and sociable, and they can be taught simple commands and tricks.
What's not to like?
Some bunnies live indoors as house rabbits, while other, hardier breeds are happiest when kept outside.
Some lucky bunnies get to enjoy the best of both worlds, living indoors when the weather is cold and wet, and living outside during the summer months.
However, whether your rabbit lives inside or outside, he'll need a suitable bunny cage or hutch.
You can check out our helpful guide to the best rabbit cage for house rabbits at this link!
But what about keeping your rabbit outside?
In this article, we'll look at a selection of outdoor rabbit cages.
We'll also tell you everything the new rabbit owner needs to know about keeping bunnies outside.
All of these products were carefully and independently selected by The Squeaks and Nibbles team. If you decide to make a purchase from one of the links marked by an asterisk, we may earn a small commission on that sale. This is at no extra cost to you.
What are the pros and cons of keeping your rabbit outside?
Rabbits cope much better than we do in moderately cool temperatures and are generally happier when their environment is not too warm.
Body temperature regulation is how bunnies burn off excess calories. If your rabbit is kept in an environment where he is always too warm, he may gain weight and develop associated health problems.
Outdoor rabbits who have access to a run get to exercise regularly and enjoy nibbling on fresh grass. However, you must be careful that your bunnies can't escape, and be sure that any toxic plants and flowers are well out of reach.
Although plenty of fresh air is good for your rabbit, living outside can expose them to diseases such as myxomatosis and viral hemorrhagic disease (VHD). If you live in the U.K., you can have your bunny vaccinated against both these conditions.
Unfortunately, these vaccines are not yet legal in the U.S., but The House Rabbit's Society website has a list of regions in the U.S. where myxomatosis is known to be present. Check the list regularly and keep your bunny safely indoors if you live in a high risk area.
In the summer months, flystrike is also a risk to rabbits. Rabbits kept outside are more exposed to the unwanted attentions of insects, so be sure to keep your bunny's backside clean when flies are active!
There is a danger that crafty predators such as foxes, cats, and even hawks could get into your outside rabbit cage and attack your pet. Prevent this by choosing a sturdy, predator-proof bunny cage like the ones we'll talk about later in this article.
What breeds are most suitable as outdoor rabbits?
Certain breeds of rabbits are very well-suited to living outdoors, including Belgian Hares, the English Butterfly, Britannia Petites, and Blanc de Hotots.
Some, however, may not do as well outside. So do your research before you decide to keep a bunny outdoors!
Also, before you decide to make your bunny an outside rabbit, make sure you can protect your pet and offer it everything it needs to live a happy and healthy life.
Size matters for the best rabbit cages
Many new rabbit owners assume that because rabbits are small, they don't need much space. This is wrong!
In the wild, rabbits spend most of their day engaged in some form of activity. When not lazing in the sun or digging, they cover an amazing amount of ground simply foraging.
Rabbits also love to run, jump, and play, and they need a safe, spacious environment that allows them to do all these things.
If you choose a traditional rabbit cage or hutch for your bunnies, it should be large enough for your rabbits to take at least four hops and to stretch fully upright.
Unless you have a giant breed of rabbit, in which case you'll need a proportionately bigger hutch, a cage of 6' long x 2' high x 2' wide should be sufficient to accommodate most breeds. However, a large rabbit cage is always better than a smaller one, regardless of the breed and size of your bunny.
Your rabbits will also benefit from access to an outside run, which should measure at least 8' long x 6' wide x 3' high.
Remember that all rabbits are naturally gregarious, and if you have more than one bunny, you'll need an even bigger hutch to avoid overcrowding.
Alternatively, you could consider using stackable rabbit cages as a way of accommodating all your pets in spacious comfort.
Run, rabbit, run!
Your bunny's hutch should be his shelter, not his only home. Rabbits are very active creatures and can suffer bone diseases if they are not able to exercise.
It's vital that he has a spacious run to play in, as well as a nice, roomy cage.
As crepuscular animals, rabbits are mostly active at dawn and dusk. The best rabbit cages therefore have a run that is attached to his hutch so that he can go in and out at will, as dictated by his instinctual body clock.
Safety and security
Your rabbit's hutch and run must be secure in order to keep him in and predators out!
Be wary of buying cheap rabbit cages. These can sometimes be made from inferior materials, which could harm your pet or allow him to escape!
Choose a cage with welded, heavy-gauge mesh and bolt fastenings, rather than catches. If you're planning on building a homemade rabbit cage, don't use chicken wire – it's far too flimsy and rabbits can chew through it!
The size of the holes in the rabbit cage wire that you choose is very important. Anything over 25 mm in diameter will allow small predators such as weasels and polecats to get into your rabbit's cage.
Holes that are too large could also cause injury to your bunny if he gets his head stuck. The perfect mesh size is 13 mm.
For added security, use a double layer of mesh secured to the inside of the cage or run with sturdy staples.
Location, location, location!
Before starting your search for outdoor rabbit cages, give some thought to where you are going to locate your pet's new home.
As we mentioned previously, rabbits do not tolerate extreme heat very well so be sure to place your bunny cage out of direct sunlight. You should also buy a tarpaulin run cover to shelter your rabbits from the rain.
Your rabbit cage should also be elevated from the ground in order to prevent damp and cold from seeping in. A raised position also prevents predators such as foxes and cats from eyeballing your rabbits and stressing them out!
Allowing your rabbits to exercise on a lawn is perfect, as this is great for their digestive systems and for their teeth.
However, bunnies do have a tendency to dig their way out. So, fit a wire mesh "skirt" around the edge of the run or set concrete slabs around its perimeter to prevent tunneling.
Poisonous chemicals
Rabbits have a natural urge to chew, especially on the wood of their hutch.
Commercially produced outside cages and runs should be safe. However, they will require regular maintenance to keep them weatherproof.
Be sure to choose a non-toxic, pet-safe paint or wood preservative when treating or repairing your rabbit cages.
So, now we've covered what you need to know about keeping your rabbits outside, let's move on to check out some good outdoor bunny cages!
You can find all these products on Amazon.com via the links that we've helpfully provided in the product descriptions.
Dwarf rabbit cages
If you have dwarf rabbits, you can get away with slightly smaller cage and run sizes. Here are two nice ideas, both with different features.
The Pawhut triangular rabbit cage* has a lightweight frame that makes it easy to move around, while also being robust and secure.
The bunny cage features a run and sleeping area, allowing your rabbits freedom of choice.
The cage has two easy-to-open doors, one to the outside run and one to the inner sleeping loft.
The cage measures 45.5″L x 24.25″W x 20.75″H, making it suitable for one average sized rabbit or as a dwarf rabbit cage for smaller bunnies.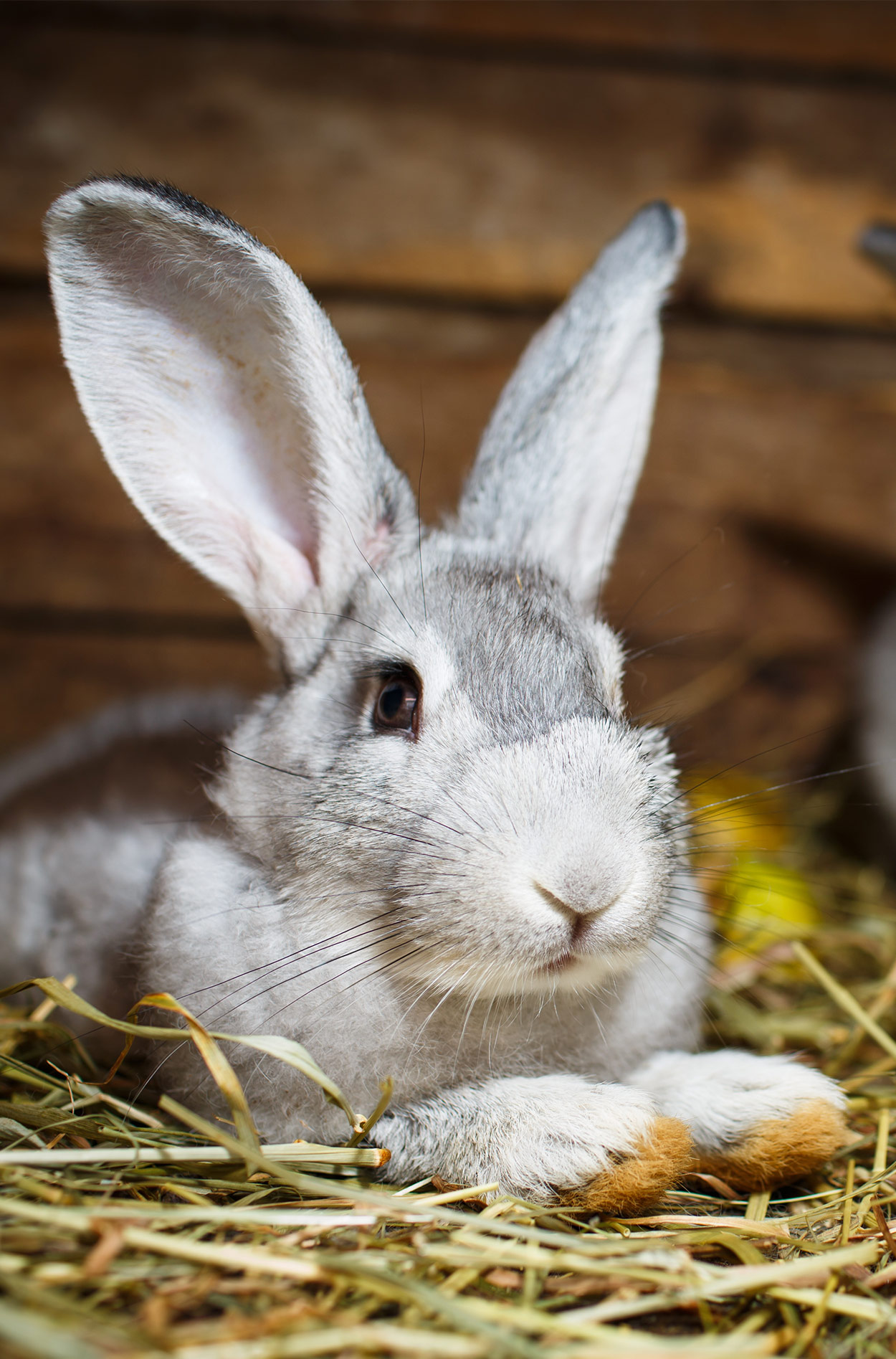 The TRIXIE Pet Products solid wood rabbit cage with outdoor run* is suitable for dwarf breeds and single rabbit occupancy.
The condo design has a hatch and a sliding door so that you can restrict access to the run if you want to. The ramp has a safe, non-slip surface, giving your bunnies the choice of moving around their home, inside or outside.
The run is easily removable and opens from above for quick access. The mesh used is fine-gauge and is also powder coated for durability.
The hutch measures 30"L x 21"W x 28"H; and the run 31"L x 21"W x 23"H.
Large rabbit cages
Average sized bunnies need plenty of space, as we discussed previously. The big bunny cages we've picked out will comfortably accommodate breeds of medium to average size.
The SmithBuilt 48″ Rabbit Hutch* is made from durable fir timber, specially treated for excellent weather resistance. The heavy-duty, predator-proof wire sections are rust-proofed, and the roof is covered with asphalt to protect the occupants from rain and strong sunlight.
This big rabbit cage is really spacious and also has an open run area so that your bunny can play outside if he wants to.
All areas of the cage are easily accessed through hinged roofs. There's also a removable sliding pan made from composite ABS plastic for quick and easy cleaning.
The cage's overall dimensions are 48"L x 19.5"W x 33.5"H.
The Advantek Stilt House Rabbit Hutch* is robustly built for longevity and minimal maintenance. The Cyprus fir used is taken from sustainable forests and is naturally rot and insect pest resistant.
The hutch (or nesting area) is safely accessed by a non-slip ramp to that your rabbits can move easily at will from their comfy sleeping area to their outside space. It has a pull-out tray for easy cleaning.
The wire used throughout the hutch is galvanized against rust, and the roof is covered with non-toxic, waterproof asphalt to keep your bunny warm in winter, cool in summer, and protected from the rain.
The nesting area measures 25"L x 48"W x 36"H.
Pawhut 91″ Deluxe Large Wooden Bunny Rabbit Hutch Outdoor Run
If you really wanted to spoil your bunny, the Pawhut 91″ deluxe wooden rabbit hutch* would be suitable as an extra-large rabbit cage.
The hutch is spacious and the run area has plenty of room for bunnies to exercise in the fresh air. There are several non-slip ramps, allowing the occupants to move around their environment safely and easily.
All the component parts are made from high-quality, durable materials.
The overall size of the combo is 90.6″L x 27.6″W x 39.4″H.
One small downside of this extra large rabbit cage is that you have to assemble it yourself.
Metal rabbit cages
If you are looking for a fully portable rabbit cage that could be used to accommodate both indoor and outdoor bunnies, depending on the time of the year, a metal rabbit cage might be the way to go.
Some of these options may also provide a more cheap bunny cage option too.
The Midwest wabbitat metal rabbit cage* can be assembled in minutes without the need for tools.
The design offers both top and front door access with slide latch fastenings that can be operated with just one hand.
The cage has a durable, slide-out plastic pan for easy cleaning.
The floor of the cage features fine grid mess that gives support and protection to your bunny's hocks.
The cage measures 37"L x 19"W x 20"H.
The Ferplast metal rabbit cage* is nice and roomy, measuring 63.78"L x 23.62"W x 19.68"H.
The whole thing is collapsible so it can be easily stored when not in use.
There's a nesting area and a plastic easy-clean liner. The rabbit cage comes with a hayrack, drinking bottle, and feeding bowl.
Best outdoor rabbit cage
When it comes to choosing the best outdoor rabbit cage for your bunny, there's plenty of choice out there!
So what's the best rabbit cage for your bunny? Always choose a well-made, sturdy rabbit cage that is plenty big enough to comfortably house your rabbit and his chums.
We hope that you find our informative guide to housing your rabbit outdoors helpful!
Why not let us know which rabbit cage you finally choose and why you chose it, especially if it was one we've featured here!
Affiliate link disclosure: Links in this article marked with an * are affiliate links, and we may receive a small commission if you purchase these products. However, we selected them for inclusion independently, and all of the views expressed in this article are our own.
Resources and Further Reading