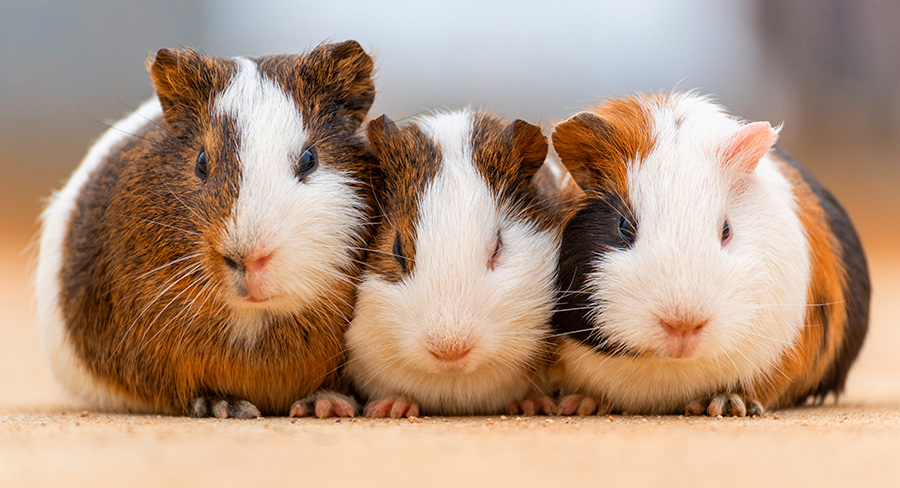 Choosing the best guinea pig names for your cavies is an important decision! The right name can show off just how cuddly and cute your piggy is, or how cool and unique they are. After all, every guinea pig owner knows that no two guineas are the same.
We've got over 400 ideas for you to look through in our guinea pig name hub guide. So, you can find the perfect names, whether you have a pair of piggies, or a whole muddle of them!
Best Guinea Pig Names
Here are our most popular name ideas for pet cavies:
Apple
Axel
Broccoli
Bubbles
Buster
Cam
Chubbs
Cuddles
Dame
Dino
Duchess
Edna
Ellie
Faye
Flower
Gem
Grub
Hattie
Hugo
Iggy
Indigo
Jammy
Juno
Kylo
Lizzie
Lotto
Max
Nibbles
Nova
Ozzy
Poppy
Queenie
Ron
Spot
Squeaks
Tottie
Trudi
Vex
Winnie
Zoe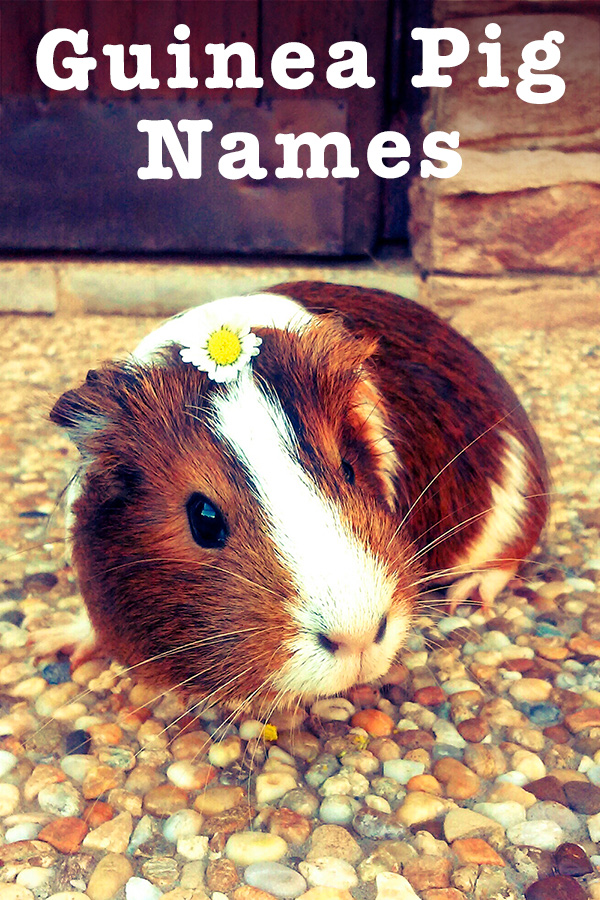 Guinea Pig Names – Quick Links
We've separated the rest of our name ideas into helpful categories, so you can choose the ones most relevant to you. Just click the links below to jump straight there!
Let's start things off by looking at name ideas to suit girly guinea pigs!
Girl Guinea Pig Names
Girl guinea pig names can be cute and feminine, or strong and powerful. Here is a selection of ideas with something to suit any female piggy.
Abby
Amy
Becca
Betsy
Callie
Catherine
Dana
Drusilla
Edith
Elizabeth
Emmy
Faith
Freya
Gabriella
Gertie
Hettie
Holly
Imogen
Izzy
Jessica
Justine
Katie
Kris
Libby
Louise
Maddison
Mona
Natalie
Ness
Opal
Patty
Prue
Rhiannon
Ruby
Sadie
Sylvie
Tabitha
Tess
Wendy
Yasmin
And of course, we can't leave out the boys!
Male Guinea Pig Names
There are plenty of guinea pig names boy cavies will love. Here are a selection of ideas that range from cute and boyish to masculine and tough!
Arthur
Ashton
Benji
Bruce
Carlos
Curtis
Dennis
Drew
Earl
Evan
Fergus
Freddie
Gary
Gino
Harvey
Huxley
Ian
Ivor
James
Justin
Kyle
Lance
Laurence
Milo
Muhammed
Nathan
Neil
Ollie
Oscar
Patrick
Percy
Quin
Ross
Ryan
Samuel
Stevie
Tristan
Tyler
Vincent
Wylan
Human sounding names aren't everyone's favorites. So what about something a little cuter?
Cute Guinea Pig Names
Cute name inspiration can come from anywhere you look. Here are some adorable ideas that are bound to make your heart swell with love.
Angel
Baby
Bunny
Button
Candy
Chick
Crumble
Crumpet
Cupid
Domino
Dusty
Echo
Elf
Freckles
Froggy
Giggle
Hiccup
Hoops
Jellybean
Jolly
Lemon
Loopy
Marshmallow
Mouse
Mustard
Oasis
Oreo
Peanut
Petal
Rainbow
Rusty
Sausage
Savannah
Sooty
Sugar
Sweetie
Tango
Turnip
Waffles
Whiskers
Guinea pigs are popular pets with families and individuals. So, sometimes the best name idea is just one that helps your own cavy stand out from the crowd.
Unique Guinea Pig Names
Unusual guinea pig names are a great way to show off how independent and unique each of your cavies are. Here are some of our favorites.
Achilles
Apollo
Athena
Ariadne
Artemis
Azure
Brooklyn
Calcipher
Caliban
Cordelia
Delphine
Egeon
Eros
Fabian
Fernando
Grumio
Hades
Hecate
Hera
Jareth
Leda
Lennox
Leto
Lucille
Minerva
Montague
Nerissa
Nym
Octavia
Ophelia
Orlando
Othello
Pandora
Perdita
Persephone
Prospero
Rosaline
Salisbury
Tatiana
Venus
Guinea pigs can be quite hilarious. So why not give them a name that shows off their sense of humour?
Funny Guinea Pig Names
Here are some of our favorite funny ideas, maybe based in puns, and maybe just a bit silly!
Bacon
Big Hamster
Bigfoot
Cavy Crocket
Chomp
Fat Tony
Furball
Gin and Juice
Gin and Tonic
Goliath
Grass Clipper
Guineavere
Guinea Weasley
Herby
Hoover
Jaws
Lawn Mower
Miss Piggy
New Guinea
Peppa
Pigfoot
Piggles
Piggy Azalea
Piggy Smalls
Pint of Guineas
Pipsqueak
Pork Chop
Ruth Bader Guineasberg
Thingamapig
Woodpecker
We all know guinea pigs do best when kept with another guinea pig. But what should you do if you want to theme their names?
Pairs of Guinea Pig Names
Whether you've got two boys, two girls, or one of each, there are plenty of themed name ideas here from famous duos. Which ones do you recognise?
Anna and Elsa
Bambi and Thumper
Bart and Lisa
Betty and Wilma
Bonnie and Clyde
Buzz and Woody
Chewie and Han
Donald and Mickey
Fred and George
Frodo and Sam
Hall and Oates
Ketchup and Mustard
Kirk and Spock
Laurel and Hardy
Lilo and Stitch
Mac and Cheese
Mario and Luigi
Michael and Dwight
Mike and Sulley
Mowgli and Baloo
Mushu and Cricket
Peach and Daisy
Peas and Sweetcorn
Penn and Teller
Pinky and the Brain
Robin Hood and Little John
Rocket and Groot
Rosemary and Thyme
Rum and Coke
Simon and Garfunkel
Shaggy and Scooby
Sherlock and Watson
Shrek and Donkey
Slash and Axl
Spongebob and Patrick
Sven and Kristoff
Thelma and Louise
Thing 1 and Thing 2
Timon and Pumbaa
Todd and Copper
And finally, what about the guinea pigs that are too cool for school?
Cool Guinea Pig Names
Cool name ideas are another great way to choose the right title for your cavy. Perhaps you'd like to take inspiration from some of your favorite badass characters! Here are our favorites.
Adonis
Althea
Aragorn
Arya
Bane
Bilbo
Brienne
Cersei
Daenerys
Django
Gandalf
Geralt
Groot
Hancock
Hercules
Hermoine
Hulk
Indiana
Katniss
Lara
Leia
Legolas
Leonidas
Mace
Maximus
Medusa
Morpheus
Mulan
Neo
Optimus
Rambo
Rocky
Salander
Sauron
Spartacus
Thor
Tyrion
V
Yennefer
Yoda
Do Guinea Pigs Know Their Names?
If you just give your guinea pig a name and leave it at that, it's likely your piggy won't know its name. But, with training and patience, your cavies can learn their names, just like other pets!
The best way to help your guinea pig learn their name is to try and associate it with the action you want. For instance, do you want your guinea pig to come towards you when you say their name?
If so, try holding out a tasty treat that you know your cavy loves. Then, when they come rushing towards you, say their name! Repeat this whenever you can, in different places, at different times.
And, once you've been pairing the action of running towards you for a tasty treat with your piggy's name for long enough, the name alone should be enough to grab your guinea pig's attention!
Which Guinea Pig Names Did You Choose?
Have you found the perfect names for your guinea pigs in this guide? We would love to hear which ones you've chosen.
And if you have any other great ideas we could add to this list!