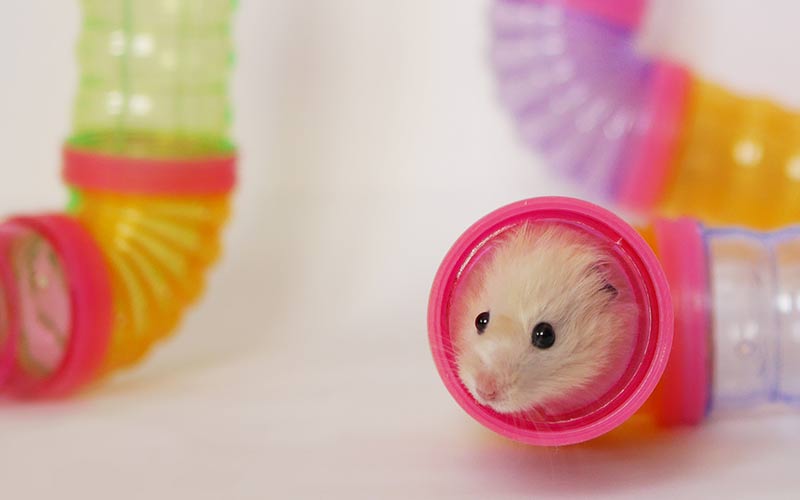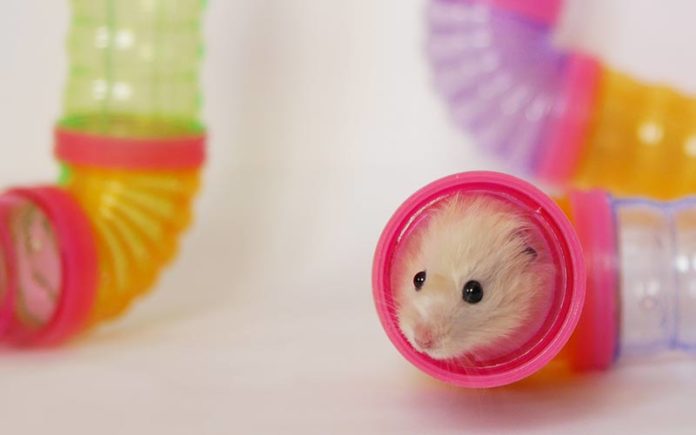 Welcome To Your Guide To The Best Hamster Accessories! If You're Kitting Out Your Hamster Cage, You Will Want To Make Sure That You Buy The Right Products For Your New Furry Friend.
We'd all like to make our pets' lives more fun. Hamster toys and accessories are a great way to do so.
There is an amazing array of hamster accessories available. So which ones should you choose?
Some items play a vital role in exercise or supplying food and water. Others are just plain enjoyable.
Playing with toys and scampering over obstacles will stop your pet getting bored, and improve their wellbeing overall.
If you are thinking of buying some new hamster pet accessories, then read on!
We'll be discussing some of the best options on the market. Helping you to decide what's right for your pet.
All of these products were carefully and independently selected by the Squeaks & Nibbles team. If you decide to make a purchase from one of the links marked by an asterisk, we may earn a small commission on that sale. This is at no extra cost to you.
What are hamster accessories?
Hamster cage accessories are the items that you put inside their cage or tank.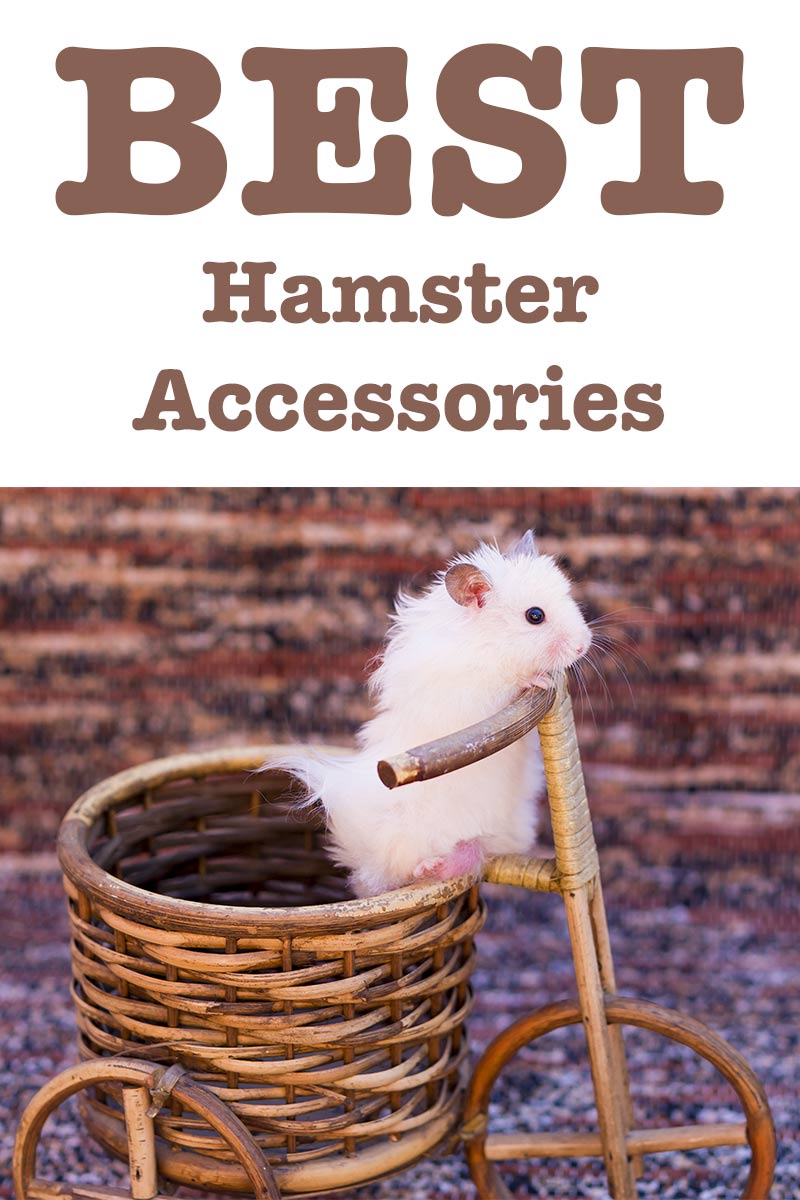 From essentials like bowls, bottles and bedding, to fun toys and hiding places.
Fundamental Hamster cage accessories
If you are just setting up your hamster cage, you will need to begin with the right basic hamster accessories.
Food Bowl
Your hamster will need a food bowl. One this is big enough to fit their food in, not so big that you are tempted to over fill it, and that won't tip over.
Water Bottle
You will also need a good water bottle. A common issue with water bottles is leaking, and Choco Nose Hamster Water Bottle* claims to have this sorted.
It has good reviews and is definitely worth a try if your hamster lives in a cage.
Hideaway
Another fundamental for your hamster cage is somewhere for them to hide and sleep.
The Kaytee Woodland Getaway Hamster House* is a good choice because it's open at the base.
Hamsters store food in their houses, so it's good if you can lift it up to easily clean out their hiding place.
You can find more great hamster house options here.
Bedding
Hamster bedding is important to give your hamster something to sleep in, dig in and poop in too!
There are numerous choices available when it comes to hamster bedding, but a firm favourite is Paper Hamster Bedding*.
This is safe for your hamster, easily available and relatively cheap too.
Although hamster enclosures tend to be cages, some people keep their pets in fish tank style homes. Lets dive right in and look at accessories for hamsters that live in aquariums.
Hamster aquarium accessories
Most of the basic hamster accessories shown above can be used in either a hamster cage or tank.
Aquariums can make great hamster enclosures. There's no mesh so you can see your hamster clearly, and don't have to worry about them escaping through bars.
These hamster houses aren't without their draw-backs though. One of these is that the lack of mesh means that you can't hang items from the side of the enclosure in the same way.
Therefore, you will need accessories that will hold themselves steady or attach to the top of your hamsters home.
This Hamster Water Bottle from Kordon* is an example of the latter.
Using a water bottle rather than a bowl can have some real advantages. Water bottles are enclosed and have a small opening at the bottom so that bedding, food, and other materials can't get into your pets water supply. The ASPCA recommends using a water bottle rather than a bowl.
As we mentioned before this water bottle fixes to the top of your hamsters enclosure. The adjustable strap means it's suitable for almost any hamster home, and not just aquariums.
You can also get bottles that sit in stands, like this one from Alfie Pet*.
The above is the absolute minimum you will need to accessorize your hamster cage.
But to keep them as happy, healthy and active as possible you will need a real range of items.
Most importantly, toys and games.
Toys can range from something as simple as a cardboard tube, to a complex purpose built maze.
They make your pet's enclosure more interesting to look at, and provide them with some fun and stimulating activities.
Hamsters are naturally inquisitive, so they should enjoy investigating anything new you provide them with.
Not only is it great fun to watch your hamsters play with new toys, it can be good for them too.
A 1999 study found that adding interesting objects to their enclosures might actually improve their immune system.
The hamsters involved in the study had a noticeably better febrile response and lower resting core temperature as a result of having accessories in their cage.
This suggests accessories play an important role in keeping your furry friend happy and healthy.
Let's begin with accessories for dwarf hamsters?
Dwarf Hamster Accessories
Cute Dwarf hamsters are quite a lot smaller than regular hamsters. Dwarf hamster cage accessories therefore sometimes need to be scaled down to match your pet.
This Dwarf Hamster Seesaw Tunnel* is ideal for the smaller breeds.
It's packed with play value, with lots of holes to crawl through and teeter-totter action!
This Kaytee Igloo Hideaway* is also available in an itty bitty sizing. This should be perfect for your tiny furry friend.
Kaytee hamster cage accessories are really popular and the reviews on this one speak for themselves!
It's definitely on the cheap side as far as accessories go, but seems very well made for the price — perfect for those of us on a budget. So, if you want to pretend your hamster is an arctic explorer, this accessory is perfect!
Or are you looking for something fun and little more unique? Then check out this novel wooden climbing toy*!
Your dwarf hamster can climb, chew, hide and crawl around this unusual and funky looking toy.
It's fun to play on and mentally stimulating as well.
And what hamster cage would be complete without a hamster wheel?
For a small dwarf hamster breed such as a Roborovski hamster, the Kaytee Silent Spinner 4.5 inch wheel* would be great.
But what about Syrian hamster wheels and other accessories?
Let's take a look!
Syrian hamster accessories
Syrian hamsters are pretty big. They can be twice the size of their dwarf cousins — and it only makes sense that their accessories reflect this fact.
It's important not to give them anything made for a dwarf hamster, as they might get stuck!
This exercise wheel from Kaytee* comes in a large enough sizing that should be a great fit for your Syrian hamster.
The ASPCA lists an exercise wheel as an essential item. It's really important that your pet has a run every day.
Hamster toys, games and even hideouts can help to keep their brains and bodies busy.
Let's take a look at some accessories that are a bit more 'out there' and unique.
Cool hamster accessories
Cool hamster cage accessories will make your cage look more impressive, and also give your hamster some fun along the way.
This Tree Trunk Hideout from Kaytee* could make your hamsters home look like an exotic forest.
Hamsters tend to be on the shy side and enjoy having something to hide in.
Providing them with a getaway spot like this Kaytee tree trunk will definitely be appreciated.
They're available in a few different sizes, so you can get a hiding place that's right for your furry friend.
The reviews are excellent on these cool hamster cage accessories, so why not give one a try.
Let's discuss hamster accessories on the cuter end of the spectrum.
Cute hamster accessories
Hamsters are seriously cute, and they deserve cute things.
These are even better when they can help your hamster to stay warm.
This Adorable Hamster Fleece Hammock* certainly ticks the cute box.
This teddy bear hamster accessory is hand washable, so you can keep it clean and hygienic for your pet.
It's made of a warm and comfortable fleece material, so your hamster's guaranteed a cozy nights sleep.
As we've mentioned, hamsters love having hiding spaces.
The plus side of this is that it'll insulate them even better than their usual nesting spot. I'm sure your hamster will make this his favorite getaway in no time at all.
Let's move on from cute hamster accessories and see what's available in pink.
Pink hamster accessories
Do you love pink? Then you'll want your hamster's house to reflect that.
This Cute Pink Hamster House* is a great place for them to hide and play.
Including a hideout, viewing platform and ramp. There is plenty for your hammie to do.
Although you might get a whole new idea of fun, when you get a load of this Hamster Cruiser*.
This pink hamster wheel inspired toy is amazing fun for you and your hamster.
Just remember not to leave him in it for more than 15 minutes at a time, and never unsupervised or near the stairs or other pets.
This hammock is available in a number of colors*, but the pink is really eye catching.
Pink hamster habitat accessories can add a fun highlight.
This hammock can be hooked up in any large enough hamster cage, but sadly not in aquarium style enclosures. So if your hamster's in a mesh cage, why not give this hammock a try.
We'll move back to something a bit more traditional now. Let's take a look at a couple of wooden hamster accessories.
Wooden hamster accessories
Wooden hamster house accessories look great, and there are tons to choose from.
Enclosures with wooden toys and obstacles look much better to us, and they're certainly not lost on our hamsters. This Rainbow Play Bridge by Rosewood Pets* is just one example.
Like most wooden accessories this bridge is affordable and looks super cool. The reviews are outstanding and everybody seems to love these cheap hamster accessories.
Our next item is a little more substantial. The price is a little steeper as well, but I think you'll agree that it's worth it.
Hamster tube accessories are everywhere but this one comes with a twist.
The Natural Living Tunnel System by Niteangel* could give your hamster hours of fun!
This tunnel system is made up of two houses, with three bridges and a tunnel underneath. The rustic wood aesthetic is classy and would look great in any hamster cage. When it comes to hamster cage accessories, tubes are a must. The tunnel that joins these two houses is a great take on that theme.
Almost everybody in the reviews seems to love this tunnel system and it's not difficult to see why.
It'll make a great centrepiece in your hamster's home, and he'll have a great time exploring it.
Now lets take a look at cages with accessories included.
Hamster cage with accessories
For some of us, picking up new accessories is all part of the adventure of owning a hamster. But it's not for everyone.
If want to get a cage that comes equipped with all the extras your hamster will need to keep interested, then there are plenty available.
The Savic Hamster Heaven metro cage* is one such bundle.
This is an excellent airy cage with a ton of space for your furry friend to move around in.
It's really important that your hamsters have plenty of space, as being cramped can actually make them ill.
More than this, you get an assortment of accessories included with this bundle. Extra levels to the enclosure, a water bottle, an exercise wheel, and so much more!
This bundle is stuffed full of Hamster cage accessories (also, the tubes that extend above the cage also come as standard).
The water bottle and wheel are pretty standard when it comes to hamster house accessories included in a bundle. But, you would usually have to buy everything else as individual items, making this cage a great time saver.
So if you don't want to shop around for individual accessories, then a cage like this is a great option!
Best hamster accessories
The items above are just some of the most popular pet hamster accessories available online.
You can have so much fun kitting out your furry friend's home. Or, alternatively, buy a cage that comes with accessories included.
Either option is great, as long as you keep your hamster entertained.
Just having things to play with and scamper over is good for your hamster; and I don't know about you, but when my pets are happy, I'm happy.
Affiliate link disclosure: Links in this article marked with an * are affiliate links, and we may receive a small commission if you purchase these products. However, we selected them for inclusion independently, and all of the views expressed in this article are our own.
References and Further Reading