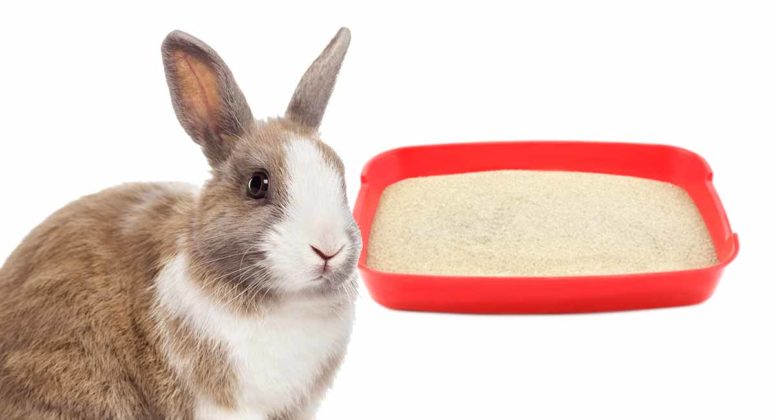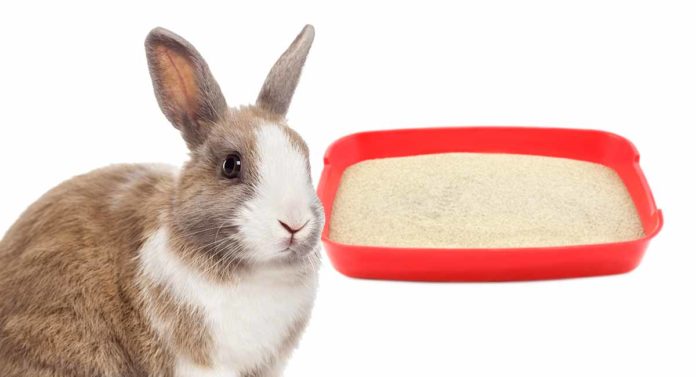 A rabbit litter box is an essential bit of kit for free range house rabbits.
Just like cats, rabbits can be taught to use a litter box instead of toileting indiscriminately all over the house.
But instead of kitty litter, rabbit litter boxes are kept topped up with clean bedding and hay.
In this article, learn about some of the best boxes, pans and trays to use when litter training your bun.
Also pick up valuable expert tips for rabbit potty training from A to Z!
All of these products were carefully and independently selected by The Squeaks and Nibbles team. If you decide to make a purchase from one of the links marked by an asterisk, we may earn a small commission on that sale. This is at no extra cost to you.
Do Rabbits Need Litter Boxes?
Rabbits are creatures of habit.
So whether they're kept in an outdoor hutch, indoor cage, or allowed to roam freely, you'll quickly observe them returning to the same spot to pee and poop.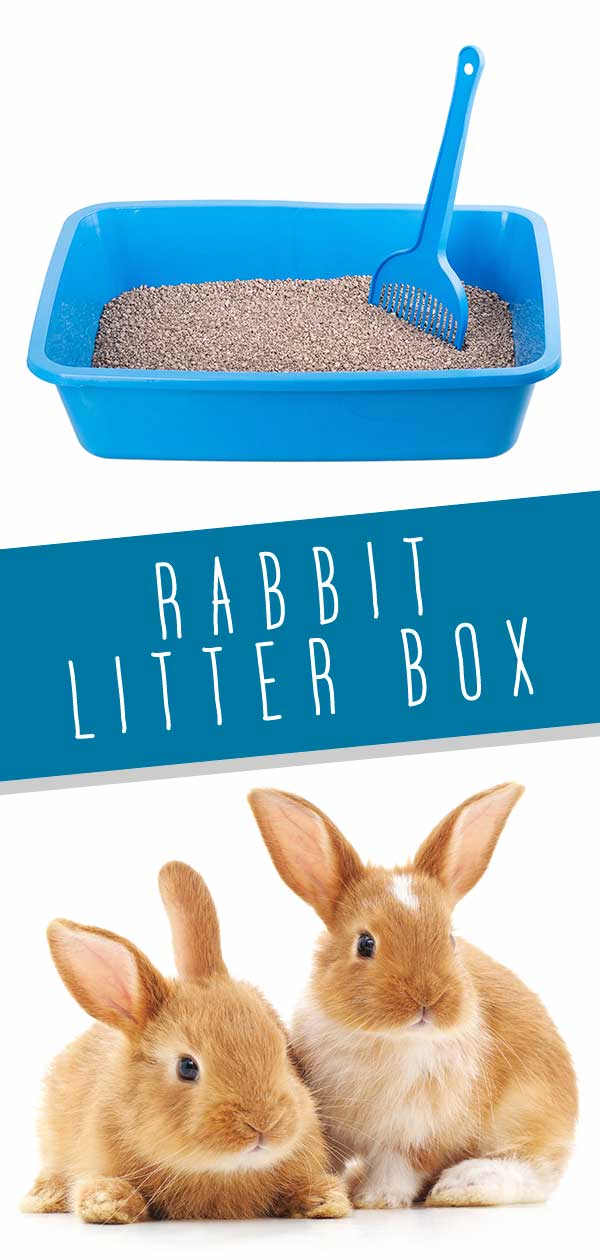 Of course if they do roam freely, you don't want that spot to be on your furniture or floors!
Happily, rabbits can be litter box trained.
Which means you can give them the freedom of your home without worrying about how they're going to use it.
What Do You Use in a Rabbit Litter Box?
You want to use two materials inside a rabbit litter box: rabbit-safe bedding and fresh timothy hay.
The bedding (litter) is the potty. The timothy hay is a lure to entice your rabbit to visit the litter box.
Litter Box Features To Look Out For
Rabbits tend to back up into a corner and lift their hind quarters to eliminate.
By choosing a litter box with a high back or even a hood, you can avoid unpleasant splashes.
Many playful bunnies will enjoy overturning a their litter box, the better to sort through the contents.
A lock feature that secures the litter box in place can foil this plan.
For older or special needs bunnies, be sure to choose a rabbit litter box with an easy entry/exit.
Or simply cut out one side of a standard box to near floor level.
Best Large Rabbit Litter Box
Most rabbits like to eat while they are eliminating.
For this reason, you want a litter box that is sufficiently roomy so you can place the snack bar at one end and the potty at the other.
Ideally, aim for a tray that is at least 1.5 times the length and 1.5 time the width of your bunny.
If more than one rabbit will be using the litter box, double the size of the box you would provide for a single rabbit.
Petphabet Jumbo Hooded Cat Litter Box
This extra large hooded cat litter box* is perfect for large breed rabbits or multiple rabbits.
The box itself measures 24.8″L x 20″W x 16.5″H and the entry measures 8.2"H x 7.8"W.
Four side clips keep the hood in place. The clear top is a nice touch so your bunny can still have visibility.
Nature's Miracle High Sided Corner Litter Box
This open corner-fit cat litter box* measures 26″L x 23″W x 10″H – perfect for large breed rabbits, single rabbits that like extra room or multiple rabbits.
The non-stick box itself is coated against bacteria and odors.
The low entry is ideal for special needs or older bunnies.
PuppyGoHere Dog Litter Pan
This puppy, cat or rabbit litter pan* comes in several sizes (starting at 20″L x 15″W x 5″H and up) to accommodate small, large or multiple rabbits.
With one lowered side, even elder bunnies can easily step in and out. All pan orders come with a free training guide.
Best Rabbit Litter Box With Grate
A litter box with screen or grate attachment can make for a more sanitary litter box as well as easier waste disposal and cleaning.
Urine passes through the plastic grate while feces stay on top.
Never use a wire grate as this can cause hock sores and discourage your rabbit from visiting the litter box.
Ware Scatterless Lock-N-Litter Small Pet Pan
This deceptively compact rabbit pan* comes in a jumbo size of 16.5″W x 10.25″D x 8″H that will give your bunny plenty of room.
It features a stain/odor-resistant plastic pan and plastic grate with a corner fit and two plastic locks to secure it in place.
Mkono Rabbit Cage Litter Box
This rectangular screen grate rabbit litter box* measures 11″L x 8.5″W x 3″D x 6"H, which makes it suitable for a single small breed adult rabbit.
Hooks that attach to holes at the back of the box secure it to the side of a wire cage or crate.
SO PHRESH Sifting Cat Litter Box
This self-sifting cat litter box* can easily be repurposed for use with one or multiple adult rabbits and is especially roomy for larger breed bunnies.
It measures 19.8″W x 15.1″D x 9.5″H and comes with four components: a base tray, a sifting grate, a top tray and an optional partial hood.
How to Train a Rabbit to Use a Litter Box – 6 Easy Steps
If this is your first time caring for a rabbit, you are likely surprised and delighted to learn it is possible to train a rabbit to use a litter box.
Expert rabbit breeders and keepers emphasize it is possible – and age is not a limitation, either.
But first, your rabbit must be spayed or neutered. A "fixed" rabbit of any age can be trained to use a litter box.
Here is what to do:
1. Buy at least two roomy litter boxes
Bunnies, like cats, enjoy having options. And they really like their privacy and personal space while they do their business!
2. Fill them with rabbit-safe litter
Add at least one inch of rabbit-safe litter. To learn more about the best rabbit bedding and litter options, head on over to this article.
3. Add some fresh Timothy hay
The lure of fresh Timothy hay ensures your rabbit will be drawn in for a visit.
4. Add in some soiled bedding
By "seeding" your bunny's new litter box with some previous waste, you let your bun know what the box is supposed to be used for.
5. Place the litter box in an area where your bunny has eliminated before
When litter training a new bunny, place the box where you want your rabbit to eliminate.
6. Keep the litter boxes clean!
After your rabbit has eliminated, clean the litter box as quickly as you can and add more fresh Timothy hay to encourage subsequent repeat visits.
The Keys to Rabbit Litter Box Training Success
You can absolutely expect a few "accidents" during the rabbit litter box training process.
While your rabbit is learning, remember your three keys to success: patience, praise and plenty of tasty rewards!
Is You Rabbit Potty Trained?
Let us know how the process went, and share your top tips for new rabbit owners in the comments section down below!
Affiliate link disclosure: Links in this article marked with an * are affiliate links, and we may receive a small commission if you purchase these products. However, we selected them for inclusion independently, and all of the views expressed in this article are our own.
References and Resources
Crowell-Davis, S.L., DVM, PhD, DACVB, "How to Litter Box-Train Your Pet Rabbit," University of Georgia College of Veterinary Medicine, 2007.
Bedford, J., "Rabbit Behavior and Training (including Litter Box Training)," Royal Society for the Prevention of Cruelty to Animals, 2015.
Gurneck, K., et al, "Litter Box Training," San Diego House Rabbits Charity, 2017.
Brennan, S., "Litter Training & Litter Box Issues," Rabbit Haven Shelter and Sanctuary, 2018.
Saunders, R., DVM, et al, "Neutering – Castration and Spaying," Rabbit Welcare Association & Fund, 2019.