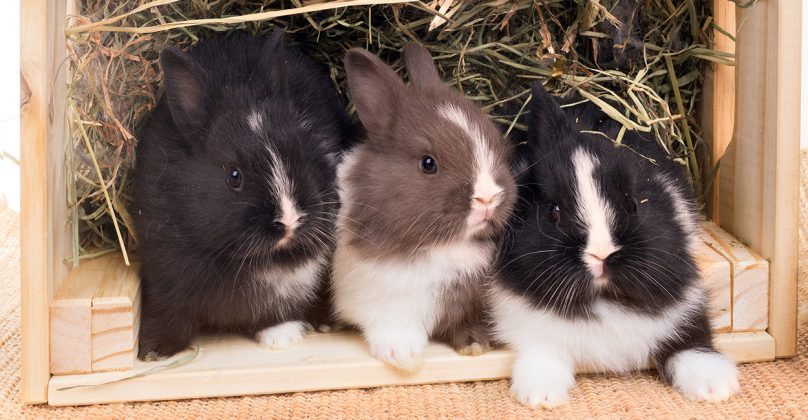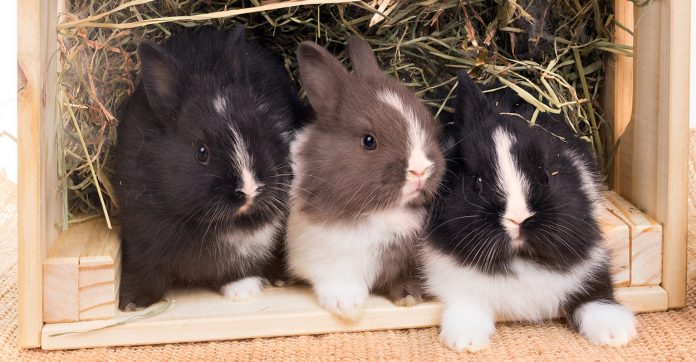 First-time rabbit owners can feel a bit of a shock when their normally sweet-natured bunny experiences a sudden personality shift.
Aggression, hoarding, hiding, collecting tufts of fur and shredded paper – these are all signs of a doe rabbit preparing for the birth of baby rabbits!
While you might think you would absolutely know if your rabbit is pregnant, more than a few rabbit owners have woken up one morning to a big surprise in one corner of their rabbit's habitat!
This happens most frequently if you rescue a rabbit from a shelter, and some well-meaning volunteer assures you that your rabbit is a male, or a not-pregnant female, or too young to get pregnant, or some other such incorrect statement.
Then you get home, and voila! You are racing around the house looking for your laptop so you can search online for quick tips on "how to build a rabbit nesting box."
So how do you make a DIY rabbit nesting box? Can you buy rabbit nesting box kits or learn how to make a rabbit nesting box yourself? How big should a rabbit nesting box be, anyway?
Read on to learn the answers to these important questions. Also, find out about some great rabbit nesting box ideas and products!
All of these products were carefully and independently selected by The Squeaks and Nibbles team. If you decide to make a purchase from one of the links marked by an asterisk, we may earn a small commission on that sale. This is at no extra cost to you.
Rabbit nesting box
While a bunny nesting box is a definite necessity if your rabbit is pregnant, this isn't the only reason you want to provide your rabbit with a nesting box.
The nesting box can double as a great place to hide, snooze, rest and stay warm. This is especially the case if you house your rabbits outside and it tends to get cold in winter.
Rabbit nesting box size
The most common question new rabbit carers typically have after "what is a bunny nesting box?" is "how big should a nesting box be for a rabbit?"
Rabbit nesting box dimensions will differ depending on the size of your rabbit. In other words, a bigger rabbit will need a roomier nesting box.
If you are making a rabbit nesting box at home in a hurry, just know that your rabbit will need to turn around and move inside the nesting box. So, measure your rabbit. Then add on a few inches on every side so she can shift and turn as needed.
If you are pre-making a rabbit nesting box in advance or are shopping around to buy rabbit nesting box products, here are some helpful general guidelines:
Always make the front of the nesting box lower than the back. This makes it easier for the mama bunny to hop in and out and reduces the chance of harm to a baby.
Add an extra half-inch to one inch at the bottom. This is because you will be packing in bedding such as shredded paper or timothy hay. (Don't use sawdust or wood shavings as these are not good for your rabbit.)
Use a peg board or other porous yet durable material on the bottom to allow waste to pass outside the nesting box. This will help to keep mama and babies dry and sanitary.
Now let's look at minimum dimensions for different sizes of rabbit. Rabbits come in four basic sizes: small/petite, medium, large and giant. A small/petite rabbit might weigh 2, 3 or 4 pounds.
A medium rabbit will typically weigh anywhere from 6-10 pounds. A large rabbit can reach 9-12 pounds in adulthood. And a giant rabbit might weigh 12 pounds or more.
Here, you need to consider more than just width, but also height and depth of the rabbit nesting box as well.
These general dimensions can give you a good go-by guideline if you are trying to match a rabbit nesting box to your rabbit's size:
Small to medium rabbit: 5 inches high at entry, 9 inches high at the rear, 9 inches by 14 inches wide.
Medium to large rabbit: 7 inches high at entry, 12 inches high at the rear, 11 inches by 20 inches wide.
Giant rabbit: 9 inches high at entry, 14 inches high at the rear, 13 inches by 22 inches wide.
Wood rabbit nesting box
A wood rabbit nesting box is the most natural-feeling material to use for your rabbit's nesting needs.
However, be aware that wood can be a bit more challenging to clean and sanitize. Having a clean environment is very important for the mama rabbit's health as well as the babies.
This highly rated and recommended wood rabbit nesting box from WARE* comes in two perfect sizes: small and large.
It has a low front to help the mama rabbit hop in and out easily. A raised back with a little partial roof keeps the baby rabbits (kits) warm.
This roomy wood rabbit nesting box from Pawhut* would be good for a large or giant size rabbit. It has a little ramp which helps the mama rabbit get in and out easily without stepping on the babies.
There is also roof access for you to check on the litter without disturbing them.
Plastic rabbit nesting box
A plastic rabbit nesting box can make short work of some of the sanitation and health concerns a wood rabbit nesting box presents.
At 26.5 x 15.9 x 19.8 inches, Miller Manufacturing's roomy nesting box* is technically made for chickens, but it would accommodate a large or giant breed rabbit nicely as well.
It gets rave reviews from breeders for safety, ventilation, sanitation and comfort.
If you are interested in trying out the repurposed cat litter box idea (read on below for more), this simple, no-frills cat litter box by AmazonBasics* might be the perfect starter.
It comes in two sizes: standard and large, and features a lower front entry point, removable lid and swinging door.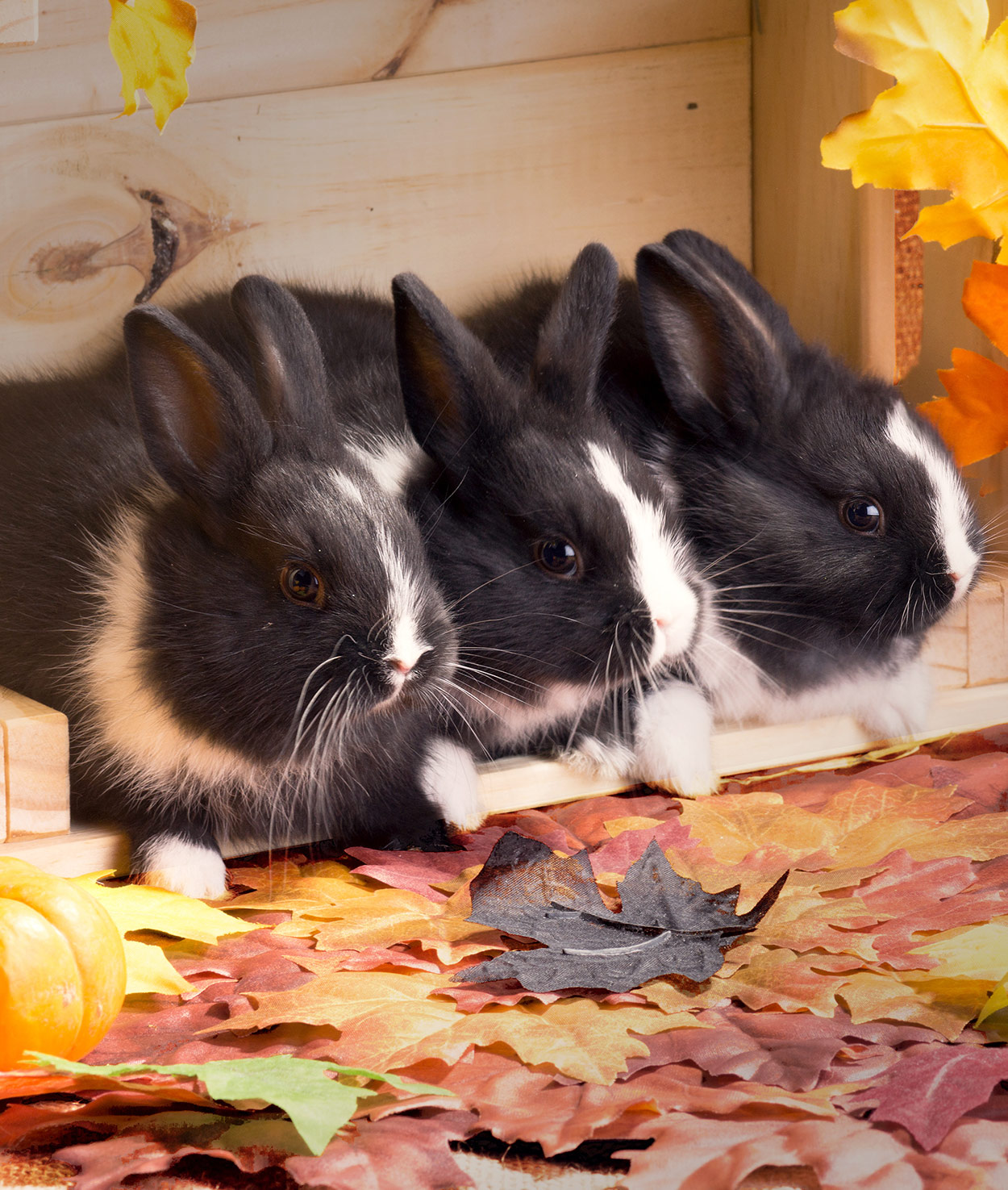 Metal rabbit nesting box
There are two great advantages to choosing a metal rabbit nesting box: it is generally very easy to clean and sanitize and it is sturdy and durable.
Our next box is the Pack Rite Farm Products Washable Nesting Box*. This newer product is designed for chickens but has many of the features you would want in a rabbit nesting box as well.
It has a lower front entry/exit, a back opening for viewing and ventilation. It is made of sanitary, washable metal that is durable and heavy.
Roll Out Nesting Box With Curtains and Removable Nesting Pad for Chickens
The Roll Out metal nesting box for chickens* might also do nicely for small to large rabbits.
The front portion, which is designed to make it easy for you to catch eggs, could be filled with hay and bedding. Then your mama rabbit could use the ramp for easy access/exit to her babies.
The front door flaps and side wall vents are a nice touch for privacy without sacrificing ventilation.
Wire rabbit nesting box
If you want to construct a wire rabbit nesting box, the best advice from rabbit breeders is to make sure the wire is high quality. This can mean wire made in the U.S.A., of a thicker gauge that is welded (gaw) and galvanized. This is also the easiest type of wire to sanitize and clean.
The thicker gauge (14 or higher) will be easier on your rabbit's feet and sturdier as well. There is a type of wire called "baby saver" that is more closely meshed. This can prevent tiny babies from getting stuck or falling through the mesh.
Your best bet here is to go the DIY route, since premade wire rabbit nesting box options can be hard to come by!
Homemade rabbit nesting box
If you want to make your own homemade rabbit nesting box, it is easy to find rabbit nesting box plans online.
Along with the plans, you can find a wealth of information from fellow rabbit lovers. Many of them are happy to share their oopses as well as their successes with learning how to make a rabbit nesting box out of cardboard, plastic, metal, wire and other materials.
For instance, this post describes how one budding rabbit breeder learned to repurpose a plastic cat litter box into a makeshift homemade rabbit nesting box. The rabbit nest/litter box is easy to clean, portable, and has a secure bottom. It is less readily mistaken for a chew toy by her rabbits.
For another option, this post describes how to build a DIY rabbit nest box out of lumber. It even gives you a sizing guide for small, medium and large rabbits.
And this post teaches you how to build a roomy wire nesting box with a cardboard insert that you can replace as needed.
Finally, this post shares the benefits and how-to for constructing your own wire drop nest box, which can be safer for the vulnerable babies.
Rabbit nesting box – A summary
Which nesting box style did you choose? Is this your first time raising rabbits?
We'd love to hear your thoughts, and, for our experienced rabbit breeders out there, your personal suggestions about what has worked best for you!
Affiliate link disclosure: Links in this article marked with an * are affiliate links, and we may receive a small commission if you purchase these products. However, we selected them for inclusion independently, and all of the views expressed in this article are our own.
Resources and Further Reading