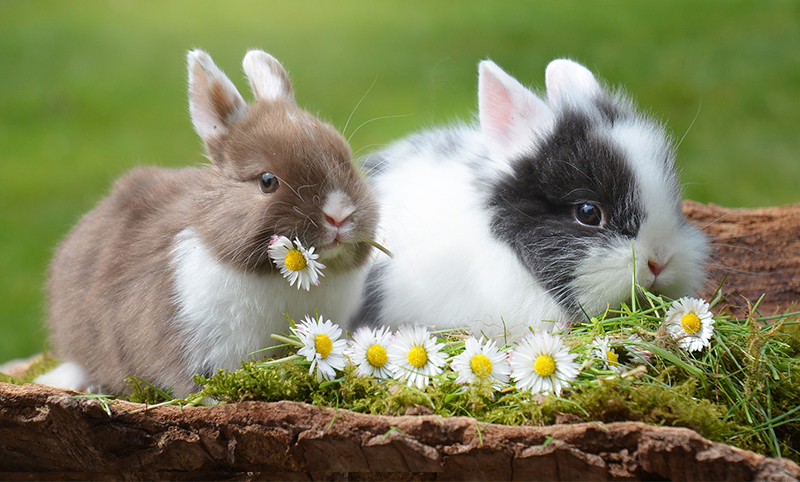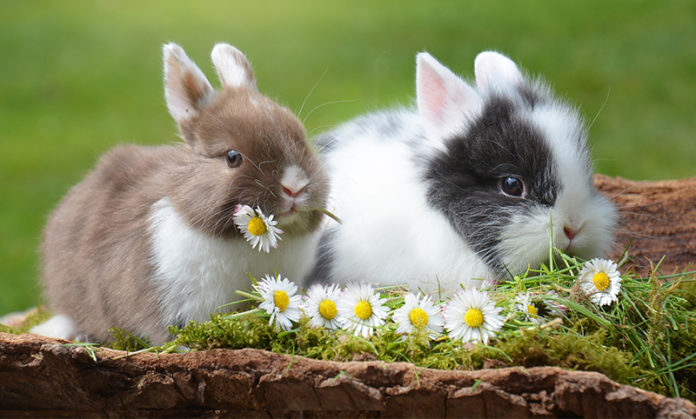 Do you have a bunny pet in your future?
If so, it's best to familiarize yourself with domestic rabbits and their needs.
Looking after rabbits, though they are small, is not as simple as you may think. After all, bunnies don't just chew carrots and say, "Eh, what's up, Doc?"
In this article, we'll find out about the care, maintenance, and cost of a bunny as well as the breeds that make the best family members.
Are bunnies good pets?
You may have seen the occasional wild bunny hopping through your yard. Or perhaps, you've come across a nest of baby bunnies. Seeing those adorable balls of fluff may make you wonder – Do rabbits make good pets?
Rabbits as pets aren't quite as common as, say, dogs and cats are, but that doesn't mean that they aren't wonderful companions!
A pet rabbit would be ideal for someone who would like a quiet animal that is easy to care for and that doesn't require as much room to live comfortably.
Bunnies don't bark (don't worry, we still love our pooches!), plus their relatively small size ensures that they don't leave lots of fur on your furniture or carpet.
Furthermore, rabbits can even be trained to come when they're called or to do tricks! As social creatures, they will bond with you and any rabbit companions they have very closely.
Types of pet rabbits
As with any domestic animal species, some breeds make better companions than others. Pet animal rabbits are no exception.
Breeds of rabbits that are bred for use as pets are typically interactive, affectionate, and have their own unique personalities. Best rabbits for children's pets also have a naturally docile manner.
Pet rabbit breeds that are popular include, but are not limited to, the following:
Angora rabbit
The American Rabbit Breeder's Association (ARBA) recognizes four subtypes of Angora rabbits: English, French, Giant, and Satin.
The British Rabbit Council (BRC) categorizes Angoras into White and Coloured.
Though each Angora subtype has its own coloration, an Angora can be easily identified by their long, fluffy fur and trademark "wool" (excess fur) on their legs, tail, and head.
Angoras are a medium-to-large breed, weighing anywhere from 5 to over 10 pounds (especially the Giant Angora).
You'll need to be prepared to brush or trim your Angora's fur on a regular basis in order to prevent the wool from matting.
Dutch rabbit
The Dutch rabbit is a medium-sized breed, with a maximum weight of 5.5 pounds.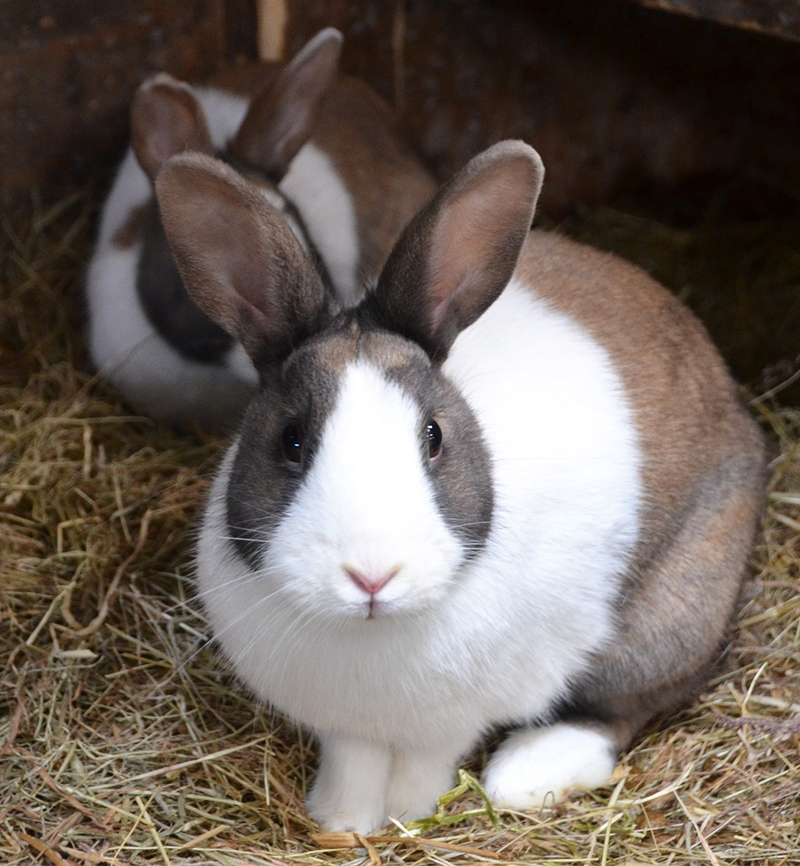 Each Dutch subtype has the same coat pattern (white with dark or colored points), but with black, blue, chinchilla, chocolate, gray (may be pale or brown-gray), steel, tortoise, or yellow coloring.
They typically have gentle personalities, making them a great option for families with children.
Dwarf rabbit
Any rabbit breed that matures to 4 pounds or less and gets its dwarfism from Netherland Dwarf lineage can be considered a Dwarf.
The ARBA-recognized dwarf breeds include the American Fuzzy Lop, Dwarf Hotot, Holland Lop, Jersey Wooly, Netherland Dwarf, and Lionhead rabbits. The BRC also recognizes the Miniature Lion Lop and the Miniature Cashmere Lop as dwarfs.
Although Britannia Petite and Polish rabbits are dwarf-sized, they do not have the dwarf gene; they are tiny simply through selective breeding.
Netherland Dwarf rabbit
This rabbit breed is one of the most commonly domesticated breeds.
Netherland Dwarfs are known for their exceptionally small size – they mature to a maximum of 2.5 pounds!
As we mentioned in the Dwarf breed description, Netherland Dwarfs have lent their tiny stature to several other dwarf-sized bunny breeds. Pet dwarf rabbits who have been properly handled are a favorite among children, since they are so small (and let's be honest, incredibly adorable).
You'll find a Netherland Dwarf in any color or color combination that the ARBA and BRC recognize for other rabbit breeds.
French Lop rabbit
The French Lop is a large rabbit breed, weighing at least 10 pounds when full grown, but sometimes growing to 15 pounds or more!
The breed looks very similar to the Flemish Giant, since the Flemish Giant and English Lop are the parent breeds of the French Lop.
As members of the lop variety, their long ears hang down in a manner similar to a Basset hound. French Lops come in any color or color combination that the ARBA and BRC recognize for other rabbit breeds, but the ARBA and BRC do not recognize French Lops with broken or mantle coat patterns.
Miniature Lop rabbit
As its name suggests, the Miniature Lop is the smaller, more compact version of a Lop breed (Cashmere, English, French, German, Meissner, and Lion).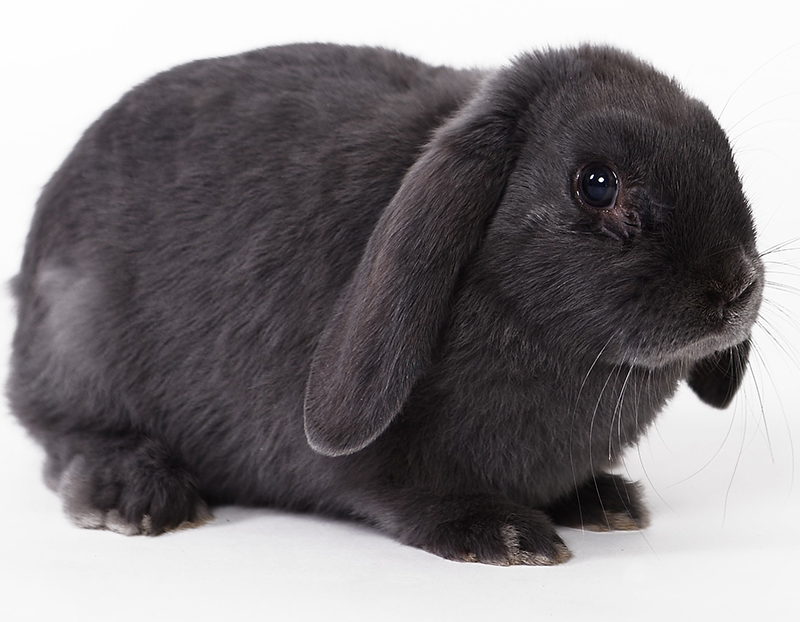 The ARBA accepts Mini Lops that are up to 6.5 pounds in size, while the BRC only accepts those that are up to 3.8 pounds. Similarly to the French Lop, Miniature Lops come in any color or color combination that the ARBA and BRC recognize for other rabbit breeds, but the ARBA and BRC do not recognize French Lops with broken coat patterns.
If you'd like a Lop without the large size, then a Miniature Lop could be a great option!
Mini Rex rabbit
Similarly to the Miniature Lop rabbit, the Mini Rex is simply a scaled-down version of a Rex-type rabbit; they weigh about 4.5 pounds, compared to the Rex's maximum weight of 10.5 pounds.
Due to a recessive gene, Rex rabbits and Mini Rex rabbits have a unique fur coat that is short (approximately half an inch long), very silky, and projects away from their body, creating a plush feel.
There are several types and variations of Rex rabbits, including Self, Shaded, Tan, Agouti, and Rough Coated. As such, the Mini Rex can exhibit any standard Rex trait, with the exception of the standard Rex size.
Lionhead rabbit
This newer breed was just recognized by the BRC in 2002 and by the ARBA in 2014. It is easily identified by the lion-like mane of wool around its head and neck and bib of the same wool growing down the chest.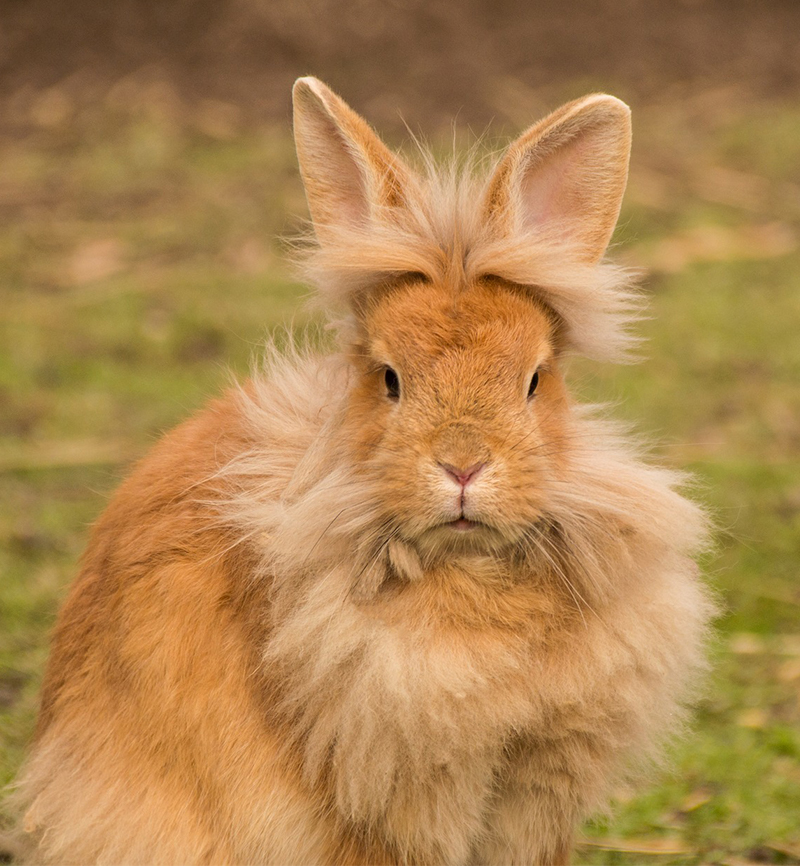 Lionheads are small in size (3-3.75 pounds) and come in any color or color combination that the ARBA and BRC recognize for other rabbit breeds. They have been bred such that they possess a rather calm temperament and friendly demeanor, making them ideal as pets.
Californian rabbit
Californians are known for their signature pink-red eyes and primarily white fur coats with chocolate, blue, or lilac coloring on the ears, feet, nose, and tail.
As a large breed, they can mature to 10+ pounds. Though they were initially bred for meat and to be shown, Californians actually are very popular as pet rabbits. They are known to become quite docile when they've been handled and socialized.
Best pet bunny – are your options limited to just a few breeds?
While we've mentioned the above breeds that are popular as pets, you must remember that every rabbit is a unique individual that may or may not conform exactly to its breed's typical traits.
My pet rabbit – will it bite?
Have you considered buying a pet bunny but stopped and wondered, "My pet bunny – will it bite me?"
The answer is maybe yes, but maybe no. The reason for this uncertainty is that rabbits are generally not aggressive, but will become so if they feel afraid or threatened.
According to a study on domestic rabbit behavior that was conducted by the University of Southampton, rabbits will exhibit aggressive behavior in the form of biting and kicking as a way to defend themselves against the perceived threat.
Oftentimes, this aggression is triggered by the rabbit's warning signs of distress being overlooked.
If you've ever attempted to pet a rabbit that did not want to be petted, you may have noticed the rabbit sitting very stiffly while making a growling noise. If you hadn't noticed those warning signs, a swift bite or series of kicks and scratches may have followed…ouch!
To prevent being bitten, it's important to tame a pet rabbit and then handle it regularly to acclimate it to the human touch.
It's also important to understand rabbit behavior to prevent them from becoming uncomfortable with a situation in the first place.
Taming rabbits
You may wish to pet and love on a new pet bunny, but before you begin handling it, you'll want to tame him or her so that they aren't afraid and bite or claw you.
Similarly to dogs and cats, rabbits can be trained using a clicker.
With a clicker, you can teach a rabbit to do things like face you, come to you, touch their nose to your hand, be petted, be held, etc. by signaling the positive behavior with a click and immediately rewarding them with a treat.
You can read a great article on clicker training here.
Once your bunny is comfortable around you and anyone else who will be handling them, you can then begin interacting with the bunny using a more hands-on approach.
Even though you may be tempted to pick up a cute little bunny, there is a proper method that should be used to prevent your being bitten, scratched, or kicked.
According to the VCA Animal Hospital, bunnies typically do not like to be picked up and held. Picking up a bunny while you're standing will serve to scare it and may start your relationship off on the wrong foot.
Instead, it's best to sit on the floor and then pick up the rabbit. This way, they are still close to the ground while being held.
Facts about rabbits such as the ones we've described above are useful to know when you're planning to bring a pet bunny into your home.
Taking care of rabbits
Looking after a rabbit may be a bit more involved than you think. Though rabbits are small and do not shed in the same manner that a dog or cat does, they do require specific living conditions.
To keep a pet rabbit, you'll need a very large hutch (basically, a wood-framed cage that is raised off of the ground) that's large enough for the number of rabbits that you'll be keeping in it to move around freely.
Pet rabbits will benefit from being let out of the hutch for indoor and/or outdoor exercise, but the hutch should still be large enough for them stretch out and roam while confined.
Additionally, the hutch needs to be kept out of the weather, and should include some kind of darkened area for the rabbits to nest and sleep. If you must use a wire-bottomed hutch, be sure to include a solid section of the floor; wire can be bad for their feet.
Pet rabbits require a specific diet
They should always have access to clean water and roughage (typically grass hay). You'll also need to provide commercial high-fiber rabbit nuggets as well as a small amount of fresh vegetables.
They should have enough food to keep them busy munching for hours; it's essential for rabbits to chew constantly so that they keep grinding their teeth.
This prevents their teeth from getting too long and sharp.
Not only does taking care of bunnies include housing and feeding them properly, but it also includes properly handling them for their safety as well as their human handlers' safety.
Facts about rabbits for kids
They cannot be neglected. If children will be caring for them, then adult supervision is required for the health of the animal.
Rabbits as pets must be handled with care, also preferably under adult supervision. Their skeletons are lightweight, which makes their bones more prone to breaking.
They are not toys. This is obvious to adults, but small children may accidentally treat a live bunny like they would a stuffed animal bunny (e.g., picking it up by its ears).
Dwarf rabbits as pets come with an extra precaution – due to their very small size, they can be easily squeezed or held too tightly. It's important to supervise children who are handling any breed of bunny, but it's especially important when they are handling such small bodies!
Caring for a rabbit – how much does it cost?
Actually purchasing a pet rabbit is only part of the cost.
The initial cost of the rabbit can range from $5 to $100 or more, depending on the breed of rabbit that you select and whether or not you are purchasing from a rescue, pet store, or breeder.
You'll also need to factor in building or purchasing the proper housing as well as desexing (neutering or spaying), especially if you plan to purchase more than one bunny. Rabbits are known for their prolific breeding habits!
The good news is that rabbits do not need vaccines unless they will be living outside. If they are going to live outside, you might consider a rabies vaccine.
Rabbits As Pets– a summary
Best pet rabbits are those that are bred to have docile temperaments and that have been tamed and socialized for safe handling.
If a pet rabbit is handled properly, it should not bite or exhibit other aggressive behavior.
With the appropriate training, housing, and diet, rabbits make quiet and affectionate pets!
References
Banfield Pet Hospital. "Dental Care for Your Rabbit"
McBride, E.A., Magnus, E., Hearne, G. "Behaviour problems in the domestic rabbit," The APBC Book of Companion Animal Behaviour. 2004
VCA Animal Hospital. "Rabbits – Feeding"