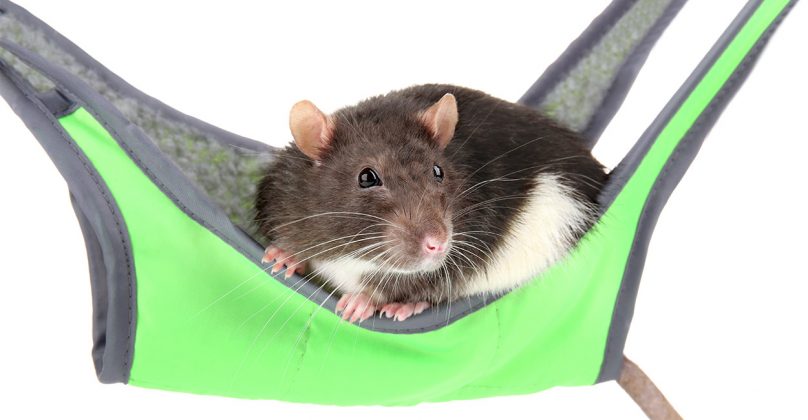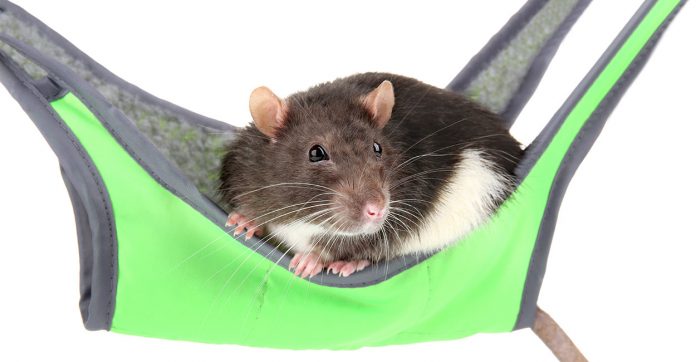 Welcome to our carefully selected guide to the best rat hammocks on the market!
We're going to look at how to choose the best pet rat hammock for your fur baby!
We'll compare rat hammocks of different types so that you can pick the perfect hammock for your pet.
Choosing the perfect pet rat hammock
Small furries, including pet "fancy" rats, are surprisingly popular pets, being owned by approximately 2% of Americans. And 68% of those polled have given their pet a present on Christmas!
It's not surprising then that so many pet rat owners spend so much of their time and money on finding the perfect toy, bed, or cage enrichment accessory for their precious fancy rat!
Fancy rats are extremely intelligent, friendly creatures who thrive on the company of their human owners and love to interact with them. With patience you can teach a pet rat to perform simple tricks and to play games with you.
Pet rats just love to be petted and gently handled. They enjoy nothing more than a ride around the house on your shoulder!
Wild rats live in extended family groups and extensive colonies. Your pet rat will therefore be happiest if he has company of his own kind.
Pairs of rats love nothing better than curling up together in a snuggly rat hammock during one of their many daytime in between foraging, socializing, and playtime sessions.
You don't have to spend a fortune on a rat hammock. In fact, there are some cheap rat hammocks that will be fine to start with, especially if you're not sure whether or not your pet rat will take happily to his new accessory.
If you want to go shopping for a perfect rat hammock for your pet, read on to find out what's available. We've also got plenty of practical advice for you on choosing the best option for your pet or pets!
What is a rat hammock?
Wild rats seek out dark, sheltered spaces when choosing where to nest and sleep. As rats are prey animals, they prefer to snooze in a place where potential predators cannot see them and they feel secure and safe.
Rats are nocturnal, being most active at dawn and dusk, and throughout the night.
In addition, your rat will like a nice high perch. There, he can keep an eye on what's going on right across the entire room.
Rat hammocks are basically hanging beds made of warm, cozy material. They provide a place where your rats can snuggle, whilst still being able to look out on their world.
Your pet's rat hammock is basically his safe, chill-out zone!
There are several different basic rat hammock styles that you can buy, depending on your pet's individual preferences.
Basic hammock designs are extremely popular. In addition to providing a cozy bed for your rat, they can also help to maximize the space available in your pet's cage.
Hammocks can also be more hygienic, as they live above the floor of your pet's cage, where they are not as easily soiled by droppings and urine.
Double decker rat hammocks allow all your ratty cage mates to "hang out" together! These designs are especially useful for expanding your pets' living space in multi-rat households.
Tunnel rat hammocks allow your rat to look out at the world from either end of his aerial bed. They can also double as convenient runways between different areas of his cage.
Some are also available as plastic rat hammocks, allowing a more durable but less cozy option. You can even find or make honeycomb rat hammocks, with different sections and holes for rats to enjoy.
You can even make your own rat hammocks! If you do this, we encourage you to use the following as rat hammock ideas to inspire your design.
So, now you know what a rat hammock is, let's look at what rat hammocks there are for you to choose from.
All the rat hammocks reviewed in this article are available online from Amazon.com. We've provided convenient clickable links for each one, so buying a super new bed for your pet rat couldn't be easier!
Fleece rat hammocks
Your rat and his chums will surely love a snug, fleecy rat hammock!
Fleece is super-warm and cozy, and most of the options out there come in a wide selection of different colors so you can even coordinate your pet's hammock with your own interior décor scheme!
If your rat is inclined to chew his cage accessories, you may want to look for a fleece rat hammock that does not contain foam. If your rat eats bits of foam gnawed from his hammock, he could become sick.
Here are a few of our favorite fleece rat hammocks based on features, quality, and price.
Ware Double Fleece Hang-N-Tent Small Pet Sleeper
Ware's double fleece hammock is made from super-soft fleece without foam. The hammock is fully washable and makes a great fun place for your rat to hide and sleep.
This product is designed to fit inside any cage. It has durable, gnaw-proof nylon straps and clips so that it is easy to attach and should be long-lasting too.
The sleeper measures 12" x 10" x 9", and comes in a choice of funky animal print designs for the trendy rodent!
WINOMO Pet Hammock Hanging Toy Snuggle Hut
The WINOMO pet hammock makes a cozy hanging house for your pet rats. The material is soft and warm with refined stitching for durability and longevity.
The hammock has a neat circular entrance and is hut-shaped. That makes this hammock the ideal look-out post for curious rats who don't want to miss a thing!
The four hanging chains are made from corrosion-resistant metal and have easy to use clips.
Pixnor Rats Winter Warm Fleece Hanging Cage Hammock Cute Bear House with Bed Mat
The Pixnor fleece hanging hammock comes in the form of a totally cute, bear-shaped house and has its own integral fleecy mat for added comfort.
The replaceable mat is removable and washable.
There's plenty of room inside this generously proportioned hammock/house for your rat and his cage mate to snuggle up and keep cozy. The open door style of the house also allows your pets to peek out and watch what's happening outside!
Large rat hammocks
Large rat hammocks are often advertised as suitable for rabbits, guinea pigs, ferrets, and even cats, as well as rats.
A large rat hammock can sometimes be a good option for you if your pets like to lounge in groups, rather than alone.
Of course, if you have a particularly large rat, you'll need to make sure that the hammock you choose for him is big enough to safely and comfortably support his weight.
Amariver Hammock Hanging Bed Toy House Cage
The Amariver hammock hanging bed looks just like a padded fun-house and is generously proportioned to accommodate the largest rodent or a group of ratty friends!
The hammock is randomly dispatched in a variety of cheerful, fun designs and colors.
Rat hammock hooks are included, allowing you to suspend the bed from your pet's cage.
Super Pet Sleep-E Tent Super Sleeper
The Super Pet Sleeper's novel design looks just like a hanging tent, but easily unzips to create a hammock!
The interior is fluffy fleece-lined to create a comfy sleeping area for your pet rat, and it can be suspended via short webbing straps and robust metal hanging hooks.
ProSelect Wild Time Pet Cage Hammock
The ProSelect Wild Time hammock comes in a black and white polka dot design for the fashion conscious rat, or perhaps he may prefer the animal print design for a wilder look!
The pet hammock has easy snap clips included that will fit safely and securely to the interior of any cage.
The fabric is made from a soft, comfy polyester mix that is machine washable on a cold setting.
Measuring 21 inches by 12.5 inches, this hammock is ideal for the more generously proportioned rat!
Cat Hammock / Ferret, Rat, Rabbit, Small Dogs
This hammock has plenty of room for one large rat or a group of ratty chums to snuggle down and get cozy!
The fabric has an attractive tiger pattern on one side and is lined with fluffy white fleece for comfort and warmth. The hammock can be washed by hand or in a washing machine.
The hammock comes with extra-strong holding straps and robust clips for safety and security. It can be attached to any cage or crate.
The manufacturer also offers a reassuring 100% money back guarantee.
Double decker rat hammocks
If your rat has multiple cage mates or simply prefers his own company when snuggling down for a nap, a double decker rat hammock could be the best choice for your pet.
Double decker hammocks are simply designed either with one hammock suspended above another. Such a design allows your pets plenty of space in which to chill out. Or, it gives them room for one rat to rest on top of the hammock while the other sleeps beneath.
We found a nice, simple design that might suit your pet perfectly.
Niteangel Luxury Double Bunkbed Hammock
The Niteangel luxury double hammock is a bunk bed design, where one rat can choose to lounge on the top bunk while the other rests in the hammock underneath.
The hammock is made from soft, quilted fabric and comes in several different colors, including chocolate brown and pretty pink!
The hammock is suspended from the cage by easy-to-use, sturdy metal clips.
Rat tunnel hammocks
A rat tunnel hammock can double as a cage play enrichment feature and a bed for your rat.
Tunnel design hammocks are open at either end, allowing your rat to move easily from one area of his cage to another if he chooses to. He can also take a nap en route if he wants to, or simply enjoy a game of hide-and-seek with his cage mates.
Rat tunnel hammocks tend to be made from less padded material than other designs and some are also waterproof.
We particularly liked the following hanging rat tunnel hammock designs.
Interpet Limited Superpet Hanging Play Tunnel
The Interpet hanging play tunnel comes in a randomly dispatched assortment of colors and provides a perfect, comfy spot where your pet can play, nap, or snuggle.
The hanging play tunnel comes complete with four strong clips. This allows you to securely and safely attach the hammock to your rat's cage.
The hammock is made from cotton and is conveniently fully machine washable.
Ware Manufacturing Crinkle Hang-N-Tunnel Sleeper
This well-made hanging tunnel style hammock comes in a variety of funky animal print designs to perfectly complement your pet's home!
The tunnel is lined with super-soft fabric that makes a fun crinkling sound under your rat's feet, adding enrichment to his play by mimicking the natural sound of leaves underfoot.
This hammock does not contain any foam and is fully washable.
The hanging tunnel bed is designed to fit easily inside any cage. It also has durable nylon hanging straps and metal clips for quick and easy attachment.
Ferret Nation & Critter Nation Accessories Kit
If you want to really spoil your pet rat, we think that buying him this multi-enrichment kit is sure to win you extra love and cuddles!
The kit includes a soft, snuggly hammock, a fleecy hanging box hideaway, a cozy blanket, and a tunnel bed that can also double as a play area. The hammock and hanging box hideaway come with strong, easy-to-use clips and will fit most cages.
All the items in the kit are made from durable polyester micro-suede fabric and come in attractive, coordinated teal and purple colors. Each item is machine washable and dryer-friendly, and the whole kit includes a one year manufacturer's warranty.
Best rat hammocks
We hope you have enjoyed this curated list of snuggly hammocks for your fancy rats!
Do remember to let us know in the comments section below which rat hammock you finally chose for your rat. We always like to read recommendations from our readers and their happy furry friends!
If you found a super rat hammock set or rat hammock that's not included in our list, we would love to know about it. We may even feature it in a future post!
Resources and Further Reading