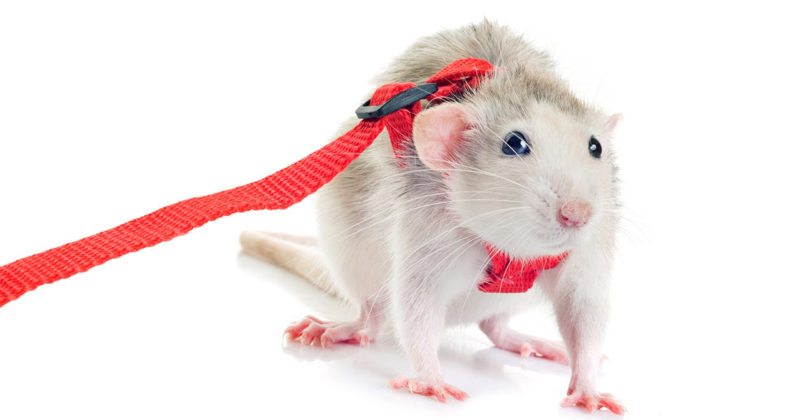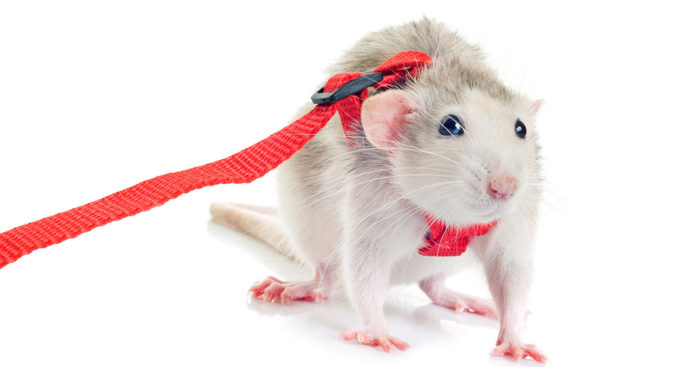 In this article we weigh up the pros and cons of using a pet rat harness, and find the best rat harnesses on the market for you and your rat buddy.
When you have a pet that you love spending time with, you want to find a safe way for them to do everything with you!
For smaller animals such as rats, finding a safe way to let them explore beyond their cage creates a fun new way to hang out together.
That's why a rat harness can be a very useful accessory to have.
All of these products were carefully and independently selected by The Squeaks and Nibbles team. If you decide to make a purchase from one of the links marked by an asterisk, we may earn a small commission on that sale. This is at no extra cost to you.
Why Use A Rat Harness?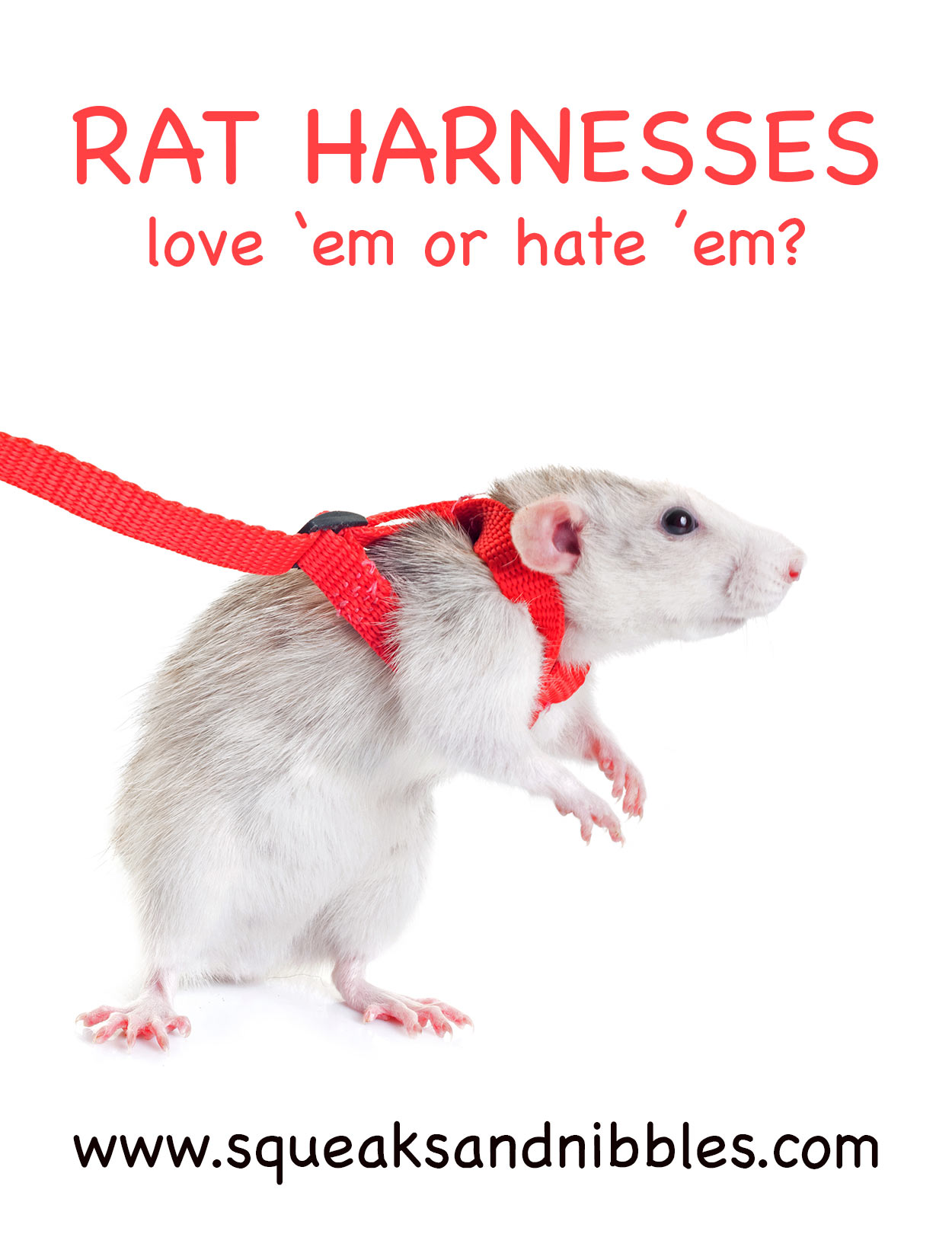 If you want your rat to roam outside of their cage, a rat harness is a must-have.
With a harness and a rat leash, you can let your pet wander around the house without worrying about losing them in small spaces.
Rats are highly intelligent animals and can be trained to do all kinds of super neat tricks.
Rat harnesses are also handy to stop your rat making a break for while you're petting them or training them.
Once your rat is used to having their harness and lead on in the house, you can even bring them outside to explore.
You and your rat might like to hang out in the backyard, or go for a walk.
A leash and harness is also useful for car rides and vet trips.
Having a rat harness will help you manage your pet, and help the two of you bond.
How To Put On A Rat Harness
The most important thing to be aware of when putting a harness on your rat is its comfort.
You want your pet to be content when wearing the harness.
So if your rat shows signs of anxiety while you try and put it on, stop immediately.
Try to give your rat positive associations with the harness: offer it food or treats when they sniff it, and while you're putting it on.
Once they are wearing the harness, let them get used to it without tightening or fastening it.
Let them spend time with it on, adjusting to the feeling of wearing it.
If your rat becomes bothered, remove the harness and offer a treat, then try again later.
Start small, leaving the harness on for about 5 minutes at a time, and gradually build on that time until your rat is fully comfortable with the harness.
Keep rewarding their good work with treats!
How To Choose A Rat Harness
There are a few traits you should look for when choosing a harness.
Make sure you stay away from collars.
Collars are easy for rats to slip out of, and even if they don't escape, a collar can be a choking hazard.
So stick to harnesses, which distribute pressure evenly across the chest.
Make sure the harness fits comfortably: you want it loose enough that your rat's movement isn't restricted, but snug enough that there's no risk of it coming off.
If you're shopping in your local pet store, it's possible that you won't find a harness specifically labeled for rats.
Don't fret! Look instead for harnesses labeled "small animals."
If you're in a pinch, you can look at hamster or ferret harnesses.
Just make sure you compare the measurements of your rat to what's given on the packaging.
Best Rat Harness Options
To choose the best pet rat harness for you, have a think about what features are most important to you.
Do you need to get it on and off quickly? If you have lots of rats, you might lose motivation if your rat harness is fiddly to put on.
Do you just need the harness, or would you like a rat harness and lead combo?
Is your rat dinky? Do you specifically need to look for small rat harnesses?
If your rat will be allowed to roam your home without a leash, would you prefer a rat harness with a bell?
Our Top-Rated Rat Harnesses
Now the fun bit: here are our pick of the best rat harnesses for you and your ratty companion:
Living World Harness And Lead Set
This rat harness and lead is simple and practical*.
 It's made from polyester webbing, which fits around your rat like a comfortable vest.
The harness is breathable, and fastens with both velcro and a snap.
It even has a bell attached, so you won't lose track of where your rat is.
Reviewers say that the harness is well-made, with soft and thick material.
Their pets find it comfortable too, and it's not an easy harness to slip out of.
Alfie Harness And Leash Set
This lightweight harness* is a great option if you're looking for something a little smaller than vest-style harnesses.
Simple and soft, this harness is a more agreeable choice for rats who are picky about what they wear.
One word that comes up frequently in reviews of the Alfie harness is happy. Customers are happy; pets are happy!
Lots of pet owners say it's a perfect fit.
PerSuper 2-Pack Harness And Leash
This is a great option if you have more than one pet rat.
It has two harness and leash sets for a great price*, so you can't go wrong.
They're made of soft and durable nylon, making them lightweight and breathable.
These harnesses are also smaller and less constrictive than the vest-style harnesses, and they're easy to put on and take off.
The handy bell keeps you aware of where your rat is no matter where it wanders!
These harnesses are designed to be adjustable for bigger pets including giant rabbits and cats too, so check the circumference of your rat's chest and tummy before you hand over your cash!
Coastal Harness
This is our lowest budget, most basic recommendation*.
This small harness is a one-piece harness and lead combo made of small rope.
The benefit of a harness this small is that your pet is less likely to be bothered by wearing it, since it's much smaller than some of the other harnesses available.
Lots of rat owners sing the praises of this harness, and how well it fits their pets.
They love the adjustability of it, and the fact that the tension that keeps them snug doesn't pinch the rat.
Overall, pets seem to enjoy going on adventures while wearing this simple, yet effective design.
Kaytee Comfort Harness and Stretchy Leash
At the other end of the spectrum, this jacket and lead combo* from popular pet brand Kaytee has thought of almost everything.
It's durable and washable, and the stretchy lead means that your rat won't come to an abrupt, jarring halt when they reach the end of it.
A lot of previous purchasers seem to have come unstuck picking the right size for their pet though, so measure your rat up up carefully before you choose the size you need.
Ware Manufacturing Harness-N-Leash
For the dapper rat, this stylish harness has been made in contrast-stitched denim*, with gold-effect hardware.
It's another option which features a handy bell, for if you let your rat explore their surroundings off the lead.
Petoga Couture Tyler Harness and Leash Set
And finally, we bring you this adorable winged harness* from Petoga Couture.
It's guaranteed to get admiring comments for it's eye catching looks, but it's also been designed for comfort and washability too.
Rat harnesses like this are great when you just fancy a bit of fun!
Rat harnesses: safety
A final word on safety when choosing rat harnesses.
We can't find any specific research into the safety of using rat harnesses, and there isn't currently any reason to think they might be dangerous.
But there are a couple of things to bear in mind.
First, harnesses make sure your rat harness is well made and secure.
Don't let your first foray into rat harnesses end in a lost rat!
Secondly, make sure your rat's harness fits well.
It needs to be snug enough to prevent them slipping out of it, but loose enough that it doesn't restrict their movement.
There doesn't appear to be any research specifically looking at how harnesses affect rat's posture and motility, but vets have spoken out about how poorly-fitting harnesses can affect dogs*.
Like dogs, rat don't have a fixed collar bone and their front legs are attached by muscle alone – wearing an overly-tight harness can make using these muscle uncomfortable for your rat.
And finally, rat harnesses are not for all day wear.
Put them on and take them off as you need them, but don't make your rat wear them round the clock or sleep in them.
Best Pet Rat Harnesses
There are a lot of great reasons to buy a harness for your pet rat.
Introduce your rat to their harness gradually, and offer lots of rewards so that they think of the harness as a good thing.
By far the biggest problem people have with rat harnesses is discovering they've bought one in the wrong size.
Measure your rat carefully and compare them against the product dimensions before you buy!
As long as your rat is comfortable in the harness, you will have endless adventures together!
Does Your Pet Rat Have A Harness?
How did you help them adjust to wearing it, and where do they like to go?
Share their adventures in the comments section below!
Affiliate link disclosure: Links in this article marked with an * are affiliate links, and we may receive a small commission if you purchase these products. However, we selected them for inclusion independently, and all of the views expressed in this article are our own.