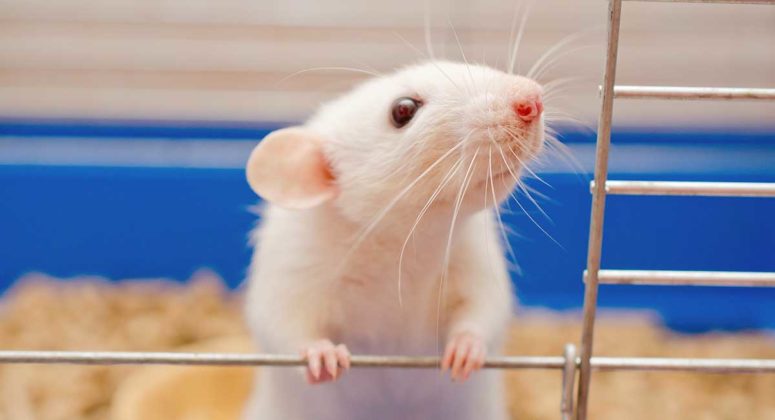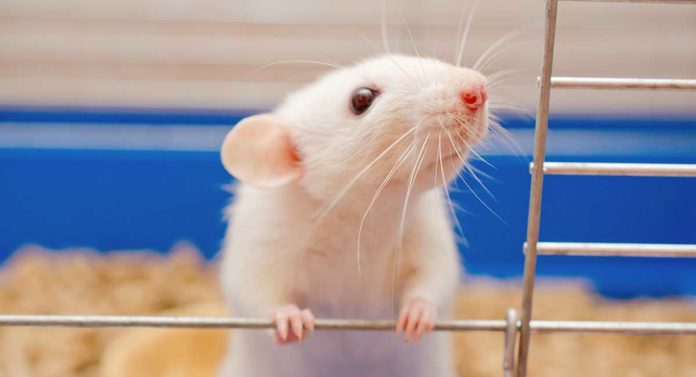 Welcome to our complete guide to pet rat lifespan. Since small pets like rats, mice, and gerbils have shorter lifespans than other animals like dogs and cats, this can be an important subject.
Rats make intelligent, affectionate, and playful animal companions. And if you've never had a rat before, you might be curious about pet rat life expectancy.
Many experts report that the average pet rat lifespan is between 2 and 3 years. However, some rat experts report that, in rare cases, pet rat life expectancy can be as long as 4 or 5 years! Today we'll show you how to help your rat live as long as possible.
Choosing a healthy pet rat and giving it the proper care and good nutrition throughout its life can go a long way to extending the lifespan of a domestic rat. We will give you the rundown on pet rat life expectancy, and how to help your rat stay healthy for as long as possible.
We'll also take a closer look at rats, both wild and domestic, so potential owners can understand both the rat lifespan and rat life cycle.
Aging And The Average Lifespan Of Pet Rats
In England, during the early 1800s, the rat began to make its transition from pest to pet.
Rats were rampant in the cities and pest control became a new career niche. Exterminators came across a wide variety of rats, including some with unique colors or traits.
They began to keep these unusual rodents and bred them to create different types of rat. These rats then began to be sold as pets and thus, became domesticated rats.
In 1895, the National Mouse Club (later changed to the National Mouse and Rat Club) was formed. They set the standards for the different varieties of the rat. This eventually led to the creation of the "fancy rat," and the different body types such as "hairless" and "dumbo."
In the early days of domestication, the pet rat lifespan was around 1.5 to 2 years. It was occasionally as long as 3 years in some cases.
Improved knowledge about proper rat care, feeding, and veterinary care in recent years has made it feasible for rats to live as long as 4 or more years in captivity. However, the average pet rat life expectancy is about 2 to 3 years.
Fancy Rats
How long is the average fancy rat lifespan?
"Fancy" is a term commonly used to describe all domestic rats. A fancy rat is not a specific breed of a pet rat.
Fancy rats come in 7 different varieties, mostly related to the thickness and texture of the coat.
Besides coat type, there are also hairless, tailless, and big-eared (dumbo) fancy rat varieties.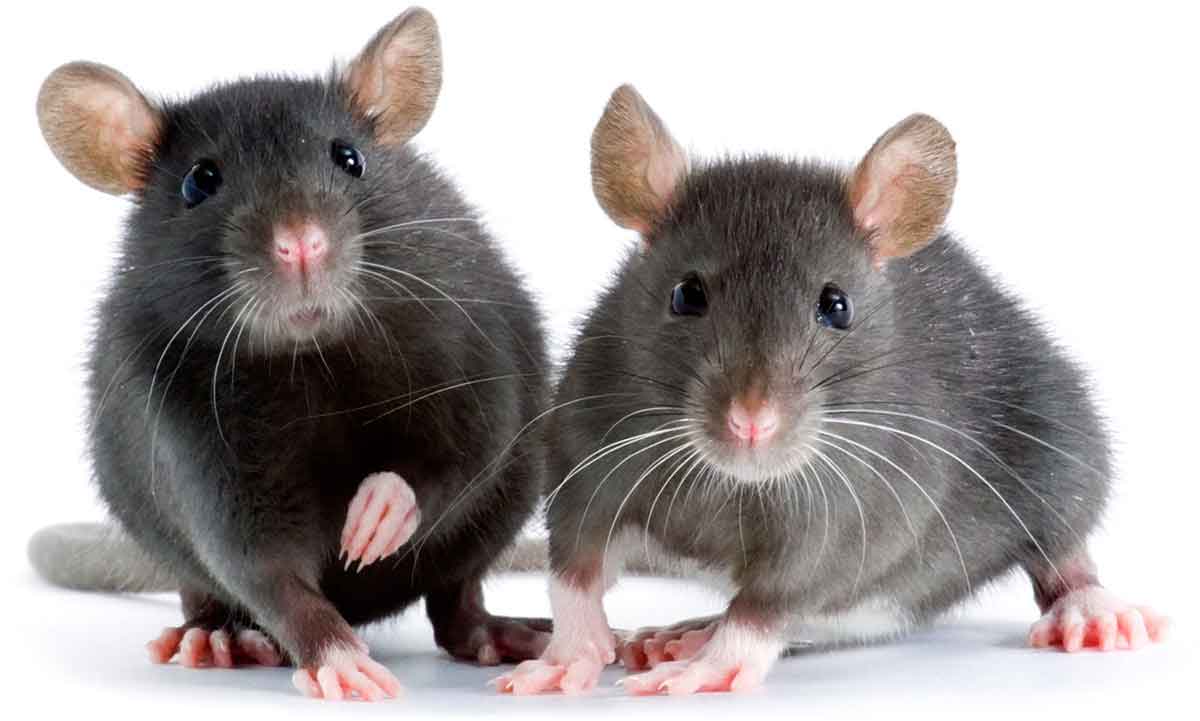 They come in a wide range of colors, and their fur patterns include agouti (or ticked), Siamese, merle, and spotted. They can also have head markings called hoods, caps, and masks.
But the fancy pet rat lifespan is the same as any pet rat.
How long do domestic rats live? The average lifespan of a pet rat is 2 to 3 years, but some rats may live up to 4 or 5 years.
Wild Rat Lifespan
Domestic rats (fancy rats) are descended from wild rats.
Rats in the wild are generally black or brown. But people began trapping white (albino) rats, born to common wild rats, and keeping them as pets.
How long do wild rats live? Many wild rats will not make it to their first birthday. Experts report that the average lifespan of a rat in the wild is between 6 and 11 months.
Rats in the wild face many more dangers than pet rats. They are a common prey animal for many predators.
And wild rats are also impacted by fluctuations on the food supply, such as food shortages caused by drought.
Given these threats, it's not surprising that the lifespan of a wild rat can be very short.
How Long Do Rats Live As Pets?
As mentioned above, the average fancy rat lifespan is about 2 to 3 years. This is 1.5 to 2.5 years longer than the average life expectancy of a wild rat.
As a pet, fancy rats are less vulnerable to both predators and food shortages.
They should be safe when kept inside and fed a daily, healthy pellet diet. With an attentive owner, Pet rats can also receive veterinary care when they show signs of illness.
All of these factors contribute to a longer life expectancy for domesticated Pet Rats.
Pet Rat Life Cycle
Now that we have an idea of the average lifespan of a pet rat, let's look at the rat's different stages of life.
Rat experts generally divide the rat life cycle into 4 phases: newborn, 4 weeks, 1 year, and over 1 year.
Newborn rats are tiny, blind, and dependent on their mothers. They grow quickly, beginning to crawl at 5 days, and their eyes will open at 2 weeks.
At only 4 weeks, a young rat will no longer need its mother. They are fully alert and can feed themselves. But they will still need their siblings to ensure they develop socially.
Around 6 to 8 weeks is the right time to bring home a baby rat.
Rats reach full adulthood at 1 year of age. They are active, playful, and easy to train.
Rats over a year old can be less active and may develop health problems that are common to older pets.
How To Tell If Your Pet Rat Is Getting Old
Similar to the human aging process in some ways, rats lose muscles mass and body weight in their old age.
Their motor function can deteriorate and rats can even develop arthritis. The rat's hind limbs can weaken, the tail may move abnormally, and they may exhibit signs of stiffness or reduced mobility in their joints.
Ill or aging rats can be difficult to detect as rats are prey animals and have a tendency to hide any signs of illness or weakness.
Factors Affecting Pet Rat Life Expectancy
Inbreeding can affect a rat's health and lifespan. An inexperienced breeder can pass on undesirable traits, like a hereditary health condition, along with a particular coat color or pattern.
Proper nutrition for your pet rat is key to a long and healthy life. Ensure they are eating food specifically designed for rats and be aware of what human foods are safe to give as treats and which ones are toxic.
Let's take a look at specific health problems that can affect a pet rat's lifespan.

Pet Rat Lifespan And Health Problems
Besides feeding your rat a healthy diet, you should also monitor your pet for certain medical conditions common to domestic rats.
Rats can be prone to upper respiratory infections, pneumonia, tumors of the mammary glands, and skin parasites.
Pet Rat Lifespan And Respiratory Disease
Respiratory disease is the most common health problem in rats.
Look for discharge from the eyes and nose, as well as sneezing.
Most respiratory infections are bacterial and can be treated with antibiotics. Viral infections require good supportive care like a quality diet and proper cage conditions.
To prevent respiratory infections, your rat's cage should be kept clean and well-ventilated.
Pet Rat Lifespan And Cancer
Fortunately, while common, most rat mammary tumors are benign and not cancerous.
Cancer is more common in female rats and mammary tumors often start to occur from 18 months of age, as this is when the female rat ceases to ovulate.
If you feel any kind of lump under their skin, contact your vet. There are different treatment options, including surgery, to remove the tumor.
Pet Rat Lifespan And Skin Parasites
Rats are most prone to skin mites. The prevalence of skin mites can range from a few to a full infestation.
A few mites are commonly found on most rats and not a problem. However, if a pet is stressed or ill, they are vulnerable to developing an infestation.
This can be treated with medication. However, prevention is always the best.
You should keep your rat's cage very clean and disinfect it often to prevent mites. Also, you should feed your pet a proper nutritious rat diet, and try to prevent them from becoming stressed.
Pet Rat Lifespan And General Health And Care
Some vets recommend that you weigh your pet on a small scale, as deviations from their normal weight can indicate that something is going on before any other physical symptoms are present.
Check your rat regularly for signs of hair loss and skin problems. Note any changes in the appearance or odor of your rat's urine and feces.
Make sure your rat's teeth do not become overgrown.
Provide your rat with materials like wood blocks to gnaw on and bring your rat to the vet for dental trimming if necessary.
Rats are also sensitive to light and heat. Keep their cages out of direct sunlight and away from extreme heat and cold. The temperature should range between 65 and 70 degrees Fahrenheit.
Remember that rats tend to hide signs of illness, so don't wait until it has become highly obvious something is wrong. Early detection of diseases is important for treatment options and life expectancy.
If you are concerned about your rat, the best thing to do is to take them to the vet. You can also look at our article on caring for a pet rat.

Increasing Your Pet Rat's Lifespan
How long can a rat live? Several factors can contribute to increased rat life expectancy.
Whether we are looking at the fancy rat lifespan, the dumbo rat lifespan, or the white rat lifespan, the factors are all the same. The average life expectancy of 2 to 3 years.
Therefore, the answer depends on how you choose a healthy baby rat and how you care for your rat over its entire lifespan.
The optimal age to acquire pet rats is around 6 weeks old. Look for a healthy rat with a shiny coat and bright eyes. Healthy young rats should also be active and curious.
The rat you choose should not be sneezing, or have a runny nose or eyes. And you should check that the rat's droppings are dark and firm.
Once you bring your new rat home, how do you give them a long and healthy life? Here are some expert tips on nutrition.
Feeding Your Pet Rats
Like other pets, rats that are fed too much unhealthy food can become obese. Studies have shown that even a small reduction in food quantity can significantly increase a pet rat's lifespan and improve its overall health.
Feed your rat a diet rich in antioxidants to help increase its lifespan. As with humans, oxidative stress caused by free radicals in the body can cause disease and accelerate the aging process.
Healthy food for your rat includes quality commercial rat pellets as well as fresh vegetables like carrots, broccoli, and peas. Be sure to feed your pet pellets designed for rats and no other small rodents, as every animal has different nutritional needs.
You can also feed your rat fresh fruit as an occasional treat. Rats enjoy people food like bread, nuts, and cooked eggs.
However, save these foods for special treats as too many treats contribute to unhealthy weight gain. Additionally, diets high in sugar and fat are unhealthy for your rat and can lead to health issues, similar to that in humans.
How Long Do Dumbo Pet Rats Live?
Dumbo rats are a variety of fancy rat. They are distinguished by their large round ears, set low on the head.
Dumbo is a recessive genetic trait, meaning that if both parents are dumbos, all the babies will be dumbos. One dumbo parent mated with a regular rat could produce litters with either some dumbos or no dumbos.
How long is a dumbo rat lifespan? A healthy dumbo rat should have a normal Pet Rat life expectancy of 2 to 3 years or more. The main factor that could contribute to poor health or a shortened lifespan is inbreeding.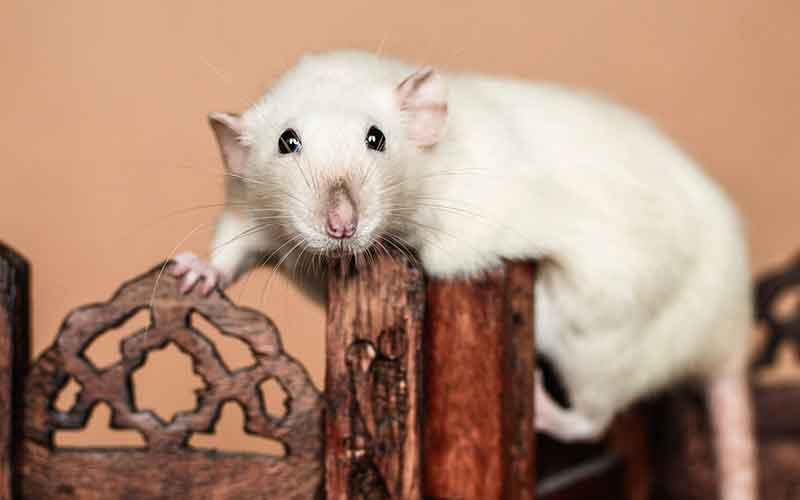 Inbreeding of dumbo litters can pass down other, unwanted characteristics besides the desired large ears. Therefore, reputable breeders will outcross their rats to remove negative traits and add positive ones.
Good rat breeders will breed not only for physical characteristics but for overall health. You should get your pet from a responsible breeder to help ensure that you get a rat with a normal dumbo rat lifespan.
How Long Do Hairless Pet Rats Live?
Like the dumbo, the hairless pet rat lifespan is also a variety of the domestic fancy rat.
Hairless rats can have any color of skin, but the skin should be smooth and blemish-free. Many hairless rats will have short, curly whiskers, or none at all.
Unfortunately, hairless rats have a lot more health problems than their haired cousins.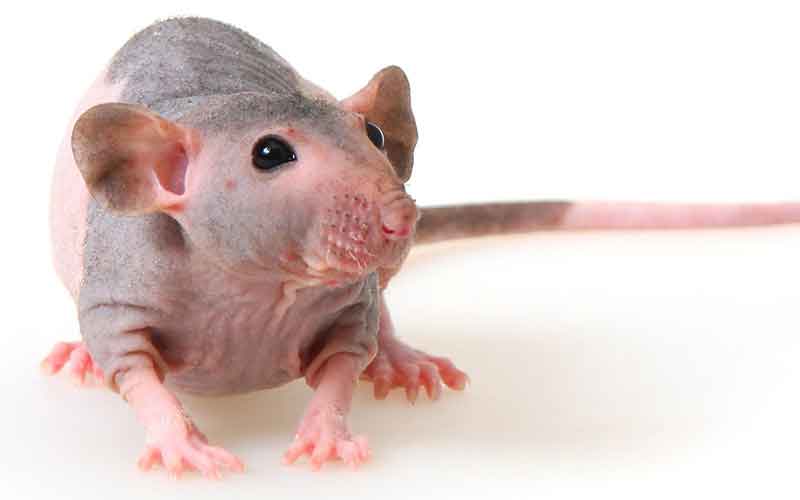 Hairless rats are not just missing their hair, they are also missing their thymus gland. A gland integral to the development of the immune system.
So, in short, how long is a hairless rat lifespan? Hairless rats tend to have a shorter life span than the average fancy rat, of about 6 to 12 months.
Therefore, think carefully before bringing a hairless pet rat home, and make sure you check out our guide for more information.
How Long Do Albino Pet Rats Live?
Many potential owners have questions about the albino or white rat lifespan. And they wonder if coat color, in general, impacts pet rat lifespan.
How long is the white rat lifespan or rats of any color for that matter?
Although hairless rats don't live as long, the coat color and markings of a rat do not influence its overall lifespan.
Any color rat, including albino, can live a long healthy life if bred from healthy lines and cared for properly.
How Long Do Feeder Rats Live?
One important thing to keep in mind when buying a rat from a pet store is to make sure that you are getting a fancy rat from a breeder and not a so-called "feeder rat."
Feeder rats are sold as food for animals like snakes. They are often bred from unhealthy genetic lines, are prone to illnesses, and have a short life expectancy.
Feeder rats are often white (although they can be any color), so it's important to know that the pet store rat you are buying is not a feeder rat.
Oldest Living Pet Rat
It's possible that the longest living fancy rat went by the name of Rodney. He lived to be 7 years and 4 months old.
Rodney was born in Oklahoma in 1983 and lived until 1990. No one seems to know what helped him reach the ripe old age of 7.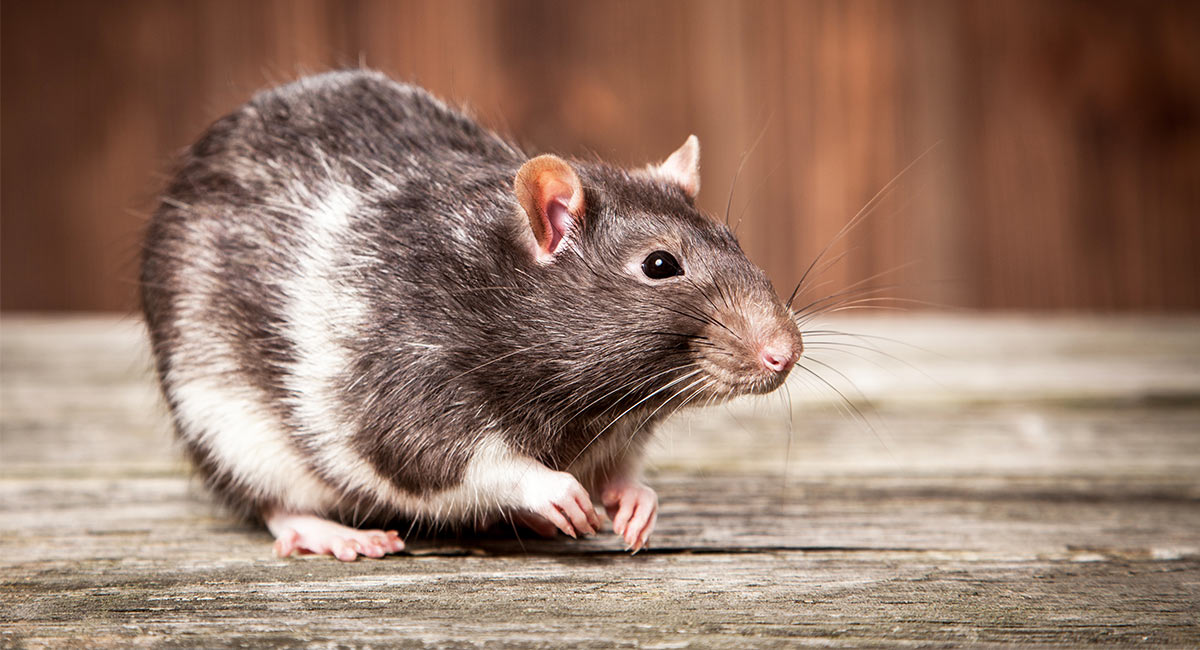 Pet Rat Lifespan Summary
The average fancy rat lifespan is about 2 to 3 years. And the pet rat generally lives longer than a wild rat, except for the hairless rat, which also has a short life expectancy even in domestication.
Although there are a lot of factors that can influence the length of a fancy rat's life, proper nutrition, clean living conditions, and vet care can all help your pet rat live a long and healthy life. Also, getting your pet rat from a trusted and reputable breeder can help ensure you are getting a healthy baby rat.
Despite being fairly short-lived creatures, with proper care, your pet rat can live a happy and healthy life for as long as possible!
How Old Is Your Pet Rat?
Do you have a pet rat? Let us know how old they are in the comments below!
References And Further Reading
Altun, L. 2007. Behavioral impairments of the aging rat." Physiology & Behavior.
American Fancy Rat & Mouse Association
Araújo, M. D. 2019. " Spontaneous Mammary Tumors In Domestic Rats (Rattus Norvegicus)."
Donnelly, T. M. Accessed 2019. "Mice and Rats as Pets." Merck Veterinary Manual.
Heiss, L. 2015. "5 Facts That Will Change the Way You Think About Rats." Vetstreet.
Jergler, D. 2015. "What You Need to Know About Rats: Tips from exotic veterinarians." Veterinary Practice News.
Mancinelli, E. 2015. "Health problems in geriatric rats." Vet Times.
Quesenberry, K. E., and Boschert, K. R. Accessed 2019. "Routine Health Care of Rats." Merck Veterinary Manual.
Rey, F., et al. 2015. "Morbidity and disease management in pet rats: a study of 375 cases." Veterinary Record.
Richardson, A., et al. 2015. "Significant life extension by ten percent dietary restriction." Annals of the New York Academy of Sciences.
RSPCA. 2019. "A healthy diet for rats."
We have extensively revised and updated this article for 2019.