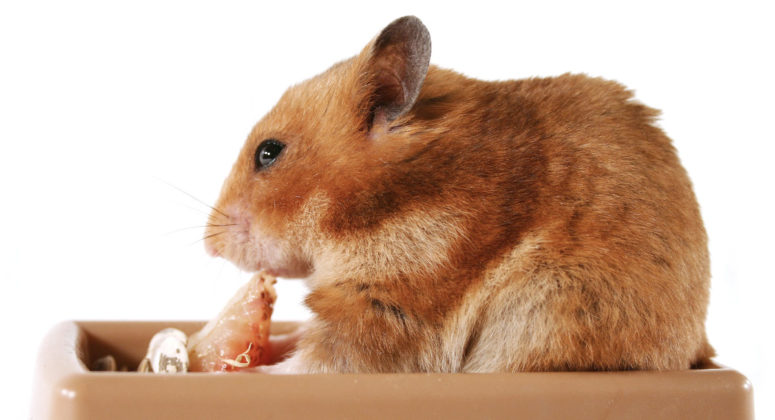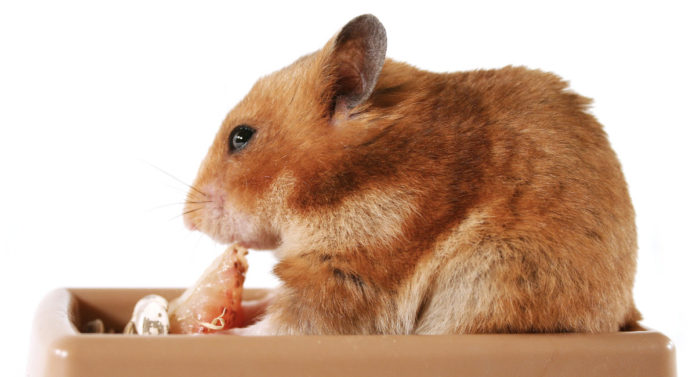 Looking For The Best Hamster Treats For Your Tiny Friend? Then Look No Further!
From Dwarf To Syrian Hamsters, Homemade To Store Bought Options. We Will Help You To Discover The Very Best Hamster Treats, Right Here.
Hamsters are a lot like us in some ways.
For instance, like people, hamsters are omnivores, which means they eat both meat and plant matter.
And while hamster food may not look that appetizing to you or me, hamsters definitely have their food preferences, which means they will eat only the things they like if we let them!
All of these products were carefully and independently selected by the Squeaks & Nibbles team. If you decide to make a purchase from one of the links marked by an asterisk, we may earn a small commission on that sale. This is at no extra cost to you.
Our favorites
In a hurry? Check out some of our favorite hamster treats here:
You can find full reviews of them below, along with loads of other contenders for the best hamster treats.
Can I give my hamster treats?
Hamsters also like to hoard their favorite foods (and here is where their roomy cheek pouches can really come in handy).
And hamsters, like humans, love tasty treats.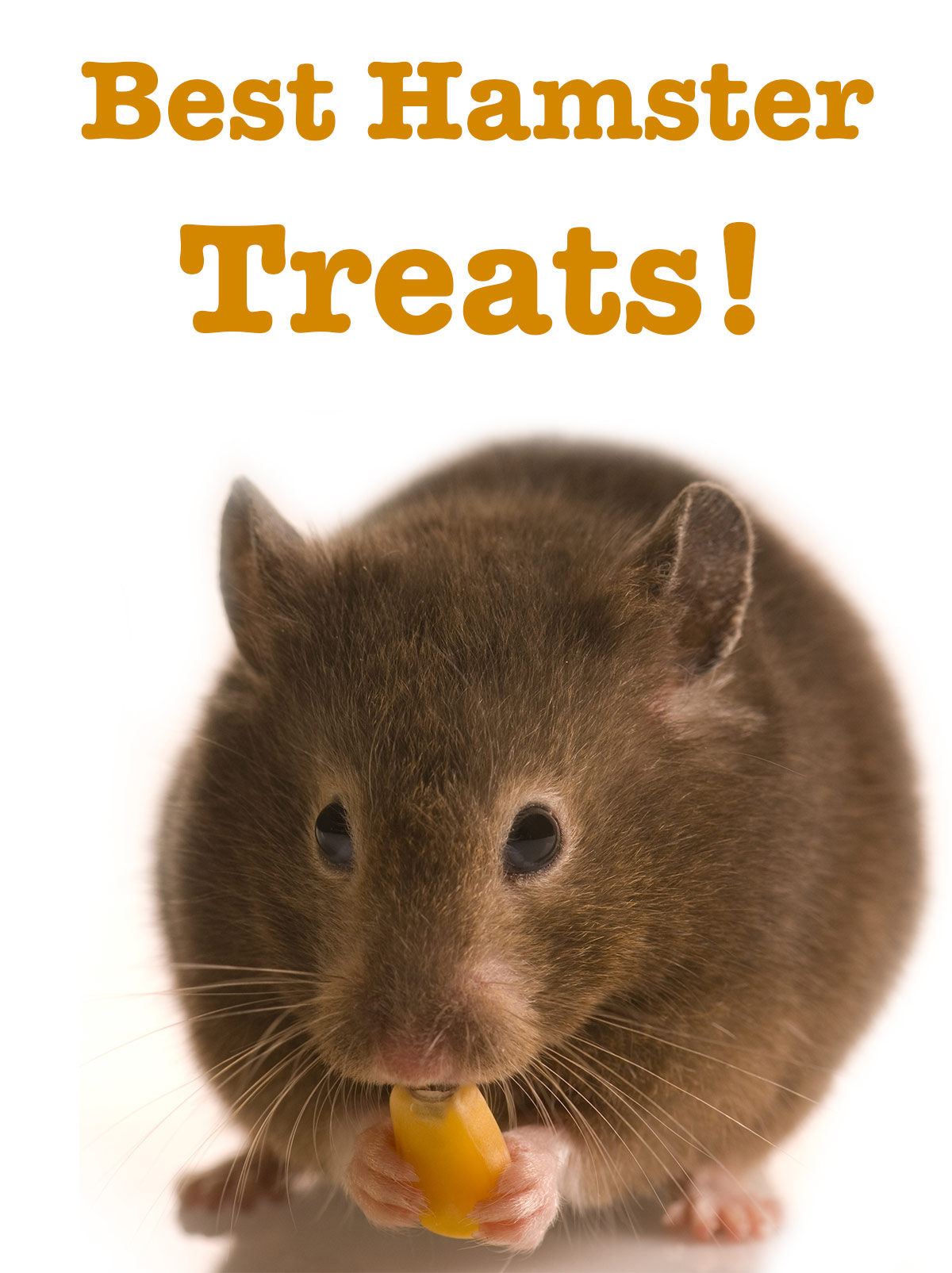 But where eating too much or eating the wrong things might send you in search of an antacid, allowing your teensy hamster to do the same could prove fatal.
So, can you give your hamster treats?
The short answer to this question is "Yes!"
Developing a list of your hamster's favorite treats is a great way for you to learn more about your pint-sized fur ball.
Offering your hammie treats from her hamster treats list can also help you establish trust, build a bond and accomplish training goals.
The key is to offer good treats for hamsters in the right quantities that are as nutritious as they are tasty!
Hamster food and treats
Right now you are probably wondering, "Okay, so what treats can I give my hamster?"
The best way to answer this question is to look at hamster food and treats together as one single daily unit.
Every single day, your hamster needs to take in approximately one tablespoon (12 grams) of high quality hamster food.
This food should be corn-free if possible and contain plenty of fiber (roughage) for digestion, plus no more than 15 to 20 percent protein for energy.
Your hamster should also have unlimited, continuous access to a variety of fresh hay for environmental enrichment, foraging and proper teeth wear.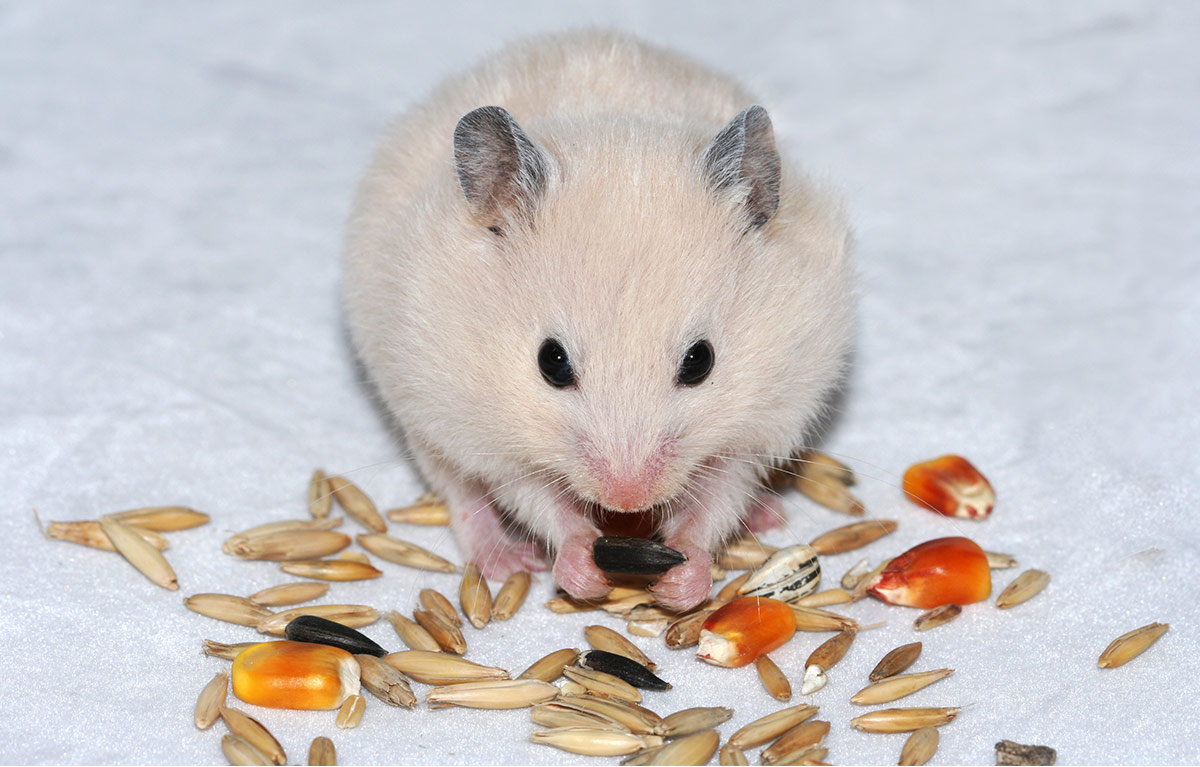 Only after these two critical health needs have been met in full should hamster treats even enter into the food picture!
Fresh treat foods such as vegetables and fruits can provide essential vitamins and minerals.
You can offer one teaspoon of fresh veggies (dark green leafy vegetables, carrots) daily and the same portion of fresh fruits twice weekly, working up to that amount over time.
Whole grain (non-corn) unsweetened cereals and breads, seeds, cheese, cooked pasta and cooked lean meats also make excellent diy hamster treats.
Healthy hamster treats
The best hamster treats are of course healthy hamster treats.
Vegetables and fruits are very healthy hamster treats diy. However, offering too much fresh food can cause digestive upset due to water content.
So what are healthy, good treats for hamsters besides fresh foods?
These are all good options:
Shelled unsalted nut meats (no almonds!)
Whole unsalted shelled seeds
Baked potatoes or sweet potatoes (no skin)
Scrambled or hard-boiled egg
Mealworms,
Crickets
Dog biscuits
Yeast-free/corn-free breads
Cooked lentils
And cooked brown rice
Dwarf Hamster Treats
So, before we begin let's quickly look at dwarf hamster treats and how they may or may not differ from Syrian hamster treats.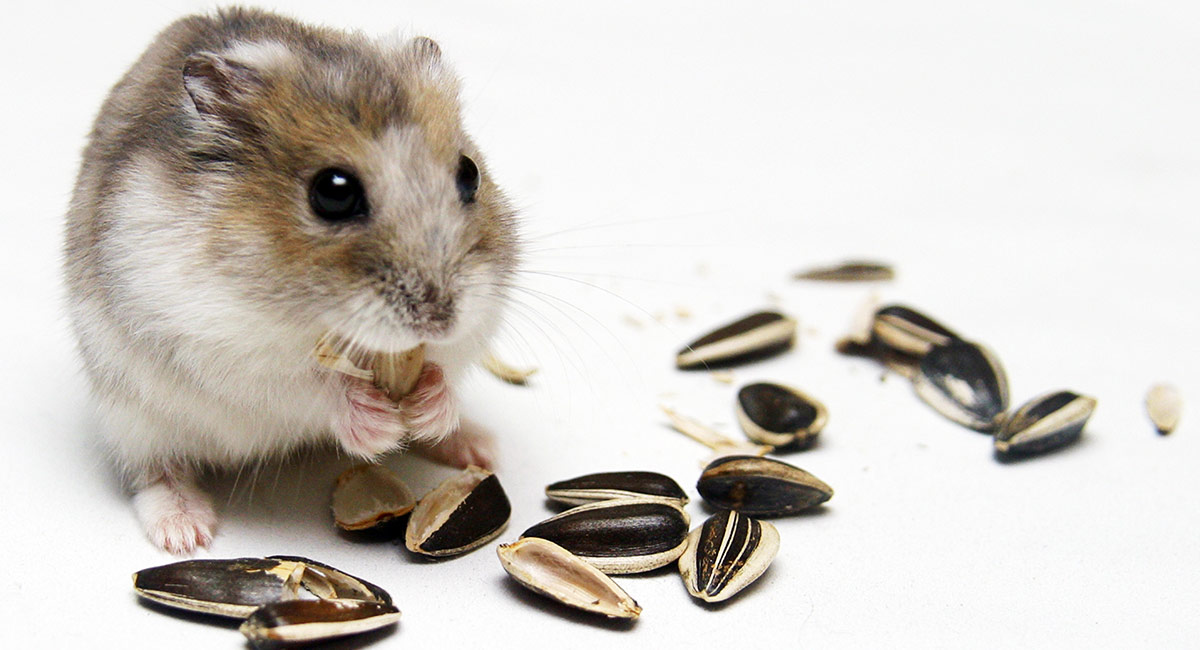 Are the best hamster treats the same for dwarf hamster treats, Robo hamster treats and Syrian hamster treats?
Any hamster treat should be fine for any breed of hamster. But there is a caveat.
Not only are dwarf hamsters smaller and therefore need a smaller quantity of food, but they are prone to diabetes. So it's important that they don't have too much sugar in their diet.
Make sure that fruit or sugar inclusive treats are only given to dwarf hamsters in tiny quantities and sparingly.
Now let's take a look at some ideas of other treats your hammie can eat, including dog treats for hamsters and how to make homemade hamster treats.
Hamster yogurt treats
Hamster yogurt treats can be the best hamster treats for lots of small furries.
They make for a great occasional treat food and hamsters reliably love them.
Just remember to always feed a portion equivalent to no more than two raisins size-wise.
eCOTRITION Yogies for Hamsters
These yummy ecotrition Yogies hamster treats* come in two flavors (fruit, cheese).
Hamster owners say both flavors are a hit with their fur babies. The treats are shaped like small chocolate chips, so they are easy for your hammie to hold and nibble.
The bag is 3.5 ounces.
Check them out on Amazon here*.
Kaytee Fiesta Blueberry Flavored Yogurt Dipped Hamster Treats
These popular Kayte Fiesta hamster treats* are shaped like actual blueberries, so they are easy for your hamster to grasp and eat.
Hamster owners say even picky hamsters love these. Kaytee also offers other flavors, including strawberry and banana.
The bag is 3.5 ounces.
Check them out on Amazon here*.
Vitakraft Strawberry Drops Treat for Hamsters
These Vitakraft Strawberry treats* contain whey, lecithin and protein in addition to strawberry and yogurt for a balanced treat.
They contain no artificial flavors or colors. Hamster owners say their pets just love these chocolate chip-shaped treats.
You can order two five-ounce packs or one 5.3-ounce bag.
Check them out on Amazon here*.
Hamster treat sticks
Most hamsters love treat sticks. The challenge here is to avoid overly sticky treat sticks.
Sticky foods can get stuck in your hammie's fur to the point where you may need to cut them out. They are also a choking hazard if a sticky treat gets stuck to your hamster's teeth and blocks the air flow.
This selection of hamster treat sticks is free from overly sticky binders and highly rated by hamsters and their keepers.
Ecotrition Small Animal Cheesie Chews
Hamster owners praise this Cheesie chew*.
It is a long-lasting cheese-flavored fully edible chew stick that will also help to keep your hammie's teeth filed down naturally.
There are two chews in each 1-ounce package.
Check them out on Amazon here*.
Ware Willow Critters Pretzel Sticks Small Pet Chews
These "pretzel" Ware Willow Critters sticks* are actually made of natural willow wood.
Hamster owners say their hammies just love them. One of the best parts of this treat is that it helps keep your hamster's teeth filed naturally.
You can purchase a 1-ounce (10 stick) 2-pack or 3-pack or a 4-ounce bag.
Check them out on Amazon here*.
Snak Shak Hamster Activity Log Pet Treat
This popular, tasty Snak Shak hamster treat log* is made from alfalfa hay and golden honey, but it looks like natural wood.
There is another popular treat stick* that is pre-stuffed with seeds.
Good Hamster Treats
Good hamster treats taste great, have natural ingredients and sometimes even give your hamster something to do at the same time.
Whether it's dismantling the treat, or hiding the parts in their den.
Here are some more great options for the best hamster treats for your little pet.
Oxbow Simple Rewards
If you are looking for a pre packaged healthy hamster treat then Oxbow Simple Rewards* is a great place to start.
This could just be one of the best hamster treats around, with it's natural ingredients.
Rich in fiber and coming in delicious bit sized chunks.
Brown's Tropical Carnival Fruit & Nut Small Animal Treats

Will your hamster go nuts for this Tropical Carnival Fruit and Nut mix*?
It contains lot of yummy natural ingredients, including real apricots, mangos, almonds, peanuts, papaya and raisins.
Sounds good enough to eat!
Kaytee Healthy Toppings
Kaytee's Healthy Toppings* are designed to be yummy, but also encourage activity.
They are hamster chew treats that will need some serious gnawing to conquer.
Made with real fruit, they are a great little occasional treat.
Check them out on Amazon here*.
VitaKraft Sun Salad
Another tasty looking option is VitaKraft's sun salad*.
It's made using natural ingredients and has a very healthy appearance.
Including peas, carrots and sweet potato there are some great ingredients.
However, it does also include sugar on its ingredients list, so it possibly isn't the best hamster treat for dwarf hamsters and should definitely be avoided if your hammie has diabetes.
A nice choice for healthy Syrian hamsters though, in moderation.
Homemade hamster treats
Learning how to make treats at home for your hammie can be a super fun family project!
Even better, making your own homemade hamster treats helps you control sugar levels to keep your hamster safe from the threat of developing diabetes.
You can also make up your own tasty homemade hamster treat recipes using a hamster treat/chew stick as a base (see "Hamster treat sticks" section here for ideas) with a bit of peanut butter, organic honey, mashed banana or cheese spread as "glue."
Chop up a selection of veggies or fruits. Thinly coat a chew stick with your "glue" of choice and then roll to coat it in the chopped produce. Be sure to remove it after a few hours so the fresh ingredients don't spoil.
Another fun homemade hamster treats recipe requires only Cheerios, organic honey and seeds.
Drizzle one-eighth cup Cheerios with a fine coating of organic honey and add one-eighth cup seeds blend.
Shake in a bag until the cereal is thoroughly coated with seeds. Yum!
Dog treats for hamsters
Sometimes a manufacturer will develop a treat for dogs, let's say, but then later pet owners write to share that their other pets love the treat also!
Of course, if you happen to already have a dog at home and a supply of dog treats, you may understandably be wondering, "Can hamsters eat dog treats like the ones I already have?"
The answer here comes from looking over the ingredients list. You want to verify all ingredients are okay for hamsters (ask your vet if you are not sure).
Also check for sugar levels – most dog treats have less sugar than most hamster treats.
The lower the sugar content in hamster treats the better, especially for dwarf hamster breeds, who have a genetic weakness towards developing diabetes.
Here are three safe dog treats for hamsters to get you started!
Fruitables Crunchy Dog Treats
These crunchy baked Fruitables Crunch dog treats* come in several flavors (pumpkin & banana, pumpkin & apple, et al).
They are small so your hamster can easily grasp a treat to nibble on it.
Check them out on Amazon here*.
Milk-Bone Brushing Chews Daily Dental Dog Treats
Many hamster owners offer their hammies Milk Bone dog biscuits*.
They are crisp for chewing and keeping teeth filed down while delivering a nice complement of vitamins and minerals.
The small/medium biscuits are best for hamsters.
Check them out on Amazon here*.
Cloud Star Grain Free Oven Baked Buddy Biscuits
These tasty, crunchy Cloud Star Grain Free treats* are recommended by the California Hamster Association as safe dog treats for hamsters.
They come in two sizes (14-ounce, 28-ounce).
Check them out on Amazon here*.
Best hamster treats
We hope you have enjoyed reading through these tips for how to feed your hammie treats that are both nutritious and delicious!
Remember, if you are ever in doubt about whether a certain food is safe for your hamster to eat, be sure to ask your veterinarian first.
Sometimes you don't get a second chance with such petite pets, and it is worth the wait to be sure the treat food is safe!
We'd love to hear about your hamster's favorite treat foods! Please post a line in the comments section here to let us know!
Affiliate link disclosure: Links in this article marked with an * are affiliate links, and we may receive a small commission if you purchase these products. However, we selected them for inclusion independently, and all of the views expressed in this article are our own.
Resources
Quesenberry, K., DVM, MPH, DABVP, et al, "Providing a Home for a Hamster," Merck Veterinary Manual, 2016.
Siperstein, L. J., DVM, "Hamster Feeding," The Humane Society/VCA Wakefield Animal Hospital, 2017.
Heidari, M., et al, "Fasting and Postprandial Overproduction of Intestinally Derived Lipoproteins in an Animal Model of Insulin Resistance," Journal of Biological Chemistry, 2002.
Kahn, C. M., "The Merck/Merial Manual For Pet Health," Simon & Schuster, 2007.