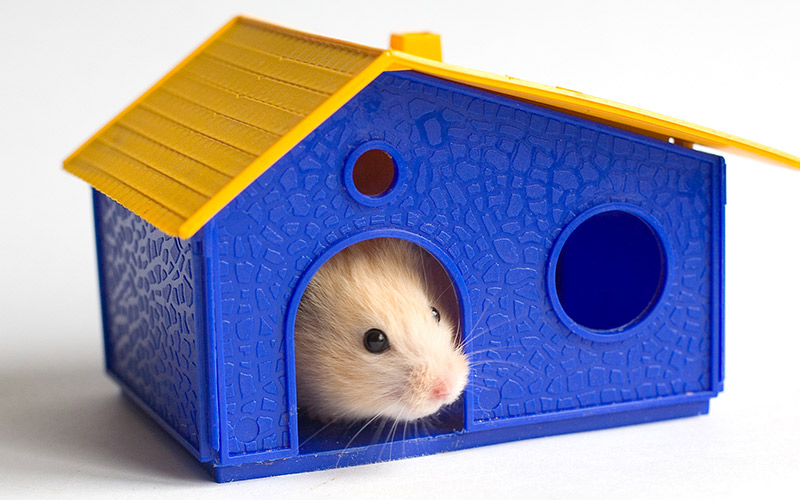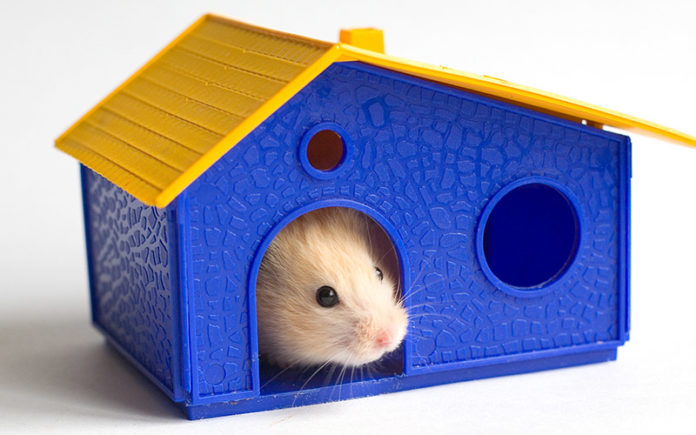 Looking For The Best Hamster Houses For Syrian Or Dwarf Hamsters? Want The Perfect Hideaway Or Hamster Shack? Then Look No Further!
We Look At The Best Way To Pick The Right Hamster Houses, With Reviews Of The Top Choices.
Hamsters are one of the most popular pets.
And with good reason!
Small, adorable, and easy to care for, these tiny rodents make great additions to the family.
And, as any hamster owner will tell you, these little fur-balls have big personalities.
Hamsters are naturally curious and enjoy exploring their surroundings.
It's therefore important to make sure their living conditions interesting, safe and fun.
What better way to amuse your pet than with a specially designed hamster house?
All of these products were carefully and independently selected by the Squeaks and Nibbles team. If you decide to make a purchase from one of the links marked by an asterisk, we may earn a small commission on that sale. This is at no extra cost to you.
What is a Hamster House?
A hamster house is a partially enclosed space that you put into your hamster's home. Traditionally house-like in appearance, they now come in a variety of fabulous, creative shapes.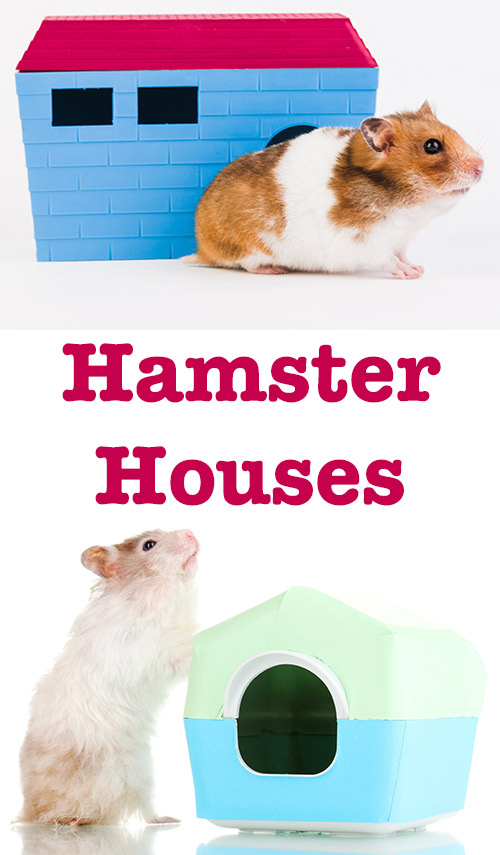 These small structures provide hours of entertainment for rodents.
Including hidey holes, doors and other fascinating features.
They fit into your hamster's cage and provide a playground for your pet.
A hamster house is a great addition to your pet's living space.
There's so much variety it can sometimes be hard to pick!
You may be considering a hamster plastic house, or something a little more costly.
You might want a large hamster house or a little hamster house.
Whatever you're after, we can help you decide.
Hamster hideout
Hamsters are neat by nature. In the wild, these small animals have separate areas for eating, sleeping and eliminating.
When introducing a house into the cage, make sure it doesn't limit your hamster's freedom to move about.
Rodents love to climb over structures and nestle into nooks and crannies.
You can help your pet feel safe by giving him a hamster hideout.
Putting a little hamster house into your hamster's cage will give them somewhere to retreat to when stressed.
Kaytee Tree Trunk Hamster Hideout
Pet accessory manufacturer Kaytee has a tree trunk-shaped hideout*.
This popular product satisfies a hamster's instinct to hide and comes in a variety of sizes.
Kaytee Tropical Fiddlesticks
Another hideout option from Kaytee is its Tropical Fiddlesticks*.
Brightly colored sticks bend to make an arch your pet can hide beneath.
Dwarf hamster house
There are 24 different species of hamsters. Among the most common are dwarf hamsters.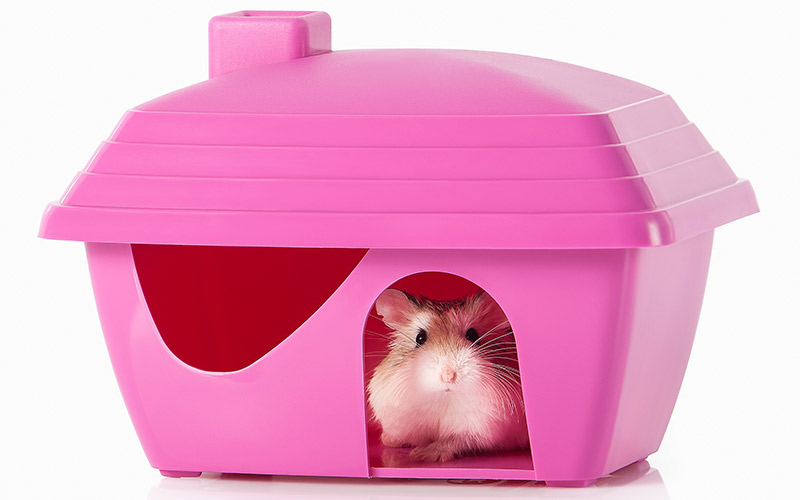 Previously only available through breeders, the dwarf hamster has become more popular in recent years.
As the name suggests, these are tiny rodents. Adults grow no bigger than 4 inches in length.
Small hamster house
Dwarf hamsters have high energy levels and love to play.
Their small size and active nature makes them particularly suited to small hamster houses.
Kaytee Small Hamster Igloo
Kaytee makes a small igloo perfect for tiny hamsters*.
The plastic igloo is available in a number of colors including green, blue and purple.
Their 'itty bitty' size is ideal for dwarf hamsters and the walls are translucent so you can see your pet inside.
They are also durable, and stain-resistant.
JW Pet's Small Hamster Barn
JW Pet's Walk Up Small Animal Barn is another great option for dwarf hamsters.
This small plastic hamster house* has a ramp on the outside so your hamster can climb up.
Underneath is a cozy bolthole for sleeping or resting.
Syrian hamster house
Syrian hamsters can grow to 7 inches long, so they require slightly more room than dwarf hamsters.
Also known as teddy bear hamsters, Syrian hamsters come from Syria and Turkey. They are used to dry, arid conditions and love to burrow and dig.
They also love to run and are usually active at night.
Big hamster house
Give your Syrian hamster plenty of stimulation with a large hamster house he can explore.
The perfect hamster house for Syrian hamsters contains lots to do, and provides shelter – creating their own snug burrow.
Niteangel's Tunnel System
Niteangel's Tunnel System house* is a large two-storey house.
With a tower, tunnels and other climbing opportunities, this is a dream come true for any active rodent.
It is made from wood and can accommodate both large and small hamsters.
Kathson Wooden Hamster House
This sweet large-scale hamster house* is easy to assemble and fun to hide treats around for your hamster to find.

Wooden hamster house
Wooden hamster houses have a lovely traditional look, and can look great in your hamster houses. As well as providing everything your pet needs from their hammie hideaway.
Kaytee Woodland Getaway Hamster Houses
Kaytee makes a fun 'Woodland Getaway'* for hamsters.
This small hut is a basic wooden structure, but it does the job.
It gives your hamster a cozy, nesting spot to retreat to if sleepy stressed.
And it will look cute in a more traditionally styled hamster house too.
Alfie Pet Hamster Houses
Alfie Pet offers a wooden two-storey house*.
It comes with lookout holes, stairs and a platform.
Your hamster can climb, play and feel safe inside.
Plastic hamster house
Plastic hamster houses can provide lots of entertaining features, and are often less expensive than their wooden counterparts.
You can also find a big range of styles and colors.
Kayte Tree of Life Hamster Houses
Kaytee's Tree of Life house* comes with three features in one.
This plastic tree trunk comes with a wheel and feeding tray attached.
It's a multi-purpose option which allows you to make the most of your hamster's living space.
Kaytee Puzzle Playground
For a more sophisticated alternative, Kaytee also makes a puzzle playground*.
The plastic box resembles a tiny jungle gym.
Test your pet's brainpower as it dives through holes and up ladders!
Hamster cave
Rodents are prey animals. This means their instinct is often to hide. They feel most secure in hideyholes and small areas.
Give your pet his own safe space with a small cave. Having a burrow will give him somewhere to relax when he's not in the mood for playing or being handled.
Alfie Pet Hamster Cave
Alfie Pet has a cute strawberry cave* which keeps your hamster snug in style.
Made from ceramic material, it has just one entrance hole so he feels secure.
Preview Grass Hamster Houses
How about a handwoven grass cave*?
100% sisal, this enclosed hut gives your rodent a place to nestle and rest in comfort.
It will also look nice in your hamster's house.
Cool hamster houses
There's a lot of variety when it comes to selecting your hamster's home.
And in an attempt to capture this huge market, manufacturers are coming up with crazy designs and wacky ideas.
Niteangel's Cool Hamster Houses
Niteangel's cool-looking tube home* is designed to look like a hollow tree trunk.
With holes along the side, your hamster can peer out as it buries into the log.
Niteangel Natural Living Mat Hamster House
Also from Niteangel, the Natural Living Mat House* is a cute little home.
It includes a ladder and an enclosed turret.
And it's made from wood so your pet can gnaw at the furniture!
Cute hamster house
From the cool to the cute, some hamster houses are as adorable as their inhabitants.
Kaytee Ceramic Critter Bathhouse
The Ceramic Critter Bathhouse from Kaytee* has a round shape and hamster ears.
It comes in four different, but equally cute, colors.
Pixnor's Fluffy Bear Hamster House
Your hamster won't want to leave Pixnor's fluffy bear house*.
A cozy bear-shaped hammock, it gives your pet a warm, soft place to sleep or hang out.
Pink hamster houses
How about a bit of kitsch?
These pink hamster houses certainly fit the bill!
Petzilla Hideout Hut
The Petzilla Hamster Hideout Hut* is a simple design in cherry-pink.
A small hut, it's the perfect spot for your hamster to sleep and nest in comfort.
The floor is removable for easy cleaning.
Alfie Pet Petoga
Help your hamster stand out from the crowd with an unusual mushroom hut from Alfie Pet*.
This adorable pink toadstool has lookout holes in the roof and sides. It's a durable ceramic material and suitable for dwarf hamsters.
Best hamster houses
The best hamster house is the one that fits your and your hamster's needs.
No-one can choose for you as the best house depends on a number of factors.
Factors such as the breed and size of your pet, and its living space.
Another important consideration is your hamster's level of activity. Younger pets tend to be more active so they may enjoy a larger house with room to wriggle around and explore.
So which hamster houses do you like best for your tiny friend? Why not let us know in the comments section below!
Affiliate link disclosure: Links in this article marked with an * are affiliate links, and we may receive a small commission if you purchase these products. However, we selected them for inclusion independently, and all of the views expressed in this article are our own.
References & Resources