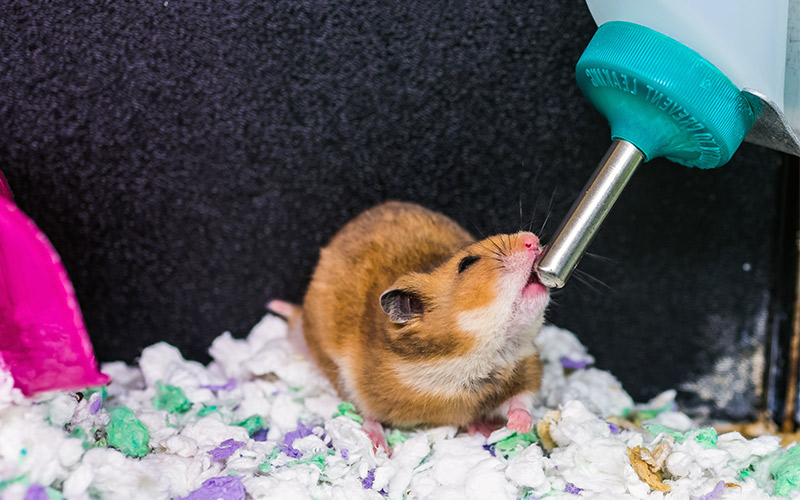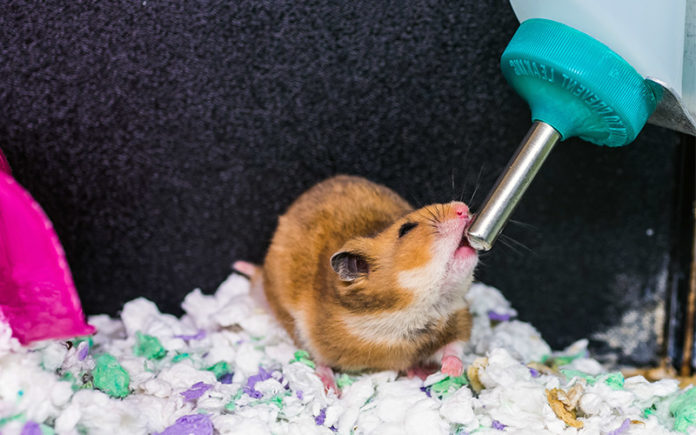 Looking For The Best Hamster Water Bottle? Then Welcome To Our Complete Hamster Water Bottle Guide!
We will let you know which water bottle designs for hamsters are the best, and give you reviews of the most popular choices.
Fresh water is obviously essential for your hamster.
After all, what living creature doesn't need water?
But did you know there are several possible delivery methods for that water.
Should you use a hamster water bottle or a hamster water bowl?
What's the best type of hamster water bottle?
You don't want to buy a water bottle and find your hamster water bottle leaking, so you'll need a good product.
And then there's the matter of how to secure that hamster water bottle.
Are some methods are better than others?
Let's find out!
All of these products were carefully and independently selected by the Squeaks and Nibbles team. If you decide to make a purchase from one of the links marked by an asterisk, we may earn a small commission on that sale. This is at no extra cost to you.
Hamster water bottle vs hamster water bowl
The first issue to tackle is whether to use a hamster water bottle or a hamster water bowl.
The answer is straightforward: use a water bottle.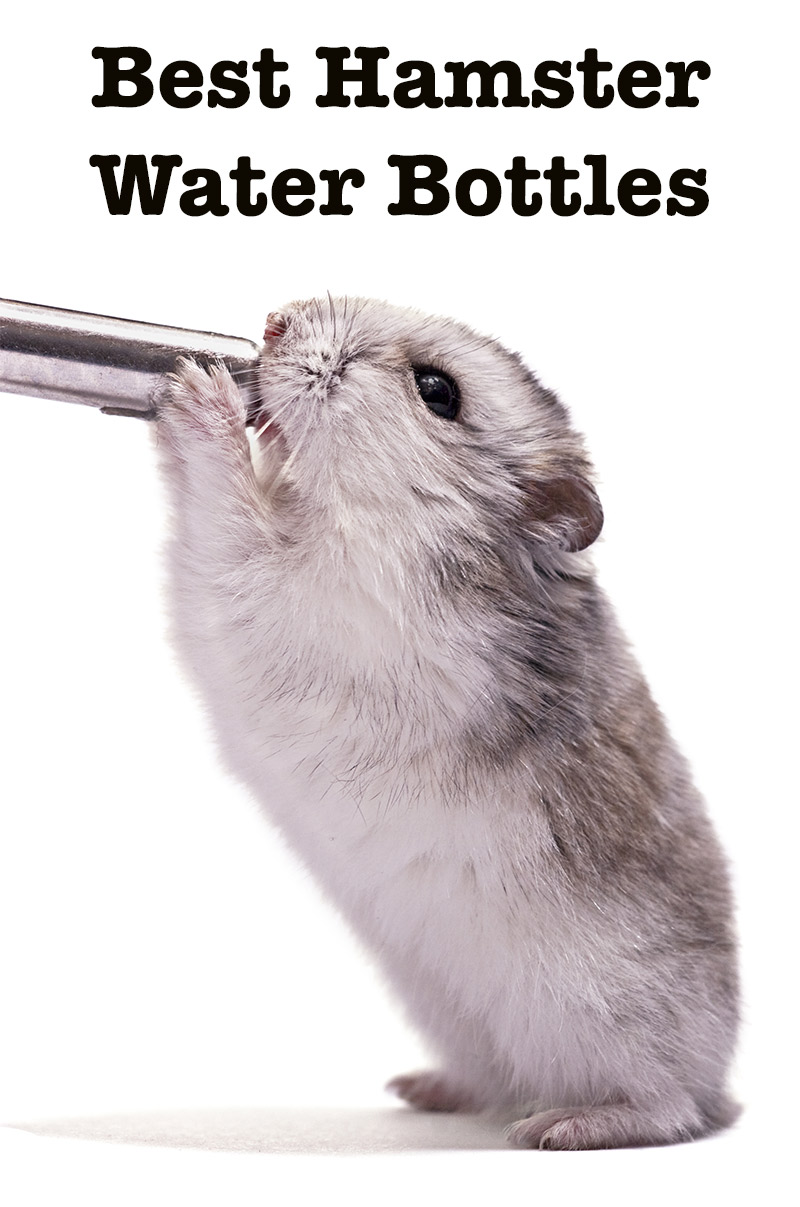 According to the Humane Society of the United States, water bottles have two main advantages.
Water in a hamster water bottle can't be spilled, clogged with bedding or contaminated with any other debris the way a bowl can.
Hamsters also need clean, dry bedding.
A bowl can be easily tipped, creating a saturated and unpleasant environment.
Which also means more cleaning for you!
What to look for in a water bottle
The fact is, any old water bottle won't do.
There are a lot of hamster water bottles on the market that will leak or are of just overall inferior quality.
When looking for a water bottle, you'll want to find one that can be fixed spout down in a secure manner at a height that is at the hamster's level.
It should be made of glass or plastic, and be easy to clean.
Downward-facing spouts with a ball bearing stopper are the preferred bottle design, according to the Humane Society of the United States. When you hang the bottle, always make sure the water is working by tapping the ball bearing.
You may also want to consider the size of your hamster when looking for a bottle.
According to the National Hamster Council almost any bottle labeled for hamsters and mice is a good size that will work for both dwarf and Syrian hamsters.
But keep in mind the size of the bottle if you are using a smaller dwarf hamster cage so the bottle fits.
And be sure to check the labelling carefully for which breed can use the bottle.
Hamster water bottle with suction cups
When looking at hamster water bottles, you may notice that suction cups are a somewhat common way of securing water bottles.
Especially if you're Googling "hamster water bottle for aquarium."
But try to avoid the bottles that are held up with suction cups.
Although there are a few options like this, the reviews of them tend to be disappointing.
Purchasers state that the suction cups don't do a good job of holding the bottle up, sometimes falling immediately.
The last thing you want is the hamster water bottle falling and leaking all over the cage.
Or worse, falling and injuring your hamster.
But don't worry, there are other options for hamsters who live in aquariums.
Hamster water bottle holder for glass tank
If you really want to make sure your water bottle holds is place, you'll want to check out a hamster water bottle holder.
Kaytee Small Animal Chew Proof Water Bottle Holder
The Kaytee Small Animal Water Bottle Holder* (paid link)hangs onto the side of the enclosure.
This makes it a good option for a hamster water bottle for glass tank.
The holder itself is also chew-proof, as the name suggests.
Its measurements are 6 ¾ inches length by 1 3/5 inches width.
It can hold both a 4 or 8-ounce bottle. This is a good choice*(paid link):
Hamster water bottle stand
A free standing hamster water bottle is a good choice if you have an aquarium setup that makes hanging water bottles more tricky.
We like Alfie Pet by Petoga Couture*(paid link). A 2-in-1 water bottle with ceramic base.
The cute thing about this hamster water bottle stand is that it has a little door on the side of the stand for your hamster to run in and out of.
The ceramic base makes it sturdy and odor-resistant.
It holds 80 milliliters, and is 5 inches tall with a diameter of 1.75 inches.
Hamster cage water bottle
If you have a hamster cage, it's easier to find a water bottle to suit you.
The Lixit Corporation SLX0850 Aquarium/Cage Small Animal Water Bottle*(paid link) is our top choice.
(paid link)

This hamster water bottle holds 5 ounces.
Its rounded edges provide a chew-resistant design.
It also has a polyethylene stainless steel double bell-point tube.
The bottle works on both an aquarium and a cage, and it hangs like a bell.
Dwarf hamster water bottle
When it comes to dwarf hamster water bottles, Kordon Oasis Bell Bottle and Hold Guard* (paid link)is good choice.
This little 4-ounce bottle is the perfect size for smaller dwarf hamsters.
The hold guard encases the bottom of the bottle, which allows you to easily drop in and slide out the bottle. It also provides maximum support for a straight bottle.
The rounded bottle top discourages chewing, as well.
It is held in place by a strap that allows it to fit most aquariums and cages.
Alfie Pet by Petoga Couture
This 3-in-1 Water Bottle with Food Bowl and Hut for Small Animals&(paid link) is another great option.
The stand is perfect for a small dwarf hamster, as it brings the bottle right down to his level without having to secure it against a cage wall.
The setup also has a hideaway under the bottle that your little guy can scamper to after he's done drinking.
For added convenience, there's also a food bowl right next to the water. It's the perfect oasis for your little dwarf hamster.
It holds 80 milliliters and measures 5 inches tall and 1.75 inches in diameter.
Syrian hamster water bottle
The Kordon Oasis 8-ounce bottle* (paid link)is perfect for larger breeds of hamster, like the Syrian.
The bottle is cradled by a hold guard for maximum stability, and a wire ring also holds the bottle in place.
This bottle is also held in place by an adjustable strap.
It has a rounded bottle top to discourage chewing, as well.
Choco Nose Patented No Drip Hamster Water Bottle
Is this the best hamster water bottle? Maybe!
Most water bottles seem to leak at one time or the other. But the Choco Nose patented leak proof hamster water bottle*(paid link) design fixes that problem.
It can hold 11.2 ounces, or 330 milliliters.
The bracket holding the bottle screws onto the cage, and then you can snap the water bottle on and off the bracket for changing water and cleaning.
Its dimensions are 2.3 x 2.3 x 6 inches.
Hamster travel cage with water bottle
On the go with little hammie? The Kaytee CritterTrail Carry & Go Travel Habitat*(paid link) travel cage comes complete with a 4-ounce water bottle.
In addition to the water bottle, there is a locking corner food dish so that no one spills food while on the move.
It can also attach to other CritterTrail habitats for expandable play.
Your pet has ventilation through ¼-inch-spaced bars.
Its dimensions are 8 x 12.5 x 7.5 inches.
Hamster Water Bottle Cleaning
It's important to change the water daily. Along with cleaning the bottle on regular occasions.
A bottlebrush will come in handy to remove debris.
But estimates on when to clean the hamster water bottle can vary,.
The veterinary clinic MedVet suggests disinfecting the bottle with hot water and mild detergent daily, whereas the Humane Society recommend doing it once a week.
You may wish to make a judgment of when your hamster's bottle looks so dirty it needs cleaning.
Personally, we think that the more often you clean your hamster water bottle the better!
Best Hamster Water Bottle?
The best hamster water bottle for your pet will depend upon his breed and the type of cage you use.
When you know which attachment method you prefer, we recommend going for the breed size appropriate bottle with the highest star rating on Amazon.
What about your hamster?
Have a hamster water bottle you're fond of? Feel free to share in the comments section below.
Affiliate link disclosure: Links in this article marked with an * are affiliate links, and we may receive a small commission if you purchase these products. However, we selected them for inclusion independently, and all of the views expressed in this article are our own.
References