Large hamster cages are a popular option for owners who want to give their furry little critter as much space to scurry and play as possible.
Big hamster cages may also provide several dwarf hamsters (of the same species and gender, who grew up together) with a spacious habitat.
In this article, we'll review the best large hamster cages of different types. We will take a look at extra large cages, cages for Syrian hamsters and dwarf hamsters, cages with tubes, and large plastic, wire, wooden, and even glass cages.
Our Top Three Large Hamster Cages
There are plenty of big hamster cages out there. And it can be a little overwhelming to try to choose the best one!
We've broken up these lists into different categories to make it a little easier on you. But here are our top three.
Kaytee My First Home Multi-Level Habitat
This habitat promises plenty of room for your hamster, as well as multiple levels for play and easy cleaning.
Kaytee CritterTrail Z
Another favorite from Kaytee, this fun, brightly colored habitat looks like a playground for your hamster! It has two tunnels, a lookout tower, and an exercise ball.
Ferplast Hamsterville
This hybrid material cage is made from both wood and wire, and has a very cute hiding house for your hamster.
Important Features For Large Hamster Cages
Getting a large hamster, such as a Syrian (also known as a Golden or Teddy Bear hamster), will mean purchasing a cage to match. Your little buddy will appreciate plenty of space for sleeping, eating, exercising and burrowing.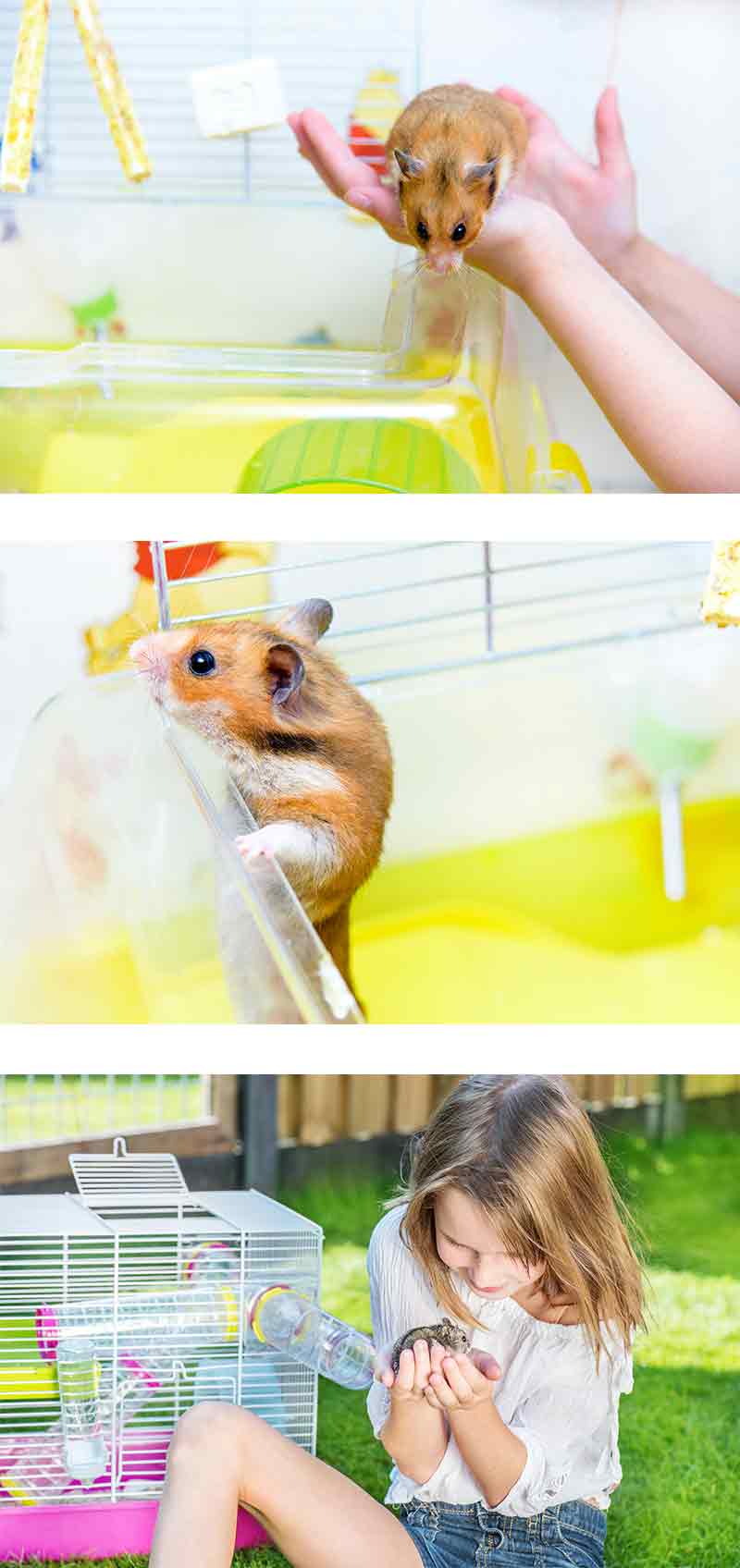 Or, perhaps you have several Dwarf or other small-breed hamsters who especially enjoy running and scuttling about.
If that's the case, then a big hamster cage could provide your little clan with plenty of room to run amok.
Before you purchase a product, though, you'll want to consider a few things, including the type of cage and the species of hamster that you'll be housing.
For example, if you're looking at a wire cage, you'll need to pay close attention to the spacing between the wires, as a Dwarf hamster may be able to squeeze between them if they're set too far apart.
Wire Cages
Wire hamster cages should have half an inch of space or less between their bars, in order to prevent your hamster from escaping.
If he can fit his head through, then you can bet your biscuits that the rest of him will fit, too!
Additionally, very small Dwarf hamster species may not be able to be housed in wire cages at all. They may be small enough to squeeze through even the tiniest of spaces.
Throughout these lists, we include the material that has been used, and pay special attention to ensuring the safest recommendations for different types of hamster.
Big Hamster Cages With Tubes
If you're interested in a cage with tubing, it's important to note that this may not be the best option for housing a Syrian hamster. If your Syrian is particularly large, then there's a chance that she might get herself stuck in the tubes!
Furthermore, Syrians are active chewers who may be able to chew through the plastic connectors between the tubes.
If your hammie succeeded in chewing the connectors between tubes, then you could end up on a wild goose, or rather wild hamster, chase!
Cleaning Your Habitat
It's very important to keep small animal habitats clean. Not only is that a good way to help your furry friend stay safe and healthy, it also cuts down on any odors that may be a problem!
Some hamster cages may be easier to clean than others, and this may impact your decision when it comes time to choose which one to opt for.
We've included notes on some big hamster cages that advertise ease of cleaning.
Check out our How to Clean a Hamster Cage article for more information!
Now you know what to look out for, let's talk about some of the best large hamster cages available online right now.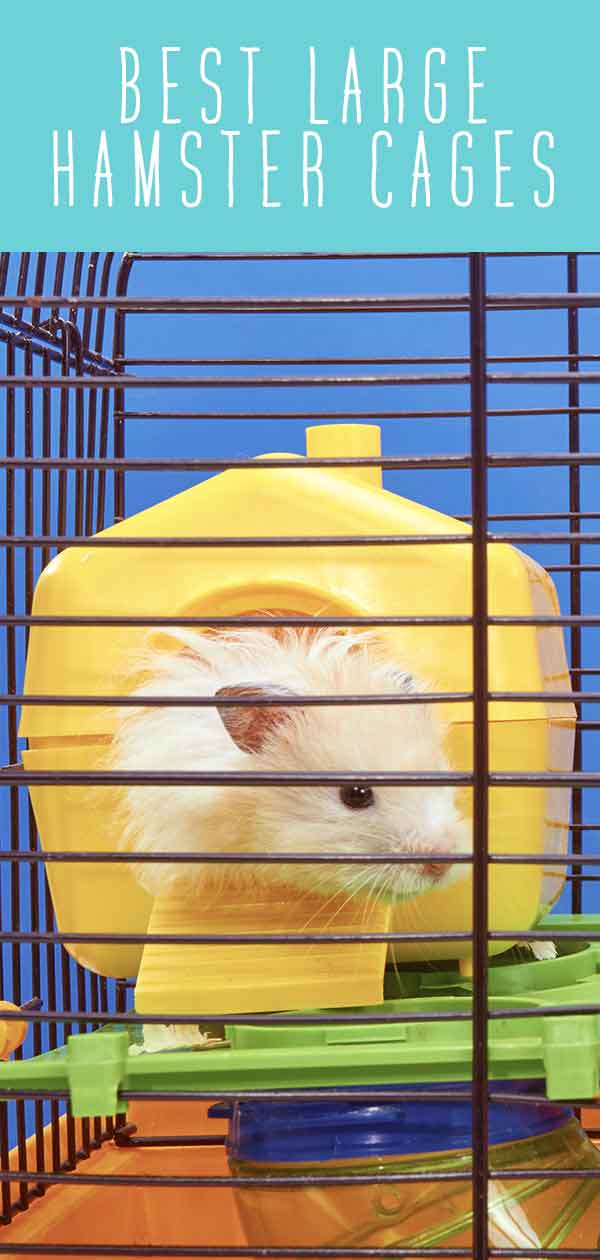 Best Indoor Large Hamster Cages
It's only natural to want to keep your hamster indoors.
After all, you want to make sure that their environment is the best for them, that they don't get too hot or too cold, and that they're protected from larger animals.
And you want them close so you can watch them and play with them!
These large hamster cages are great for all of the above. You'll notice that they provide protection even within the house, in case of other pets.
Cavie Rabbit Cage
This cage is large enough to house a rabbit, so you can be pretty sure that it will provide plenty of space for your hamster as well!
At 37" long, this cage offers play space while still being manageable for indoors. It also has a hideout, and comes equipped with a food dish, water bottle, and hay feeder.
Amazon Basics Pet Habitat
This highly rated Amazon product comes in three different sizes, but we recommend the jumbo, which measures 48×28 inches.
It also includes a water bottle, feeder, and food dish, as well as a built-in hideout for your hamster. The hideout is underneath a ramped balcony.
Prevue Pet Small Animal House On Stand
This option is great for keeping your hamster up and close to his human family. The rolling cage is 33×20 inches, which makes it a little smaller than some we've listed here. But since it's on a stand, it helps to keep your hamster away from curious cats and other pets.
Best Outdoor Large Hamster Cages
Most animals benefit from spending some time out of doors. But in the case of small animals like a hamster — even if you have a very large hamster, such as a Syrian — it's definitely best to be out there with them so you can keep a watchful eye out.
It's also a good idea to have something to keep them in so they don't wander off.
With these outdoor cages and playpens, your hamster can safely enjoy the sunshine!
Amakunft Small Animal Outdoor Playpen
This choice from Amakunft is highly rated. It's simple to put up, lightweight, transparent and breathable.
At full expansion it is 47×15 inches, giving your little pet plenty of room to play.
ToysOpoly Pet Playpen
Another large playpen for small pets, this fabric tent-style playpen is completely enclosed to protect your pet.
It's easy to store, easy to assemble, and lightweight. And the zippered top can be removed when your hamster needs a little sunshine.
Petsfit Outdoor Rabbit Hutch
This adorable hutch has a roof with asphalt shingles, to keep the rain from getting in to your hamster (though it's still recommended that your pet be kept inside when you're not out with him).
With two tiers and a hideout, there is plenty of room for your hamster to explore and play.
Best Extra Large Hamster Cages
Hamster activity = extra large cage.
Highly active hamster breeds, such as Dwarfs and Roborovskis, love to run.
If you have several of them, then it may not be feasible to have more than one or two exercise wheels in a standard-sized hamster cage.
Therefore, an extra large cage may be your best option for ensuring that all of your pint-sized buddies have enough room to stretch their little legs.
Just be sure that if the cage has wire, the wires are spaced no more than one quarter of an inch apart.
Prevue Hendryx Deluxe Hamster Cage
This extra large deluxe cage from Prevue Hendryx features two hideaway houses and an exercise wheel.
At 22×12 inches, it's a roomy size for a single hamster.
Living World Deluxe Habitat
This gigantic hamster cage is a great option for more than one hamster to share some space.
Though it also comes in standard or large sizes, the extra large hamster cage size is 47×22 inches. It's a hybrid cage, with a wire upper part and a deep plastic bottom.
3 Levels Animal Cage
This roomy cage features three separate levels, all connected by ramps, giving your hamster even more room to run and play.
It has tight half inch bar spacing for the wire construction, which means it is a good choice for even smaller hamsters.
Best Plastic Large Hamster Cages
If you have a hamster that is large and loves to burrow, then you might consider a plastic tank cage. One with solid, high walls that prevent bedding and waste from being kicked out.
Even if you don't have a large hamster, the high walls of tank-style cages ensure that tiny hammies don't accidentally escape while they're digging around.
When searching for a plastic hamster cage, you'll notice that the majority of solid-plastic habitats are small, with little air holes and vents. This is so because they're generally meant to be used as carriers only.
Plastic isn't exactly breathable, and so you should only place a hamster in an enclosed carrier for brief trips to and from the vet, for instance. Therefore, we recommend finding a plastic-wire hybrid cage for your hamster's long-term home.
This could be a plastic-tank with a wire cage that connects securely to the tank, or a cage with the bottom and two sides in plastic, and the other two sides in wire.
Iris Hamster Cage
This fun cage features a nearly all-plastic design for ease of cleaning. But it also includes two walls made with plastic bars for ventilation.
It comes in two or three tier design, giving your hamster more room to play, with tubes, terraces, and a hiding house.
Habitrail Cristal Hamster Cage
This hybrid wire and plastic cage is 16×10 inches, but it is designed to be easily connected with other Habitrail products, which could give your hamster far more space to play.
It includes tubes and an exercise wheel.
Best Wooden Large Hamster Cages
Did you know that you can purchase a wooden hamster cage?
That's right – your little buddy can have a rustic and all-natural home! However, there are some criteria that a wooden hamster cage must meet.
First of all, be sure that the cage is meant for hamsters. Not all cages are created equal, and so it may be tempting to purchase a wooden ferret cage or rabbit hutch. These will be too big for a hamster, which may enable him to escape through any wire mesh that's too far apart.
Additionally, you should not buy a cage that's made from cedar or pine, as these woods can be poisonous to your hamster if she ingests them. Furthermore, a hamster cage should not be treated with pesticides or toxic chemicals.
Therefore, it's important that you purchase a hamster-specific wooden cage from a manufacturer who uses pet-safe and non-toxic sealant, if they use any sealant.
Ferplast Hamsterville Hamster Habitat
Ferplast Hamsterville Cage is a pretty unique option.
If you're looking for an eco-friendly hamster cage for a Dwarf, then this all-natural choice may be the perfect wooden option for you!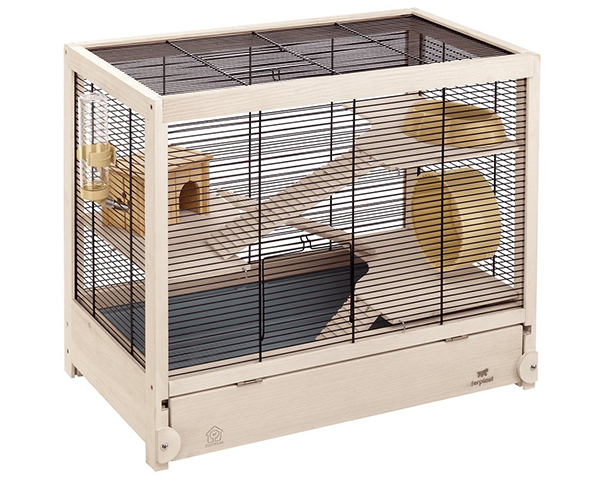 The cage is kept fresh and secure with wire sides, and the wood is treated to be liquid resistant. It also boasts an easy to clean pull out tray at the base.
Your hamster will love the fun wheel, ramps and cute hiding house.
You can even accessorise with more wooden hamster toys!
Best Large Wire Hamster Cages
We've mentioned wire hamster cages a couple of times throughout this article.
While wire cages provide plentiful air flow and don't take up too much surface area, they're not the best option for every hamster.
Depending on the distance between the wires, a wire cage may not be suitable for super small Dwarf hamster breeds, but most wire cages are suitable for Syrian hamsters (assuming the cage is made specifically for hamsters).
Homey Pet
This roomy wire cage features two shelves at different levels and ramps for Hammie to access them.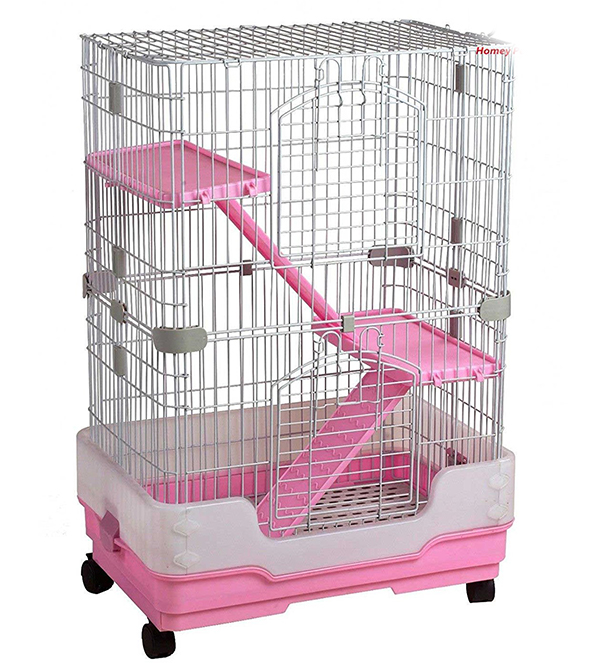 A plastic urine guard keeps things tidy, and a removable plastic litter try makes it easy to remove waste.
The cage is even on lockable wheels for easy transportation! The wires are spaced 0.8 inches apart, making this cage ideal for Russian Dwarf or Syrian hamsters only.
This model measures 26 inches long by 38 inches tall by 17 inches wide.
Ware Manufacturing Home Sweet Home Cage For Small Animals
Ware Manufacturing has several different products for hamsters and other small animals. This is one of the higher-rated options.
It features a deep heavy-duty plastic bottom and chew-proof, powder coated wires. The cage comes in small, medium, or large sizes to match your needs.
Best Large Syrian Hamster Cages
Large Syrian hamster cages (or extra large Syrian hamster cages) are a good idea for the not-so-small "Golden" or "Teddy" hamsters.
Since Syrian hamsters can grow up to seven inches long, it's best that they have a larger cage. However, as we mentioned previously, not just any cage will do. You should stay away from hamster cages with tubing if you'll be housing a Syrian hamster.
You may long to watch Hammie run through the maze of tunnels and into adorable little lookout towers, but his size prevents him from easily fitting through many varieties of hamster tubing.
The good news is, you don't have to worry as much about wire hamster cages for Syrians.
They're large enough that they can't easily fit through bars once fully grown (although we still recommend keeping the wire distance at a half an inch or less), and many wire cages are also chew-proof!
Kaytee My First Home Habitat
Kaytee My First Home Habitat cage clocks in at 30.5 inches long and 18.5 inches wide. This cage has plenty of flat floor space for your Syrian!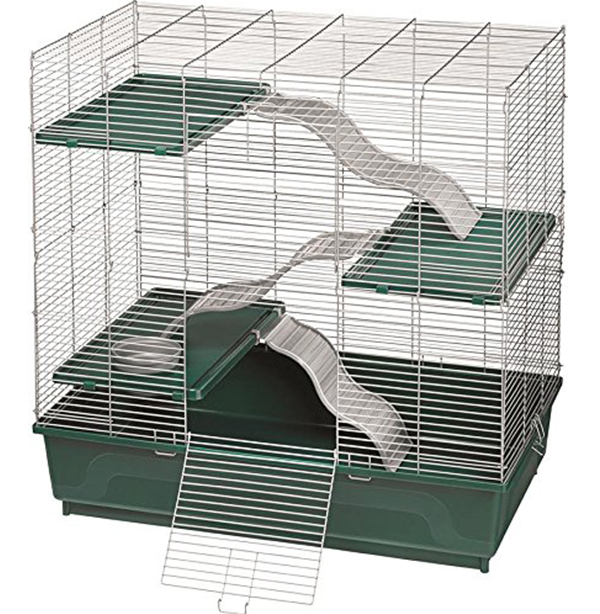 In addition, multiple levels of plastic shelves and adorable connecting bridges span 30 inches from the floor to the ceiling.
An 8.5-inch deep plastic pan makes a lovely space for burrowing into soft bedding without kicking it out, and the chew-proof wire spaced at half-inch intervals ensures that your critter stays where he belongs!
Large Dwarf Hamster Cages
As we mentioned earlier in this article, some Dwarf hamsters are tiny enough to squirm through even extremely tight spaces. Many dwarf breeds are also highly active little hammies who are known to go, go, go for hours!
As such, it's best that you keep extra tiny Dwarf hamster breeds such as Chinese and Roborovskis in the appropriate type of cage. We recommend avoiding wire cages for these breeds, unless you have a Russian Dwarf that is not quite small enough to escape between the bars.
Fortunately, you can definitely let all Dwarf hamster breeds run through cages with play tubes in them to your heart's content! They shouldn't have much of an issue navigating through the tunnels, what with their pint-sized constitutions.
Here are two Dwarf hamster-approved cages for you to take a look at!
Kaytee CritterTrail Z
This Kaytee CritterTrail Z Habitat is a popular, and prime, choice.
Here's a super adorable hybrid habitat that's just perfect for your tiny four-legged friends!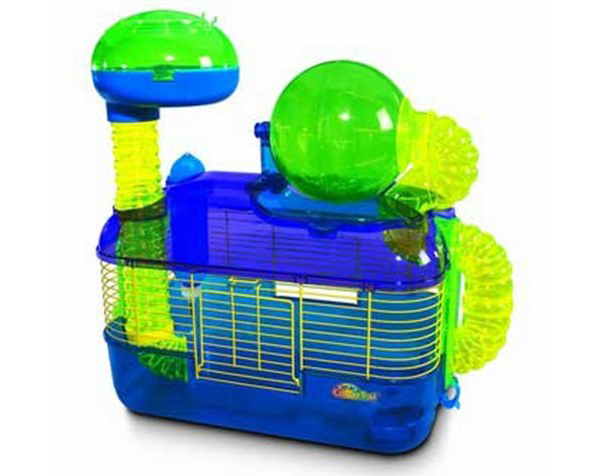 A solid plastic base keeps bedding material and waste in, and wire sides spaced at 0.25 inches apart prevent even the smallest of hammies from making a getaway.
This cage also includes two tunnels leading up to a lookout tower and an exercise ball, as well as a food and water bowl.
Lixit Animal Care Hamster Heaven
Lixit Animal Care Savic Hamster Heaven Metro Cage looks like a lot of fun!
This is a large cage that would be an excellent choice if you have more than one Dwarf hamster!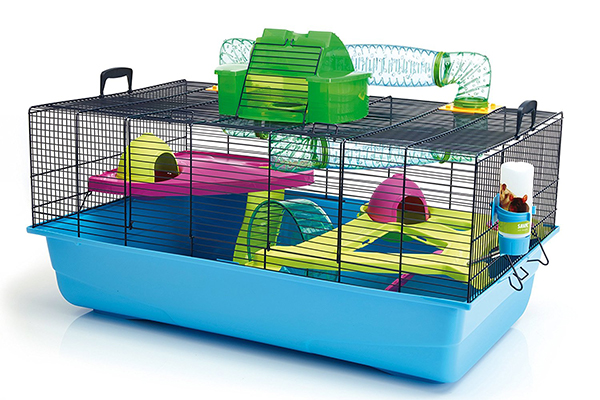 At 31.5 inches long by 20 inches wide by 20 inches tall, there's lots of space for everyone.
A solid metal wire top secures to a nice deep plastic base, and the cage comes outfitted with an exercise wheel, shelves, ladders, hideaway "huts" and tunnels, as well as a food bowl and water bottle.
Best Large Hamster Cages With Tubes
As we've hinted at, hamster cages with tubes are uber-adorable and make watching tiny critters moving about super intriguing.
However, the sad truth is that they aren't the best option for Syrians hamsters. Syrians are very active chewers and thus may chew the connectors between the tubes until they break, causing the tubes to come apart and possibly lead to a great hamster escape!
So, if you're going to purchase a hamster cage with tubes, we recommend that you only use it to house Dwarf hamsters.
Here are two hamster habitats with plenty of tubing for your tiny tots to run through.
Kaytee Critter Trail Extreme Challenge Habitat
This Kaytee Interpret Limited Superpet CritterTrail Pet Cage is another fun play space.
This brightly colored plastic-wire hybrid cage has all of the amenities! It comes with a half-interior, half-exterior play tube through which your critter can access a slide and a rooftop exercise wheel. And the high plastic base keeps bedding in.
You'll love watching your fur baby racing through the obstacles. And the translucent plastic bottom lets you watch him hunker down to sleep.
It also comes with a food bowl and water bottle. This model is 20 inches long by 11.5 inches wide by 18 inches high.
Kaytee Critter Trail Dazzle Turn About Habitat
In the same vein, the CritterTrail Dazzle Turn-About Habitat is lively and full of fun colors.
Here's another fabulous product from Kaytee! This model features a giant exercise wheel and a lookout tower!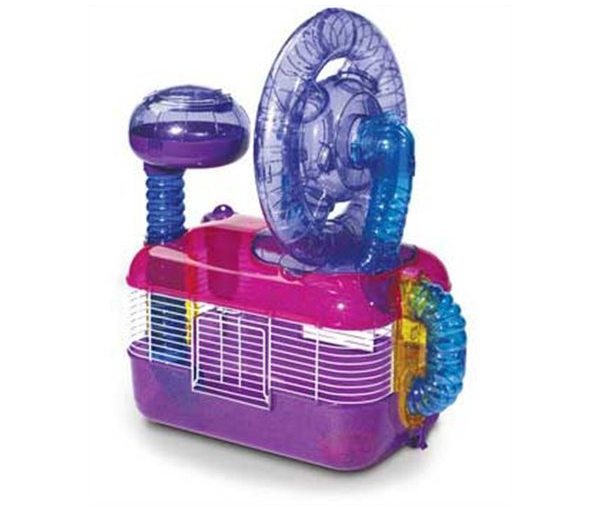 Since it's compatible with all CritterTrail accessories, you can even change out the tubing design or add on to it – the opportunities are endless!
A high plastic bottom and wire that's spaced 6 millimeters apart will keep even the smallest furry kids in, as well as their bedding.
This model comes with a food dish and water bowl. The dimensions are 10.5 inches wide by 19.8 inches long by 22.2 inches high (at the tallest point of the exterior tubing).
Best Cheap Large Hamster Cages
We know that not everyone can afford top-dollar large habitats for their hamsters. Fortunately, you can still find a sizeable cage for a not so sizeable price!
These two cost-effective cages give you the option to provide lots of space for your hammies:
Habitrail Cristal Hamster Habitat
This hamster habitat isn't the largest by itself, but the money that you'll save from buying a lower cost habitat can be put toward purchasing lots of fun add-ons, such as tubes and lookout towers, for your Dwarf hamsters to roam through!
Check out our in-depth review in our Best Cool Hamster Cages article!
CritterTrail 2-Level Habitat
If you're looking for a hamster habitat with everything that your hamster friend might need and then some, we recommend this multi-level, fully furnished habitat!
Check out our review in our Best Cool Hamster Cages article!
Best Large Hamster Cages
With so many types and models of hamster cages available these days, selecting the perfect one for your particular hamster can be a somewhat challenging task. (That's why we put our top favorites right at the beginning of this extensive article!)
However, it doesn't have to be that way! All you have to do is take into account your hamster's size, activity level, and whether or not you'll be housing more than one (if you have Dwarf hamsters of the same species).
Syrian hamsters can comfortably live alone in a spacious wire or wire hybrid cage, but should not be kept in cages with tubes on or in them. They may be able to escape if they chew through the tube connectors.
Dwarfs, however, can be kept in cages with tubes, but the especially tiny Dwarf breeds should not be kept in wire cages with wire that has more than half an inch of space between the bars. You should also be sure that they can't escape between any tiny nooks and crannies.
Regardless of your hamster's breed, you should ensure that his cage is meant specifically for hamsters and is large enough for him to get plenty of exercise in, but small enough that he can't escape.
Have you chosen one of these for your hamster? Let us know what you opted for and how it worked for you!
References and Resources