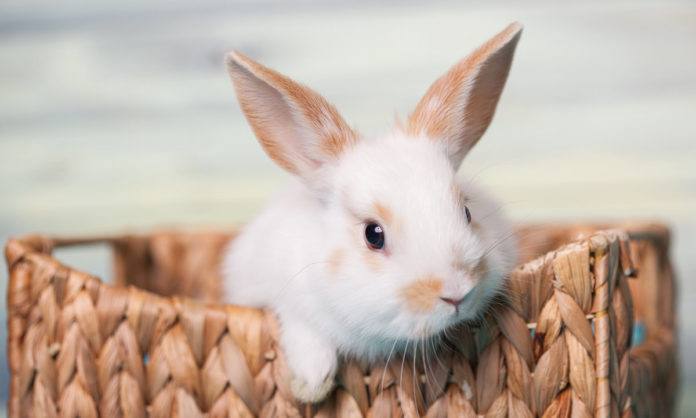 Looking For The Best Rabbit Names For Your New Bunny?
We've Got You Covered!
From Boys To Girls, Cute To Unique, And Names For Bunnies Of Various Colors.
Welcome To Our Complete Guide To Rabbit Names.
Rabbits make wonderful pets.
They are intelligent, playful and can form really strong bonds with their owners.
If you are thinking of bringing a new bunny into your life, then you will want to find the perfect name for your new pet.
Bunny names can come from anywhere.
There is no baby rabbit names rulebook to tell you what is appropriate.
Which is great, beause it gives you loads of scope to choose the best rabbit names. But can also make things tricky, because you have literally a whole to choose from.
Naming your rabbit
You probably won't be teaching your bun any tricks, or getting her to come when she's called. But you will still want her to have a name that she can recognize.
My bunnies know when it's there turn to come and play, or have some treats. If you use their name every time you interact with them they will soon learn.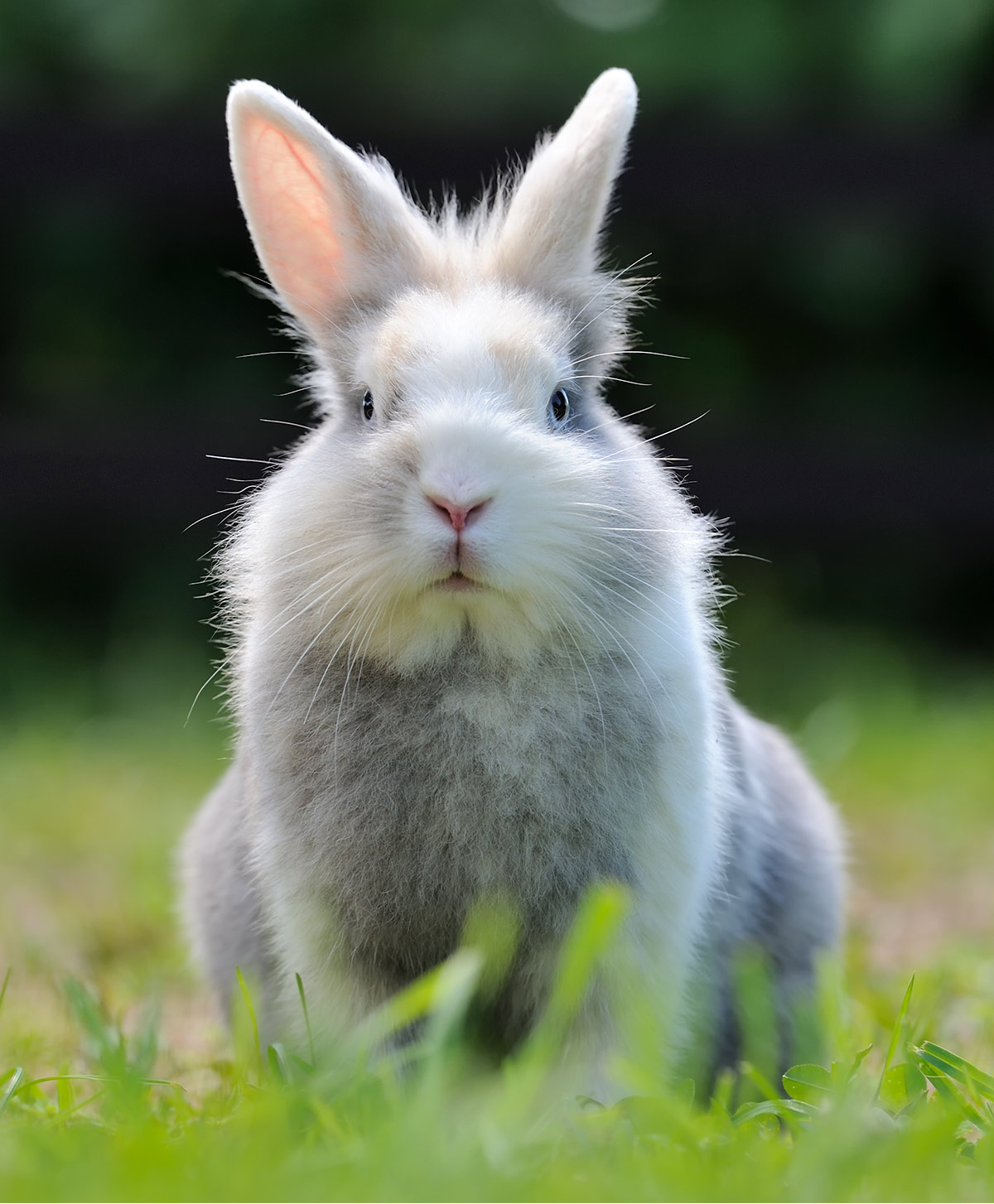 So in this regard, short and simple names can be good bunny names.
But that doesn't mean you can't have fun thinking up the perfect style of name to suit your rabbit.
Boy rabbit names
One tried and true way of naming pets is with traditional names.
Boy bunny names can be based on names that could fit as well on a human as they do on a rabbit.
But finding male rabbit names on a baby naming site or in a book can be a bit of a task. This is because lots of names that sound great on humans, don't fit so very well on our pets.
Shorter names are generally preferable, and so are those that have a bit of an added cute factor.
Here are some of our favorite boy rabbit names.
Archie
Arlo
Benny
Billie
Bobby
Bryn
Caden
Caleb
Carlos
Carter
Charlie
Connor
Danny
Dobby
Dylan
Eddie
Enzo
Ethan
Freddie
Harry
Harvey
Henry
Jack
Jamie
Jayden
Lenny
Liam
Logan
Lucas
Mason
Mateo
Max
Micky
Oli
Owen
Pete
Sam
Sebby
Tanner
Timmy
From male bunny names to female bunny names. It's time for the girls!
Female rabbit names
Just like with the boys, girl rabbit names can sound great when they are more traditional.
But they don't have to be boring names, by any stretch. You can choose modern names, old fashioned names or more unusual names.
These girl bunny names give you a range of ideas to choose from, or to help you to get inspired about finding some of your own.
Annie
Amy
Aurora
Bella
Beth
Celeste
Chrissy
Coco
Crystal
Delphine
Demi
Ellie
Elise
Esme
Florence
Ginny
Halle
Kimmy
Lara
Lexi
Lorna
Mabel
Maddie
Mia
Molly
Nelly
Patty
Petal
Quinn
Rae
Robyn
Roxie
Sally
Sarah
Tallulah
Tammy
Tiana
Tilly
Trixie
Zooey
Good rabbit names can be traditionally human style names. But they can also be descriptive.
Cute bunny names
Your bunny is cute.
Possibly the cutest rabbit every born, right?
I know mine are!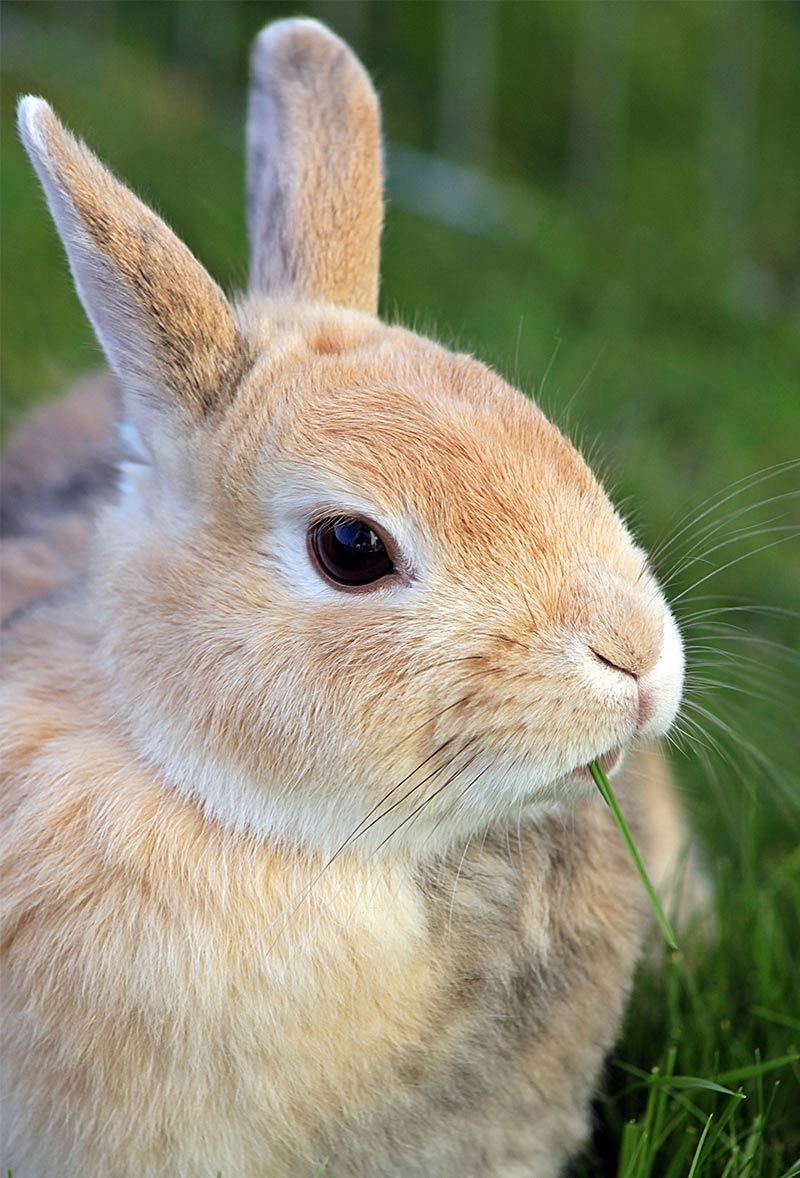 So what could be better than some cute rabbit names?
When getting inspiration for cute rabbit names all you have to do is think of sweet features your bunny has, or general adorable things!
Check out these fun ideas for cute bunnies' names.
Baby
Boo
Clover
Cuddles
Ears
Honey
Hopper
Jingles
Kit
Kitten
Leo (great for a lion head bunny)
Lop
Maple
Noodle
Pickles
Riggles
Scamp
Scrabble
Sparky
Spud
Tickle
Treasure
Twitch
Twizzler
Wiggles
Whiskers
Ziggy
Unique bunny names
Every bunny is different. Even within the same breeds and color patterns, each rabbit has their own personality and look.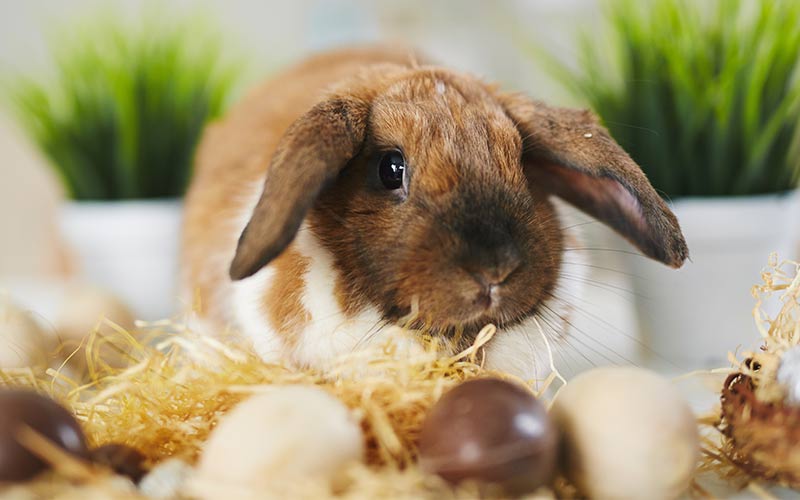 Cool bunny names that celebrate your rabbit as a unique individual.
For some rabbit names that you won't find on the high street, check out this list of funny rabbit names for unique bunnies.
Archer
Bing
Birch
Blush
Bullet
Captain
Cash
Casino
Chilli
Draft
Drama
Echo
Fidget
Galaxy
Genie
Hopper
Hunter
Jumper
Mango
Monkey
Moss
Nova
Pirate
Puzzles
Riddle
River
Talon
Treacle
Zen
Zima
White rabbit names
Do you have a beautiful white rabbit?
My childhood bunny was a massive white rabbit. She was so big that we had to have help to lift onto our laps. She had the nicest nature and the prettiest snow white fur.
So soft and silky your fingers could sink into it.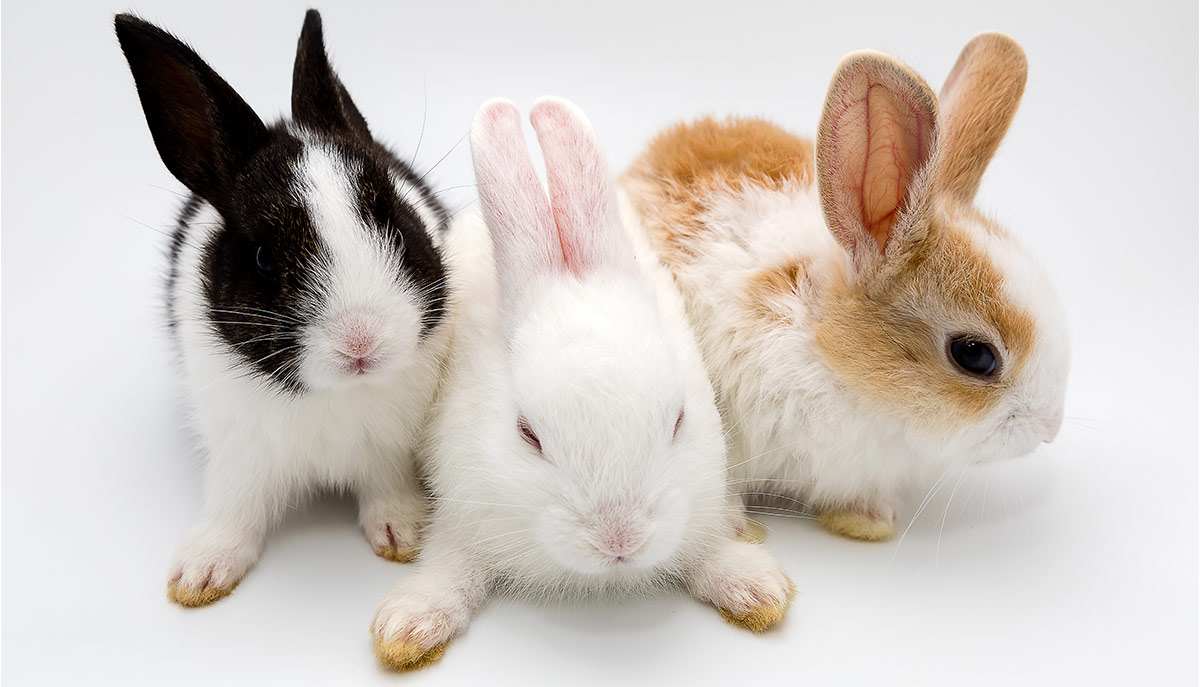 Beautiful pale rabbits can really complement white bunny names.
Here are some ideas that your white rabbit might love.
Angel
Arctic
Blizzard
Calla
Casper
Chalky
Cloud
Cosmos
Dahlia
Daisy
Frosty
Ghost
Hale
Ivory
Jasmine
Lily
Lupine
Opal
Pearl
Peony
Polar
Primrose
Quartz
Rose
Sky
Snowie
Snowbell
Snowflake
Snowdrop
Tic Tac
Black bunny names
One of my rabbits is almost completely black, with just a tiny bit of white on his chest.
It gives him an amazing look, although it does make him rather hard to spot in the dark!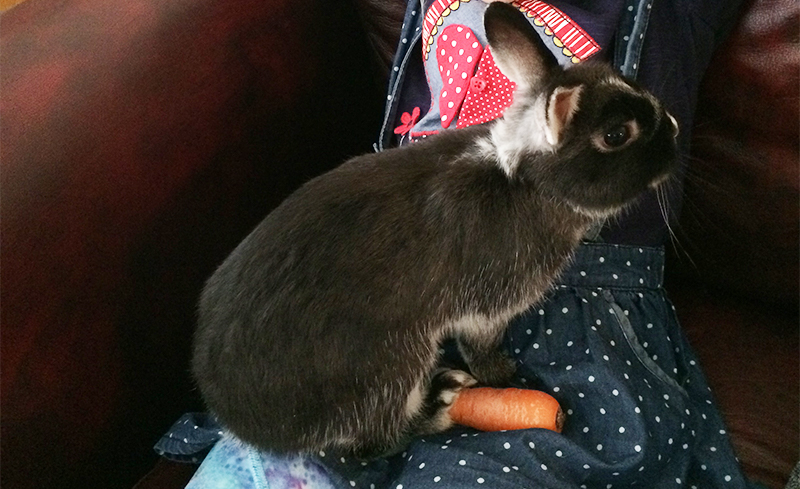 My black bunny is named after the cartoon character Bing, who is also a black rabbit.
We'll take a look at some more cartoon rabbit names later, but in the meantime we've been thinking up some color based black rabbit names that you might think suit your new friend.
Cherry
Coal
Coffee
Crow
Diesel
Goth
Ink
Jet
Licorice
Luna
Midnight
Moon
Ninja
Noir
Olive
Onyx
Rain
Raven
Sable
Shades
Shadow
Slick
Sooty
Snape
Sneak
Space
Star
Twilight
Grey rabbit names
Gorgeous grey bunnies come in a amazing range of shades. From off-white to almost true black.
Grey bunny names can be inspired by grey color shades, objects or even inclement weather!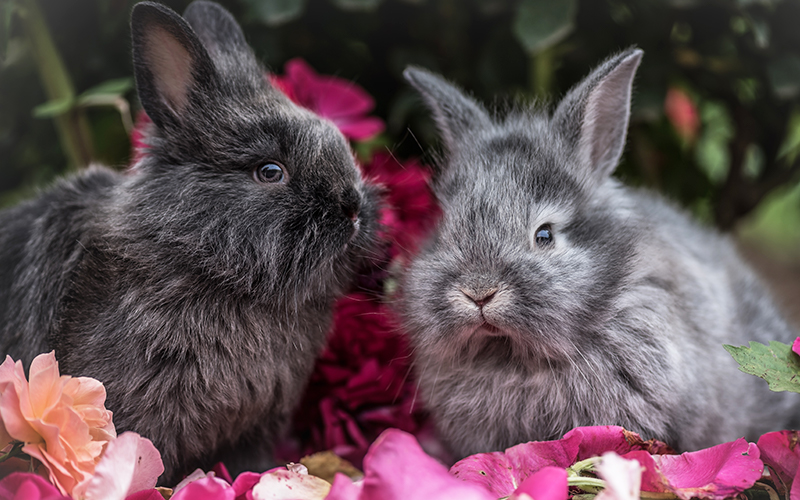 Here are some ideas that we think would sound great as grey rabbit names.
Anchor
Argent
Ash
Cadet
Chinchilla
Cobbles
Dove
Dusky
Dusty
Flint
Foggy
Fossil
Harbour
Iron
Koala
Lead
Mink
Misty
Mouse
Pebbles
Pewter
Pigeon
Seal
Sharky
Shrew
Silvy
Slate
Smokey
Steel
Mink
Black and white bunny names
Black and white animals are truly striking, and rabbits are no exception.
Dutch rabbits with the distinctive dark face and hindquarters come in a gorgeous black and white pattern.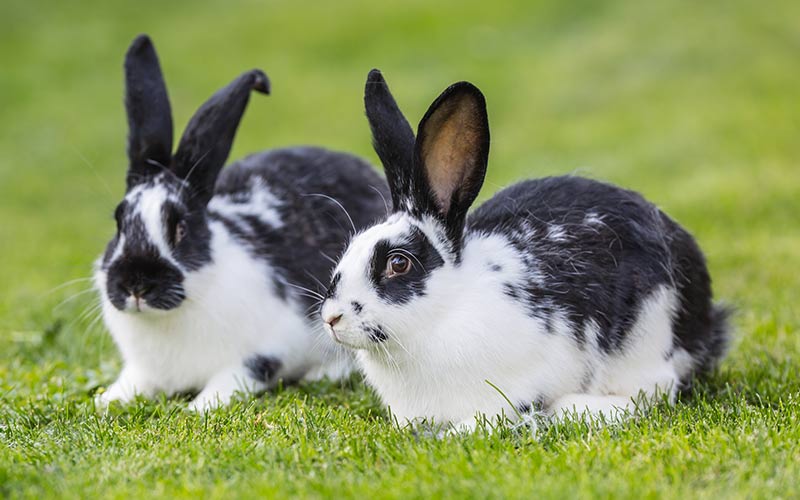 And there are plenty more black and white bunny types too.
With a variety of gorgeous patterns from tuxedo to spotty to striped, there are lots of ways a rabbit can have a black and white coat.
Boggle
Checkers
Chess
Cookie
Dice
Domino
Ebony
Freckles
Keys
Mono
Mosaic
Orca
Othello
Panda
Patch
Perdita
Pingu
Pongo
Puffin
Skunk
Snoopy
Specky
Zag
Zig
Cartoon rabbit names
My bunnies are both named after television characters, from the kids TV series Bing Bunny.
Bing and Coco's names work well for us. They are short, recognizable and when my daughter was little and named them, they were easy to say too!
Whether you are looking for tv cartoon rabbit names or Disney rabbit names, there are some great suggestions here.
Benjamin (Beatrix Potter)
Bigwig (Watership Down)
Bing (Bing Bunny)
Blackberry (Watership Down)
Bluebell (Watership Down)
B'rer (B'rer Rabbit)
Bucky (Bucky O'Hare)
Bugs (Loony Tunes)
Clover (Sophia the First)
Coco (Bing Bunny)
Cotton Tail (Beatrix Potter)
Dandelion (Watership Down)
Fiver (Watership Down)
Flopsy (Beatrix Potter)
Hazel (Watership Down)
Holly (Watership Down)
Judy (Zootropolis)
Lily (Beatrix)
Max (Ruby and Max)
Miffy (Miffy)
Mopsy (Beatrix Potter)
Peter(Beatrix Potter)
Pipkin (Watership Down)
Roger (Who Framed Roger Rabbit)
Ruby (Ruby and Max)
Thumper (Bambi)
Best bunny names
The best rabbit names are ones that are easy to say, simple for your rabbit to learn and most of all, are enduring.
Rabbits aren't short-term pets. If we're lucky they will share our lives for eight years or more.
So choose a name that you think you will still be happy to call out for years to come.