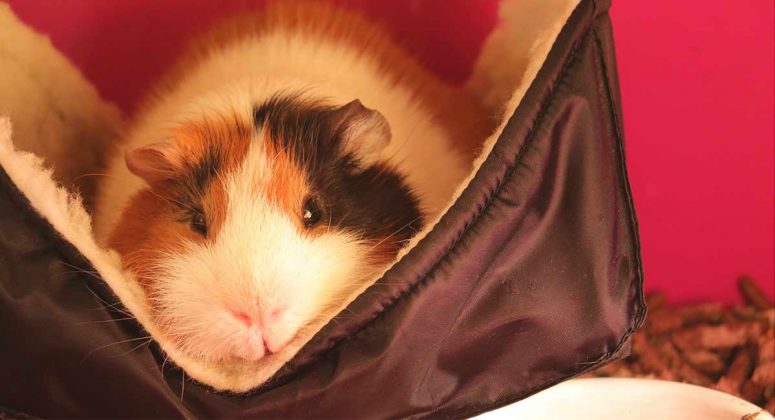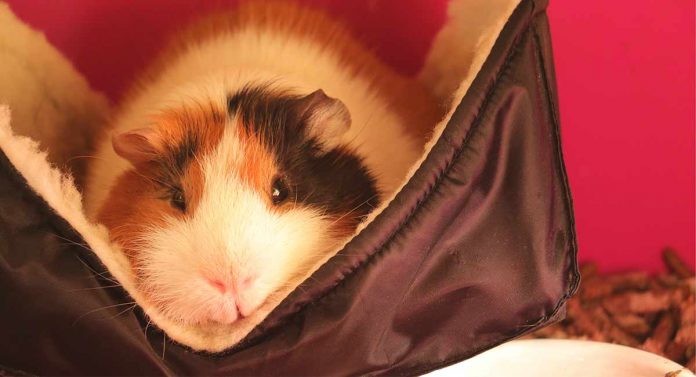 Want to know what's the best guinea pig hammock you can buy for your pet? This is a good place to start!
Guinea pigs may be small pets, but if you're a proud guinea pig owner, you'll know they have huge personalities!
We all want the best lives for our pets, and buying them additions and accessories to their hutches is a fun way to give them some luxuries to keep them happy!
Guinea pigs are a popular choice with families that have small kids
So additions to your guinea pig's home, like a hammock, are perfect. They give your guinea pig something new to enjoy, and something fun for your kids to watch!
Hammocks are just one of many different accessories you can get for your guinea pig.
And there's a huge variety to choose from even in this niche topic!
All of these products were carefully and independently selected by The Squeaks and Nibbles team. If you decide to make a purchase from one of the links marked by an asterisk, we may earn a small commission on that sale. This is at no extra cost to you.
Do guinea pigs like hammocks?
If you've ever been in a hammock, you'll know just how relaxing they can be, gently rocking in the breeze as you soak up the sun!
But do our guinea pigs react to them the same way humans do?
It might surprise you to hear that most guinea pigs love hammocks!
Although guinea pigs often avoid climbing, many have been known to love clambering in their hammocks and resting, eating or snoozing inside!
However, some guinea pigs might be cautious of hammocks
Every pet is different, so whilst one might love the gently swinging hammock, others may prefer to stay away from them
Are hammocks safe for guinea pigs?
There is a huge ongoing debate online over whether hammocks are safe for guinea pigs.
Some people are worried that their guinea pigs will get their limbs trapped in the hangings of a hammock
And others are worried about the more obvious risk of falling, since guinea pigs aren't great climbers.
However, there are loads of guinea pig hammocks you can find that hang low to the ground, and have a low risk of tangling up your guinea pig's legs.
The lower your hammock is to the ground, the easier it is for your pet to climb into, and the smaller the risk of it hurting itself by falling out!
Another good way to ease any worries about safety is to just check out some reviews before buying a guinea pig hammock!
You'll find the ones with higher reviews are often loved by those who have bought them, and have never experienced a dangerous incident!
So where can you find some of the best guinea pig hammocks?
Top 5 guinea pig hammocks online
Some of the best guinea pig hammocks are available to buy just online at Amazon.com, making it super easy for you to invest in one of these little hutch accessories!
There are hundreds to choose from, which can make the choice quite tough, but we've found the top five guinea pig hammocks that you might want to consider.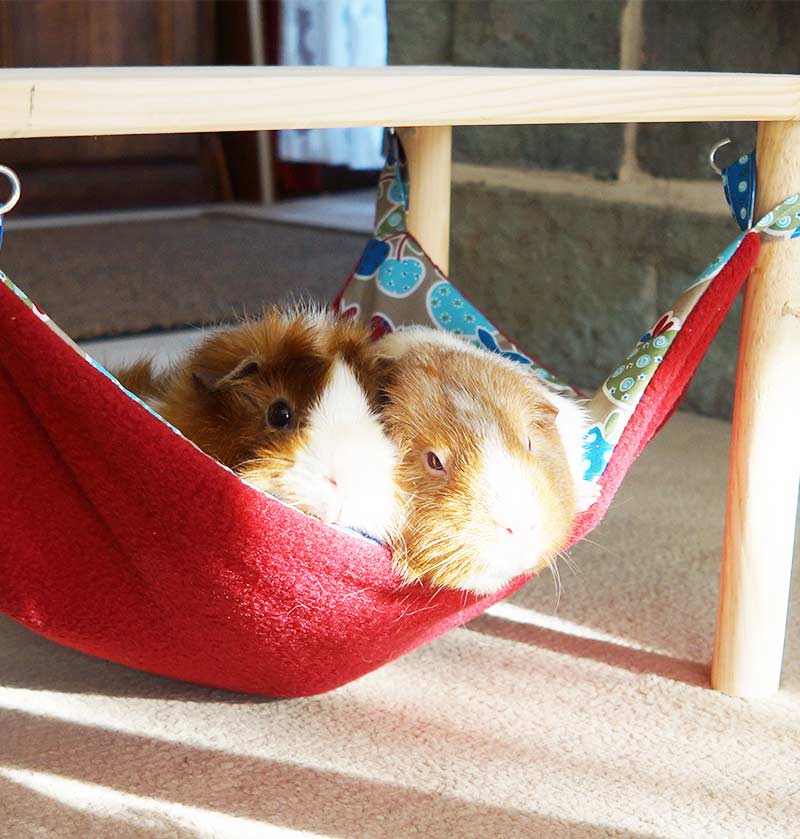 Hanging hammocks
The first of these options is the Jocestyle hanging hammock*.
This is suitable for all sorts of smaller pets, including guinea pigs, and comes in a variety of sizes.
It also has a cute owl design, to keep your pet's home looking bright and colorful!
This hangs up with simple stainless steel hooks and has a fluffier inner layer for ultimate guinea pig comfort!
Another option is the Eonmir hammock for small pets*.
This hammock is made of lovely, soft material and is hung using stainless steel hooks.
The straps that this hammock hangs from are easily adjusted, so you can change the height of your hammock from the ground
This is good if you want to find a hammock that can hang low against the ground rather than high up in your cage.
It also uses solid colors, rather than patterned, so if you're looking for a subtle hammock that will fit into any guinea pig home, this is a great choice!
Free standing hammock
Next on our list of the best guinea pig hammocks is the Kaytee free standing hammock!*
The free standing feature makes this hammock a little more unusual than the others.
It also makes it a great choice if you're worried normal hammocks will be tricky to hang in your guinea pig's hutch.
You can place it in the middle of your hutch, or turn in into a guinea pig corner hammock!
This hammock is attached to a small wooden frame, low to the ground.
This means that your hammock is easy for your guinea pig to get into, and it is less likely a fall will hurt your little pet!
The frame can be easily constructed and taken apart, meaning you can also transport it easily if you're ever moving your guinea pig.
Basket shaped hammocks
Number four is the Winomo hanging hammock*. This is shaped very differently to the others in this list!
It is a bucket-shaped hammock, with a large hole in the front for your guinea pig to enter through, or just gaze out of!
It's made from super soft material to keep your little pet cozy.
And it is hung from clips on long chains, so it can be close to the ground.
Tunnel hammocks
Our final choice is the Niteangel tunnel hammock!*
This option is made of soft fabric. It features a hole in the roof to give your pet space to look out.
It is hung from metal clips on long fabric, so it can be hung low to the ground.
Best guinea pig hammocks
These hammocks show just a sample of the huge variety out there!
You might find that your guinea pigs don't like hammocks at all. But if they do, this can be a great way to decorate your hutch and keep your little pet happy!
If you're worried about safety, opt for a hammock that is sturdy, and can be placed quite low to the ground to avoid any nasty falls or accidental tangles!
Have you ever used a guinea pig hammock?
Let us know if your guinea pig has enjoyed using a hammock, and what your favorite brand was!
Affiliate link disclosure: Links in this article marked with an * are affiliate links, and we may receive a small commission if you purchase these products. However, we selected them for inclusion independently, and all of the views expressed in this article are our own.
Resources and Further Reading